Big 12
Another NCAA Champion Falls: Michael Caliendo Knocks Off Shane Griffith
Another NCAA Champion Falls: Michael Caliendo Knocks Off Shane Griffith
Michael Caliendo of North Dakota State just knocked off NCAA champion Shane Griffith of Stanford.
Jan 13, 2023
by Kyle Klingman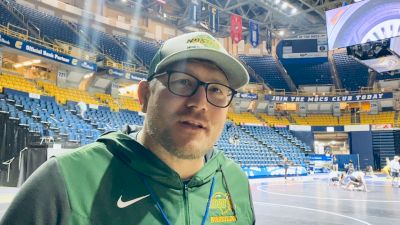 The upsets keep coming this season.

This time, it was #19 Michael Caliendo of North Dakota State defeating #2 Shane Griffith.
Griffith, you might remember, was an NCAA champion in 2021 who reached the NCAA tournament finals in 2022. The two 165-pounders squared off in a dual at Stanford with Caliendo earning a 6-3 decision.
This was a rematch of the Southern Scuffle finals on January 2 where Griffith eked out a 3-2 win. Caliendo was part of a stellar team performance where the Bison sent five to the finals and had three champions. North Dakota State placed second behind Oklahoma State in the tournament.
Caliendo scored a late takedown to seal the win over Griffith to give his team a 6-0 lead in the dual.
Watch the match-clinching takedown below.:
Caliendo with a late takedown to seal the upset victory of #2 Shane Griffith 6-3!!

NDSU 6, Stanford 0 pic.twitter.com/jrBOI1OPFM

— NDSU Wrestling (@NDSUwrestling) January 13, 2023