2022-23 Virginia Tech Wrestling
Hokie Insider: Robie Pleased With VT Progress Against Challenging Schedule
Hokie Insider: Robie Pleased With VT Progress Against Challenging Schedule
Three top-10 opponents and three tournaments tested Virginia Tech's mettle during the first half of the season, but coach Tony Robie likes what he sees.
Jan 12, 2023
by Jim Carlson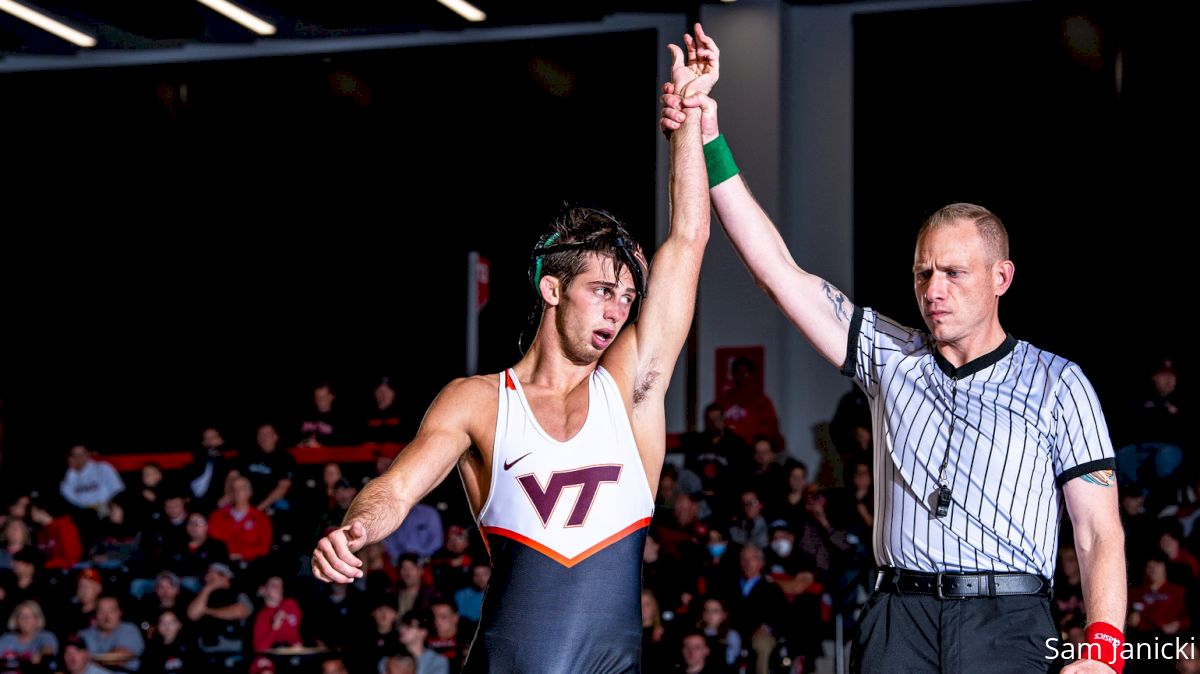 Unlock this article, live events, and more with a subscription!
Get Started
Already a subscriber? Log In
A first-half schedule that placed Virginia Tech against three top-10 teams and in three tournaments resulted in a #5 ranking for the Hokies and an upbeat outlook about the season's second half.
Wrestling without at least one of its stars in each match, Tech still emerged from those rigorous outings with a 5-2 record and a good approval rating from its coach.
"It's been very challenging; our schedule's been difficult," Hokies head coach Tony Robie said. "We've seen a lot of good teams, we've seen a lot of good individual opponents and we've had some guys do some really good things individually at times. We have to be consistent, but overall, I'm pretty pleased with where we're at in terms of our performance.
"We knew going in there would be challenges and it would be difficult, and when you combine that with the fact that we've had some injuries with some guys who are a big part of our success, I feel pretty good about it."
The Hokies were without All-America Bryce Andonian (157) in tightly contested outings against #9 Ohio State and #7 Missouri, and without Andonian and NCAA champion Mekhi Lewis (174) in a 10-point loss to #4 Cornell.
Robie said there is optimism on that front.
"Bryce will be back at some point, is our hope," he said, "and Mekhi, right now, is going to wrestle this weekend against Appalachian State."
After the Jan. 13 trip to Boone, North Carolina, the Hokies settle into five straight Fridays of Atlantic Coast Conference competition, three of which are at Cassell Coliseum in Blacksburg.
"We've wrestled some great teams and our guys have seen some great competition. I can't imagine we could have done a whole lot more to prepare for the end of the season," Robie said.
Close With Cornell
The Hokies won four of the 10 bouts in a 22-12 loss to Cornell on Jan. 6 before a sellout crowd at Moss Arts Center. That included an overtime loss at 125, a win by #6 Sam Latona over Cornell's third-ranked Vito Arujau and being without the team's two All-Americans.
"Clayton Ulrey at 157 did a good job finding a way to win that match; he just kind of won on conditioning and desire and that was a real positive," Robie said. "(Hunter) Bolen (#6 at 184) wrestled well; he pretty much dominated every position and had a lot of riding time.
"Obviously, 133 was a huge win for Sam, beating someone who's proven that they're among the best guys in the country. When Sam wrestles like that — Sam was locked in and focused — he can wrestle with anybody."
Robie said #22 Eddie Ventresca, who lost a 2-1 tiebreaker to #16 Brett Ungar at 125, "was in a position to score and just needed to do a little more." And Caleb Henson, Tech's 11th-ranked freshman in a loaded 149-pound weight class, dropped a 6-2 decision to three-time NCAA champ Yianni Diakomihalis.
"I always feel good about his effort and the way he competes," Robie said about Henson. "Obviously, Diakomihalis … saying he's a huge challenge is an understatement; I was pleased with the effort Caleb gave and how he competed."
Lauding Latona
Robie said Latona, now 17-4, continues to jump levels.
"Our big point of emphasis with Sam is having a consistency with his focus during matches," Robie said. "He has some good wins on his resume, and he has a loss or two that are kind of head-scratchers.
"When he's consistent and he's focused and is dialed in, he has great attacks. He's wrestling smarter now than he was the first week or two of the season and kind of letting things come to him a little more. I wasn't surprised going into the match (against Arujau). We felt like he had a chance to win. Arujau beat him in Vegas but he also took him down to his back for a four-point move, so the match was a little bit closer than the score was," Robie added.
Filling In Nicely
Ulrey, a sophomore filling in for Andonian, has compiled an 8-7 record.
"I think he's made some adjustments. Part of Clayton's development is not making mistakes," Robie said. "That's hurt him in the past. Sometimes it's not what you do, it's what you don't do. For him, I think that's what he needs to continue to focus on to continue to improve and get better and continue to build."
Depth A Constant Concern
With teams capped at 9.9 scholarships by the NCAA, building a quality two-deep lineup is a weighty task for all of the 78 Division I squads. That means it's no different in Blacksburg.
"For us it's almost impossible," Robie said. "Some schools have a lot of financial aid and different avenues where they can get kids resources and money. We don't have that at Virginia Tech. It's a challenge; to have it at every single weight is really tough to do."
Robie said high-quality in-state talent helps.
"If you have really good in-state talent, it's much cheaper for those kids to come to school and it's a lot easier to get quality walk-ons to help build that depth," he said. "Virginia wrestling is OK; it's not terrible, it's not great, so it presents some challenges there.
"I feel like we've got as much depth as we've ever had. Not in every weight class but there are four or five weight classes that if we have to throw a non-starter or the second-string guy in there, he's capable of winning some matches."
Proof Positive
The Hokies faced Cornell on Jan. 6 and had two more matches on Jan. 8 — easy wins over George Mason and American. That depth played a role.
"We obviously wrestled a bunch of backups, we had four or five starters — maybe more — not wrestle," Robie said. "Our guys did a good job of staying in there and being persistent and in a lot of cases really opening up the matches in the third period.
"It's nice to be able to give guys opportunities to wrestle in dual meets who typically don't get a chance. We were able to rest some guys, so overall I thought it was a good day on Sunday."