RBY: Straight Outta Tucson
FloWrestling To Release Roman Bravo-Young Film On January 31
FloWrestling To Release Roman Bravo-Young Film On January 31
Penn State's two-time NCAA wrestling champion Roman Bravo-Young is the subject of a new FloFilm that examines his chaotic upbringing and path to success.
Jan 12, 2023
by Kyle Klingman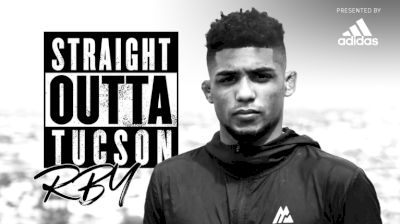 A new FloFilm featuring Penn State superstar Roman Bravo-Young is being released on January 31. "RBY: Straight Outta Tucson" explores the tumultuous and winding journey that led to one of the most successful wrestling careers in NCAA history.
Bravo-Young grew up in South Tucson under less-than-desirable conditions. He faced adversity most kids will never experience, but overcame unthinkable odds to achieve success at the highest levels.
Lacking structure and a father figure, Bravo-Young used wrestling as his ticket out of dysfunctional family life. There were times he lived in a two-bedroom house with 18 people as his mother battled her own problems.
His confidence grew as his grandfather trained him to become a champion. Bravo-Young became the first member of his family to attend college and graduate, which makes his against-all-odds story even more impressive.
Today, the Nittany Lion star is seeking his third NCAA title following two undefeated seasons. His brilliant high school career included four state championships, four Outstanding Wrestler Awards, and a 182-0 record.
Be sure to watch the compelling story of Roman Bravo-Young's remarkable climb to the summit that captures the fighting spirit living inside each of us.