2022-23 Iowa Wrestling
Hawkeye Insider: Cassioppi Cashing In On Pin Chase
Hawkeye Insider: Cassioppi Cashing In On Pin Chase
Iowa heavyweight Tony Cassioppi's persistent pursuit of pins has led him to nine falls in 13 matches this season.
Jan 12, 2023
by Darren Miller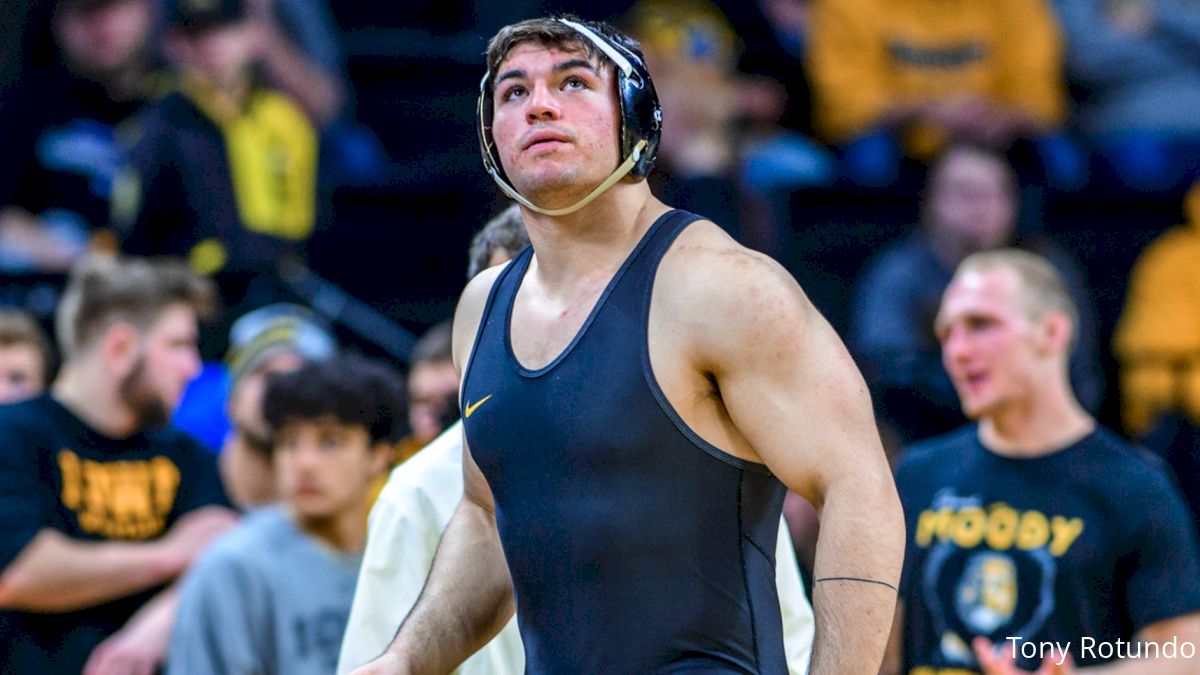 Unlock this article, live events, and more with a subscription!
Get Started
Already a subscriber? Log In
It is a simple, yet challenging plan for University of Iowa senior Tony Cassioppi:
"I want to pin everybody," the third-rated heavyweight said.
For most of the 2022-23 season, Cassioppi has cashed in on that goal. Following a strange two-win weekend where #2 Iowa defeated Illinois at home and Purdue on the road, Cassioppi improved to 13-0 with nine falls. He opened the season with four straight falls and pinned his way through the four-match Soldier Salute on Dec. 29-30.
"I have always had pretty good success on top against guys and getting falls," said Cassioppi, a two-time United World Wrestling U23 World medalist and 2021 champion. "It doesn't matter who I'm wrestling as long as I'm prepared to wrestle my best."
For his career, Cassioppi is 65-10 with half those losses coming to Gable Steveson, a two-time NCAA champion and Olympic gold medalist. Even though Steveson is out of the collegiate picture at the moment, and even though his first 13 bouts have been against formidable competition, Cassioppi knows the strength of his schedule will quickly trend upward. He has a 0-3 collegiate record against Mason Parris of Michigan, and despite defeating Greg Kerkvliet of Penn State three times, it was Kerkvliet who prevailed with an 8-5 decision at the NWCA All-Star Classic on Nov. 22 in Austin, Texas.
The top four nationally ranked heavyweights are in the Big Ten Conference, three others are in the top 22.
"When you look at his stats, that is all great, but really, it is about what is in front of him," Iowa coach Tom Brands said.
Cassioppi — who was third at the NCAA Championships in 2021 and seventh last season — agrees.
"I know the guys I am going to have to beat and that's all that matters," he said. "It doesn't matter who is ranked where — I know I'm going to have to beat Penn State (Kerkvliet), Michigan (Parris), Arizona State (Cohlton Schultz), Northwestern (Lucas Davison) — anybody and everybody. The rankings don't matter."
The only Hawkeye with a longer winning streak than Cassioppi is three-time national champion Spencer Lee, a lightweight who appreciates how lightweights maneuver on the mat. He sees some of those features in Cassioppi.
"I saw he cut the dude in the (Soldier Salute) finals three times and then he pins him," Lee said. "He has pinned so many guys I'm having a hard time counting."
Cassioppi has gone seven minutes in a match just twice this season — a 9-0 decision over Ben Goldin of Penn and a 9-2 decision over #9 Sam Schuyler of Iowa State. All of his falls have come in the first period.
"I'm wrestling in the room every day, wrestling hard, wrestling long," Cassioppi said. "Just because I have a few matches that are short doesn't take away from my endurance or make me worry about my endurance."
Although he didn't record a fall against Matt Wroblewski of Illinois on Jan. 6, Cassioppi showed dominance in every facet. He built a 12-0 before Wroblewski was disqualified for stalling at the 5:57 mark. It is the second time in Cassioppi's career that he has won by stalling disqualification.
Two days later, with the Hawkeyes leading Purdue, 31-6, in West Lafayette, Indiana, the Boilermakers opted to forfeit to Cassioppi. In two weekend matches, Cassioppi scored 12 team points without recording a fall; he has 12 bonus-point victories this season.
"I'll give him credit for what it's worth, then we have to move on," Brands said. "We have to stay healthy and we have to keep getting better."
The biggest challenge to Cassioppi's 14-match winning streak comes Friday at home against Northwestern. Fourth-ranked Davison, who placed sixth at the NCAA Championships in 2022, is 11-1 with his only setback coming by two points to Parris.
The Northwestern-Iowa dual begins at 8 p.m. (CST).