2022-23 Michigan Wrestling
Wolverine Insider: Michigan Opens Big Ten Season Against Spartans, Badgers
Wolverine Insider: Michigan Opens Big Ten Season Against Spartans, Badgers
Michigan, which won its first Big Ten title in 49 years last season, begins defense of that title against Michigan State and Wisconsin this weekend
Jan 12, 2023
by Mark Spezia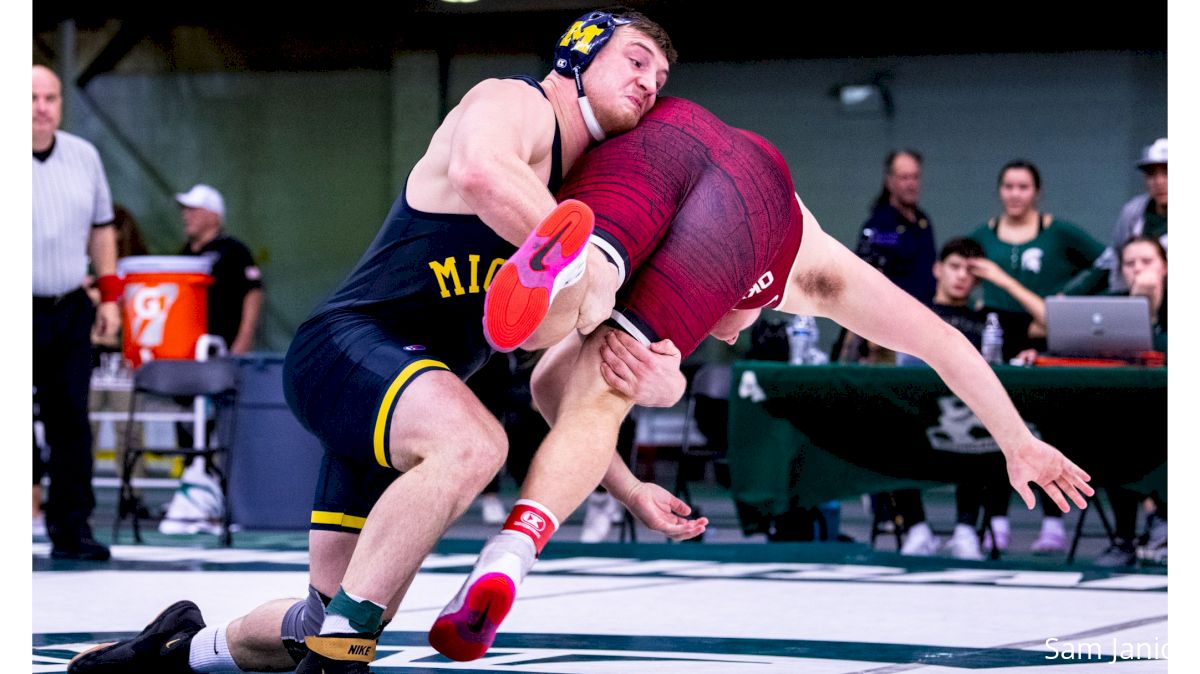 Unlock this article, live events, and more with a subscription!
Get Started
Already a subscriber? Log In
Michigan begins testing itself against Big Ten competition this weekend with a pair of duals, beginning with Friday's in-state clash at Michigan State. The Wolverines then host Wisconsin Sunday.
The Spartans (7-0) and Michigan (5-0) are both unbeaten heading into their conference opener. The Wolverines, #8 in the latest team dual rankings, rolled to easy wins over Cal Poly and CSU Bakersfield last weekend by a combined 66-11 margin while #24 Michigan State knocked off Bucknell (28-9).
Meanwhile, #12 Wisconsin (6-3) began its Big Ten slate last weekend with a 28-11 loss to Penn State before being edged, 18-17, by Illinois. However, All-American Austin Gomez (149 pounds) did not wrestle against the Fighting Illini.
Michigan, which captured its first conference title in 49 years last season, has not lost its annual dual against the Spartans since 2010. The Wolverines and Badgers last met in 2020 with Wisconsin taking a 20-12 decision.
Michigan has gone 12-2 in Big Ten duals over the past two years, but this year's lineup features six starters who did not start the Wolverines' final dual of last season.
Here is a look at what will likely be some of the weekend's key matches:
133 Pounds: #5 Dylan Ragusin (Michigan) vs. #16 Rayvon Foley (Michigan State)
The two split a pair of matches last season with Foley taking the first one (7-2) before Ragusin avenged that loss during the Big Ten Tournament with a 3-2 decision.
Ragusin, a two-time NCAA qualifier, is 9-2 this season five bonus-point wins and is likely headed for his first NCAA podium.
Easily his biggest win thus far this season was a 3-1 decision over All-American and two-time NCAA qualifier Sam Latona (Virginia Tech), who is ranked #6 at 133. Ragusin has also knocked off #19 Chance Rich (CSU-Bakersfield), a two-time NCAA qualifier, twice.
Foley, 9-2 with six bonus-point victories, was an All-American in 2019 and hopes to finally return to the podium this season. He appeared headed there last season, winning 25 of his first 27 matches, but was a combined 4-5 at the Big Ten Tournament and NCAA Championships.
Foley's best win thus far this season has been against #23 Kurt Phipps (Bucknell).
141 Pounds: #18 Joseph Zargo (Wisconsin) vs. HM Cole Mattin (Michigan)
This first meeting of Zargo and Mattin should be one of several closely-contested weights between the Wolverines and Badgers.
Zargo, an NCAA qualifier last season, is 7-3 with four bonus-point wins. He has not beaten any currently-ranked wrestlers this season, but bested #7 Cael Happel (Northern Iowa) last season.
Mattin, 10-3 with four bonus-point wins, is likely on his way to a first NCAA Championships berth, but has hit a rough patch lately, losing three of his last four matches and falling to the honorable mention section of the rankings.
Still, Mattin has beaten two-time NCAA qualifiers Dylan D'Emilio (#23, Ohio State) and Mosha Schwartz (Oklahoma) this season.
157 Pounds: #4 Will Lewan (Michigan) vs. #21 Garrett Model (Wisconsin); Lewan vs. #22 Chase Saldate (Michigan State)
Lewan, 9-2 with a pair of bonus-points victories, has won all five combined meetings with Model and Saldate, but most have been tight matches.
The three-time NCAA qualifier and 2022 All-American edged Model, 5-3, in 2020. Lewan beat Saldate just 3-1 and 3-2 last season.
Lewan's signature win thus far this season has been against #5 Bryce Andonian (Virginia Tech), an All-American and three-time NCAA qualifier. He also took care of #24 Cael Swenson (South Dakota State).
Model, an NCAA qualifier last season, is 10-4 with three bonus-point wins this season. His best wins so far have been against #18 Dylan Gilcher (Indiana) and #23 Andrew Clark (Rutgers).
Saldate, a two-time NCAA qualifier, is 13-4 with a whopping 12 bonus-point victories, including six pins. He has not beaten a currently-ranked wrestler so far this season but knocked off Gilcher last season.
165 Pounds: #5 Dean Hamiti (Wisconsin) vs. #6 Cam Amine (Michigan)
Amine, a two-time All-American, and Hamiti, a 2022 All-American, met during last year's NCAA Championships with Amine taking a 7-5 decision.
Amine is making progress after not being able to join the lineup until Dec. 11. He is 5-1 with three bonus-point wins, including a 6-4 loss to unranked Bryce Hepner (Ohio State), but Hepner did beat All-American Carson Kharchla (currently ranked #7) during Ohio State's wrestle-offs.
Amine's top win so far this season is a 5-2 decision over two-time NCAA qualifier Legend Lamer (Cal Poly).
On paper at least, Hamiti is probably a slight favorite this time, having wrestling eight more matches this season than Amine, including wins over #9 Julian Ramirez (Cornell), a 2022 NCAA qualifier, #11 Dan Braunagel (Illinois), a two-time NCAA qualifier, and #12 Izzak Olejnik (Northern Illinois), a three-time qualifier.
Hamiti has lost only to Missouri's Keegan O'Toole, Iowa State's David Carr and Princeton's Quincy Monday, ranked #5, #9 and #18 pound-for-pound, by just nine points combined. Overall, Hamiti is 11-3 with nine bonus-point wins.
184 Pounds: #10 Matt Finesilver vs. #14 Layne Malczewski (Michigan State)
The three-time NCAA qualifiers have not met previously, but this is Finesilver's first Big Ten season after transferring from Duke.
He is 12-3 with six bonus-point wins. Finesilver's best victories so far this season have come against #13 Gavin Kane (North Carolina) and Caleb Hopkins (Campbell), a two-time NCAA qualifier.
Malczewski counters with a 15-1 record featuring nine bonus-point wins, including eight pins. He has beaten #15 Lenny Pinto (Nebraska) and #24 Jacob Nolan (Binghamton) this season.
285 Pounds: #2 Mason Parris (Michigan) vs. #11 Trent Hillger (Wisconsin)
Parris and Hillger are both two-time All-Americans and four-time NCAA qualifiers. They have not faced off since Parris took a pair of meetings by a combined 7-1 score in 2020.
Parris is on an absolute tear this season, going 15-0 with an eye-opening 11 bonus-point wins, including eight pins. He has already beaten All-American Lucas Davison (Northwestern), who is ranked #4, and two-time NCAA qualifiers Wyatt Hendrickson (#7, Air Force) and Taye Ghadiali (#21, Campbell).
Parris has also knocked off #12 Owen Trephan (North Carolina State) and #22 Josh Heindselman (Oklahoma).
Still, Hillger is 9-3 with five bonus-point wins. He has defeated #15 Lewis Fernandez (Cornell) and #23 Boone McDermott (Rutgers) this season and hung tough with #1 Greg Kerkvliet (Penn State) and #9 Sam Schuyler (Iowa State), losing by a combined five points.
Dieringer Joins Staff
Coach Sean Bormet announced last week that three-time NCAA champion and 2016 Hodge Trophy winner Alex Dieringer is joining the Wolverines' staff as recruiting and video coordinator.
Dieringer has become well-acquainted with Michigan's coaches and wrestlers during the three years he has been a part of Ann Arbor-based Cliff Keen Wrestling Club. He will work with the staff in identifying and evaluating prospects, assist with recruiting communication and on-campus visits as well as help manage and break down match film.
"Alex is both a phenomenal wrestler and phenomenal person, and we are absolutely thrilled to bring him onto our Michigan staff," said Bormet in a release. "He's been a tremendous friend and role model to our wrestlers over the last three years and has established a great rapport with our entire coaching staff. I know Alex wants to get into college coaching someday, so I think this role will provide valuable off-the-mat experience as he continues to train and compete with our Cliff Keen Wrestling Club."
Dieringer captured his three NCAA titles during a stellar career at Oklahoma State (2013-16), winning at 157 pounds as a sophomore before claiming back-to-back 165-pound titles the next two seasons. He was a four-time NCAA All-American, taking third place at 157 pounds as a freshman.
Dieringer finished with a 133-4 collegiate record, including a 66-0 mark over his final two seasons. He earned bonus points in more than 70 percent of his wins with 45 falls. Dieringer was also a four-time Big 12 champion and Oklahoma State's 2016 Male Athlete of the Year.
Dieringer has excelled internationally since graduating from Oklahoma State, capturing gold medals at the Yasar Dogu, Dan Kolov and Medved International tournaments, silver at the Matteo Pellicone International and bronze at the Yarygin Grand Prix. He won the 2019 U.S. Open freestyle title at 79kg and was third at the 2016 Olympic Trials.
"I am beyond excited to join the staff here at the University of Michigan," said Dieringer. "This is a very special place, and I look forward to trying to make an impact on the people around me. I have a lot of respect for Sean (and assistants) Josh (Churella), KJ (Kevin Jackson) and Dave (Bolyard) and I can't wait to work with and learn from all of them."