2023 NWCA National Duals - Men`s Divisions
NWCA National Duals Day 1 D2, D3, NAIA Notes
NWCA National Duals Day 1 D2, D3, NAIA Notes
Friday was filled with fireworks at the NWCA National Duals, where a D2 upstart pulled off a big win while D3 and NAIA powers rolled.
Jan 7, 2023
by Andy Hamilton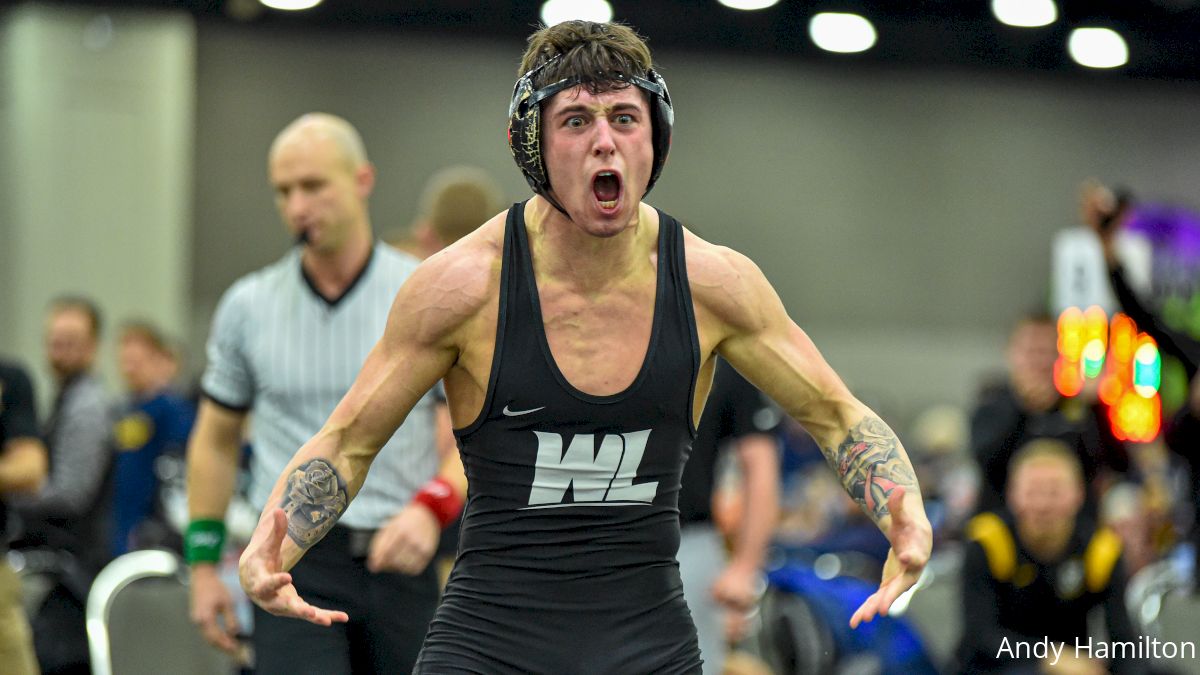 Friday morning began with a bang at the NWCA National Duals — and West Liberty was on the ear-ringing end of it.
Minutes after the tournament's opening whistle, Cole Laya, the reigning Division II NCAA champion at 125 pounds, got knocked off in overtime by returning All-American Dawson Collins of Colorado Mesa.
It was the first of two consecutive narrow defeats for West Liberty, which put the Hilltoppers in a stressful situation early. It became a theme of the day for West Liberty.
Thanks to a pair of victories by Francesco Borsellino in winner-take-all heavyweight bouts, the Hilltoppers advanced with one-point dual wins against Colorado Mesa and Lander to advance to Saturday's semifinals in Louisville.
Borsellino's major decision lifted West Liberty past Colorado Mesa 20-19 and his decision against Lander helped the Hilltoppers win by criteria.
The stage was set for the late dramatics in part due to seventh-ranked 133-pounder Vincent Scollo's 3-1 overtime win against #6 Elijah Lusk.
West Liberty will take on top-ranked Central Oklahoma in Saturday's semis. The Bronchos rolled into the semis with wins over Augustana (22-12) and Indianapolis (25-9). St. Cloud State will take on the University of Mary in the other D2 semi.
Here's a look at five more interesting developments from Friday's men's competition in Louisville:
— Nebraska-Kearney has been a perennial Division II power for more than a decade. The Mary Marauders are trying to elevate their program to that level. Mary took a big step Friday.
The Marauders pulled off what the school website called the "biggest victory of the school's NCAA era" on Friday when they downed the reigning NCAA champion Lopers 21-12 in the quarterfinals.
Mary registered six match wins against Nebraska-Kearney, highlighted by third-ranked Max Bruss' 7-4 win at 174 against #2 Austin Eldredge. The Lopers had a mathematical chance going into 197, but #10 Hayden Prince suffered an apparent knee injury early in the third period of a 2-2 match against Matt Kaylor. Prince injury defaulted later in the period.
— Wartburg, Augsburg, UW-La Crosse and Johnson & Wales entered Friday unbeaten and occupying the top four spots in the Division III dual rankings. All four advanced to Saturday's semis, but not without some drama.
Wartburg trailed Baldwin Wallace 15-4 after four matches before sweeping the final six to win 24-15, and Johnson & Wales needed a late escape by heavyweight Liridon Leka to win 5-4 over Robby Bates in the winner-take-all heavyweight bout.
— Top-ranked Michael Petrella put Wartburg in an early hole when he decked All-American Kris Rumph, who raced out to an early 4-1 lead. Petrella trailed 4-3 in the third when he fended off a Rumph shot and tossed, crunched and cradled the Wartburg senior for a fall at 149.
— Top-ranked Grand View and #2 Life have collided in three consecutive NAIA championship duals and both squads blitzed through Friday's first two rounds. Grand View won 18 of its 20 bouts and scored bonus points in 14 dual wins against Lourdes and Reinhardt. Life also notched 18 match wins against Cornerstone and Morningside, including nine bonus-point victories.
— Grand View will take on Doane in the semis. The Tigers downed Indiana Tech 19-13 in one of the day's most compelling NAIA duals. Three-time NAIA champ Baterdene Boldmaa opened it up late and scored a 10-3 win at 141 against fifth-ranked Kyle Kantola. Ninth-ranked heavyweight Brandon Antesberger sealed the dual for Doane with a 3-1 win against Braydon Erb.