2023 NWCA Multi-Divisional National Championship
NAIA Insider: Can Anyone Get In Way Of Another Grand View-Life Clash?
NAIA Insider: Can Anyone Get In Way Of Another Grand View-Life Clash?
Grand View has won 10 straight National Duals titles, beating Life in each of the last three years. The NAIA powers could be on another collision course.
Jan 6, 2023
by Justin Portillo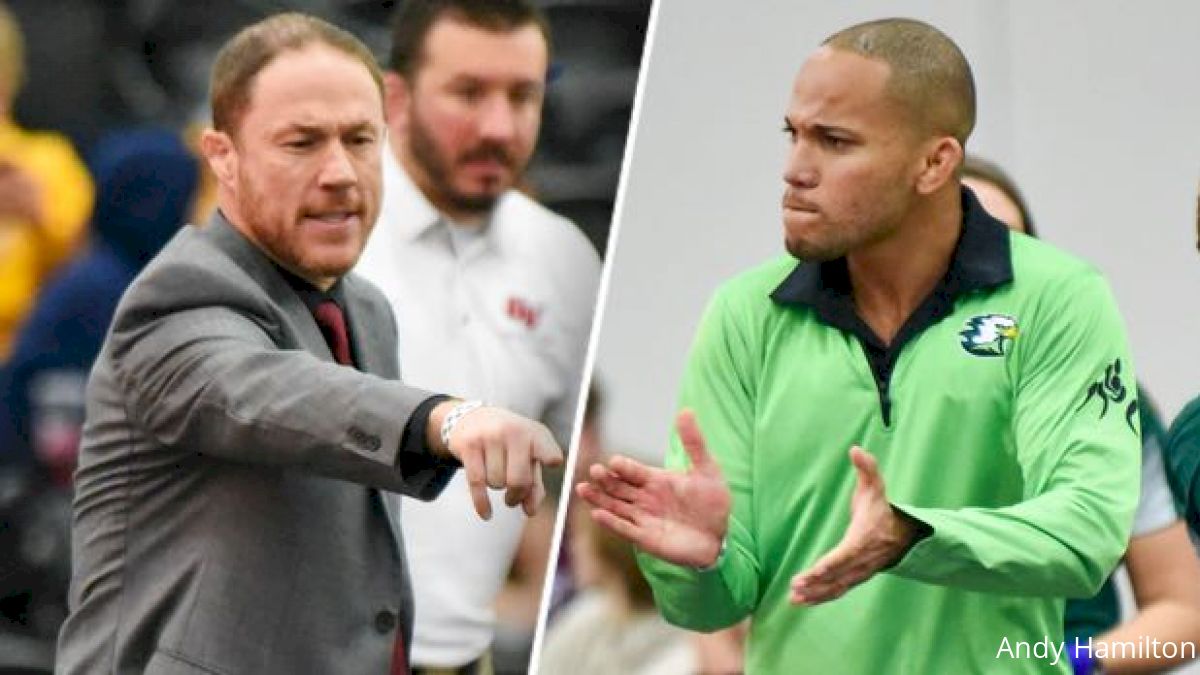 Sixteen NAIA men's teams arrived this week in Louisville for the opportunity to take home one of the division's biggest prizes — the NWCA National Duals title.
The title trophy has been covered in Grand View prints throughout the past decade. The Vikings won their 10th straight National Duals title last year.
Also of note, the Vikings have met Life University in each of the past three National Duals finals with Grand View winning 23-12 in 2019, 40-0 in 2020 and 21-10 in 2022 (the 2021 tournament was canceled). Grand View and Life hold the #1 and 2 seeds, respectively, yet it is no guarantee these teams clash again.
Let's look at which other teams will be fighting for a top placement at the national duals.
The Top Half
Grand View will start off its run with Lourdes University from Ohio. Lourdes is currently led by 184-pound national qualifier William Speight, who is on the fringe of the rankings. The winner will face either #8 Reinhardt or #9 Lindsey Wilson. This dual could come down to the wire.
Right below that in the top half, is Baker vs. Indiana Tech. Indiana Tech is the favorite, but Baker's low seed can be misleading. Baker had a tough time at the Eagle Duals, but has a pair of ranked wrestlers. Meanwhile, Indiana Tech is 8-0 in duals this year, dominating them all.
If the seeds hold, it would be Doane vs. Indiana Tech in the quarter finals. This looks to be a back-and-forth dual. The feature matchup of this dual will be at 133 pounds, where two-time All-Americans Matt Gimson and Daniel Vargas could collide. For a few duals this year, head coach Dana Vote has bumped guys around, especially at 149 and 157. Will Vote use that strategy against Indiana Tech, bumping either Nate Lendt or Tristan Zamilpa up to face #3 at 157, Nate Wheeler?
The top half semis could set Indiana Tech or Doane up a possible dual with Grand View. The Vikings would likely be favored in eight of the 10 matchups against either squad, but there's plenty of reasons to tune in. Doane has three-time national champion Baterdene Boldmaa at 141 and Indiana Tech has two-time national champion Eric Vermillion at 184 — two of NAIA's biggest stars. An Indiana Tech-Grand View semi would set the stage for a showdown between #1 Vermillion and #2 Ben Lee of Grand View. Last year, they split matches, but Vermillion got the win in the national finals.
The Bottom Half
On the bottom side, #3 Southeastern opens with University of the Cumberlands. These two teams faced a few weeks ago at the Fire Duals, with Southeastern winning 26-9. On top of that, Southeastern just received a high-level Cumberlands transfer Gabe Jacobs at 285. He already has wins over two All-Americans this year. Should Southeastern beat Cumberlands again, the Fire would face Campbellsville or Marian.
Campbellsville beat Marian 52-0 earlier this season at the NAIA Challenge Duals. That was a varsity dual tournament, but Marian had none of its ranked guys competing. If Marian fields a full lineup, this dual could come down to the wire.
The #7 seed is Ottawa, which is particularly strong in dual settings with an 8-0 record and wins over teams in the field such as Campbellsville, Oklahoma City and Baker. The Braves take on Morningside first round. Ottawa's highest-ranked wrestlers are both #7 — Dayton Hill at 165 and J.D. Perez at 184.
They will both be tested by national qualifiers from Morningside — Caleb Connor and Hayden Wempen. Lastly, we will see #2 Life take on Cornerstone, a school in Michigan that just finished its inaugural season in 2022. Cornerstone is led by high-scoring gunslinger Trevor Marsman at 125, who is up to #6. Life is expected to handle the dual, but a matchup between Marsman and Brandon Orum, a national champion in 2021, would be a treat.
The projected semi between Life and Southeastern is a staple rivalry. Life has great depth, but the Running Eagles will need their key athletes this weekend. Much of the team hasn't competed since the Grand View Open. We haven't seen #2 Orum or #2 Brevin Balmeceda this year yet, and #1 Zane Lanham has only wrestled one match.
Another Grand View-Life Final?
The Grand View-Life rivalry is one of the best things to happen to NAIA wrestling in recent years. This dual is always intense, scrappy, and passionate. Here are the projected lineups if their best guys all compete.
125: #1 Esco Walker (Grand View) vs. #2 Brandon Orum (Life)
133: #1 Carson Taylor (Grand View) vs. #3 Jacob Ruiz or #5 Tyree Johnson (Life)
141: #7 Shea Ruffridge (Grand View) vs. #2 Julian Hernandez (Life)
149: #4 Blake Gonzalez (Grand View) vs. #2 Brevin Balmeceda (Life)
157: #1 Gio Bonilla or #2 Israel Casarez (Grand View) vs. #8 Steven Villalobos (Life)
165: #2 Marty Margolis (Grand View) vs. #6 Jack Bass (Life)
174: #1 Isaiah Luellen (Grand View) vs. Riley Smucker (Life)
184: #2 Ben Lee (Grand View) vs. #5 Myles Starke or #9 Asher Eichert (Life)
197: #3 Garavous Kouekabakilaho (Grand View) vs. #1 Zane Lanham (Life)
285: #1 Greg Hagan (Grand View) vs. #5 Austin Harris (Life)
If we get another Grand View-Life title dual, it would likely start with a national final rematch. Walker downed Orum in March for the NAIA title.
Life's 157-pound national finalist, Bass, appears to be bumping up to 165, where he could meet Margolis, a national finalist a year ago. At 149, Gonzalez could face his toughest NAIA foe of the year in Balmeceda. If the dual is still close towards the end, there could be fireworks in the upperweights. Life has #1 Lanham at 197 and Grand View has #1 Hagan at 285. Each could oppose a dangerous, new face. Koukebakilaho has made tremendous improvements at Grand View. He never placed at state in California and redshirted last year before breaking out this year to win the Grand View Open. Then there's Austin Harris, who excelled at Oklahoma State before arriving to Life. He won the Patriot Open and took third at the Grand View Open, a bracket Hagan won. Although the numbers favor Grand View to win seven matches, almost every bout will be a toss-up.
Tune in Friday and Saturday to watch live on Flowrestling! NAIA competition begins at 2 pm ET Friday. The semis and finals will be on Saturday, beginning at 11 am ET.