2022-23 Oklahoma State Wrestling
Cowboy Insider: Smith Proud Of Links Between Oklahoma State And Next Foe
Cowboy Insider: Smith Proud Of Links Between Oklahoma State And Next Foe
Coming off a title performance at the Southern Scuffle, John Smith's Oklahoma State squad is preparing to take on a team with strong ties to the Cowboys.
Jan 5, 2023
by Adam Engel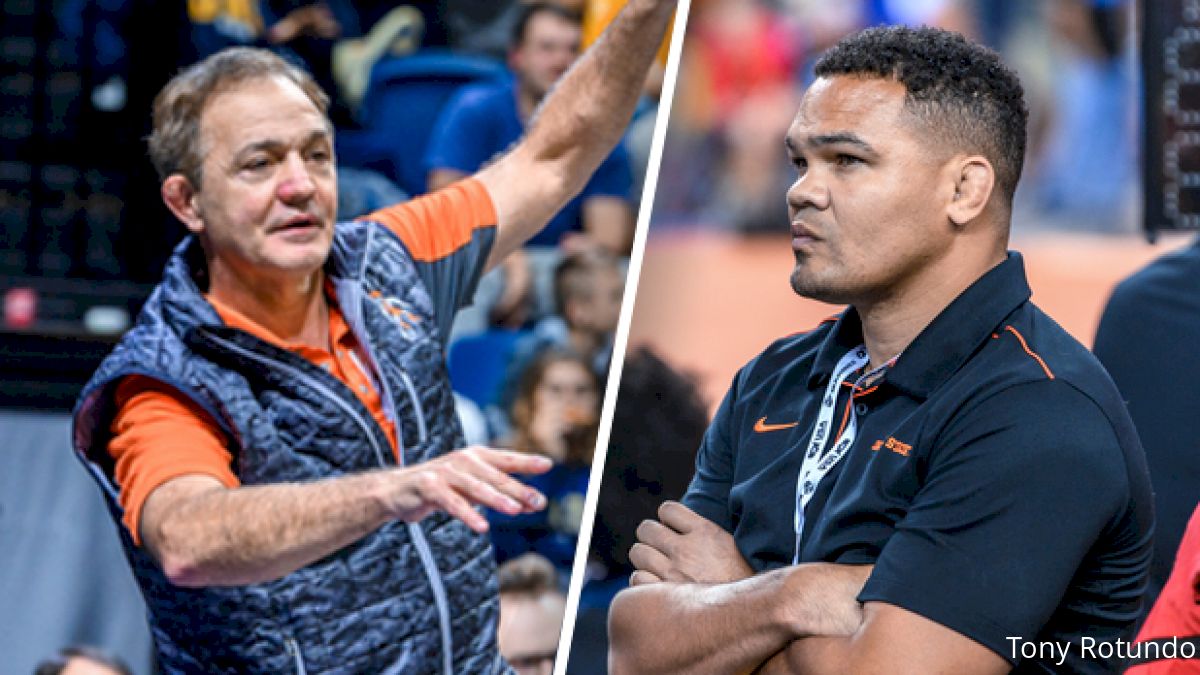 Unlock this article, live events, and more with a subscription!
Get Started
Already a subscriber? Log In
It's easy to find an Oklahoma State connection in the college wrestling world.
A blueblood power certainly has its fingerprints everywhere. This weekend's dual for the Cowboys vs. Oregon State proves that. Former Oklahoma State great Chris Pendleton, now the coach at Oregon State, welcomes his alma mater for the first time.
It's a move Cowboy coach John Smith likes to do. He enjoys helping his former wrestlers but doesn't want to lose. Not one bit.
"I've been proud of him in his coaching career — going from Wyoming to Arizona and right now the head coach of Oregon State," Smith said in an Oregon State press release. "I'm proud. That means more to me than winning a national championship."
Besides Pendleton, nine other Oklahoma State alumni hold Division I head coaching jobs.
Here are some other notes as the #15 Cowboys battle Oregon State on Sunday.
Smith To Coach Against Second Generation
The Cowboys-Beavers ties don't stop with Pendleton. Trey Munoz, Oregon State's starter at 184, is the son of a national champion. Smith coached Mark Munoz to a national championship in 2001. It will be the first time Smith will coach against the son of a former wrestler.
Mark remains one of many California cowboy greats. Trey recently won the Pac 12 Wrestler of the Week.
Seventh-ranked Trey will battle Oklahoma State's Travis Wittlake, an Oregon native ranked #12. Wittlake enters the dual fresh off a Southern Scuffle championship. It was the first time this season Oklahoma State's starters wrestled multiple matches in a day.
"It was good for my conditioning, it was good for my body, my muscles to feel the soreness on the second day," Wittlake said. "When I woke up this morning, I felt like I got hit by a truck. You're gonna have that in those first tournaments. As soon as you get warmed up and get the nerves out, you feel better."
Doucet Enjoying Heavyweight Transition
Like it or not, John Smith started a new heavyweight this season. Last year's starter, Luke Surber, cut down to 197. Austin Harris, Oklahoma State's starter before Surber, transferred to Life University. So, Konner Doucet, a redshirt sophomore from Comanche, Oklahoma, took over. He enters Sunday dual at Oregon State at 9-3. Five matches ended in overtime.
"I'm feeling pretty good," he said. "I feel like I'm growing every match and I feel like I'm getting more and more comfortable out there. I'm just excited for the future. We got a pretty full schedule coming up and I'm excited for it. Every weekend we're gonna be wrestling somewhere which is always exciting."
Doucet, like his teammates, will be tested in the Cowboys' second semester schedule. After a trip to Oregon State and Columbia, Oklahoma State returns home Jan. 20 against Northern Colorado. Doucet remains 2-1 against Big 12 opponents. He said he's adjusting to using his underhook more and wrestling in heavyweight positions. Chandler Rogers, OSU's graduate assistant, routinely practices with Doucet. It's a welcome scrap for Doucet, who challenges the two-time All-American.
"I think his body has changed," Smith said. "(Strength coach) Gary (Calcagno) has done a great job with him. He's physically changed. He came in a little bit heavy as a true freshman and the body a little bit out of shape. When you look at him right now, it's pretty impressive how he's transitioned into a well-conditioned young man.
Surber Ready For Big 12 Competition
National parity rings at 197.
It's one of the deepest weights in the country, especially the Big 12 with three returning All-Americans.
Luke Surber, Oklahoma State's 197-pound starter, enters the second semester at 9-3. Like many Cowboys, he will be challenged as the schedule's difficulty increases. He will see four ranked conference opponents in regular season.
Top-ranked Rocky Elam and his Missouri Tigers visit Stillwater Feb. 5.
"I know that I can beat anybody," Surber said. "I know the Big 12 is pretty tough so I'm gonna get tested. So, I think I just gotta put it together. I didn't feel like I wrestled that well at the beginning of the season. The more matches I get, I feel like it's gonna be real beneficial for me."