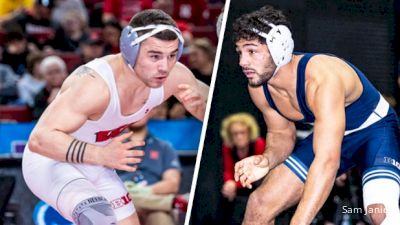 Unlock this video, live events, and more with a subscription!
Get Started
Already a subscriber? Log In
The Big Ten Conference kicks off its dual meet season with a big dual. Like really big.
We've got the defending champions and number one ranked Penn State Nittany Lions on the road against the #8 ranked Wisconsin Badgers. To me, that is very big. Brobdingnagian even.
We will be watching and partying it up in the FloWrestling studio and we do hope you join us. You can watch the actual wrestling if you subscribe to a cable bundle that carries the Big Ten Network, which will broadcast the dual at 9:00 PM ET.
Projected Lineups
125: Gary Steen, Penn State vs #5 Eric Barnett, Wisconsin
133: #1 Roman Bravo-Young, Penn State vs HM Taylor LaMont, Wisconsin
141: #4 Beau Bartlett, Penn State vs #18 Joseph Zargo, Wisconsin
149: #13 Shayne Van Ness, Penn State vs #2 Austin Gomez, Wisconsin
157: HM Terrell Barraclough or Levi Haines, Penn State vs #19 Garrett Model, Wisconsin
165: #18 Alex Facundo, Penn State vs #4 Dean Hamiti, Wisconsin
174: #1 Carter Starocci, Penn State vs Josh Otto, Wisconsin
184: #1 Aaron Brooks, Penn State vs Tyler Dow, Wisconsin
197: #2 Max Dean, Penn State vs #17 Braxton Amos, Wisconsin
285: #1 Greg Kerkvliet, Penn State vs #10 Trent Hillger, Wisconsin
149 and 165 Are The Marquee Matchups
The must-see bouts on the 10-match slate are between Penn State freshmen and Wisconsin All-Americans at 149 and 165.
PSU's Shayne Van Ness followed up an injury-shortened redshirt campaign with a 9-1 start to his first year in the varsity lineup. His only loss this season came in the finals of the collegiate duals against Iowa State's Paniro Johnson, another super frosh in the midst of a breakout season.
Van Ness's teammate a few weight classes up is Alex Facundo, who also has but one loss on the season, which he also received at the hands of a Cyclone a couple of weeks ago at the Collegiate Duals. ISU's 2021 national champ David Carr beat Facundo 4-2 to hand the Michigan native his sole loss of the 2022-23 season.
On the Badger side of the ledger at 149 is Austin Gomez, who finished fourth at the NCAA's last season. Gomez also has a loss this year to Paniro Johnson but he's got a couple of massive wins as well. The Illinois native bested Ohio State's Sammy Sasso at the NWCA All-Star Classic and defeated three-time NCAA champ Yianni Diakomihalis in a November dual.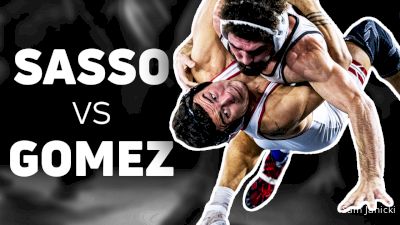 At 165, expect the Badgers to run out DJ Hamiti, an electric true sophomore who placed sixth at the NCAAs last March. Hamiti's only losses on the season are to 2022 157-pound runner-up Quincy Monday and 2021 157-pound champ David Carr.
Both Van Ness and Facundo are ranked a few rungs below their opponents, but they've also had fewer opportunities to earn higher rankings in their young collegiate careers. The stakes are high for the Nittany Lions to make up ground and conversely for the Badgers to defend their turf.
Penn State Can Boast Of Four Number Ones + A Number Two
Not many teams in the NCAA have a number one ranked wrestler, let alone many number one ranked wrestlers. Penn State is such a team with many, as defending national champs Roman Bravo-Young, Carter Starocci and Aaron Brooks join two-time All-American Greg Kerkvliet at the top of the national rankings.
Oh and Penn State can also boast of #2 Max Dean at 197, who also happens to be a defending national champ.
RBY, Starocci and Brooks will all be very heavy favorites over their opponents, none of whom are currently in the top 24.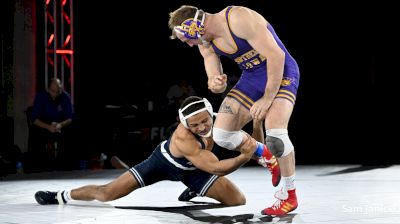 Unlock this video, live events, and more with a subscription!
Get Started
Already a subscriber? Log In
Dean and Kerkvliet have taller orders, however, with Braxton Amos and Trent Hillger as their respective projected opponents.
Dean already has two losses on the season, and Amos has been coming into form as of late as evidenced by an excellent Midlands performance where he finished as a runner-up, losing to Zac Braunagel in tiebreakers in the finals. Hillger is, like Kerkvliet, a two-time All-American.
Will Levi Haines Have His Redshirt Torn Off In Madison?
We won't know until we see who takes the mat, but the fact that Haines is listed as a probable starter certainly heightens the speculation.
Barraclough is a very solid option for Penn State, who may not be ranked at the moment, but can hold his own against highly ranked contenders, as he did in a 6-3 loss to Lehigh's #7 Josh Humphreys in December.
Haines also has the head-to-head win over Barraclough from the Black Knight Invite in November, and though he's no lock for the podium at this point in the season, there is likely more upside potential for the true freshman.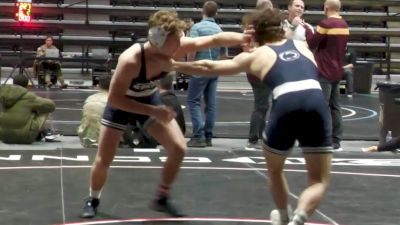 Unlock this video, live events, and more with a subscription!
Get Started
Already a subscriber? Log In
The question is what does head coach Cael Sanderson want to find out in this dual? Wisconsin's Garrett Model is a nationally ranked 2022 NCAA qualifier, which will be a good test for either the veteran or freshman Penn State option.
Haines participation in the dual would not necessarily signal that he will be PSU's starter moving forward as all True Freshman are given 5 events to compete in without burning their year of eligibility.
Can Wisconsin Pull Off The Upset?
It's going to be tough, especially if Penn State sends out all their starters.
The most likely results at 125, 133, 174 & 184 is one win for Wisconsin and three for Penn State. That leaves six matches where the Badgers will need five wins or four wins and bonus points. That makes the 149 and 165 bouts must-wins, as well as the 157 bout, assuming nothing unexpected happens.
Then even if those three toss-ups (or near-toss-ups) all go Wisconsin's way, you still need a fairly sizable upset at either 141, 197 or 285 just to break even on match wins and then hope you win the bonus battle or hold tiebreakers.
So if the dual starts at 125, the outcome may be all but decided by the midway point. Or crazy things could happen. It's been a crazy year so far, so perhaps we should expect the unexpected!