2023 FloWrestling DI Duals Series: Cornell vs Arizona State
Sun Devil Insider: ASU Charged Up For Challenges Against Cornell, ISU
Sun Devil Insider: ASU Charged Up For Challenges Against Cornell, ISU
Arizona State faces another test with its rugged schedule Wednesday when the Sun Devils tangle with Cornell in Austin.
Jan 4, 2023
by Jim Carlson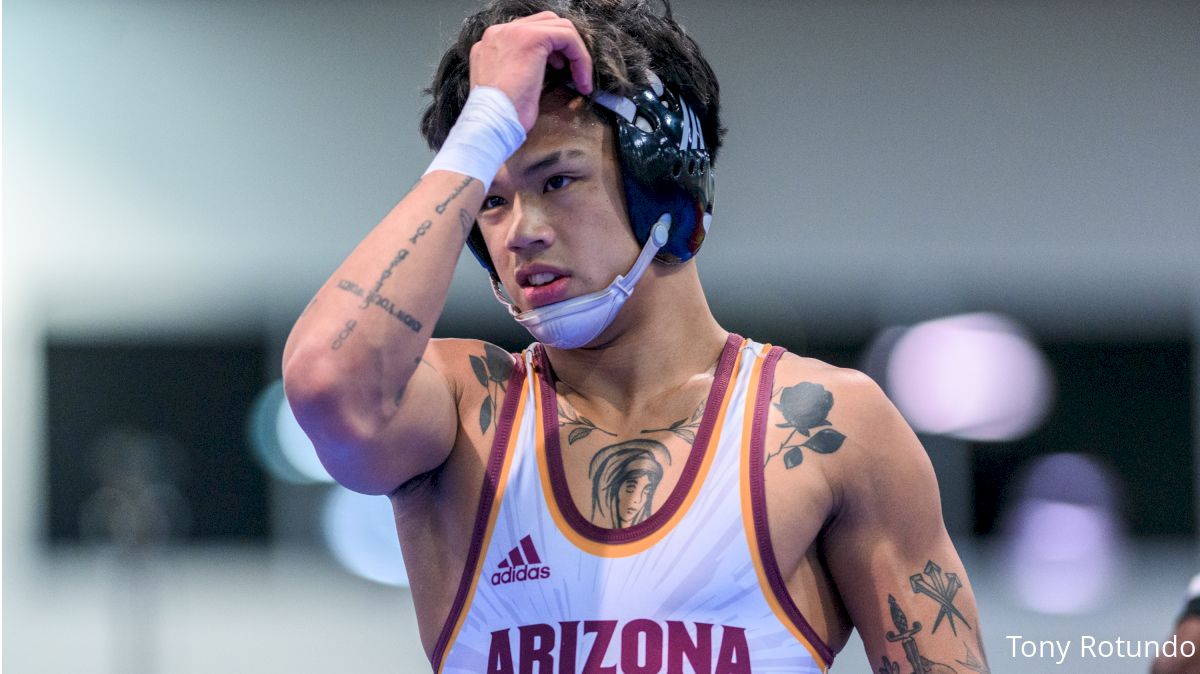 Arizona State had a few weeks of downtime after the Cliff Keen Las Vegas Invitational in early December, but the Sun Devils got back on the road — plane, actually — for a trip to the Midlands in Evanston, Illinois, and will onboard again this week for dual meets against Cornell in Austin, Texas, and Iowa State in Ames.
The trip to Northwestern wasn't exactly golden — two silver medals and a bronze was the Sun Devils' haul — but ASU was without Michael McGee (133) and Kordell Norfleet (197), and heavyweight Cohlton Schultz was a victim of a surprising run to the finals by Pitt freshman Dayton Pitzer.
It also wasn't without bright spots for the Sun Devils. Brandon Courtney (125) advanced to the finals before dropping a 6-2 decision to Wisconsin's Eric Barnett; Kyle Parco (149) did the same before being upended by eventual Outstanding Wrestler Yahya Thomas (4-3) of Northwestern; and McGee's replacement, Julian Chlebove, went 5-2 en route to a fourth-place finish.
ASU's rugged schedule — the Sun Devils shy away from no one — continues this week with trips to Austin, Texas, for the FloWrestling Duals Series showdown with Cornell (2-2), and then off to Iowa for a Sunday dust-up with Iowa State (7-2) in Ames. After that, #10 ASU (2-0) can be labeled a favorite, at least rankings-wise, in seven of its final eight matches.
But the matchups versus Cornell and Iowa State are epic in many instances. Such as McGee in a revenge match against Vito Arujau, or Parco against #1 Yianni Diakomihalis, or possible swing matches such as 157 with ASU's Max Wilner and Cornell's Colton Yapoujian, or 174 between ASU's Cael Valencia and Cornell's fifth-ranked Chris Foca, or 197 with Norfleet vs. Jacob Cardenas.
The possibility exists for equal parts excitement at Iowa State; it will mark the 16th meeting in a series that ASU leads 10-5. The Sun Devils will look to jump out to an early lead after the first two bouts prior to the Cyclones' firepower kicking in after that with Casey Swiderski at 141, Paniro Johnson at 149, 2021 NCAA champ (157) David Carr at 165, Marcus Coleman at 184 and Yonger Bastida at 197.
Bouts going to chalk create huge opportunities for the Sun Devils to cash in at 157 with Max Wilner or Michael Kilic and at 174 with Cael Valencia or Josh Nummer.
More than a few Sun Devils will have to step up to navigate this two-match whirlwind, and ASU coach Zeke Jones said earlier this season that the schedule is built to enable just that on the path to the postseason. He also said recently that the program must continue to develop its wrestlers.
The groundwork for that has been laid through the Sunkist Kids Wrestling Club, a regional training center that has had 277 World Team members and 97 medalists since its inception in 1976.
"To be a team that's in that upper-tier group and competing for a national championship, competing for a trophy year in and year out, it takes world-class coaches, it takes a world-class club," Jones said. "The Sunkist Kids Wrestling Club based out of Phoenix is better than most countries; it's got over 60 medals the last 40 years. Mark Perry along with our athletes, the men and the women, have done a fantastic job and that makes us better."
One of the veteran coach's recruiting pitches is telling recruits that there is no ceiling on how good they can become.
"There are world-class coaches and training partners and a club that can support your dream of being the best in the world. If God has given you the ability to be that good, you can get there," Jones said.
Seven rostered Sun Devils are from Arizona and another six are from California.
"If you look in the Valley (of the Sun), you see good kids coming out of there," Jones said. "It's not like Pennsylvania, where there's been decades of it. We manufactured it and now it is a part of our culture and our fabric here in this city and Phoenix."
That they recruit high-character kids is an added plus, Jones said. "Most of those kids realize, OK, they're competing at a high level and competing with high-character kids, people who are work hard, are disciplined, dedicated, trustworthy and respectful," he said.
"Then they realize it's a really good group of guys who are committed to the holistic approach — wrestling, school, life — and they're all doing it … living the right lifestyle. I think that is what sets the tone for this group, and it attracts more kids for themselves. The group sets the tone that way, based on high-character decisions and living the right lifestyle and they like it."