Big Ten
Realbuto Tops Sasso In UNI's Upset Of #4 tOSU
Realbuto Tops Sasso In UNI's Upset Of #4 tOSU
Northern Iowa earned a significant win over the Ohio State at the Collegiate Duals on Monday, and Panther Nation is buzzing.
Dec 20, 2022
by Kyle Klingman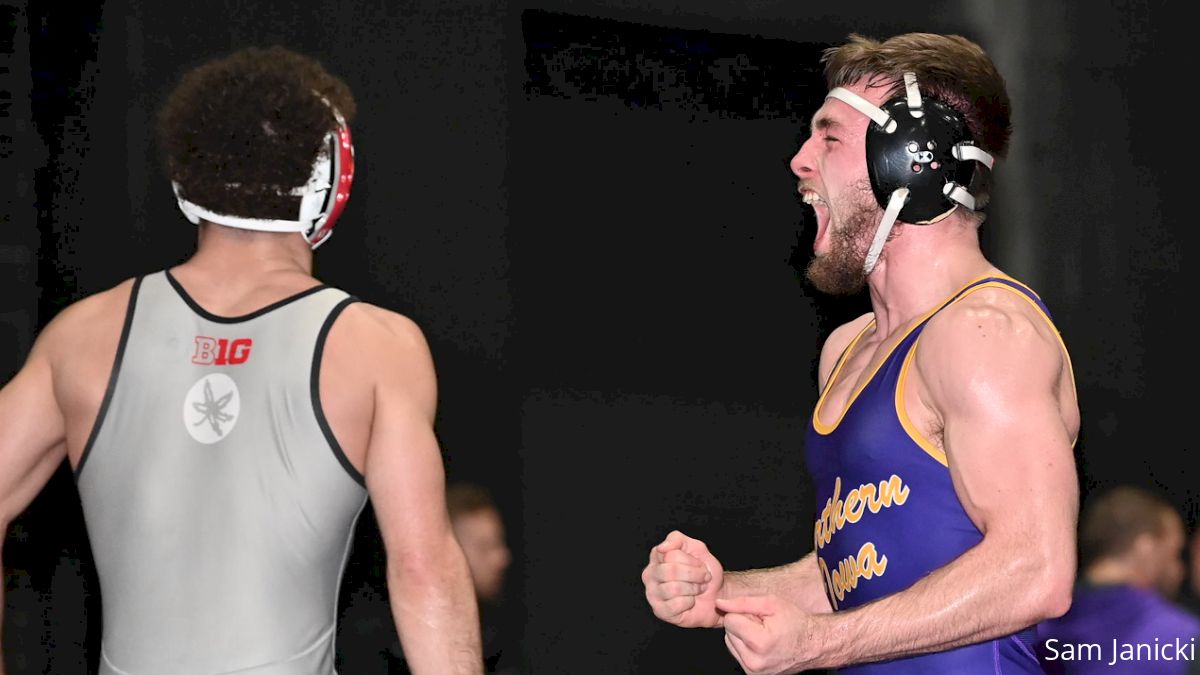 Northern Iowa defeated Ohio State at the Collegiate Duals on December 19 and Cedar Falls is buzzing. The Panthers have had lots of big wins over the years. In fact, UNI (known as Iowa State Teachers College) was the best team in the country for a spell.
But that was in the 1940s and 1950s prior to a brief move to Division II. Head coach Doug Schwab has consistently put quality teams on the mat, but the win over the Buckeyes might be his biggest.
Jim Miller, a 1974 D1 national finalist for UNI and a 10-time national championship coach for D3 Wartburg, understands the significance better than anyone.
"My phone blew up from alumni after we beat Ohio State," Miller said. "Let's put this in perspective. Can you imagine us competing and winning against Ohio State in another sport? Give the coaches and the team their due. This is a big win for the program and the university."
Schwab's team picked up key wins at 141, 149, and 285 pounds to earn a victory over the fourth-ranked dual team in the land. Colin Realbuto's win at 149 pounds is the one that stands out, though.
The Somers, New York, native knocked off #3 Sammy Sasso — a returning NCAA finalist — during a 9-7 thriller. Third-ranked Parker Keckeisen earned a 3-1 win over #4 Kaleb Romero at 184 pounds, which ultimately led to the grand finale at heavyweight.
Tyrell Gordon, a former 197-pounder who earned social media acclaim for a Greco throw he hit at Junior Nationals, sealed the deal with a 3-2 win over past All-American Tate Orndorff. It was the second win of the season over his Buckeye foe.
The Panthers proved they can compete with the top teams following an impressive win in New Orleans.
UNI 19, Ohio State 13
125 | Malik Heinselman (OSU) def. Kyle Gollhofer (UNI), 12-5
133 | Nic Bouzakis (OSU) dec. Kyle Biscoglia (UNI), 9-6
141 | Cael Happel (UNI) dec. Dylan D'Emilio, 7-5 SV1
149 | Colin Realbuto (UNI) dec. Sammy Sasso (OSU), 9-7
157 | Derek Holschlag (UNI) dec. Isaac Wilcox (OSU), 6-2
165 | Austin Yant (UNI) maj. dec. Gavin Brown (OSU), 11-1
174 | Ethan Smith (OSU) dec. Lance Runyon (UNI), 6-4
184 | Parker Keckeisen (UNI) dec. Kaleb Romero (OSU), 3-1
197 | Gavin Hoffman (OSU) maj. dec. Noah Glaser (UNI), 18-7
285 | Tyrell Gordon (UNI) dec. Tate Orndorff (OSU), 3-2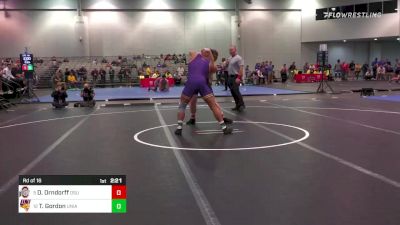 Unlock this video, live events, and more with a subscription!
Get Started
Already a subscriber? Log In
Tyrell Gordon defeated Tate Orndorff at the Cliff Keen Las Vegas Invitational