2022-23 Iowa State Wrestling
Cyclone Insider: Dresser Liked ISU's 'Swagger' In Loss To Iowa
Cyclone Insider: Dresser Liked ISU's 'Swagger' In Loss To Iowa
Iowa State walked out of Carver-Hawkeye Arena with a loss that reinforced the Cyclones' belief. Now ISU is headed to New Orleans for another test.
Dec 15, 2022
by Roger Moore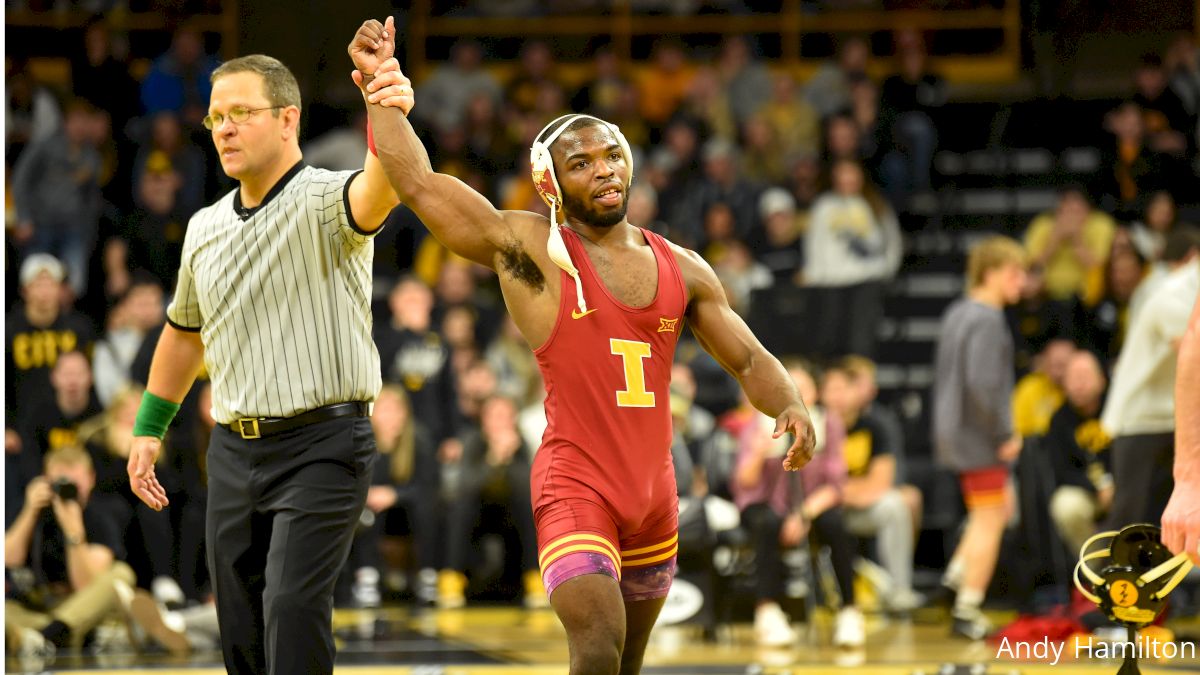 Unlock this article, live events, and more with a subscription!
Get Started
Already a subscriber? Log In
Losses in Carver-Hawkeye Arena occur frequently for opponents both local and national. For Iowa State, thoughts of ending a 17-match losing streak to Iowa was certainly part of the plan approaching the Dec. 4 much-hyped Cy-Hawk dual.
The steak did not end – Tony Cassioppi's win over Sam Schuyler in the dual's final bout gave second-ranked Iowa an 18-15 victory – but Iowa State coach Kevin Dresser's squad showed that a solid first semester has been no fluke.
"I think the confidence level is the same as it was going in (to the Iowa dual)," said Dresser, whose squad is 5-1 heading into this weekend's Collegiate Duals in New Orleans. "I've said numerous times this year with this team that it is a very confident team; they showed that confidence in Iowa City. Anybody that watched that match can see that this team has some swagger."
Among the five to earn victories in Iowa City was 133-pounder Ramon Attasauov, whose battled some injuries since last season's NCAA meet. He beat Cullan Schriever with a late takedown in the dual witnessed by an energetic 14,905.
"Now we know that we can beat anyone in the country; our team is in a good place," Attasauov said Wednesday. "It sucks to lose but I think we learned a lot from that dual. The message (from coaches) was to keep grinding and things will come our way."
Paniro Johnson, David Carr, Marcus Coleman, and Yonger Bastida also picked up wins to improve to 24-0 as a group this season.
With Iowa in the rear-view mirror, the Cyclones will continue to enhance their resume with trips to New Orleans (Dec. 19-20) and Chattanooga for the Southern Scuffle to start 2023. In New Orleans, the Cyclones will face an improving Oregon State program and No. 10 Cornell on Day 1. Another to-be-determined opponent waits on Day 2 in a field that also includes North Carolina, North Carolina State, Lehigh, Central Michigan, Penn State, Lock Haven, Cal Poly, Northern Iowa, and Ohio State.
"It might be hard to top Iowa City, but I think going to New Orleans with this format we are going to see some really, really good guys," Dresser said. "I told our guys this is what you see at the NCAA tournament on back-to-back days with this caliber of guys if you look at the rankings. Oregon State is one of the most up-and-coming programs and Cornell you don't really have say anything. And if you do well (on Day 1) you have a chance at a Penn State or somebody really good."
Passing Tests
Johnson, a rookie 149-pounder with wins over Wisconsin's Austin Gomez and Iowa's Max Murin this season, continues to receive the lion's share of attention on a squad with national champion David Carr. In New Orleans, Johnson (5-0) could see three-time NCAA king Yianni Diakomihalis of Cornell and maybe Penn State rookie Shayne Van Ness. Diakomihalis took just his second career loss in 96 matches Nov. 19 to Gomez. The weight class also includes Ohio State's Sammy Sasso and a solid group that Johnson wants to beat in March.
"Everybody can be beat and I'm here to prove it," Johnson said. "Whoever wins this weight (at NCAAs) will be remembered. If Yianni wins, it's four. If someone beats him they will be remembered as the guy who kept him from winning four. It's a very deep weight. Everybody has different styles."
"The beauty with Paniro is that he believes he can do just about anything," said Dresser of the Erie, Pa., product. "He has a lot more in his bag of tricks and that's the most important thing. We just see something new from him all the time; he's probably got a few tricks we don't know about that he's going to release in New Orleans."
Elite Company
Carr, currently at 73-2 for his collegiate career which equals 97.3 percent winning percentage. Obviously, equaling Cael Sanderson's 100 percent (159-0) and Dan Gable's 99 percent (100-1) is not possible on the Iowa State all-time list. But Carr sits third, just in front of Tim Krieger's 96.7 percent (116-3-2) and Joe Heskett at 93.5 percent (143-10). The listed group owns a combined 10 individual NCAA titles (Sanderson with four, two from Gable and Krieger and one from Carr and Heskett. Gable's 100 career victories are tied for 37th on ISU's all-time win's chart.
The 10
ISU's lineup has been consistent this season with the exception of 133 and 174 pounds. Attasauov and New Yorker Zach Redding (3-1) have seen the mat at 133, while Julien Broderson (5-0), according to Dresser, "is a little bit ahead of" fellow Iowan Joel Devine (10-1) at 174. Freshman M.J. Gaitan (1-2) suited up at Iowa but is among a group that Dresser would like to keep in redshirt.
Kysen Terukina (3-2), a two-time NCAA qualifier at 125, missed the Iowa dual due to injury and most likely will not be back until 2023. Veteran Corey Cabanban (2-2), a native of Hawaii like Terukina, is expected to be the man the rest of December.