2022 Reno TOC
23 Ranked High Schoolers Headed To Reno TOC
23 Ranked High Schoolers Headed To Reno TOC
The Reno TOC is a staple on the NCAA and High School calendars. Here's every registered high schooler with rankings where applicable.
Dec 15, 2022
by David Bray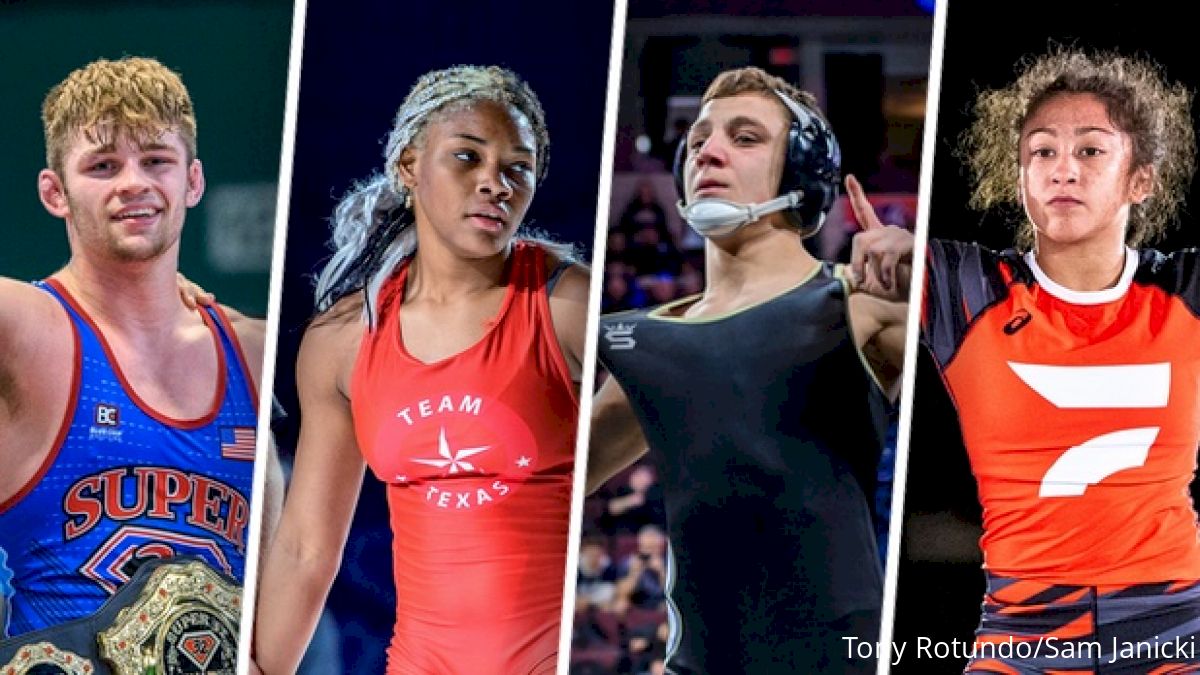 The Reno TOC annually puts together some of the deepest high school weight classes in the Western half of the United States. This year, over 20 nationally ranked high schoolers will attempt to navigate massive brackets to claim Reno TOC glory. Below is a list of every wrestler registered for the event with nationally ranked wrestlers at the top of each weight class list.
Note: at 106 lbs, Audrey Jimenez is ranked #1 in our national high school girls' rankings, but she is throwing her hat in the ring in the boys' division.
Boy's High School Division
106 - *#1 Audrey Jimenez, Sunnyside, AZ
106 - HM Devin Bobzien, Poway, CA
106 - HM Paulo Valdez, Hesperia, CA
106 - Adan Estrada, Toppenish, WA
106 - Adonias Cantu, Eaglecrest, CO
106 - Aiden Bastian, Layton, UT
106 - Antonio Herrera, Mullen, CO
106 - Benjamin Ploehn, Stansbury, UT
106 - Blake Saddler, Eaglecrest, CO
106 - Braden Griffith, Fruitland, ID
106 - Bryson Hand, Choctaw, OK
106 - Cameron Hensley, Casteel, AZ
106 - Camilo Ramirez, Walnut, CA
106 - Chance Yancey, Crook County, OR
106 - Chris Lopez, Sunnyside, AZ
106 - Cole Williss, Proctor R. Hug, NV
106 - Daniel Guerrero, Sahuarita, AZ
106 - David Dight, Thomas Edison, VA
106 - Dezmon Martinez, Sunny Side - B, WA
106 - Dezmon Martinez, Sunny Side, WA
106 - Dominic Bozanic, Gilroy, CA
106 - Dylan Frothinger, Eagle, ID
106 - Emilio Escobar, Granite Hills (El Cajon), CA
106 - Evan Mackuliak, Churchill County, NV
106 - Francisco Miranda, Sunnyside, AZ
106 - Gabe Arnold, Meridian, ID
106 - Gage Anderson, Wasatch, UT
106 - Hector Cahue, Carlsbad-CA, CA
106 - Hudson York, Corner Canyon Chargers, UT
106 - Hunter McBride, Ridgeline, UT
106 - Isaiah Trujillo, Temecula Valley, CA
106 - Izaias Espino, Oakdale, CA
106 - James Rollins, Mountain Crest, UT
106 - Jeremiah DeLaCerda, Alamosa, CO
106 - Jesse Oliva, Carson, NV
106 - JJ Schultheis, Yukon, OK
106 - Jose NoNato, Roseburg, WA
106 - Joshua Baker, Allen, TX
106 - Josiah Maestas, Slam Academy, NV
106 - Kolton Frye, canyon view, AZ
106 - Kyden Silz, Pomona - B, CO
106 - Lucas Todd, Green River, WY
106 - Lucas Vaughn, Newberg, OR
106 - Matt Stoops, La Costa Canyon, CA
106 - Merrik Williams, Morenci, AZ
106 - Michael Kowalski, Layton - B, UT
106 - Nicholas VASQUEZ, Adams City, CO
106 - Roman Luttrell, Cleveland, NM
106 - Romeo Daly, West Linn, OR
106 - Sean Willcox, St John Bosco, CA
106 - Sebastian Serrano, Sahuarita, AZ
106 - Silas Gomez, Pomona, CO
106 - Steve Romero, Toppenish, WA
106 - Tas Storer, Poway - B, CA
106 - Tobey Forman, Spanish Springs, NV
106 - Vincent Contreras, Nampa, ID
106 - Yoshi Tanaka, Bingham, UT
106 - Zaiden Gonzalez, Sunny Side, WA
113 - #7 (106) Gage Singleton, Roseburg, OR
113 - #19 Moses Mendoza, Gilroy, CA
113 - #20 Gabriel Ramirez, canyon view, AZ
113 - HM Antonio Rodriguez, Los Gatos, CA
113 - HM Edwin Sierra, Poway, AZ
113 - HM Ronnie Ramirez, Walnut, CA
113 - Alberto Flores, Crook County, OR
113 - Alexander Davidson, Horizon High School, AZ
113 - Alijah Macias, Nampa, ID
113 - Aulani Macias, Nampa, ID
113 - Beckham Harrison, Carson, NV
113 - Braeten Jorgensen, Centennial, ID
113 - Brian Bernabe-Verdin, Proctor R. Hug, NV
113 - Caleb Garner, Eagle, ID
113 - Carter DeLaCerna, Sutter Union High School, CA
113 - Colby Tennant, Fremont, UT
113 - Cooper Grundy, Herriman, UT
113 - Cruz Idano, Granite Hills (El Cajon), CA
113 - Dagen Lamano, Layton, UT
113 - Dale Oblia, Mullen, CO
113 - Dax Christensen, Bingham, UT
113 - dorian ervin, Eaglecrest, CO
113 - Duke Wentzel, Crook County, OR
113 - Elijah Bayne, Crater, OR
113 - Ethan Thomas, Choctaw, OK
113 - Ezekiel Hernandez, Oakdale, CA
113 - Gaspar Andres, Alamosa, CO
113 - Greason Striet, Layton - B, UT
113 - Hanks Jacobson, American Fork, UT
113 - Hanks Jacobson, American Fork, UT
113 - Hayden Wright, Yukon, OK
113 - Issac Torres, St John Bosco, CA
113 - Jack Frankmore, McQueen, NV
113 - Jake Marzi, Temecula Valley, CA
113 - Jason McDonald, Lemoore, CA
113 - Jeremiah Gonzalez, Meridian, ID
113 - Jett Moore, Allen, TX
113 - Josh Brucken, Newberg, OR
113 - Justin Ruiz, Spanish Springs, NV
113 - Kade Warnick, Davis, UT
113 - Kiano Torres, Morenci, AZ
113 - Konnor Preece, Ridgeline, UT
113 - Lorenzo Call, Stansbury, UT
113 - Louis Tapia-Gonzalez, Reed, NV
113 - Luke Woolsey, Morgan, UT
113 - Manuel Martir, De La Salle, CA
113 - Marcos LaCrue, Adams City, CO
113 - Marcus Aleman, Fruitland, ID
113 - Maximillion Dahl, Churchill County, NV
113 - Nick Mcgee, Reno, NV
113 - Rosalia Rubio, Carlsbad-NM, NM
113 - Ryan Amoureux, Meridian, ID
113 - Ryan Muzzi, West Linn, OR
113 - Rylan Doak, Fremont, UT
113 - Samuel Valencia, Sunny Side, WA
113 - Sean Archuleta, Sunnyside, AZ
113 - Spencer Wright, Green River, WY
113 - Travis Reidy, Temecula Valley, CA
113 - Trent Nelson, Morenci, AZ
113 - Tyler Capps, Pomona - B, CO
113 - William Madrigal, Sunny Side - B, WA
113 - William Madrigal, Sunny Side, WA
113 - Xiomara Gallego, Poway, AZ
113 - Zachary Halligan, Mountain Crest, UT
113 - Zaidyn Quinonez, Pomona, CO
120 - #19 Isaiah Cortez, Gilroy, CA
120 - HM Billy Townson, Poway, CA
120 - HM Dedrick Navarro, Nampa, ID
120 - HM Nathan Carrillo, St John Bosco, CA
120 - Aidan Munoz, Temecula Valley, CA
120 - Axel MacKinnon, Green River, WY
120 - Ayden Kifer, Yukon, OK
120 - Ayden Smith, Cleveland, NM
120 - Beau Frentheway, Wasatch, UT
120 - Benjamin Kohler, Wasatch, UT
120 - Bryan Madrigal, Sunny Side, WA
120 - Bryan Madrigal, Sunny Side - B, WA
120 - Cade Ross, McQueen, NV
120 - Caden Sae-Wong, Earl Wooster, NV
120 - Caleb Tatad, De La Salle, CA
120 - Carlos Valdiviezo, Poway - B, CA
120 - Carson Melendy, Churchill County, NV
120 - Carter Nelson, Mountain Crest, UT
120 - Cayden Robbins, Mullen, CO
120 - Cesar Vasquez, Sunnyside, AZ
120 - Christian Garcia, Walnut, CA
120 - Colby Cook, West Linn, OR
120 - Cole Fenwick, Layton - B, UT
120 - Cole Reagan, Herriman, UT
120 - Corbin Atwood, Lone Peak, UT
120 - Daxton Bonner, Wasatch, UT
120 - Dempsey Gibbs, Alamosa, CO
120 - Derek Barrows, Pomona, CO
120 - Diego Brito, Granite Hills (El Cajon), CA
120 - Drake Hooiman, Slam Academy, NV
120 - emin skrijelj, Foothill (Palo Cedro), CA
120 - Ethan Madson, Horizon High School, AZ
120 - Ethan R Diaz, Eaglecrest, CO
120 - Ever Onofre, Proctor R. Hug, NV
120 - Fisher Walgren, Centennial, ID
120 - Gavin Rangel, Newberg, OR
120 - Geronimo Rivera, Layton, UT
120 - Gio Cuevas, De La Salle, CA
120 - Giovanni Martinez Chavez, canyon view, AZ
120 - Heber McPherson, Riverton, UT
120 - Hunter Ludwig, Sutter Union High School, CA
120 - Isaac Hampton, Newberg, OR
120 - Isaiah Stanturf, Roseburg, OR
120 - Jaedynn Pham, Eaglecrest, CO
120 - James Williams-Armstrong Jr., Sunnyside, AZ
120 - Jaxon Lopez, Adams City, CO
120 - Jayden Seballos, Morenci, AZ
120 - John-Michael Masters, Casteel, AZ
120 - Jonathan Morrison, Severance, CO
120 - Jose Limones, Gilroy - B, CA
120 - Joseph Ramirez, Los Gatos, CA
120 - Justin Fox, Sahuarita, AZ
120 - Kael Theobald, Payson, UT
120 - Kelby Bernard, Allen, TX
120 - Kobe Humphries, Eagle, ID
120 - Kolton Farrow, Fruitland, ID
120 - Kyler Pace, Layton - B, UT
120 - Landon Lavey, Crook County, OR
120 - Liam Eller, Corner Canyon Chargers, UT
120 - Lochlan Stowell, Bingham, UT
120 - Logan Shaver, Meridian, ID
120 - Logan Thomas, Oakdale, CA
120 - Makai Ito, La Costa Canyon, CA
120 - Marcus Gonzales, Pomona - B, CO
120 - Marcus Najera, Carlsbad-NM, NM
120 - Mason Hanna, Choctaw, OK
120 - Mason Lacey, Crook County, OR
120 - Matthew O'Brien, Earl Wooster, NV
120 - Nataani Prado, Slam Academy - B, NV
120 - Noah Rodriguez, Toppenish, WA
120 - Owen Dean, Lemoore, CA
120 - Rhett Herman, Grandview, CO
120 - Robert Jones, Poway - B, CA
120 - Ryler Jorgensen, Morgan, UT
120 - Simon Luna, Nampa, ID
120 - Stephen Maltos, Sunny Side, WA
120 - Tyden Schultz, Spanish Springs, NV
120 - Tyler Khoundet, Stansbury, UT
120 - Wesley Davies, Choctaw, OK
120 - Xander Fenner, Davis, UT
120 - Xander Fenner, Davis, UT
126 - HM Elias Navida, Poway, CA
126 - HM Elijah Cortez, Gilroy, CA
126 - HM Jacob Carson, Pleasant Grove, UT
126 - HM Mark Cardenas, Pomona, CO
126 - HM Sergio Vega, Sunnyside, AZ
126 - Aaron Contreras, Walnut, CA
126 - Abner Lopez, Spanish Springs, NV
126 - Adrian Hurd, Lemoore, CA
126 - Aiden Bonner, Crook County, OR
126 - Aiden Chur, Granite Hills (El Cajon) - B, CA
126 - Alejandra Valdiviezo, Poway, CA
126 - Andrew Ramirez Jr, canyon view, AZ
126 - Angel Serrano, Pomona - B, CO
126 - Ashton Lucero, Green River, WY
126 - Azaiah Ortega, Adams City, CO
126 - Brant Clark, Toppenish, WA
126 - Breck Williams, Morenci, AZ
126 - Brenden Acgaoili, Slam Academy, NV
126 - Brian Peck, Sutter Union High School, CA
126 - Caden Hanover, Poway - B, CA
126 - Caleb Strom, Herriman, UT
126 - Carter Olson, Riverton, UT
126 - Casey Hulse, Eagle, ID
126 - Christian Demars, Centennial, ID
126 - Daniel Glenn, Gilroy - B, CA
126 - Daniel Gull, Stansbury, UT
126 - Dario Valdez, Alamosa, CO
126 - David Scott, Columbia, ID
126 - Devante Sisneros, Severance, CO
126 - Diego Chavez, Slam Academy - B, NV
126 - Drew Auwen, Choctaw, OK
126 - Drew Korth, Morgan, UT
126 - Easton Evans, Mountain Crest, UT
126 - Evan Krantz, McQueen, NV
126 - Eziequel Vela, Oakdale, CA
126 - Gabe Romans, Allen, TX
126 - Gabriel Lemos, Temecula Valley, CA
126 - Gilbert Antillon, Mullen, CO
126 - Isaac Bachicha, Cleveland, NM
126 - Isaiah Miller, Sahuarita, AZ
126 - Jack Rustad, Casteel, AZ
126 - Jack Semadeni, Ridgeline, UT
126 - Jackson Bodine, Yukon, OK
126 - Jaret Hickey, Crater, OR
126 - Jason Worthley, Fremont, UT
126 - Jayson Suetos, Granite Hills (El Cajon), CA
126 - Jesse Meza, Oakdale, CA
126 - Joey Hutchins, Crater, OR
126 - Jordan Hutchins, Sunnyside, AZ
126 - Justyce Zuniga, Toppenish, WA
126 - Kaden Curry, St John Bosco, CA
126 - Ladanian Hernandez, Proctor R. Hug, NV
126 - Lincoln Gregersen, Ralston Valley, CO
126 - lorne ricke, Foothill (Palo Cedro), CA
126 - Lucas Wold, Carson, NV
126 - Maclain Culp, West Linn, OR
126 - Matthew Papa, Meridian, ID
126 - Max Wescott, Fruitland, ID
126 - Micah Madson, Horizon High School, AZ
126 - Micah Murdoch, American Fork, UT
126 - Najem Mafton, Thomas Edison, VA
126 - Nathaniel Martinez, Fruitland, ID
126 - Nathaniel Zackery, Churchill County, NV
126 - Nehemiah Quintana, Grandview, CO
126 - Noah Bull, Layton, UT
126 - Owen Green, La Costa Canyon, CA
126 - Payton Hernandez, Columbia, ID
126 - Richard Galvan, Sahuarita, AZ
126 - Roman Leaton, Roseburg, OR
126 - Ryder Sprague, West Linn, OR
126 - Steve Mateo, Columbia, ID
126 - Treygen Morin, Ridgevue, ID
126 - Zachary Keinonen, Newberg, OR
126 - Zack Butt, Ridgeline, UT
126 - Zaydrein Hernandez, St John Bosco, CA
132 - #14 Carlos Stanton, Sunnyside, AZ
132 - #15 Daniel Zepeda, Gilroy, CA
132 - HM Giosue Hickman, canyon view, AZ
132 - HM Manuel Saldate, Slam Academy, NV
132 - HM Tanner Frothinger, Eagle, ID
132 - Alex Fernandez III, Sunny Side, WA
132 - Alex Reinhart, La Costa Canyon, CA
132 - Andre Oster, Layton - B, UT
132 - Angel Vega, Carson, NV
132 - Brandon Smith, Newberg, OR
132 - Brayden Goodloe, Yukon, OK
132 - brown micah, Foothill (Palo Cedro), CA
132 - Carlos Vazquez, De La Salle, CA
132 - Carson Ashcroft, Stansbury, UT
132 - Carson exferd, Nampa, ID
132 - Carson Leishman, Ridgeline, UT
132 - Chase Carter, Casteel, AZ
132 - Derek Ball, Riverton, UT
132 - Derek Norwood, Adams City, CO
132 - Devyn Greenland, Pleasant Grove, UT
132 - Diego Estrada, Bingham, UT
132 - Dyson Woodward, Alamosa, CO
132 - Eli Barajas, McQueen, NV
132 - Elijah Carmona, Sahuarita, AZ
132 - Elijah Flores, Walnut, CA
132 - Emilio Roybal, Slam Academy - B, NV
132 - Ethan Boulton, Payson, UT
132 - Ethan Guzman, Green River - B, WY
132 - Ethan Murphy, Proctor R. Hug, NV
132 - Ezra Clemens, Fruitland, ID
132 - Geno Cardenas, Pomona, CO
132 - Graden Blue, Centennial, ID
132 - Hadley Platt, Fremont, UT
132 - Hayden Cromwell, Yukon, OK
132 - Hudson Mosher, Ridgeline, UT
132 - Isaak Chavez, Mullen, CO
132 - Jacob Hodge, Sutter Union High School, CA
132 - Jacob Smith, Newberg, OR
132 - Jaiden McFadden, Churchill County, NV
132 - Jair Jackson-Bey, Allen, TX
132 - Jalen Concepcion, Poway, CA
132 - Jaxon Kranz, Herriman, UT
132 - JC Warnick, Davis, UT
132 - Jesus Urias, Sahuarita, AZ
132 - Jory Garrett, Choctaw, OK
132 - Joshua Perez, De La Salle, CA
132 - josiah ballesteros, Sunnyside, AZ
132 - Kadrick Lewallen, Spanish Springs, NV
132 - Kale Knezovich, Green River, WY
132 - Kellen Kolka, Meridian, ID
132 - Layronz Fraser, Granite Hills (El Cajon), CA
132 - Logan Crowther, Layton, UT
132 - Logan Lopez, Horizon High School, AZ
132 - Malikhi Espiritu, Temecula Valley, CA
132 - Matthew Dixon, Cleveland, NM
132 - Miles Kohler, Wasatch, UT
132 - Noah Torres, Morenci, AZ
132 - Parker Hayes, Wasatch, UT
132 - Peter Bowen, Los Gatos, CA
132 - Reed Green, Severance, CO
132 - Robert Geyer, Roseburg, OR
132 - robert lacey, Crook County, OR
132 - Ryker Mele, Green River - B, WY
132 - Rykker Schilperoort, Sunny Side - B, WA
132 - Rykker Schilperoort, Sunny Side, WA
132 - Sammy Neely, Oakdale, CA
132 - Sean Arnett, Grandview, CO
132 - Sebastian Macedo, Lemoore, CA
132 - Tege Kelley, American Fork, UT
132 - Tigran Greyan, St John Bosco, CA
132 - Trenton Chapman, Pomona - B, CO
132 - Tristan Dodd, Cleveland, NM
132 - Tucker Sorensen, Poway - B, CA
132 - Ty Curtis, Riverton, UT
132 - Vanden Caudillo, Carlsbad-CA, CA
132 - Vans Sterner, Riverton, UT
132 - Will Dight, Thomas Edison, VA
132 - Wylie Stone, Eagle, ID
132 - Xavier Lucero, Cleveland, NM
138 - #6 Grigor Cholakyan, St John Bosco, CA
138 - #19 (132) Paul Kelly, Poway, CA
138 - HM Adyn Bostick, Sunnyside, AZ
138 - HM Jakob Romero, Pomona, CO
138 - HM Moses Mirabal, Gilroy, CA
138 - Alias Raby, West Valley, CA
138 - andrew Battles, canyon view, AZ
138 - Anthony Delgado, Slam Academy, NV
138 - Anthony Ramirez, Los Gatos, CA
138 - Atri Feizi, De La Salle, CA
138 - Boston Tazioli, Crater, OR
138 - Braden Whitmore, Sutter Union High School, CA
138 - Bradley Hyer, Herriman, UT
138 - Brady Nelson, Layton - B, UT
138 - Brock Jacobsen, Stansbury, UT
138 - Caleb Christian, Riverton, UT
138 - Camden Crespi, Meridian, ID
138 - Cash Holman, Choctaw, OK
138 - Christian Lopez, Sahuarita, AZ
138 - Christian Rivera, Sunnyside, AZ
138 - Conner Smith, Green River - B, WY
138 - Conner Thurston, Temecula Valley, CA
138 - Conner Young, Bingham, UT
138 - Connor Eyton, Meridian, ID
138 - Connor Law, Slam Academy - B, NV
138 - Coye Coffman, Fruitland, ID
138 - Deakon Dove, Centennial, ID
138 - Dillon Le, Newberg, OR
138 - Dillon Ryan, Yukon, OK
138 - Dominic Ruiz, Spanish Springs, NV
138 - Donavin Gibson, Morgan, UT
138 - Eian Allen, American Fork, UT
138 - Gabe Konig, Roseburg, OR
138 - GUNNER LOPEZ, Grandview, CO
138 - Hayden Horstman, Reed, NV
138 - Isaak Godina, canyon view, AZ
138 - Jace Lemons, Layton, UT
138 - Jace Morgan, Alamosa, CO
138 - Jaxon Brown, Wasatch, UT
138 - Jett Rupert, Carson, NV
138 - John Montoya, Cleveland, NM
138 - John Provencio, Morenci, AZ
138 - Jonathan Hernandez, Oakdale, CA
138 - Jordan Caldwell, Ridgeline, UT
138 - Jordan Rael, Sahuarita, AZ
138 - Joseph Liescheski, Allen, TX
138 - Joshua Abarca, West Linn, OR
138 - Joshua Hannan, Arcata, CA
138 - Kael Sepulveda, La Costa Canyon, CA
138 - Kai Wiedefeld, Carlsbad-CA, CA
138 - Keenan Parkhurst, Sutter Union High School, CA
138 - Kiyanno Zuniga, Toppenish, WA
138 - Kutter Christensen, Crater, OR
138 - Lonnie Adams, Churchill County, NV
138 - Marcos Torrez, Toppenish, WA
138 - Matthew Hernandez, Horizon High School, AZ
138 - Mesiah Valdez, Sunny Side, WA
138 - Michael Casillas, Morenci, AZ
138 - Miguelito Salazar, Adams City, CO
138 - Mike Johnson, Casteel, AZ
138 - Nathan Perryman, Temecula Valley, CA
138 - Nikko Gonzalez, Nampa, OK
138 - Omar Torres, Morenci, AZ
138 - Oscar Hinojos, Eaglecrest, CO
138 - Ross McKinney, Crook County, OR
138 - Ryan Carroll, Granite Hills (El Cajon), CA
138 - Ryder Robinson, Wasatch, UT
138 - Sam Weinberg, La Costa Canyon, CA
138 - Sebastian Delgado, Eagle, ID
138 - Skyler Hickman, canyon view, AZ
138 - Steven Burlingham Jr, Proctor R. Hug, NV
138 - Taite Toone, Morgan, UT
138 - tanner tolman, Mountain Crest, UT
138 - Thomas Dalton, Green River, WY
138 - Timmy Murabito, Los Gatos, CA
138 - Tommy Thomas, Severance, CO
138 - William Dixon, Payson, UT
144 - #4 Maxximus Martinez, Gilroy, CA
144 - HM Ethan Parco, Los Gatos, CA
144 - HM Gabriel Gallardo, Sahuarita, AZ
144 - HM Jason Mara, Meridian, ID
144 - HM Kayd Craig, Gooding, ID
144 - Alex Gruber, Riverton, UT
144 - Boston Powell, Yukon, OK
144 - Bradley Codman, McQueen, NV
144 - Brandon Ploehn, Stansbury, UT
144 - Caden Brown, Allen, TX
144 - Carter Nekvapil, Allen, TX
144 - Charles Laws Albano, canyon view, AZ
144 - Charlie Spinning, West Linn, OR
144 - Chris Villanueva, Sunny Side, WA
144 - Cole Green, Horizon High School, AZ
144 - COLE OLGUIN, Choctaw, OK
144 - Colton Silva, Oakdale, CA
144 - Colton Theobald, Payson, UT
144 - Conner Todd, Green River, WY
144 - COOPER MILLIGAN, Spanish Springs, NV
144 - Cutter Marsh, Crook County, OR
144 - Daniel Margand, Thomas Edison, VA
144 - Devon Wells, Granite Hills (El Cajon), CA
144 - Donovan Valdez, Alamosa, CO
144 - Ethan Maughan, Eaglecrest, CO
144 - Garcia Christian, canyon view, AZ
144 - Gus Amerson, Newberg, OR
144 - Hayden Wilkerson, Pleasant Grove, UT
144 - Henry Dillingham, West Linn, OR
144 - Hunter Davis, Green River - B, WY
144 - Hunter Ray, Eagle, ID
144 - Ian Overton, Layton - B, UT
144 - Ibraheem Farha, Poway, CA
144 - Isaac Balden, Slam Academy - B, NV
144 - Jack Lounsbury, Herriman, UT
144 - Jake Jampolsky, Casteel, AZ
144 - Jeramiah Prinz, Churchill County, NV
144 - Jericho Salla, Reed, NV
144 - Jermiah Zuniga, Toppenish, WA
144 - jonathan montes, Grandview, CO
144 - Joseph Antonio, St John Bosco, CA
144 - Josh Chaney, Reed, CA
144 - Kaden MacKenzie, Fruitland, ID
144 - Kalob Yabarra, Pomona, CO
144 - Kamren Wolff, Fremont, UT
144 - Keith Cragun, Wasatch, UT
144 - Kilian Schultz, Severance, CO
144 - Logan Kelley, Carlsbad-CA, CA
144 - logan martin, Foothill (Palo Cedro), CA
144 - Marvin Morton, Temecula Valley, CA
144 - Mason Hammerle, Columbia, ID
144 - Max Crespi, Meridian, ID
144 - Maximus Gutierrez, Adams City, CO
144 - Micah George, Wasatch, UT
144 - Micheal Watson, Sutter Union High School, CA
144 - P.J. Rodriguez, La Costa Canyon, CA
144 - Patrick Lakey, Centennial, OK
144 - Patrick Simas, Lemoore, CA
144 - Ryan McMillan, Bingham, UT
144 - Ryker Brann, Layton, UT
144 - Sam Welker, Ridgeline, UT
144 - Sergio Olivera, Proctor R. Hug, NV
144 - Sergio Pena, Sahuarita, AZ
144 - Stetson Bingham, Mountain Crest, UT
144 - Thomas Bartholomew, American Fork, UT
144 - Thomas Bartholomew, American Fork, UT
144 - Toby Krehbiel, Carson, NV
144 - Tony Albanese, Slam Academy, NV
144 - Tristen Hoag, La Costa Canyon, CA
144 - Victor Gonzalez, Sunnyside, AZ
144 - Victor Gonzalez, Sunnyside, AZ
144 - Victor Gonzalez, Sunnyside, AZ
144 - Wren Rambo, Crater, OR
144 - Wyatt Yutzie, Roseburg, OR
144 - Xander Hayes, Reno, NV
150 - #15 Collin Guffey, Granite Hills (El Cajon), CA
150 - HM Cade White, Meridian, ID
150 - HM Gavin Fernandez, De La Salle, CA
150 - HM Job Lee, Sunnyside, AZ
150 - HM Laird Root, Poway, CA
150 - Aiden Travis, Allen, TX
150 - Aleksandr Kikiniou, Poway - B, CA
150 - Andrew Ferguson, Eagle, ID
150 - Andrew Thompson-Center, Sutter Union High School, CA
150 - Ashton Lassig, Temecula Valley, CA
150 - Austin Schane, Yukon, OK
150 - Ayden Tazioli, Crater, OR
150 - Billy Fisher, Reno, NV
150 - Bradlee Farrer, Pleasant Grove, UT
150 - Brodie Johnson, Oakdale, CA
150 - Carter Egbert, Mountain Crest, UT
150 - Charlie Jones, Roseburg, OR
150 - Cody Soares, Oakdale, CA
150 - Dane Wendorff, Yukon, OK
150 - Dawsen Pimentel, Layton - B, UT
150 - Devin Myers, Columbia, ID
150 - EMILIO CASTRO, Sunny Side, WA
150 - EMILIO CASTRO, Sunny Side - B, WA
150 - Emily England, Lemoore, CA
150 - Frank Villanueva, canyon view, AZ
150 - Frankie Rodriguez, West Valley, CA
150 - Franklin Enkhmandakh, De La Salle, CA
150 - Gabe McCoy, Pleasant Grove, UT
150 - Gabriel Delgado, Slam Academy, NV
150 - Gage Guthrie, Choctaw, OK
150 - Gianni Barajas, McQueen, NV
150 - Hachem Belallam, Thomas Edison, VA
150 - Hunter Walden, Bingham, UT
150 - Ian Garcia, Severance, CO
150 - Jackson Sellers, Reno, NV
150 - Jaxxson Gomez, Green River, WY
150 - Jayden Lopez, Crook County, OR
150 - Jaydon Walther, Green River - B, WY
150 - Jesh Storm, Newberg, OR
150 - Joe Coon, Cleveland, NM
150 - John Brandt, Spanish Springs, NV
150 - Johnny Chuna, Lemoore, CA
150 - Jose Gatica, Toppenish, WA
150 - Josh Perez, Casteel, CA
150 - Joshua Gerarde, Grandview, CO
150 - Kaleb Viray, Slam Academy - B, NV
150 - Kelton Smith, Payson, UT
150 - Kennis Christensen, Wasatch, UT
150 - Kolby Rau, Fruitland, ID
150 - Kolton Williams, Corner Canyon Chargers, UT
150 - Kyler Liddell, Alamosa, CO
150 - Landon Sandoval, Silver, NM
150 - Liam Malley, Reed, NV
150 - Logan Owens, West Linn, OR
150 - Luc Koch, Earl Wooster, NV
150 - Manny Karaway, Churchill County, NV
150 - Maria Delpalacio-Goormastic, Proctor R. Hug, NV
150 - Michael Jensen, Centennial, OK
150 - Michael Morales, St John Bosco, CA
150 - Peter Jeppson, Ridgeline, UT
150 - Preston Harn, McQueen, NV
150 - Richard Marquez-curiel, Morenci, AZ
150 - Robert Franks, Allen, TX
150 - Rylan Crowther, Morgan, UT
150 - Samuel gonzalez, Sunny Side, WA
150 - Seth Apodaca, Layton - B, UT
150 - Seth Deaguero, Adams City, CO
150 - Stewart Cornelius, Los Gatos, CA
150 - Trae Frederick, Newberg, OR
150 - Ty Havniear, Crater, OR
150 - Vincent Cabral, Pomona, CO
150 - william hernandez, Foothill (Palo Cedro), CA
150 - Wyatt Kinne, Layton, UT
150 - Yash Sharma, Earl Wooster, NV
150 - Yazir Tellez, St John Bosco, CA
150 - Zach Mueller, Eaglecrest, CO
150 - Zack Fierro, Gilroy, CA
157 - HM Travis Grace, Gilroy, CA
157 - Abraham Marquez, Fruitland, ID
157 - Adrian Nemer, Sahuarita, AZ
157 - Aidan Perkins, Newberg, OR
157 - Andrew Crowther, Layton, UT
157 - Antonio Genovesi, Eagle, ID
157 - Banks Love, Bingham, UT
157 - Brennan Taylor, Severance, CO
157 - Damian Munster, Columbia, ID
157 - Damien Taylor, Reed, GA
157 - Damion Valderrama, Sutter Union High School, CA
157 - Daniel Long, Adams City, CO
157 - Daniel Sterling, Temecula Valley, CA
157 - Devon Repplinger, Severance, CO
157 - Dominik Fimbres, canyon view, AZ
157 - Dylan Tondreau, Slam Academy, NV
157 - Edvin Sanchez, St John Bosco, CA
157 - Emmitt Munson, Pomona, CO
157 - Eugene Atkinson, McQueen, NV
157 - Gabriel Rangel, Eaglecrest, CO
157 - Gavin Sandoval, Crook County, OR
157 - Gideon gerber, Oakdale, CA
157 - Greg Jacobs, Allen, TX
157 - Hunter Smith, Yukon, OK
157 - Isaac Larson, Horizon High School, AZ
157 - Jace Mcbride, Mountain Crest, UT
157 - Jack Hopkins, Oakdale, CA
157 - James Herwaldt, Green River, WY
157 - Jaxon Morgan, Alamosa, CO
157 - Jayden Segura, Proctor R. Hug, NV
157 - John Lucchesi, Earl Wooster, NV
157 - John Rendon, Sunny Side, WA
157 - Jonethen Barnes-Hurt, Carson, NV
157 - Julian Prieto, Sahuarita, AZ
157 - Kolby Benge, Spanish Springs, NV
157 - Korey Roland, Thomas Edison, VA
157 - Kyle Wood, Riverton, UT
157 - Lawson Fry, La Costa Canyon, CA
157 - Logan Hancey, Fremont, UT
157 - Lucas Pannell, Los Gatos, CA
157 - Luke Augustus, Newberg, OR
157 - Luke Jordan, Riverton, UT
157 - Marcus Lucero, Morenci, AZ
157 - Maxwell Brown, Eagle, ID
157 - Mustafa Yasser, Centennial, OK
157 - Nick Weipert, Green River - B, WY
157 - Nico Castillo, Lemoore, CA
157 - parker montgomery, Chester, CA
157 - Parker Yutzie, Roseburg, OR
157 - Patrick Winegar, Wasatch, UT
157 - Porter Gresko, Spanish Springs, NV
157 - Robbie Mair, La Costa Canyon, CA
157 - Ruger Stewart, Cleveland, NM
157 - Ryker Roundy, Davis, UT
157 - Seth Ordaz, Toppenish, WA
157 - Steven Christensen, Riverton, UT
157 - Tate Harris, Layton - B, UT
157 - TJ Arvizu, De La Salle, CA
157 - Trevor Frank, Payson, UT
157 - Troy Shelton, Churchill County, NV
157 - Ty Carman, Herriman, UT
157 - Yassael Gonzalez, Sunnyside, AZ
157 - Zac Sargent, Morgan, UT
157 - Zacary Ohagan, Choctaw, OK
157 - Zach Waterhouse, Granite Hills (El Cajon), CA
157 - Zack Fankhanel, Casteel, AZ
165 - HM Hudson Rogers, Meridian, ID
165 - Aidan Reinhart, Stansbury, UT
165 - Aiden Larson, Horizon High School, AZ
165 - angelo posado, Poway, CA
165 - Anthony Perez, La Costa Canyon, CA
165 - Armando John, Toppenish, WA
165 - Ayden Thelin, Choctaw, OK
165 - Ben Valencia, Cleveland, NM
165 - Brae Sepulveda, La Costa Canyon, CA
165 - Breck Worthen, Reno, NV
165 - cameron nelson, Davis, UT
165 - Carlos Lopez Garibaldo, Earl Wooster, NV
165 - Charlie Herting, Grandview, CO
165 - Colin Hart, Mullen, CO
165 - conner shabazian, Foothill (Palo Cedro), CA
165 - Damian Fernandes, Lemoore, CA
165 - Dante Hutchings, Pomona, CO
165 - David Moore, De La Salle, CA
165 - Declan Henderson, Green River - B, WY
165 - Dominic Dotson, Poway, CA
165 - Dontay McMurtrey, Mountain Crest, UT
165 - Drake Polak, Reed, NV
165 - dylan pile, Los Gatos, CA
165 - Dylan Shafizadeh, Riverton, UT
165 - Edwin Puga, Sunny Side, WA
165 - Felix Chang, Thomas Edison, VA
165 - Garytt Ostrander, Spanish Springs, NV
165 - Gino Ucelli, McQueen, NV
165 - Hunter Heredia, Roseburg, OR
165 - Jackson Gallian, Meridian, MS
165 - Joe Trygstad, Severance, CO
165 - Jonathan Seamons, Nampa, ID
165 - Joseph Contreras, Walnut, CA
165 - Julian Barajas, St John Bosco, CA
165 - Julien Bell, Slam Academy, NV
165 - Junior Bumanglag, Granite Hills (El Cajon), CA
165 - Kaden Bennie, Layton, UT
165 - Levi Deaguero, Adams City, CO
165 - Logan Alawneh, Temecula Valley, CA
165 - Lucas Gray, West Linn, OR
165 - Macrae Parker, Herriman, UT
165 - Mason Strobel, Casteel, AZ
165 - Micah Porter, Gilroy, CA
165 - Michael Avelar, Sunnyside, AZ
165 - Nakoa Fouret, Columbia, ID
165 - Owen Munk, Ridgeline, UT
165 - Palmer Smith, Crook County, OR
165 - Parker Reed, Proctor R. Hug, NV
165 - Patrick Negra, Newberg, OR
165 - Payne Perkins, Oakdale, CA
165 - Quayde Beck, Payson, UT
165 - Richard Creer, Sutter Union High School, CA
165 - Ryan Martindale, Yukon, OK
165 - Ryker Church, Riverton, UT
165 - Sier Phister, Riverton, UT
165 - Steffan Olmstead, Fruitland, ID
165 - Tate Keddington, Centennial, ID
165 - Teddy Smith, Los Gatos, CA
165 - Thayne Hatch, Churchill County, NV
165 - Thayne Lundy, Eaglecrest, CO
165 - Trapper Anderson, Fremont, UT
165 - Traven Apblanalp, Bingham, UT
165 - Tyler Waters, Green River, WY
165 - Vincent Villagomez, Layton - B, UT
165 - Walker Hilton, Newberg, OR
165 - Warren Smith, Allen, TX
165 - Zach Remer, Carson, NV
165 - Zydlik Montoya, Allen, TX
175 - #10 Justin Rademacher, West Linn, OR
175 - #11 Lucas Condon, Poway, CA
175 - HM Carlos Garcia, Oakdale, CA
175 - HM Kaiden Kintner, Toppenish, WA
175 - HM Leimana Fager, Corner Canyon Chargers, UT
175 - Ahmad Mohsin, Thomas Edison, VA
175 - Aidan McElveney, Earl Wooster, NV
175 - Alexander Ortiz, De La Salle, CA
175 - Andrew LaCrue Jr., Adams City, CO
175 - Andrew Pipal, Centennial, ID
175 - Antonio Del Puerto, De La Salle, CA
175 - Brayden Christiansen, Riverton, UT
175 - Bronwyn Rios, Reed, NV
175 - Bryce Goucher, Yukon, OK
175 - Callen OMahony, Poway - B, CA
175 - Carson Grundy, Herriman, UT
175 - Chandler Loveless, Payson, UT
175 - Christian Balzly, Green River - B, WY
175 - Colton Blankenship, Churchill County, NV
175 - colton Porfily, Crook County, OR
175 - Corbin Baumgartner, Lone Peak, UT
175 - Cougar Friesen, Newberg, OR
175 - damian deen, Crater, OR
175 - Daniel Serrano, Slam Academy, NV
175 - David Gutierrez, Sunny Side, WA
175 - Donathan Lewis, West Linn, OR
175 - Dylan McMahon, Grandview, CO
175 - Elijah Hawes, Layton - B, UT
175 - Emmanuel Gurrolla, Sunny Side - B, WA
175 - Emmanuel Gurrolla, Sunny Side, WA
175 - Ethan Hearne, Layton, UT
175 - Ethan Lamphere, Crook County, OR
175 - Gabriel Banks, Temecula Valley, CA
175 - Hunter Moore, Boulder City, NV
175 - Hunter Moore, Boulder City, NV
175 - Isaac Walker, Bingham, UT
175 - Isaiah Twait, Meridian, ID
175 - Ivan Tibbet, Sutter Union High School, CA
175 - Jake Closson, Pleasant Grove, UT
175 - Jay Stahl, Allen, TX
175 - Jeffrey Heaton, Carson, NV
175 - Juan Carlos (JC) Puga, Gilroy, CA
175 - Kael Campos, Sunny Side, WA
175 - Kaleb Balke, Casteel, AZ
175 - Kaleb Valdez-Lemos, Mullen, CO
175 - Kayden Folks, Lemoore, CA
175 - kingston coates, Foothill (Palo Cedro), CA
175 - Kyle Fellows, Granite Hills (El Cajon), CA
175 - Ladainian Gordon, Eaglecrest, CO
175 - Lawrence Chee, Morenci, AZ
175 - Logan Bauers, Green River, WY
175 - Maddux Najera, Pomona, CO
175 - Micah Martinez, Cleveland, NM
175 - Nicholas Piña, Sunnyside, AZ
175 - Ojas Shastri, Los Gatos, CA
175 - Petar Bojicic, La Costa Canyon, CA
175 - Quinn Hood, Fruitland, ID
175 - Rance Ridley, Choctaw, OK
175 - Rogelio Anguiano Santiago, Earl Wooster, NV
175 - Sam McMullen, Ridgeline, UT
175 - Shane Hepner, McQueen, NV
175 - Sir Friday, canyon view, AZ
175 - Thomas Farmer, Eagle, ID
175 - Trey Sanchez, American Fork, UT
175 - Tristian Smillie, Meridian, ID
175 - Vance Whitt, Spanish Springs, NV
175 - Verik Shoup, Carlsbad-CA, CA
175 - Wes Burford, Oakdale, CA
175 - William Allen, Roseburg, OR
175 - William DeKorver, Mountain Crest, UT
175 - William Thwaits, Sahuarita, AZ
175 - Wyatt Reed, Proctor R. Hug, NV
190 - HM Aiden Cooley, Allen, TX
190 - HM Carson Gooley, Meridian, ID
190 - HM Cayaen Smith, Lone Peak, UT
190 - HM Kael Bennie, Layton, UT
190 - HM Mark Ayala, St John Bosco, CA
190 - Adam Garcia, Toppenish, WA
190 - Alex Wilson, Yukon, OK
190 - Alexis Gonzalez, Eagle, ID
190 - asher villalpando, canyon view, AZ
190 - Asher Walls, Choctaw, OK
190 - Benjamin Winjum, West Linn, OR
190 - Cade Eichor, Yukon, OK
190 - Caden Fowler, Spanish Springs, NV
190 - Cesar Benavides Monroy, Earl Wooster, NV
190 - Chris Najera, Proctor R. Hug, NV
190 - Colby Runner, Severance, CO
190 - Collin Webb, Corner Canyon Chargers, UT
190 - Daniel Valdez, Newberg, OR
190 - David Gutierrez, Sunny Side - B, WA
190 - Degan Baca, Cleveland, NM
190 - Dylan Council, Eaglecrest, CO
190 - Eli Baker, Earl Wooster, NV
190 - Elias Corona, Oakdale, CA
190 - Emmitt Gibson, Roseburg, OR
190 - Gabe Taylor, Poway, CA
190 - Gage Watt, Riverton, UT
190 - Gavin Hill, Choctaw, OK
190 - Glean Gonzalez, Thomas Edison, VA
190 - Hollis Corbell, Morenci, AZ
190 - Inacio Valencia, Sunny Side, WA
190 - Isiah Oliva, Carson, NV
190 - Jackson Moore, Casteel, AZ
190 - Jacob Ngatuvai, Bingham, UT
190 - Jakob Lloyd, Green River, WY
190 - John Thompson, Reed, NV
190 - Jose Solis, Reed, NV
190 - Joseph Romero, Churchill County, NV
190 - Juan Pablo Plaza, Poway - B, CA
190 - Justin Cullen, Pomona, CO
190 - Kal-El Thomas, Herriman, UT
190 - Keagen Kroeger, Granite Hills (El Cajon), CA
190 - landen shurtleff, Payson, UT
190 - logan caldwell, Foothill (Palo Cedro), CA
190 - Louis Ucelli, McQueen, NV
190 - Lucas Mata, Sunnyside, AZ
190 - Lucas Mata, Sunnyside, AZ
190 - Luke Miller, Sutter Union High School, CA
190 - Marcel Gordon, Eaglecrest, CO
190 - Mason Walsh, Carlsbad-CA, CA
190 - Matt Porras-Diamond, Temecula Valley, CA
190 - Max Kibbee, Grandview, CO
190 - Micah Ortiz, Adams City, CO
190 - Mikey Trujillo, Alamosa, CO
190 - Oliver Scelza, Mullen, CO
190 - Preston Duke, Crook County, OR
190 - Quinn Richins, Wasatch, UT
190 - Ray Waller, Gilroy, CA
190 - Raymond Davila, Centennial, ID
190 - Raymund Florez, Fruitland, ID
190 - Robert Felipe, Lemoore, CA
190 - Rolando Sanchez, De La Salle, CA
190 - Rylee Creasey, Morgan, UT
190 - Sam Schroeder, Mountain Crest, UT
190 - Sasha Nyzhnyk, Los Gatos, CA
190 - Trevyn Gates, Pleasant Grove, UT
190 - Tyler Davis, Layton - B, UT
190 - Tyson Irby-Brownson, Boulder City, NV
190 - William Ingle, West Linn, OR
215 - #4 Hayden Walters, Crater, OR
215 - HM Adam Farha, Poway, CA
215 - HM Nicholas Sahakian, St John Bosco, CA
215 - Alex Smith, Meridian, ID
215 - Ami Hall, Mullen, CO
215 - Andres Graciano-Pulido, Sunny Side - B, WA
215 - Andres Graciano-Pulido, Sunny Side, WA
215 - Andrew Mitchell, Severance, CO
215 - Anthony Gilbert, Horizon High School, AZ
215 - Antonio Duriet, Sunnyside, AZ
215 - Armando Diaz Jr., Slam Academy, NV
215 - Austin Young, Casteel, AZ
215 - Austyn Nelson, Morenci, AZ
215 - Aydon Thomson, Morgan, UT
215 - benjamin vega sanchez, Foothill (Palo Cedro), CA
215 - Blake Palmer, Allen, TX
215 - Brady Nunemaker, Roseburg, OR
215 - Braiden Moon, Layton, UT
215 - Caleb McMullen, Ridgeline, UT
215 - Connor Nordt, Spanish Springs, NV
215 - Dalton Leivian, Eaglecrest, CO
215 - Darrell Leslie, Toppenish, WA
215 - Darren Rey, Carson, NV
215 - Deylin Miller, Green River, WY
215 - Earl Ingle, West Linn, OR
215 - Emilio Johnson, Oakdale, CA
215 - Esteban Jacinto Penuelas, Earl Wooster, NV
215 - Ethan Kincheloe, Nampa, ID
215 - Giovanni Pintarelli, Sutter Union High School, CA
215 - Hollus Risher, Ridgeline, UT
215 - Hunter Gillman, Pleasant Grove, UT
215 - Hunter Hammer, Mountain Crest, UT
215 - Hunter Homer, Wasatch, UT
215 - Ian Rogers, Stansbury, UT
215 - Ivan Cruz, Carlsbad-CA, CA
215 - Joey Smith, Granite Hills (El Cajon), CA
215 - Jonathan Eubanks, Reed, NV
215 - Jose Rosales, Pomona, CO
215 - Josh Luna, Toppenish, WA
215 - Jubal Brumble, Crook County, OR
215 - Judd Wells, Mountain Crest, UT
215 - kaden segrest, Foothill (Palo Cedro), CA
215 - Kaden Stitt, Choctaw, OK
215 - Kaeden Lincoln, Borah, ID
215 - Karol Madrigal, Adams City, CO
215 - Keetyn Oppelt, Yukon, OK
215 - Liam Armstrong, West Linn, OR
215 - Luke Abercrombie, Herriman, UT
215 - Mahkyi Smith, Lone Peak, UT
215 - Malcolm Williams, Sahuarita, AZ
215 - Marcus Nesbitt, Grandview, CO
215 - Michael Victoria, Adams City, CO
215 - Moses Tabangcura, Slam Academy - B, NV
215 - Nick Elison, Bingham, UT
215 - Om Shastri, Los Gatos, CA
215 - Omar Villalobos, Alamosa, CO
215 - Reagan Gowen, Crater, OR
215 - Ridge Lindley, Fremont, UT
215 - Ryan Nichols, Allen, TX
215 - Samuel Allison, Lemoore, CA
215 - Seth Brock, Eagle, ID
215 - Seth Montierth, Ridgeline, UT
215 - Theo Jorlanin, Proctor R. Hug, NV
215 - Trey Blazevich, La Costa Canyon, CA
215 - Troy Olmos, Columbia, ID
215 - Tyson Wilson, Churchill County, NV
215 - Victor Mancia, Sunny Side, WA
215 - Zadek Bowlby, Newberg, OR
285 - #10 Aden Attao, Borah, ID
285 - HM Anthony Nava, Toppenish, WA
285 - HM Drake Madole, Allen, TX
285 - Adam Hutchinson, Slam Academy - B, NV
285 - Adrian Arellano, Pomona, CO
285 - Amir Farha, Poway, CA
285 - Andrew Rivera, Cleveland, NM
285 - Anthony Toomey, Eagle, ID
285 - Austin McNaughtan, Wasatch, UT
285 - Austin Spangler, Yukon, OK
285 - Braxton Doucette, Riverton, UT
285 - Brayden Brock, Yukon, OK
285 - Bridger Bivens, Meridian, ID
285 - Brock Osmundson, Oakdale, CA
285 - Brock Ware, Stansbury, UT
285 - Caden Harry, Eaglecrest, CO
285 - Caleb Ramsey-Brown, Boulder City, NV
285 - Cayden Bird, Grandview, CO
285 - Caysen Dana, Ridgeline, UT
285 - Cesar Ramirez, Reed, NV
285 - Cooper Cazares, De La Salle, CA
285 - Cooper Mumford, Lone Peak, UT
285 - Cormac Anderson, Spanish Springs, NV
285 - Dade Jordan, Columbia, ID
285 - Davari Fladger, Slam Academy, NV
285 - Dayton Lynch, Casteel, AZ
285 - Dominic Porter, Carson, NV
285 - Dryden Pruitt, Sahuarita, AZ
285 - Dylan Spencer, Boulder City, NV
285 - Eddie Chapman, Pomona - B, CO
285 - Frank Emeterio, Walnut, CA
285 - Gabe Chapa, Fruitland, ID
285 - Gabe Marquez, Cleveland, NM
285 - Gavin Gleason, Oakdale, CA
285 - Grady Hamilton, Roseburg, OR
285 - Jackson Overstreet, Bingham, UT
285 - Jaden Overstreet, Bingham, UT
285 - James Sanchez, Alamosa, CO
285 - Jesus Gutierrez, Sutter Union High School, CA
285 - Joel Zamora, Fruitland, ID
285 - Jon Anderson, Meridian, ID
285 - Jorge Gonzales, Reno, NV
285 - Jose Morales, Lemoore, CA
285 - Kailin Temple, Columbia, ID
285 - Kaydon Williams, Corner Canyon Chargers, UT
285 - Lavemai Funganitao, Proctor R. Hug, NV
285 - Lincoln Egbert, Herriman, UT
285 - Luke Almaguer, Sunny Side, WA
285 - Luke Almaguer, Sunny Side - B, WA
285 - Mateo Armendariz, Sunny Side, WA
285 - Maurico Ambriz, Crook County, OR
285 - Miguel Camacho, Toppenish, WA
285 - Nathan Boyce, St John Bosco, CA
285 - Payton Gunter, Nampa, ID
285 - Peyton Hansen, American Fork, UT
285 - Sean Reeder, Churchill County, NV
285 - Shilo Jones, Mountain View, ID
285 - Takoa Byrd, Layton, UT
285 - Trey Smith, McQueen, NV
285 - Tyler Crosten, Layton - B, UT
285 - Zach Pike, La Costa Canyon, CA
285 - Zayne Candelaria, Sunnyside, AZ
Girls High School Division
100 - Alexis Saavedra, Cleveland, NM
100 - Brooklyn Johnson, Eagle, ID
100 - Chalis Bueckert, Crook County, OR
100 - Chasey Karabell, Eaglecrest, CO
100 - Emily Seely, La Canada, CA
100 - Grace Romans, Allen, TX
100 - Mia Espalin, Casteel, AZ
100 - Mikayla Randall-Varela, Cleveland, NM
100 - Milar Little, Eaglecrest, CO
100 - Sadie Hardy, Bear River, UT
100 - Sienna Montanez, Walnut, CA
100 - Sofie Ghasabyan, Eaglecrest, CO
100 - Sydney Babi, Eaglecrest, CO
100 - Tommy Stone, Eagle, ID
100 - Viviana Zavala, Spanish Springs, NV
107 - #3 Anaya Falcon, Walnut, CA
107 - Angel Griego, Casteel, AZ
107 - Angel Lee, La Canada, CA
107 - Arianna Sanchez, Eaglecrest, CO
107 - Caylee Reyes, Walnut, CA
107 - Desiree Reveles, Alamosa, CO
107 - Jacianna Beltran, Sunnyside, AZ
107 - Lily Homant, Eaglecrest, CO
107 - Livia Briggs, Meridian, ID
107 - Melanye Aguirre, Earl Wooster, NV
107 - Mina Trinh, Riverton, UT
107 - Olivia Clingan, Sutter Union High School, CA
107 - Rachel Epling, Bear River, UT
107 - sienna caruso, Crater, OR
107 - Sydney Uribe, Sutter Union High School, CA
114 - #23 Sarah DeLaCerda, Alamosa, CO
114 - Addison Blakeman, Eaglecrest, CO
114 - Addyson VanCott, Stansbury, UT
114 - Akirah Bremmer, Sutter Union High School, CA
114 - Amber Perkins, Carson, MI
114 - Angie Solis, Crook County, OR
114 - Ashley Smith, Cleveland, NM
114 - Bella Butterfield, Riverton, UT
114 - Bella Coronado, McQueen, NV
114 - Bella Gunderson, Bear River, UT
114 - Brooklyn Lanningham, Columbia, ID
114 - Colbi Eckhart, Eagle, ID
114 - Deandra Meza, Walnut, CA
114 - Ella Parker, Spanish Springs, NV
114 - Gracie Mitchell, Spanish Springs, NV
114 - Hayden Fry, La Costa Canyon, CA
114 - Hilaria Burruel, Sunnyside, AZ
114 - Iliana Castaneda, Sunnyside, AZ
114 - Jacey Hilton, Riverton, UT
114 - Kate Donaldson, Corner Canyon Chargers, UT
114 - Lanay Cohen, Sutter Union High School, CA
114 - maggie marsh, Casteel, AZ
114 - Rianna Bernal, Lemoore, CA
120 - Addison Call, Bear River, UT
120 - Allison Ingrassia, La Canada, CA
120 - Ava Parker, Spanish Springs, NV
120 - Bianca Cobo, Sunnyside, AZ
120 - Brynn Fraczek, Spanish Springs, NV
120 - Cassidy Hutchison, Riverton, UT
120 - Emma Frothinger, Eagle, ID
120 - Izzy Levine, Casteel, AZ
120 - Jonnie McQueen, Columbia, ID
120 - Jordan Heibult, Eaglecrest, CO
120 - Kacie Jean Nicholes, Stansbury, UT
120 - Kate Bunce, Bear River, UT
120 - Lillimae Brumble, Crook County, OR
120 - Madeline Merideth, Los Altos, CA
120 - Makenna Duran, Crook County, OR
120 - Michelle Lopez Perez, Earl Wooster, NV
120 - Michelle Mallari, Earl Wooster, NV
120 - Olivia King, Corner Canyon Chargers, UT
120 - Sophie Sarver, Mountain View, ID
120 - Tiffany Yanagi, Walnut, CA
126 - #4 Alyssa Randles, Coeur d'Alene, ID
126 - Adrianna Gomez, Sutter Union High School, CA
126 - Anneliese Kisting, Casteel, AZ
126 - Catalina Giraldo, Corner Canyon Chargers, UT
126 - Haille Hernandez, Sunnyside, AZ
126 - Heaven Guevara, Cleveland, NM
126 - Holland Wieber, Eagle, ID
126 - Jasmine Macias, Walnut, CA
126 - Jules Jaross, La Canada, CA
126 - Katie Ward, McQueen, NV
126 - Kenna Van Dam, Riverton, UT
126 - Kennedi Cope, Gooding, ID
126 - Kortnee Selin, Stansbury, UT
126 - Makaliah Lucchesi, Sutter Union High School, CA
126 - Maycie Winters, Riverton, UT
126 - Megan Smith, Meridian, ID
126 - Myiah Giampapa, Riverton, UT
126 - Samara Ward, Bear River, UT
132 - Anna Ernst, Horizon High School, AZ
132 - Ashley Barrios Acosta, Earl Wooster, NV
132 - Cheyenne Kellison, Allen, TX
132 - Eden Garner, Eagle, ID
132 - GiGi Garcia, McQueen, NV
132 - Isabella Hayward, Meridian, ID
132 - Janessa Esquivel, Bear River, UT
132 - Jianna Coon, Cleveland, NM
132 - Kaiya Winbush, Eaglecrest, CO
132 - Kera Finnigan, La Canada, CA
132 - Kirsten Rayo-Tona, Columbia, ID
132 - Marie Bassett, La Canada, CA
132 - Melia Marquez, Walnut, CA
132 - Mia Johnson, Casteel, AZ
132 - Olivia Byington, Corner Canyon Chargers, UT
132 - Olivia Hovey, Cleveland, NM
138 - #6 Estella Gutches, North Medford, OR
138 - Elise Twait, Meridian, ID
138 - Emalee Farnsworth, Bear River, UT
138 - Hallie Pratt, Meridian, ID
138 - Jade Armstrong, Sunnyside, AZ
138 - Joanne Kim, La Canada, CA
138 - Kaylee Apodaca, Columbia, ID
138 - Kylie Heichman, Eagle, ID
138 - Laylla Liles, Allen, TX
138 - Lilly Simonsen, Riverton, UT
138 - Makenzie Matturro, Casteel, AZ
138 - Meleana Fager, Corner Canyon Chargers, UT
138 - Natalie Replogle, Eaglecrest, CO
145 - #30 Isabelle Munoz, Casteel, AZ
145 - Abigal Trayhorn, Bear River, UT
145 - alijah torrez, Lemoore, CA
145 - Amaya Kano, Corner Canyon Chargers, UT
145 - Destiny Vannorsdall, Crook County, OR
145 - Janell Rodriguez, Sunnyside, AZ
145 - Jaycie Jones, Riverton, UT
145 - Karmella Gordon, Eaglecrest, CO
145 - Kiara Dixon, Meridian, ID
145 - Maria Sifuentes, Columbia, ID
145 - Phoebe Cucullu, La Canada, CA
145 - Scout Askar, Corner Canyon Chargers, UT
152 - Alexa Adolf, Alamosa, CO
152 - Ella Elordi, Eagle, ID
152 - Ellah Olson, Carson, NV
152 - Emily England, Lemoore, CA
152 - Gianna Falise, Eaglecrest, CO
152 - Hallie Campbell, Columbia, ID
152 - Isabella Morgan, Corner Canyon Chargers, UT
152 - Kam Nez, Corner Canyon Chargers, UT
152 - Kira de Brito, La Canada, CA
152 - Maria Delpalacio-Goormastic, Hug, NV
152 - Rhees Hatch, Bear River, UT
152 - Saralyn Simpson, Sutter Union High School, CA
165 - #2 Jasmine Robinson, Allen, TX
165 - Abigail Acosta, Stansbury, UT
165 - Alezandra Robles, Sunnyside, AZ
165 - Clarion Fager, Corner Canyon Chargers, UT
165 - Cory Mora, La Canada, CA
165 - Domenique Valderrama, Sutter Union High School, CA
165 - Eve Allsup, Bear River, UT
165 - Iris Rivas, La Canada, CA
165 - Jaclyn Daley, McQueen, NV
165 - Jasmine Morales, McQueen, NV
165 - Jordan Carrillo, Walnut, CA
165 - Jordynn LeBeau, Eagle, ID
165 - Kyra Richards, Columbia, ID
185 - #6 Blythe Cayko, Eaglecrest, CO
185 - #30 Reece Woods, Eagle, ID
185 - Alexandria Perez, La Costa Canyon, CA
185 - Alexandria Perez, La Costa Canyon, CA
185 - Alize Acosta, Stansbury, UT
185 - Avery Larsen, Riverton, UT
185 - Echo Tremeear, Eaglecrest, CO
185 - Midori Kano, Corner Canyon Chargers, UT
185 - Simaima Masi, Earl Wooster, NV
185 - Sydnee Nielson, Bear River, UT
235 - #20 Olivia Woods, Eagle, ID
235 - Angie Aguilar, Stansbury, UT
235 - Anna Kleineahlbrandt, La Canada, CA
235 - Bretlee Potter, Bear River, UT
235 - Emma Roberts, Eaglecrest, CO
235 - Emry Woods, Eagle, ID
235 - Esther Peters, Allen, TX
235 - Rachel Johnson, Riverton, UT