2022-23 Michigan Wrestling
Wolverine Insider: Finesilver Fitting In Just Fine
Wolverine Insider: Finesilver Fitting In Just Fine
Three-time NCAA qualifier Matt Finesilver loves his new home after transferring from Duke to Michigan and is second on the team in wins.
Dec 14, 2022
by Mark Spezia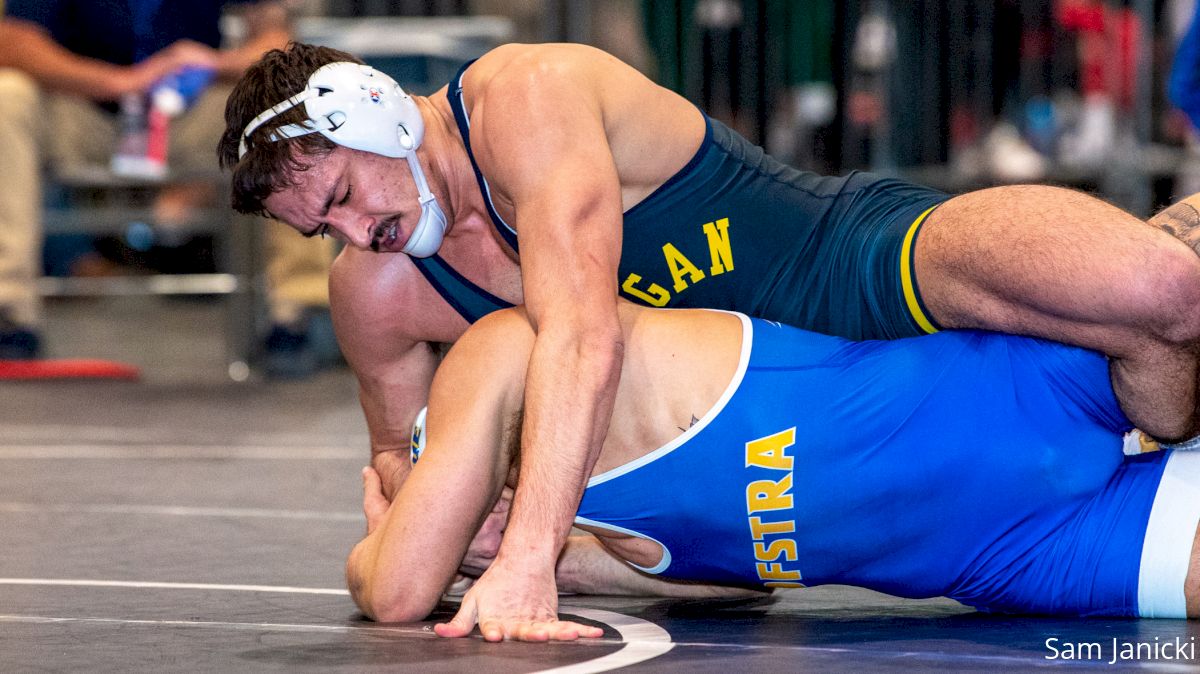 Unlock this article, live events, and more with a subscription!
Get Started
Already a subscriber? Log In
Matt Finesilver is spending his final season of college wrestling happily basking in his surroundings.
That is, the three-time NCAA qualifier treasures being surrounded by excellence on a daily basis since transferring to Michigan in June after attending Duke from the fall of 2017 until last spring.
"I'm loving my teammates, the coaching staff and everything about the program here," Finesilver said. "It's been a huge thing for me to see the passion the coaches have and just how hard they work or seeing them working out, watching video and breaking down what needs to be done for everybody to improve is inspiring. You want to go out and win for them."
The coaching staff, of course, includes Olympic gold medalist, two-time World champion and four-time All-American Kevin Jackson while head coach Sean Bormet and other assistants David Bolyard and Josh Churella combined for six All-American finishes. Jackson (Iowa State) and Bolyard (Eastern Michigan) are also former head coaches.
Well-credentialed coaches, a practice room that includes three All-Americans and three other NCAA qualifiers and soaking up opportunities to learn from Michigan RTC talent like Olympic bronze medalist and five-time All-American Myles Amine, two-time World champion and three-time NCAA titlist J'den Cox and past Hodge Trophy winner Alex Dieringer has left Finesilver confident of making his first NCAA Championships podium.
"I just have to continue trusting in myself, my abilities and the coaches," he said. "They all have great minds and great teaching techniques to show me what the best moves are or are not in any situation. Sometimes, you have to take one step back, break some bad habits, and then move two steps forward."
Finesilver also praised the guidance of Amine and Dieringer, in particular. Not long after arriving in Michigan, he conducted a youth camp with Amine at his high school alma mater (Detroit Catholic Central) and helped him prepare for this year's World Championships.
"Working with Myles, picking his brain really helped me get ready for this season and he has become like a mentor," Finesilver said. "Lately, Alex has been helping me improve my hand-fighting game. I've been really lucky to work those guys and J'den. Having so many successful guys that close by and willing to regularly come to our practices makes a real impact."
While acknowledging that Amine is irreplaceable, Finesilver has wasted little time making an impact filling his former spot (184 pounds) in the lineup.
He is off to a 10-3 start and has jumped from #13 to #10 in the NCAA rankings since the season began after concluding last season #16 at 174.
Finesilver, also ranked #4 in the Big Ten, has three technical falls and three major decisions and is second only to two-time All-American heavyweight Mason Parris in both wins and bonus-point victories.
His best wins thus far this season have come against #13 Gavin Kane (North Carolina) and #24 Caleb Hopkins (Campbell), a two-time NCAA qualifier.
In past seasons, Finesilver has beaten All-Americans Marcus Coleman of Iowa State (ranked #5 at 184) and Daniel Bullard of North Carolina State, along with four-time NCAA qualifier Hayden Hastings of Wyoming, Drexel three-time qualifier Michael O'Malley (#11 at 174), Oklahoma's Gerrit Nijenhuis (#15 at 165) and Cornell's Chris Foca (#6 at 174).
Finesilver has upped his career record to 90-32, including 39-12 since the start of last season during which he reached the round of 16 at the NCAA Championships after missing the previous two seasons.
After qualifying for the 2018 and 2019 NCAA Championships during his first two seasons with the Blue Devils, Finesilver took an Olympic redshirt for the 2019-20 season and a medical redshirt.
In all, the Colorado state champion went 32 months between college matches before finally returning on Nov. 6, 2021, with a win over Air Force's Harlan Steffensmeier. Finesilver showed minimal rust as that win was the first of 19 straight to begin last season.
Finesilver entered the transfer portal in early April before graduating from Duke with a bachelor's degree in sociology and a graduate degree from its Master of Management Studies program.
After also considering Wisconsin, Rutgers and Iowa State, Finesilver announced he was joining the Wolverines in early June.
"I was pretty open to any possibilities when I entered the portal and I received a good deal of interest," he said. "I am grateful to all the coaches who felt I could help their programs, but, in the end, Michigan's coaches really impressed me because they showed me a specific plan to help me become better. I could clearly see how much I could become a better wrestler at Michigan and knew it was the place for me."
Other than the wrestling program, Michigan's campus and the city of Ann Arbor have also suited Finesilver just fine. U-M's enrollment of more than 45,000 is nearly triple that of Duke.
"My teammates showed me around the city when I got here and I personally love what a great city Ann Arbor is with plenty to do," he said. "I'm enjoying the bigger campus and football Saturdays are crazy, which makes for a great atmosphere."
Ann Arbor hosts the Big Ten Championships this season. The Wolverines are reigning conference champions after capturing their first conference title since 1973.
A good portion of that firepower is gone as departing wrestlers combined for two NCAA championships, 15 All-American finishes and 28 NCAA tournament appearances during their careers.
Still, Finesilver likes his new team's chances.
"Obviously, some very talented, very dedicated guys graduated, but several are still around helping us like Myles and two-time NCAA champion Nick Suriano," he said. "We have a room full of great guys, who work hard with captains who lead by setting a great example for everyone to follow. There is a culture of winning that's been great to be a part of."
Parris Joins Century Club
With his opening-round victory over Bucknell's Luke Niemeyer at the Cliff Keen Las Vegas Invitational, Mason Parris became the latest member of Michigan's 100-win club. He now boasts a 105-18 career record after winning the event for the second time, something only nine other Wolverines have also done.
Parris, 13-0 and #2 in the 285-pound rankings, needs roughly 20 more wins to crack the program's all-time top 15 in victores.
Cam Amine Upset In Return
In his first action of the season, two-time All-American Cam Amine reached the 165-pound final at the Cleveland Open, but was upset by Ohio State's Bryce Hepner, 6-4. It was also Hepner's first competition of the season.
Amine has not allowed more points in a match that went the distance since dropping a 7-3 decision to Bucknell All-American Zach Hartman at the 2019 Midlands Tournament.
Still, Amine dropped only to #6 from #4 in the NCAA rankings because of Hepner's credentials.
The two-time Ohio state champion started at 157 pounds last season for the Buckeyes, going 12-6, but moved up to 165 this year as redshirt freshman Paddy Gallagher moved into that spot.
Hepner edged seventh-ranked All-American Carson Kharchla, 2-1, in Ohio State's wrestle-offs, but did not make his season debut until Sunday.
Amine decisioned Northwestern's Maxx Mayfield, a three-time Nebraska state champion, 4-1, to reach the final. Mayfield entered the match with a 13-2 record this season.