2022-23 Penn State Wrestling
Nittany Lion Insider: Bravo-Young Gearing Up To Take On The World
Nittany Lion Insider: Bravo-Young Gearing Up To Take On The World
Roman Bravo-Young has his sights set on global goals, two Penn State freshmen are impressing and NCAA champ Max Dean is looking to bounce back.
Dec 7, 2022
by Travis Johnson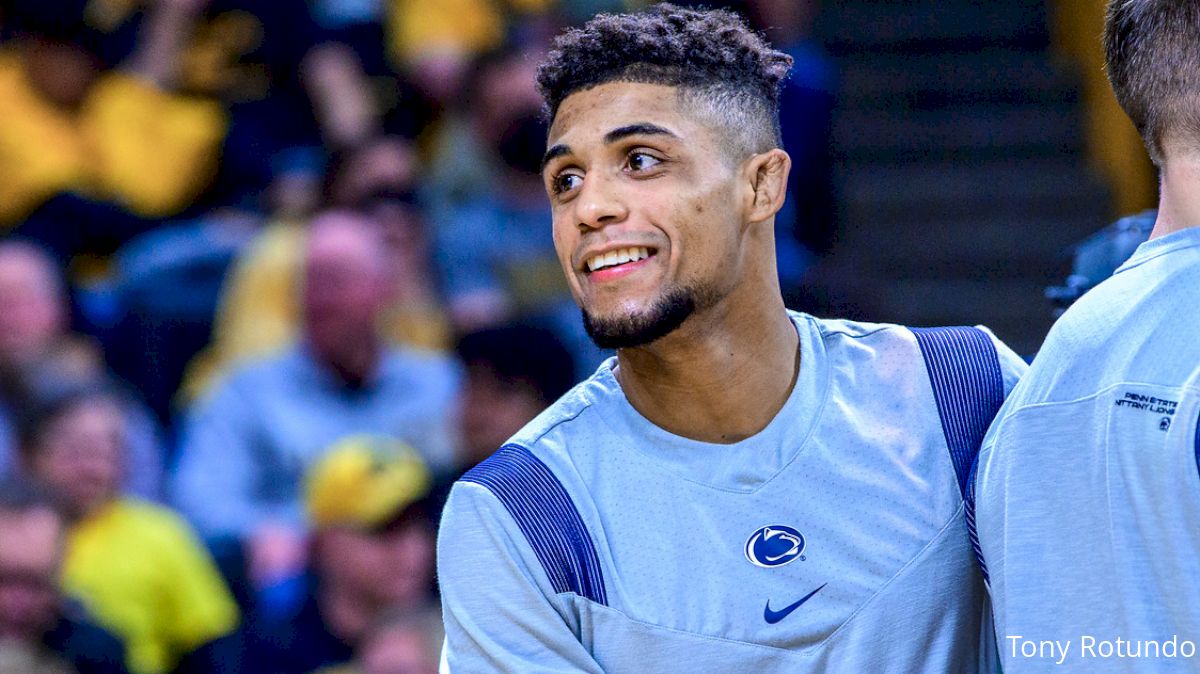 Unlock this article, live events, and more with a subscription!
Get Started
Already a subscriber? Log In
Roman Bravo-Young is looking at his fifth season at Penn State as a bonus round of sorts.
Over the years, the 133-pounder has played a big part for dominant squads that have won NCAA team titles. He's won two individual national championships himself. He's energized and invigorated dual-meet lineups with his pressing style and he'd like to do it all again.
But really, Bravo-Young's curtain call season will be a tune up for what comes next.
"All this stuff is just practice for freestyle," Bravo-Young said. "I did more than I would've liked to do when I got here, so I'm grateful for that and now I'm just trying to get a World medal in freestyle going forward. That's my next focus."
The two-time defending NCAA champ at 133, Bravo-Young is only wrestling a partial schedule in his final year. He's taken the mat for two of Penn State's three duals, most recently majoring Rider's Richie Koehler 23-9. Two days later, he yielded his spot in the lineup to buddy and roommate Karl Shindledecker against Lehigh.
It gave Bravo-Young a chance to sit back and mentor a bit.
"I was happy for him," Bravo-Young said. "He got his first match as a true freshman and I was excited and really pleased with his effort too, so just helping those guys and building them up. People don't understand, college wrestling is hard and it's hard to be on every time."
Notably, it was the first two-dual weekend for Penn State and Bravo-Young, who noted Tuesday he's "getting bigger for the weight" said his plan was to avoid having to weigh in twice this early.
"I don't think a dual in November means too much to me," Bravo-Young said. "I'm here for the big show. I really don't have much to prove in my eyes. I'm back for the team."
Penn State begins its conference slate with a trip to Wisconsin on Jan. 6. The Nittany Lions have three Friday-Sunday weekends with Michigan and Michigan State at Rec Hall on Jan 20 and Jan. 22 and trips to Ohio State and Indiana the first weekend of February. They close out their Big Ten dates with a trip to Rutgers on Feb. 10 and then host Maryland on Feb. 12.
Bravo-Young said he plans to wrestle in all the team's Big Ten duals. It's not clear if he plans to wrestle in the Collegiate Duals against Central Michigan and UNC on Dec. 19 and 20 in New Orleans.
While they likely won't need him to win most of those, Bravo-Young's ability to earn bonus points will be valuable down the stretch.
He's been working behind the scenes to get more explosive and he's doing it with an ideal training partner — Nittany Lion Wrestling Club resident athlete Thomas Gilman.
"That's my guy. We both push each other," Bravo-Young said. "They're some fights, me and him battle every day. I know I can hang with him and I know he can hang with anyone."
The 2021 World champion at 57 kilograms, Gilman has used his bruising style to great effect on Bravo-Young, who's wrestling with the former Iowa star every day.
Their vastly opposing styles frustrate one another and their battles become intense enough for curious teammates to stop what they're doing.
"They go at it pretty hard," Penn State 174-pounder Carter Starocci said. "It's pretty funny too because it's Gilman, and his style is he wants to grab you and beat you up and Roman's like real fast and real sneaky."
Rising Stars
Second-year freshmen Shayne Van Ness and Alex Facundo continue to impress — Facundo with his high-octane style at 165 and Van Ness for his tough, grinding approach at 149.
Through three duals, Facundo's 20 takedowns are second to only Starocci on the team. Meanwhile, Max Dean is the lone starter with more falls than Van Ness.
"They train hard," Bravo-Young said. "They're exciting. I'm excited for Facundo and Shayne when we get into the Big Ten, we've got some tough scraps and we'll see where they're at going forward."
Starocci has particularly enjoyed Van Ness's matches, especially when Penn State's 149-pounder is on his feet, face-to-face with an opponent trying to control his hands and head to stymie Van Ness's pressure.
"He's just walking these guys down," Starocci said. "A lot of times in wrestling, if you clear a tie position, a lot of guys are kind of backing up or just standing in the middle and he's just walking the guy down. I love that. I get fired up. It's nice having those guys in the lineup because you can tell that they're killers and that they want to win."
Lewis-Starocci Rivalry Growing?
Starocci spoke to reporters for the first time since his NWCA All-Star Classic match with Mekhi Lewis, the second time in eight months the two have met on the mat.
Starocci improved to 2-0 against Lewis, the previous win coming in last season's NCAA final at 174 pounds.
The Penn State junior won that one 6-5 with a strong ride in a tiebreaker. He rode Lewis again in the All-Star match, but he feels like he made a bigger statement this time, riding Lewis for the entire third period, not needing extra time.
"I feel he's a very strong kid and he's athletic and things like that, but he just doesn't want to wrestle," Starocci said. "He's backing up the whole time. He's trying to hold me off and things like that. I feel like the more he opens up and the more he wrestles, the worse it's gonna get for him."
Get Mean, Dean
While the Nittany Lions went 2-0 in duals at Rider and Lehigh this past weekend, 197-pound national champion Max Dean went 0-2.
After a brief scramble in sudden victory, Dean gave up a late takedown to Rider's Ethan Laird to lose 3-1 on Friday. He faced former teammate Michael Beard at Lehigh on Sunday and fell in a wild, back-and-forth match after Beard countered for a takedown with 1:20 left and backed out of danger to secure an 11-9 win.
It's the first time Dean has lost consecutive bouts since he dropped three in a row at the 2018 Cliff Keen Invitational.
Starocci said he texted his teammate after the matches to let him know all would be alright. The circumstances reminded Starocci of a conversation he had with Sanderson after Starocci won his first NCAA title in 2021.
Sanderson let him in on a trend.
"He said, 'Just remember, the first one you win is always the easiest one.' That kind of always stuck with me," Starocci said.
Dean won the NCAA title last season with Beard as his understudy. Laird is a two-time NCAA qualifier who is undoubtedly hungry making his final run for the Broncos.
"Max, he's a really nice kid," Starocci said. "He'll hold the door for 100 people in a row. I just think he can be a little more mean and I think that'll help him out. But I think he's going to be fine and I think come end of the year, he'll be at the top of the podium."