2022-23 Arizona State Wrestling
Sun Devil Insider: Figueroa Shines, ASU Sixth At CKLV
Sun Devil Insider: Figueroa Shines, ASU Sixth At CKLV
Freshman Richie Figueroa, one of ASU's two superb 125-pounders, captured the CKLV title, while two other key Sun Devils suffered injuries in Las Vegas.
Dec 7, 2022
by Jim Carlson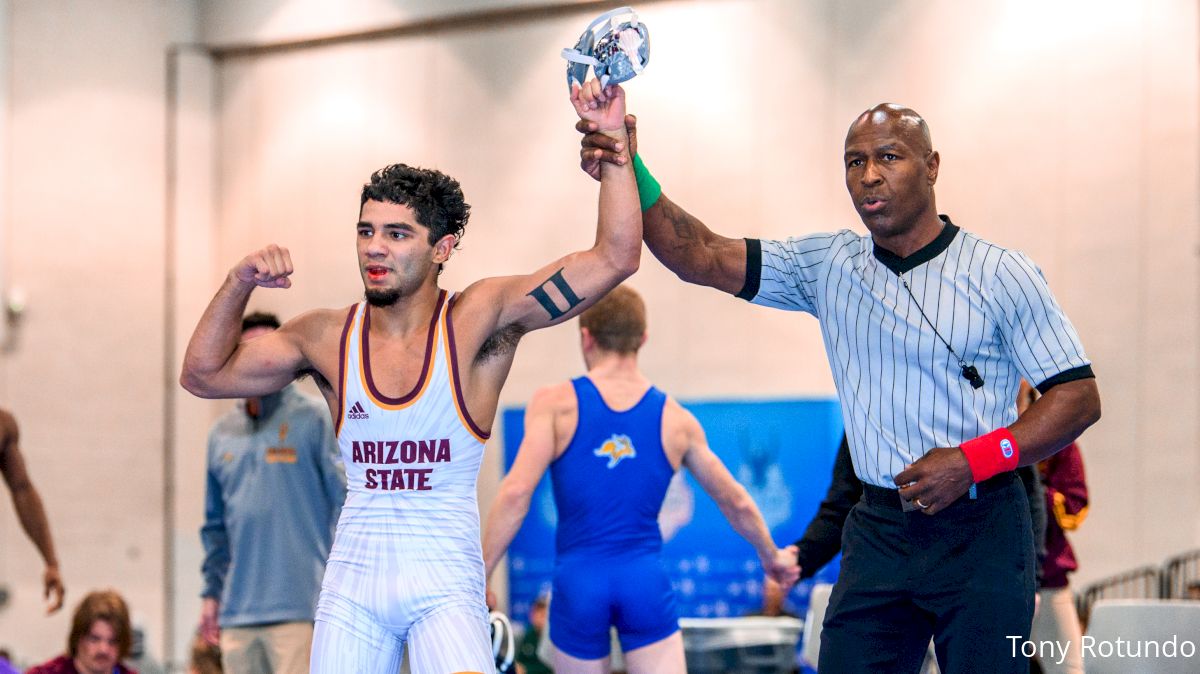 Unlock this article, live events, and more with a subscription!
Get Started
Already a subscriber? Log In
For Arizona State wrestling, what happened in Vegas doesn't necessarily have to stay in Vegas.
Because while the Sun Devils didn't necessarily have a stellar performance with their sixth-place finish at the recent Cliff Keen Las Vegas Invitational, enough lessons were learned and experience gained to take that knowledge back to Tempe and turn it into know-how during the second half of the season.
To recap, ASU had one gold medalist, two runners-up and two eighth-place finishers after medical forfeits. Richie Figueroa, a redshirt freshman phenom who thus far is sharing the 125-pound spot with NCAA runner-up Brandon Courtney, won that weight class while two-time All-Americans Michael McGee (133) and Kyle Parco (149) were second.
That Figueroa won it was no surprise to head coach Zeke Jones.
"We knew since ninth grade he had the ability to be the best in the country, the best in the world," Jones said. "He's here and had a redshirt year with us and a freshman year now and he showed all the signs. Like any transition from high school to college, he had to make the transition and had a year to do it and he had great people to do it with.
"He's had a lot of good lightweight mentors so it's really no surprise how he performed. No one has really even seen his best wrestling yet, except us in the room. He's learning how to dominate. He knows how to win and that's all he's doing right now is winning, when he's really leaving a lot of points out on the mat, because he's still just building his confidence toward dominating. But I don't think it'll be long before he starts to spread a lot of those scores out."
Who emerges at 125 between Figueroa and Courtney, a fifth-year senior, remains to be seen, and Jones is in no rush to resolve it.
"No, we're still going through it," he said. "It'll sort itself out when the time presents itself but we're in no hurry right now. And Brandon has been great. Brandon really recruited Richie to come here because he wants Arizona State to be great. He put the program before himself. Both of them are on track and want to be national champions and when it gets to the place where it needs to sort itself out it will."
The Silver Medalists
McGee cruised through four bouts before dropping a 6-1 decision to Cornell's Vito Arujau, an NCAA All-America as well as Olympic Team Trials runner-up.
"I don't think you're fully satisfied unless you win the tournament," Jones said. "Obviously, he ran into a really good guy. He was in on the leg once and didn't score. I think that's the difference to convert on the takedowns. You're in on the leg and you've got to be able to take away the times he's in on your leg because that's really what's it's going to come down to.
"Each of you is going to get on the legs once or twice, in an elite match, maybe three times at most, and you've got to convert when you get there. Vito was able to convert more than Michael; he's got to sharpen up his defense and he's got to work on his finishing on his offense."
Parco's effort was similar, according to Jones. He won four straight as well but was stopped 6-2 by Ohio State's Sammy Sasso.
"Kyle was in on a long scramble on the edge of the mat match in the first period, and it was a place where he had to exert a lot of energy," Jones explained. "That was tough. That scramble came out a stalemate, but it came out with Parco emptying half his tank out and his opponent didn't have to empty out anything. I think that zapped him a little bit that he felt that there for a minute or two and that became a lot of the difference.
"I can see that match going a different way the next time just being able to not have that first scramble that was two minutes long where Kyle had to carry all the weight of his opponent. If he wrestled that match again, it can look completely different based on the position they get in right out of the gate."
Injuries And Upsets
Top-seeded heavyweight Cohlton Schultz was upset 5-2 by South Dakota's State's A.J. Nevills and was injured during the bout, Jones said. Fourth-seeded 197-pounder Kordell Norfleet dropped a 5-2 bout to Oregon State's Tanner Harvey and was injured in a subsequent consolation match. Both medically forfeited out to eighth place.
"Kordell and Cohlton both got hurt," Jones said. "I don't think either are serious. They met with the doctors early this week. But I think they're going to be OK. It's early December and there's no need to push anybody through an injury at this point."
The Verdict Is In
"We've just got to keep fighting and getting better and keep improving," Jones said about the Cliff Keen event that ended the team's first half of the season.
"But I do think we're a team where our kids do get better so we just have to continue to improve and keep working individually on what we need to work on the areas of concentration to make us better."
Time Off, Next Up
The Sun Devils don't compete again until the Midlands on Dec. 29-30 at Northwestern. It's a much-needed break after a rigorous November/early December that featured two duals and three tournaments, two of which involved cross-country trips to Pennsylvania.
"Las Vegas is kind of ending that four-week competition cycle," Jones said. "We take a little recovery this week with final exams this week, and then we hit it hard for two and a half weeks leading up the Midlands. Of course, there will be a couple/few days for Christmas but we'll train right up till Christmas.
"Right now we're focusing on school and GPA goals that we have. We're stretching really hard to be excellent team, not only on the mat, but in the classroom. So we're focusing on that this week, and then we'll get back to wrestling and chasing down our wrestling goals. We're in that transition to from kind of a macro cycle one to macro cycle two."