2022 UWW World Cup
The Evolution Of A Jordan Burroughs Interview
The Evolution Of A Jordan Burroughs Interview
The only person who can match Jordan Burroughs on the mat is Jordan Burroughs on the mic. But it wasn't always that way.
Dec 6, 2022
by Kyle Klingman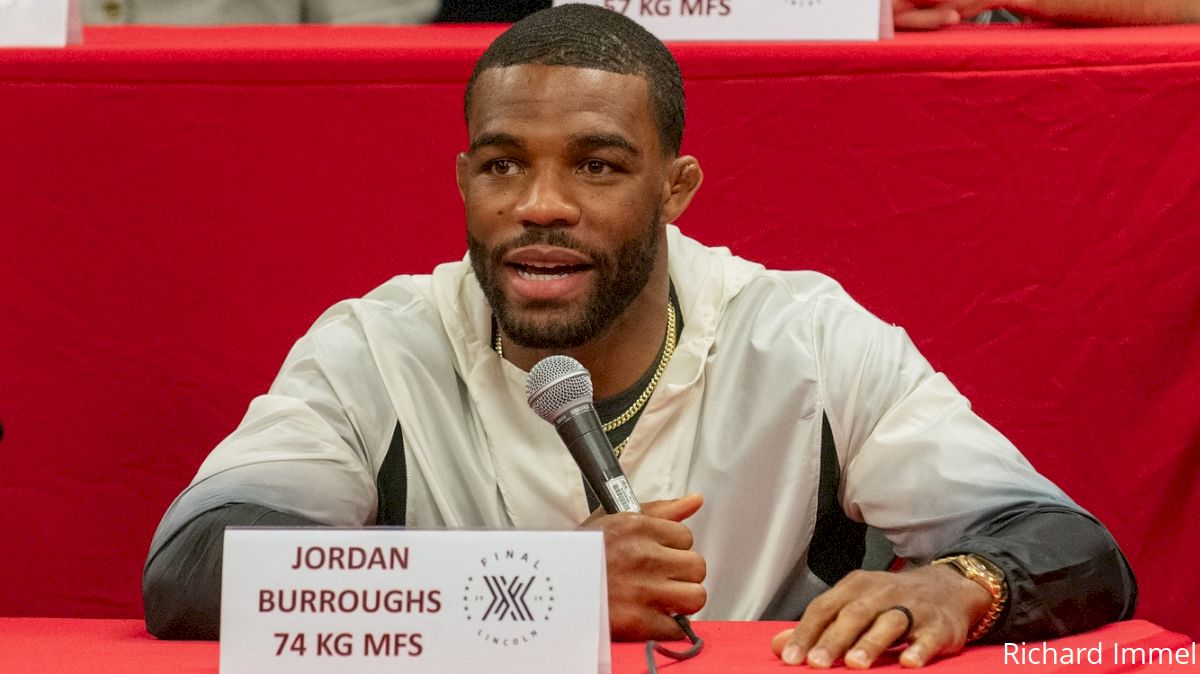 We've all seen Jordan Burroughs's evolution on the mat, but what about his evolution on the mic? Burroughs made history earlier this year by winning his seventh World and Olympic title — a goal he vowed to deliver when he exploded on the international scene in 2011.
The former University of Nebraska star has become the spokesperson for USA Wrestling at home and abroad. His insightful and entertaining interviews have become the gold standard in our sport.
But that doesn't mean Burroughs has always waxed poetic. In fact, his early interviews were anything but smooth.
Below are three interviews that show how far Burroughs has come since 2009.
Be sure to watch Burroughs at the World Cup on December 10-11 in Coralville, Iowa — then listen to all the interesting things he has to say about it.
2009 Big 12 Championships
NCAA titles: 0
World/Olympic titles: 0
Interview length: 3:25
Questions asked: 11
Length of answers
1. 7 seconds
2. 17 seconds
3. 16 seconds
4. 15 seconds
5. 11 seconds
6. 15 seconds
7. 13 seconds
8. 10 seconds
9. 21 seconds
10. 6 seconds
11. 12 seconds
Takeaways: Burroughs made sporadic eye contact and looked down for most of the interview. His answers directly related to the match and offered little substance beyond the mat. Also notice that he was distracted by something that fell at the 3:08 mark.
2009 NCAA Championship semifinals
NCAA titles: 0
World/Olympic titles: 0
Interview length: 2:52
Questions asked: 9
Length of answers
1. 1 second (said "yeah")
2. 13 seconds
3. 10 seconds
4. 18 seconds
5. 15 seconds
6. 20 seconds
7. 18 seconds
8. 10 seconds
9. 13 seconds
Takeaways: The moderator directed Burroughs to speak into the microphone, he had a one-word answer to start the interview, and he got quieter as the interview progressed.
2022 World Championships
NCAA titles: 2
World/Olympic titles: 7
Length of interview: 7:53
Questions asked: 7
Length of answers
1. 90 seconds
2. 37 seconds
3. 105 seconds
4. 30 seconds
5. 88 seconds
6. 58 seconds
7. 10 seconds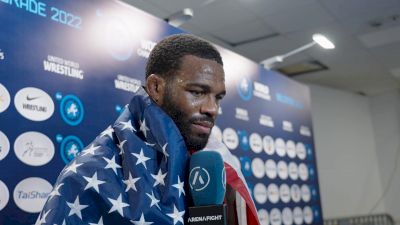 Takeaways: Burroughs is holding the microphone to his mouth, there are more people interviewing him and he's more relaxed, and they had to pull him away from the interview or he would have kept talking. He also has a clear message that translates to life — not just the details of a wrestling match.