2022-23 Iowa State Wrestling
Cyclone Insider: 'This Bunch Isn't Afraid Of Anything'
Cyclone Insider: 'This Bunch Isn't Afraid Of Anything'
Kevin Dresser set out to make the Iowa-Iowa State rivalry relevant again. He and the Cyclones get their shot at the Hawkeyes on Sunday.
Dec 2, 2022
by Roger Moore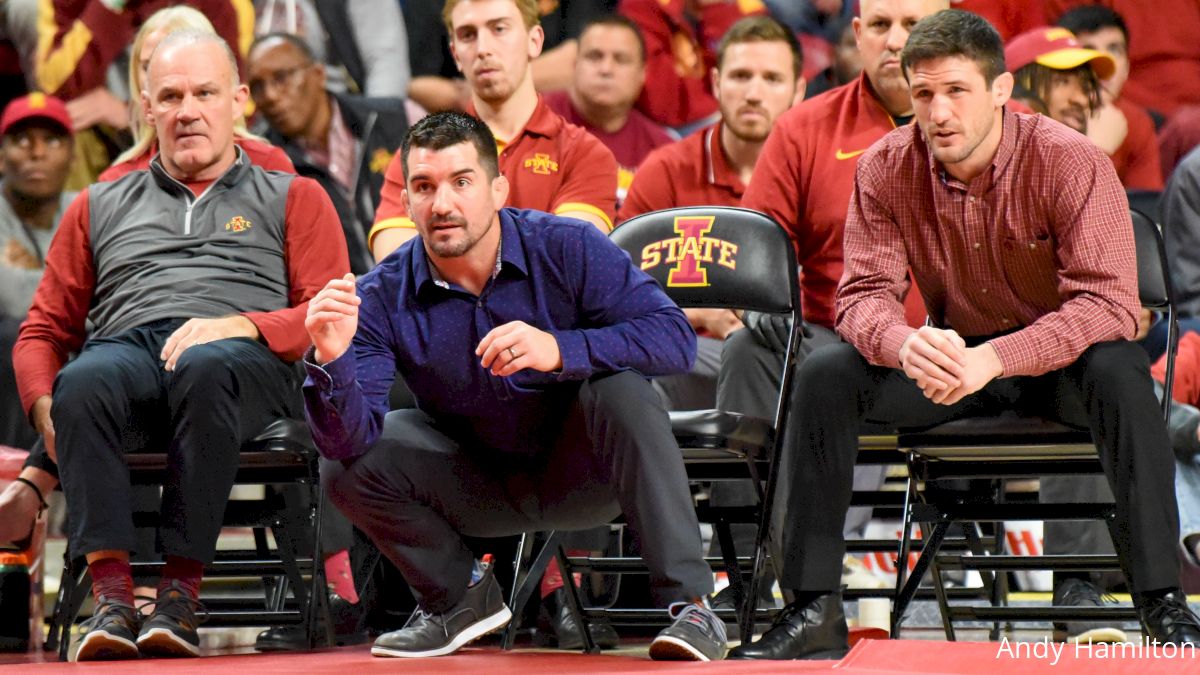 Unlock this article, live events, and more with a subscription!
Get Started
Already a subscriber? Log In
Many wrestling fans have made the pilgrimage to Carver-Hawkeye Arena. Many will tell you a story of a particular match, a certain athlete, an earthquake-level explosion of 15,000 mat heads within collegiate wrestling's best environment. Many of those memories include duals between Iowa and Iowa State.
It's nothing new. It's been going on since the early 1970s when Gary Kurdelmeier first built a program in Iowa City that could challenge Dr. Harold Nichols' Cyclones in Ames.
Dan Gable, who took over for Kurdelmeier after wrestling for Nichols in Ames, turned Iowa into a dominant national title-winning machine. From 1978 to 2000, the Hawkeyes won an incredible 18 NCAA team championships. One of Gable's charges was Kevin Dresser, now the head coach at Iowa State. Another was current Iowa coach Tom Brands.
Brands has coached eight wrestlers to individual NCAA titles at Iowa, including Brent Metcalf and Derek St. John, both of whom are now part of Dresser's coaching staff that's trying to return Iowa State to NCAA team trophy contention.
So Sunday's Cy-Hawk dual in Iowa City has the usual "we-don't-like-each-other" in-state rival hype. But, for the first time in a long time, the dual has meaningful national implications. Iowa has won 17 straight in the series and only twice in the last 10 meetings have the Cyclones reached double-figures on the scoreboard.
Dresser, sort of jokingly and with a wink, mentioned 1986 as the last time this dual had this much hype.
"As a coach when you come back and start a new program you've got goals," said Dresser, whose squad is unbeaten early this season with a good win over Wisconsin. "And one of my goals was to make Iowa-Iowa State relevant not just for Iowa State but for wrestling in the state of Iowa. And I think these guys are starting to do that."
Dresser, in his sixth year at ISU, recalls a difference from some of his early squads.
"First couple of years you knew what we had as a team and you step out there and deep down you are afraid," he said. "This bunch isn't afraid of anything."
Much of that confidence is coming from the freshman 1-2 punch of Casey Swiderski and Paniro Johnson at 141 and 149 pounds, respectively. The duo is unbeaten and part of seven ISU starters yet to taste defeat.
On Wednesday, senior 184-pounder Marcus Coleman spoke of a more "professional approach to the sport" by many in the room, while 2021 NCAA champ David Carr reiterated the influx of confidence and a "ready-to-win-now" mentality.
Anybody's Guess
The second-ranked Hawkeyes (5-0) have not been at full strength. The infamous "probable starters" on schools' weekly press releases is sort of like Wikipedia – a good place to start but not to be completely trusted.
Iowa State (5-0) has used primarily the same lineup. Iowa, on the other hand, is trying to get healthy. On Wednesday, Iowa coach Tom Brands spoke of the possible absence of three-time national champion Spencer Lee (125) and transfers Brody Teske (133), and Real Woods (141).
"They are making progress," said Brands, who's 16-0 against Iowa State as Iowa's head coach. "I'll give the same answer I always give. I know they want to get on the mat; they're excited to get on the mat; our fans want them on the mat and we want them on the mat. Just have to keep working towards it."
The confident Dresser bunch has outscored five opponents 172-25. In 50 individual bouts in duals, the Cyclones have a combined 171 takedowns with 197-pounder Yonger Bastida leading the squad with 30. Bastida and Jacob Warner is among the featured bouts on Sunday. And, as Dresser expressed on Wednesday, "we want (Iowa's) A team, everybody does."
One Last Chance
Marcus Coleman, Iowa State's starting 184-pounder from Ames, has won twice against Iowa, beating Myles Wilson by injury default in the 2018 meet and again in last season's meeting. The 2022 All-American knows Sunday will be his last chance to see a team win.
"My last one and you want to go out with a win," said Coleman, who has 80 career wins. "If you look at our roster it's just progressively gotten better; we've got some real professionals on the team so I think we are in a really good spot."