2022-23 Michigan Wrestling
Wolverine Insider: Stingy Lewan Targeting Title In Tulsa
Wolverine Insider: Stingy Lewan Targeting Title In Tulsa
Michigan's Will Lewan showcased his defensive mastery at the NWCA All-Star Classic and he'll put his skills on display again this weekend in Las Vegas.
Dec 1, 2022
by Mark Spezia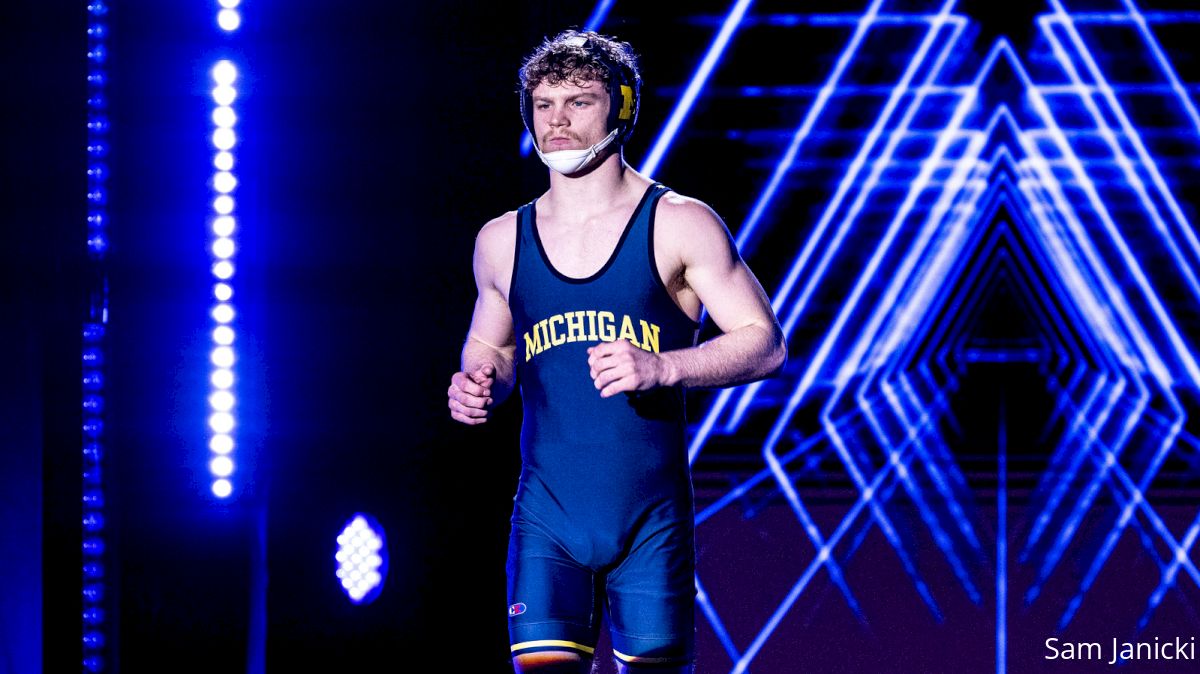 Unlock this article, live events, and more with a subscription!
Get Started
Already a subscriber? Log In
In August, Virginia Tech's wrestling program released a video montage of All-American Bryce Andonian's career highlights on its social media platforms, nicknaming him Hollywood and noting that "he is always ready to put on a show".
Andonian was intending to do just that at the recent NWCA All-Star Classic. Instead, Michigan's Will Lewan became a showstopper, taking a 3-1 decision in the 157-pound clash of 2022 All-Americans.
Rather than a show, viewers of the match were treated to a clinic of smart, well-timed moves and defensive mastery by Lewan. In fact, it was the fewest points Andonian has scored in any of his 42 collegiate matches that have gone the distance.
Lewan, #2 in the current national rankings, swooped in for the only takedown of the match late in the opening period -- a double-leg soon after the three-time NCAA qualifiers broke free from a clinch.
The redshirt senior added an escape early in the second for a 3-0 advantage and came fairly close to single-leg takedowns on two other occasions. The fourth-ranked Andonian earned his only point with an escape six seconds into the final period.
"Looking back, my coaches and I game-planned well to keep me in positions I am comfortable in and could make effective attacks from and not get caught up in wrestling his style," said Lewan, who improved to 4-0 this season. "Really, it was all about the gameplan I was able to execute with success. I stayed away from any positions that might put me at risk while getting good positioning on him as much as possible to keep him from attacking effectively."
For Lewan, who placed fifth at last year's NCAA Championships, the All-Star match represents another small step toward his ultimate objective this season — capturing a national championship.
Only last year's NCAA runner-up, Quincy Monday of Princeton, is currently ranked ahead of Lewan. He is 0-3 against Monday, but lost by just a point in their last meeting during the NCAA Championships.
Lewan also appears in great position for his first Big Ten title after placing second last season to now-graduated NCAA Champion Ryan Deakin (Northwestern). He has beaten third-ranked All-American Peyton Robb (Nebraska) twice, but is a combined 0-3 against Minnesota's Brayton Lee (#5) and Purdue's Kendall Coleman (#11).
"My goal is to win a national championship and there is no exception to that," he said. "At the same time, I won't be getting ahead of myself in any way, but focusing what's on the mat in front of me while keeping winning a national title in the back of my mind. I won't be worrying so much about winning and losing, at this point, but getting better so I can be at my strongest and in the best mindset when the time comes."
Lewan began working toward this season's goals soon after last season concluded and is downright giddy about how well his offseason preparation went, including a stint at the Olympic Training Center in Colorado Springs.
"I get in a lot of very hard training in the summer and actually had the best fall training since I started at Michigan," he said. "Of course, I have great teammates who have helped me improve and our coaching staff was bringing in different high-level guys all summer to work with us along with some of the (nearby) elite Cliff Keen Wrestling Club guys. It was also really exciting for me to put in work in Colorado Springs."
Lewan, who has allowed more than three points in only six of his last 32 matches, can take more steps in pursuit of his goals at this weekend's Cliff Keen Las Vegas Invitational where he placed fourth last season.
Lewan is arguably the favorite at 157, but will have to contend with, among others, Robb, #6 Jared Franek (North Dakota State), #9 Jacob Wright (Wyoming) and Coleman. Lewan dropped a 3-2 decision to Wright at last year's Cliff Keen. He also lost to Monday, but Princeton is not entered this year.
"I am not really worried about who I might be wrestling at Cliff Keen, but just focused on executing my style of wrestling and doing what it takes to, hopefully, win each match," Lewan said. "I really want to make a statement and prove that I am in contention for a national championship this season."
Lewan, who boasts a 54-18 career record, also has notable wins over two-time All-Americans Jacori Teemer (Arizona State) and Kaleb Young (Iowa) and one-time All-American Hunter Willits (Oregon State). He has also decisioned #13 Jarrett Jacques (Missouri), a four-time NCAA qualifier.
However, Lewan's most noteworthy win thus far came in just his third collegiate match when he turned heads with a 10-8 decision over then-teammate and three-time All-American Alec Pantaleo at the 2018 Michigan State Open. Lewan redshirted that season, finishing 9-2, before succeeding Pantaleo in the lineup the next season.
Less than a week before this season began, Lewan was named one of Michigan's captains along with Jack Medley, Mason Parris and Cam Amine.
The Wolverines' lineup has certainly become younger with the departure of seven wrestlers who combined for two NCAA championships, 15 All-American finishes and 28 NCAA tournament appearances during their careers.
"I'm happy to take on the role of captain and be a mentor to help our younger guys get better," he said. "I'm focusing on leading by example, showing them the importance of doing the right things on and off the mat."
Can Ragusin Repeat?
A year ago, Dylan Ragusin was Michigan's lone Cliff Keen Invitational champion, knocking off two-time All-American Chris Cannon (Northwestern) in the 133-pound title match and putting himself in position to become just the 10th two-time Keen winner in program history. Adam Coon (2013, 2017) was the most recent.
Joining such elite company, however, will likely require Ragusin, a two-time NCAA qualifier who is ranked #6 at 133, to pull off a few upsets.
On paper, at least, he is not favored to repeat. The clear favorite is Cornell's Vito Arujau, a two-time All-American and three-time NCAA qualifier, who is ranked #14 pound-for-pound and #3 at 133.
There is also two-time All-American and four-time NCAA qualifier Michael McGee (Arizona State), who is ranked #5 and has already beaten Ragusin twice, but won their last meeting by just a point.
Also in the mix are Cannon (#7), All-Americans Rayon Foley (#8, Michigan State) and Sam Latona (#9, Virginia Tech) and freshman sensation Jesse Mendez (Ohio State), who is #12. Arujau, McGee, Foley, Latona and, of course, Mendez did not wrestle at last year's Cliff Keen event. Ragusin owns a 35-13 career mark, including beating Foley, but has not faced Arujau, Latona or Mendez.
He has also beaten two-time All-Americans Lucas Byrd (Illinois), Patrick McKee (Minnesota) and American Micheal DeAugustino (Northwestern) and one-time All-American Devan Turner (Oregon State). Byrd is currently #4 at 133 while McKee and DeAugustino are ranked third and fourth at 125.
Yatooma Earns First Career Dual Win
Just over a week after Kurt McHenry and Chance Lamer recorded their first career collegiate dual victories during Michigan's win over Campbell, redshirt sophomore Brendin Yatooma joined the party.
On Nov. 20, the 197-pounder rallied for a 4-3 victory over Columbia's Javen Jovero, scoring the winning takedown with 54 seconds remaining and keeping Jovero within his grasp the rest of the way. The Wolverines improved to 3-0 with a 38-6 win.
It was also Yatooma's first overall collegiate win after starting the season with three losses by a combined six points.
A two-time state champion and three-time state medalist at Detroit Catholic Central, Yatooma did not see action during his first season in Ann Arbor (2019-20) before redshirting last season and going 7-8 in open events. His most noteworthy win came against Edinboro's Nick Lodato, a New Jersey state champion.