Thomas Gilman | The Bader Show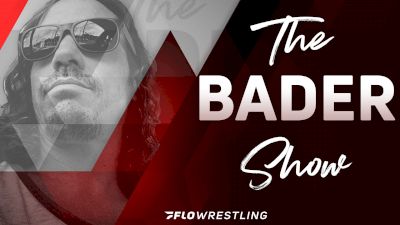 Unlock this video, live events, and more with a subscription!
Get Started
Already a subscriber? Log In
Watch the replay of The Bader Show from Apr 13, 2021 with Thomas Gilman
0:00: Texas wrestling.
1:00: Thomas Gilman introduction.
2:00: Thomas Gilman came out of nowhere?
2:30: Do people like Thomas Gilman?
3:30: Early Olympic memories.
6:00: Olympic delusion.
8:30: Thomas Gilman's first international wrestling experience.
10:00: "International wrestlers have an elusive feel."
12:15: The best way to approach multiple styles of wrestling.
14:00: Brad Hildebrandt's influence on his career and achieving a higher level of discipline.
15:45: Getting rid of bad habits.
17:45: Don't feel too good?
19:30: No Nick Suriano or Spencer Lee at the Olympic Trials.
20:45: Improving at the Nittany Lion Wrestling Club.
23:45: Competing with love and not hate.
24:45: Is Thomas Gilman becoming a different person?
26:30: Buying into the NLWC system.
29:00: Learning from the Navy Seals.
30:30: War, combat, and wrestling go hand-in-hand.
32:30: "I'm going to do whatever it takes and sacrifice myself for the guy next to me."
33:15: How does Thomas Gilman has fun?
35:30: Thomas Gilman is not a cat person but he has a cat.
36:30: Similarities and differences between Tom Brands and Cael Sanderson.
38:00: Thomas Gilman's training partners.
40:00: The Olympic experience.
41:45: 2021 World Championships.
43:30: Where would Thomas Gilman go for a vacation?
45:00: Training internationally.
46:00: Thomas is Gilman is on social media. What he likes and doesn't like.
48:30: What makes a good cup of coffee?
50:30: NCAA watch party and cheering for Penn State over Iowa.
53:00: Are the 2024 Olympics are on Thomas Gilman's radar?