Terry Tuesday- Rock Bottom
The story of Terry Brands, his struggles and failures in pursuit of Olympic Gold are well documented in the FloFilms feature, TERRY. After winning World Championships in 1993 and 1995, Brands was the favorite to make the 1996 United States Olympic Team and would have been one of the favorites to win a gold medal at the Olympic Games in Atlanta.

Kendall Cross had other ideas. The 1992 Olympian had since taken a backseat to Brands who had become king of the weight class.

The two met in the best-of-three finals in the 1996 Olympic Trials, in what became one of the most exciting and dramatic series ever contested in the United States. Brands won the first match, but Cross came back to win the last two and make the Olympic Team.

This sent Terry Brands into a dark place. We have heard all about him running out of the arena and trying to climb over a fence before his twin brother Tom Brands pulled him off. Losing that match, not being on the Olympic Team and not having the opportunity to wrestle for an Olympic Title is something that would affect Terry deeply for the next four years, and really, ever since.

Brands, and many close to him, tell the story in detail through out TERRY, but one piece never got told.

Until now.

Through out all of his struggles there surely had a be a rock bottom. What was it?

Terry reveals what he considers rock bottom following the 1996 Olympic Trials. After the Trials, Brands went to Montana for a wrestling camp with the Zadick family. Once he returned to Iowa Terry showed up to the body shop where his father was working. He soon found himself crawling around on his hands and knees in the grass in front of the body shop, while really in a bad place mentally.

Something that stands out to me about this Brands dropping to his knees and crawling around. There seems to be a bit of a theme here. Immediately after losing the final match to Cross, we see Terry crawl off the mat on his hands and knees.

As described by Tom, after he got Terry off of the fence, he dropped down to his hands and knees and crawled over to coach Gable who had just appeared. I don't know if it's a coping mechanism or what, but Terry dropping to his knees and crawling around seems to be a theme when he is hurting or broken or simply doesn't understand why something happened.

Terry Brands recognizes his struggles and admits that he has a tough time understanding why it happened. In the same breathe Terry admits, "I don't have to understand, I just need to drive."

If you have not yet seen TERRY, you should really do yourself a favor and watch it. You will like it, even if you don't like Terry Brands.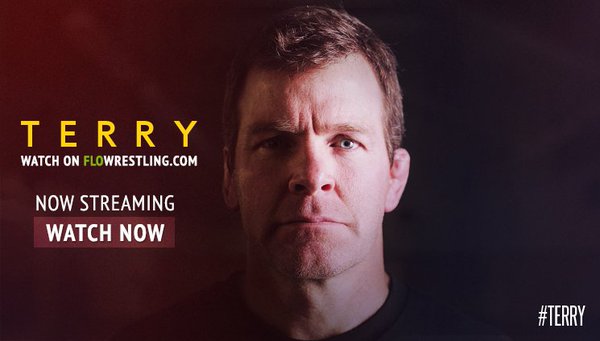 TERRY Brands: The Film chronicles the decade long Olympic journey of legendary wrestler Terry Brands, offering unprecedented access inside the life and mind of one of the sport's most iconic and enigmatic figures.

This retrospective examination of Terry's successes and failures is set against the exhilarating backdrop of the 2015 US Open in Las Vegas as Terry guides protege and Olympic hopeful Anthony Ramos in his second year of international competition.

Enjoy this TERRY Film today!

Enjoy more Terry Film videos:
Terry Goes To Therapy
Where Else Did Terry Consider Going To College?
Tour Brands' Farm
Moose And Movies
20 Best Lines From Terry Film
The Evolution Of Terry Brands Film