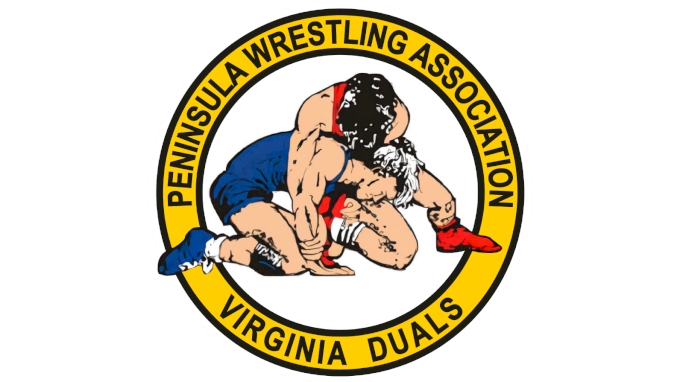 Here's how to watch the 2023 Virginia Duals broadcast on FloWrestling. The 2023 Virginia Duals broadcast starts on Jan 13, 2023 and runs until Jan 15, 2023. Stream or cast from your desktop, mobile or TV. Now available on Roku, Fire TV, Chromecast and Apple TV. Don't forget to download the FloSports app on iOS or Android! If you can't watch live, catch up with the replays! Video footage from the event will be archived and stored in a video library for FloWrestling subscribers to watch for the duration of their subscription.
Brackets
National College | American College
National H.S. | American H.S. | Black & Blue H.S.
Schedule
Friday, January 13th
9:30 AM: National & American High School Coaches Meeting
9:30 AM: National & American High School Coaches Meeting
10:00 AM: American High School, all teams 1st Round - 8 mats
High School Scrimmage Mat - 1 mat
Open Mat - 1 mat
11:30 AM: National College Duals - 4 mats
American High School, 9th Top/Bottom - 4 mats
High School Scrimmage Mat - 1 mat
Open Mat - 1 mat
1:00 PM: National College Duals - 2 mats
American College, all teams/all pools 1st Round - 4 mats
American High School, Champ Quarters - 4 mats
2:00 PM: National & American High School Coaches Meeting
2:30 PM: National College Duals - 2 mats
American College, all teams/all pools 2nd Round - 4 mats
National High School, all teams 1st Round - 4 mats
4:00 PM: National College Extra countable matches (ECMs) - 2 mats
American College, all teams/all pools 3rd Round - 4 mats
National High School, Consolations 1st Round - 2 mats
High School Scrimmage Mat - 1 mat
Open Mat - 1 mat
5:30 PM: Black & Blue High School Coaches Meeting
6:00 PM: National High School Loser-Loser - 1 mat
Black & Blue High High School, all teams 1st Round - 8 mats
High School Scrimmage mat - 1 mat
7:30 PM: Black & Blue High School, Champ Quarters - 4 mats
Black & Blue High School, 9th Top/Bottom - 4 mats
HS Scrimmage mat - 2 mats
Saturday, January 14th
10:00 AM: American High School, 9th Semi - 2 mats
American High School, 13th Semi - 2 mats
Black & Blue High School, 5th Semi - 2 mats
Black & Blue High School, 9th Semi - 2 mats
Black & Blue High School, 13th Semi - 2 mats
11:30 AM: American College, Silver Semi - 2 mats
American College, Bronze Semi - 2 mats
American High School, 5th Semi - 2 mats
American High School, 13th & 15th Place - 2 mats
Black & Blue High School, 13th & 15th Place - 2 mats
1:00 PM: National College Duals - 2 mats
American College, Gold Semi-Finals - 2 mats
National High School, Champ Semi-Final - 2 mats
American High School, Champ Semi-Finals - 2 mats
Black & Blue High School, Champ Semi-Finals - 2 mats
2:30 PM: National College Duals - 4 mats
American College, Bronze 9th & 11th Place - 2 mats
National High School, Consi Semi-Finals - 2 mats
Open mat - 2 mats
4:00 PM: National College Duals - 2 mats
National College Extra countable matches (ECMs) - 1 mat
American High School, 9th & 11th Place - 2 mats
Black & Blue High School, 9th & 11th Place - 2 mats
High School Scrimmage Mat - 2 mats
Open mat - 1 mat
6:00 PM: National High School, 5th Place - 2 mats
American High School, 5th & 7th Place - 2 mats
Black & Blue High School, 5th & 7th Place - 2 mats
High School Scrimmage Mat- 2 mats
Open mat - 3 mats
7:30 PM: American College, Gold 1st & 3rd Place - 2 mats
American College Silver 5th & 7th Place - 2 mats
National High School, Champ 1st & 3rd Place - 2 mats
American High School, Champ 1st & 3rd Place - 2 mats
Black & Blue High School, Champ 1st & 3rd Place - 2 mats