The Bader Show streams live Monday - Wednesday at 11:30am eastern.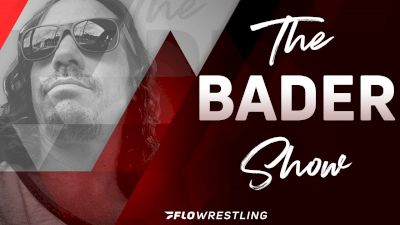 Unlock this video, live events, and more with a subscription!
Get Started
Already a subscriber? Log In
Jenna Burkert | The Bader Show
Apr 14, 2021
Watch the replay of The Bader Show from Apr 14, 2021 with Jenna Burkert
0:00: Bob Dylan and "The Hurricane."
1:00: Jenna Burkert introduction.
2:30: Cross training and mental training.
4:30: Being present and enjoying the day.
5:30: Benefits of the lockdown.
6:15: Competing for the Army WCAP and military life.
8:45: Expectations of the World Class Athlete Program.
11:00: Physical demands of basic training vs. the demands of wrestling.
12:30: The most challenging part of being in the military.
13:45: Can Jenna Burkert fight in global war?
14:15: Long-term goals with the military.
15:30: Training with the Southeast Regional Training Center.
18:00: Military travel restrictions.
19:45: "A bit fat, but otherwise lovely and very talented."
21:00: Jenna's mother fell ill.
25:30: Dealing with the passing of a loved one.
27:00: Training situation through mother's passing.
29:00: "You have to go to the Olympic Trials."
30:30: "I always care."
31:30: Final communication with mother.
33:30: Competing at the Olympic Trials.
37:30: Celebration of life at the Olympic Trials.
38:15: The best version of Jenna we've ever seen.
40:00: The headlock.
43:15: Facing Helen.
45:30: What do you do between matches two and three?
46:30: Sweep the leg.47:30: 'It's a lot to see yourself bawling on NBC.'
48:15: A moment to show strength.
49:15: Jenna believes she's going to win.
50:15: This is where the warrior comes out.
51:00: Pure, raw emotion.
52:00: 'My mom is really gone.'
54:30: A form of grieving.
56:00: 'The grieving process is unlike anything I've ever experienced.'
57:45: 'To feel supported is unlike anything else.'
59:00 Looking ahead toward the World Championships.
60:00: Can Jenna replicate the magic at the World Team Trials?
62:00: 'I like to think I can compete at any weight class.'
63:00: Wins and whoopins.
65:30: Parting words from Jenna Burkert.