NCAA
Another Avalanche Of Upsets In Week 3
Another Avalanche Of Upsets In Week 3
All of the upsets from the third week of Division 1 collegiate wrestling.
Nov 22, 2022
by Andrew Spey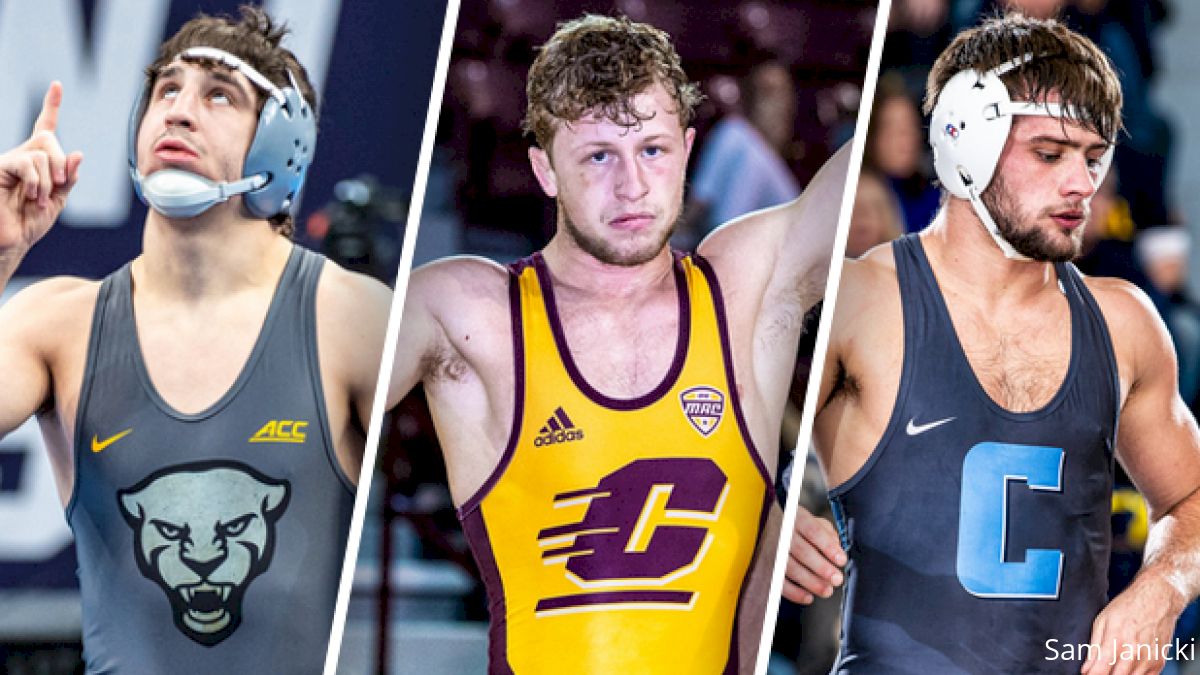 Another week of D1 college wrestling brings more chaos to the rankings as evidenced by another avalanche of upsets.
The usual caveats apply. By the end of the year, many of the matches may not look like upsets anymore. But hindsight is 20/20, and here in November our foresight is far from perfect.
149: #4 Austin Gomez, Wisconsin over #1 Yianni Diakomihalis, Cornell
This one was a pretty big deal, perhaps you already heard about it?
174: Lennox Wolak, Columbia over #6 Ethan Smith, Ohio State
The biggest upset of a ranked wrestler by an unranked wrestler so far this season. Wolak later lost to unranked Joseph Walker of Michigan and Smith bounced back to defeat #5 Clay Lautt of North Carolina. So good luck with that, collegiate rankers!
157: Corbyn Munson, Central Michigan over #7 Ed Scott, NC State
Munson got arguably the biggest win over his career with a victory over Scott, a round of 12 finisher at last year's NCAA tournament.
Watch Munson secure the upset at Journeymen Wrestling's Armbar at the Armory: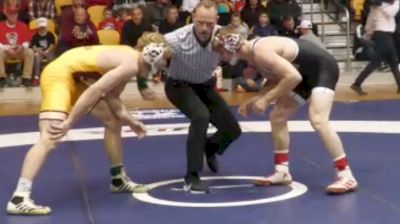 Unlock this video, live events, and more with a subscription!
Get Started
Already a subscriber? Log In
141: #19 Cael Happel, Northern Iowa over #5 Clay Carlson, South Dakota State
Happel came up big over a top 10 All-American at the Daktronics Open. Carlson will have a potential opportunity for revenge at both the Cliff Keen Las Vegas Invitational and the Soldiers Solute.
197: #18 Isaac Trumble, NC State over #9 Zac Braunagel, Illinois
Another upset from the Armbar at the Armory, this time with the Wolfpacker on the winning side of the result.
Watch Trumble defeat Braunagel: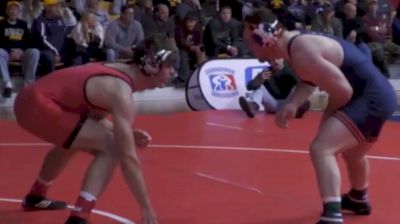 Unlock this video, live events, and more with a subscription!
Get Started
Already a subscriber? Log In
197: #11 Nino Bonaccorsi, Pittsburgh over #6 Michael Beard, Lehigh
2021 NCAA finalist Bonaccorsi impressed this week, beating both All-American Beard and freshman phenom #8 Jaxon Smith of Maryland.
Below is every other technical upset we could find this week. Let us know if we missed anything!
125: Colton Camacho, Pittsburgh over #24 Carter Bailey, Lehigh
125: Cooper Flynn, Virginia Tech over #20 Ryan Miller, Penn
125: Richard Figueroa, Arizona State over #14 Noah Surtin, Missouri
125: Tucker Owens, Air Force over #15 Anthony Noto, Lock Haven
133: #12 Sam Latona, Virginia Tech over #10 Michael Colaiocco, Penn
133: #23 Haiden Drury, Utah Valley over #14 Hunter Leake, California Baptist
133: Boo Dryden, Nebraska over #17 Cody Phippen, Air Force
133: Boo Dryden, Nebraska over HM Gable Strickland, Lock Haven
133: Damion Elliott, Oregon State over #14 Hunter Leake, California Baptist
133: Ethan Oakley, Appalachian State over HM Pat Phillips, Franklin & Marshall
133: Evan Frost, Iowa State over #22 Kyle Biscoglia, Northern Iowa
133: Evan Mougalian, Penn over #24 Richie Koehler, Rider
133: HM Connor McGonagle, Lehigh over #8 Micky Phillippi, Pittsburgh
133: Jason Shaner, Oregon State over #21 Chance Rich, CSU Bakersfield
133: Julian Chlebove, Arizona State over HM Pat Phillips, Franklin & Marshall
133: Kurtis Phipps, Bucknell over HM Gable Strickland, Lock Haven
133: Kyle Waterman, Drexel over #24 Richie Koehler, Rider
141: #24 Brock Hardy, Nebraska over #17 Darren Miller, Bucknell
141: Collin Gerardi, Virginia Tech over HM McKenzie Bell, Rider
141: David Evans, Penn State over #23 Cayden Rooks, Indiana
141: Dylan Layton, Cleveland State over #22 Parker Filius, Purdue
141: HM Jesse Vasquez, Arizona State over #6 Allan Hart, Missouri
141: HM Vince Cornella, Cornell over #12 Joseph Zargo, Wisconsin
141: Job Greenwood, Wyoming over #18 Carter Young, Oklahoma State
141: Jordan Decatur, Ohio State over #16 Matt Kazimir, Columbia
149: #15 Doug Zapf, Penn over #9 Caleb Henson, Virginia Tech
149: Connor Eck, Lock Haven over #16 Dylan Martinez, Air Force
149: HM Alec Hagan, Ohio over #23 Kody Komara, Kent State
149: Jackson Arrington, NC State over #18 Johnny Lovett, Central Michigan
149: Jackson Arrington, NC State over HM Kevon Davenport, Illinois
149: Peyton Omania, Michigan State over #16 Dylan Martinez, Air Force
149: Shayne Van Ness, Penn State over #18 Johnny Lovett, Central Michigan
149: Shayne Van Ness, Penn State over HM Graham Rooks, Indiana
157: Antrell Taylor, Nebraska over #16 Andrew Cerniglia, Navy
157: Antrell Taylor, Nebraska over HM Nick Delp, Bucknell
157: Dan Segura, Ohio over HM Nick Delp, Bucknell
157: HM Trevor Chumbley, Northwestern over #24 Jake Keating, Virginia
157: Michael North, Maryland over #10 Dazjon Casto, Pittsburgh
157: Peter Pappas, George Mason over HM Cody Bond, Appalachian State
157: Vinny Zerban, Northern Colorado over #23 Luke Kemerer, Edinboro
165: #22 Connor Brady, Virginia Tech over #20 Lucas Revano, Penn
165: HM Holden Heller, Pittsburgh over #18 Brian Meyer, Lehigh
165: Hunter Mays, Rider over #20 Lucas Revano, Penn
165: Josh Kim, Harvard over #20 Lucas Revano, Penn
174: #6 Ethan Smith, Ohio State over #5 Clay Lautt, North Carolina
174: Corey Connolly, Rider over HM Nick Incontrera, Penn
174: Elise Brown Ton, Nebraska over #24 Sam Wolf, Air Force
174: Luca Augustine, Pittsburgh over HM Jake Logan, Lehigh
184: Giuseppe Hoose, Buffalo over HM Jacob Ferreira, Hofstra
184: HM Jacob Nolan, Binghamton over #8 Isaiah Salazar, Minnesota
184: HM Reece Heller, Pittsburgh over #13 Tate Samuelson, Lehigh
184: Michial Foy, Minnesota over HM Cade King, South Dakota State
197: #11 Nino Bonaccorsi, Pittsburgh over #6 Michael Beard, Lehigh
197: #11 Nino Bonaccorsi, Pittsburgh over #8 Jaxon Smith, Maryland
197: #17 Ethan Laird, Rider over #15 Kordell Norfleet, Arizona State
197: Michael Battista, Virginia over #24 Andrew Davison, Northwestern
197: Tanner Harvey, Oregon State over HM Evan Bockman, Utah Valley
285: #13 Trent Hillger, Wisconsin over #10 Lewis Fernandes, Cornell
285: Bowen McConville, South Dakota State over #21 Tyrell Gordon, Northern Iowa
285: Cory Day, Binghamton over HM Juan Mora, North Dakota State
285: Dayton Pitzer, Pittsburgh over HM Nathan Taylor, Lehigh
285: HM Jonah Niesenbaum, Duke over #15 Hunter Catka, Virginia Tech
285: HM Jonah Niesenbaum, Duke over #22 Ben Goldin, Penn
285: Seth Nitzel, Missouri over HM Colton McKiernan, SIU Edwardsville