Super Match: Super Blog
Super Match: Super Blog
A recap of the first Rudis Super Match event, live from Detriot.
Mar 17, 2022
by Andrew Spey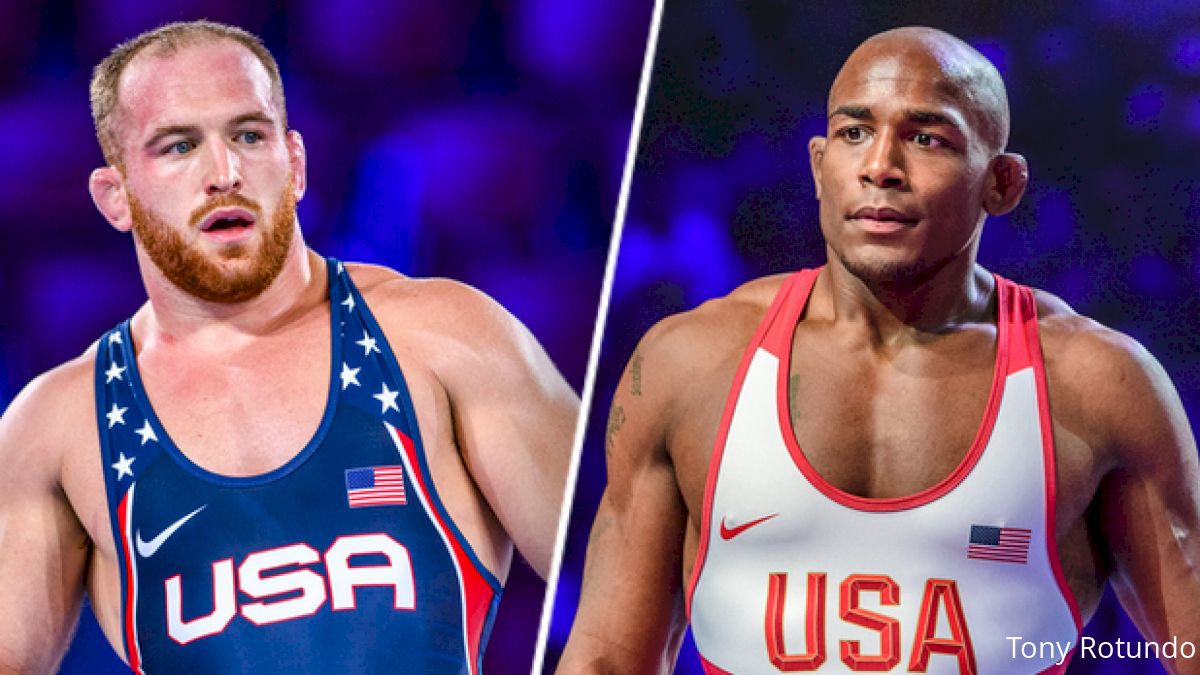 Unlock this article, live events, and more with a subscription!
Get Started
Already a subscriber? Log In
We're here in the lovely Sound Board Theater for Rudis' Super Match! Here's what went down!
Weigh-ins were day-before, +2 kilos.
145 Pounds: Casey Swiderski Defeats Jesse Mendez, 10-4
College folkstyle rules were used.
Early takedown on an ankle pick for Swiderski. Mendez escapes and Swiderski gets him again with another pick to extend his lead to 4-1, then gets a shortime ride out to keep that lead going into the second. That was following an exchange where each competitor had a single leg elevatated. Dueling singles had them both hopping, in the manner of Yianni vs Khinchegashvili from Beat the Streets 2020.
An escape in the second is all Mendez can muster as Swiderski stymies Mendez' deepest attack late in the period. Swiderski takes bottom to start the final frame. Mendez throws an underhook with ferocity but Swiderski keeps him at bay. Reattack from Swiderski earns him another takedown. Another one makes 9-4. The match ends and Casey Swiderski tacks on a riding time point to make it 10-4.
Impressive stuff knowing how talented and accomplished Jesse Mendez is. But Swiderski not only won for the second time over Mendez, but widened the margin of victory.
---
152 Pounds: Caleb Henson Defeats Hunter Garvin, 8-6
We've switched back to freestyle, which will be used for the rest of the event.
Step out for Henson. Go behind for Henson, 3-0. Reversal for Garvin. Knee pick for Garvin. Garvin counters Henson's attack for a correct throw and a 4-3 lead. Another go behind for Henson to make it 5-4 at the break.
Henson with an attack off the whistle, Garvin nearly counters with front headlock but Henson fights through for two more. Attack from Henson drives Garvin out for one more. Henson continues to attack. Garvin looking for counters. Garvin gets one turn. But that's all, and Henson wins 8-6.
---
79 Kilograms: David McFadden Defeats Mitch Finesilver, 6-2
Shot clock point for Finesilver. Then a counter shot by McFadden, switches to a double and take Fineslver to his back for a big four-pointer. Halftime. McFadden counters again in the second, this time for two and a five-point lead. Finesilver answers with a pushout point but that's as close as he gets and McFadden wins 6-2.
---
50 Kilograms: Erin Golston Defeats Emily Shilson, 2-2
Sweep single from Golston earns her a takedown. Some nifty defense and savvy use of the out of bounds keeps Shilson's comeback to two step out points, and Golston holds off for the win via criteria, 2-2. Impressive win by Golston who showed she's still a factor at the senior level.
---
65 Kilograms: Evan Henderson Defeats Seth Gross, 13-11
Scramble off the bat. Hendo jumps over, unclear who initiated what. They go 2-2 after a conference, tie score. Gross breaks the tie, similar situation but he gets a takedown and an exposure. 6-2 Gross steps out, then gets taken down, lead down to 6-5, still Gross. Hendo in deep but no score.
Second period begins. Gross sidles up to Gendo gets behind his armpits and takes him over for an 8-5 lead. Then a straight-on low double for two for Hendo. And another just like and it Henderson takes the lead 9-8. Still a lot of time in the match, over 90 seconds. Extended scramble, and they give Henderson the takedown as they go out of bounds. It will be reviewed. Challenge won, no takedown, points come off, 9-8, Henderson leads. Gross in on a shot, single leg, he gets two to go up 10-9. Henderson looks for a switch, now leaps over, gets an exposure for two. A gut wrench makes it 13-10. Gross comes out of that flury on top for one more point but that's how the match ends. Quite an exchange! 13-11 Hendo victorious.
---
125 Kilograms: Amar Dhesi Defeats Derek White, 12-7
Dhesi pushed White out of bounds 10 times and got two penalty points along the way to rack up 12 points. White got a yolo chest wrap counter for four that was challenged and upheld so it became a five point move. Then a takedown late in the match made it a 12-7 final for Dhesi.
---
72 Kilograms: Kennedy Blades Defeats Victoria Francis, 11-1
Blades jumps out to a quick start, finding her offense and scores the first takedown. Blades looking to pickup her second takedown on a go behind when the whistle blows it dead just before Kennedy can score. But the table and judge overrule and Blades leads 4-0. Francis gets a point in the final seconds of the first period.
A flurry close to halfway through the second period, Blades almost hits a sucker drag for a go behind but Francis catches her leg and holds on for a stalemate, good defense. Francis pressures in, and Blades his a slick slide-by to extend her lead to 6-2. 36 seconds to go. Blades lowers her level, wraps up a double then slams Francis to the mat for a 4 pointer. Not content with a 9-point lead, Blades gets another feet-to-back takedown to make it a tech fall, 14-1. Starter slow but poured it on late.
---
97 Kilograms: Kollin Moore Defeats Nate Jackson, 4-4
Moore shoots in early, has a single, trips and comes close to a score. Actually, it is two. Actually, maybe not, Reece Humphrey throws the brick. And it is overturned, no takedown, good challenge. Still 0-0. Moore gets put on the clock. Jackson with a smooth double for two. And he gets the shot clock point (new rule, shot clock doesn't come off the board if the other guy scores, only if the guy on the clock scores). Moore with a slick counter for his first two point, then a gut wrench for the 4-3 lead. We go to the break.
Slow second period, some short flurries, no scores after nearly two minutes. 30 seconds to go. Jackson gets a step out with 18 seconds to go to tie it up but Moore still leads on criteria. Good job of circling by Moore and he frustrates Jackson's comeback attempt. Moore wins via criteria (more two-point moves) 4-4.
---
97 Kilograms: Kyle Snyder Defeats J'den Cox, 5-5
Straight on double going right at Cox but J'den catches Snyder's most ferocious shot and parries away from danger. Snyder now going on the shot clock. Cox attacks, drives Snyder out of bounds, and then picks up the shot clock point (because of the new rules). Cox leads 2-0 going into the second.
Snyder engages, starts wrestling closer-in. Begins taking ground. Cox loses balance and gets driven out of bounds. Gets taken right off the stage in fact! And caution and one and called, which is one and one. It's tied 2-2 but Snyder leads on criteria (caution). They trade step outs. Then Cox counters a Snyder shot to take the lead out right 5-3. Snyder answers with an underhook to a body lock and takes Cox to his back! Or does he? Cox' corner challenges saying it was just two and J'den didn't land in danger. It is over turned, good challenge, 5-5 but Snyder leads on criteria. Snyder maintaining position. Cox mounts a comeback but falls just short. Snyder fends him off to take the first round, 5-5 on criteria thanks to a caution.
Impressive stuff. It's almost like when two world champions wrestle it produces an entertaining bout!
---
79 Kilograms: Alex Dieringer Defeats Isaiah Martinez, 4-1
We start the back half of the matches with two Final X participants. In the first we see a shot clock point for IMar but not much besides a lot of underhooks and maybe a level change or two. A very 'tactical' first period.
Second period sees Ringer breakthrough with a takedown at the edge. IMar's corner wants a challenge (as does IMar). The challenge is lost and that will be all the points Ringer needs, although he gets one more on a step out for good measure.
---
62 Kilograms: Kayla Miracle Defeats Emma Bruntil, 8-2
First period underway. Miracle strikes first with a go behind. She's just a step quicker than Bruntil when it counted. Bruntil snags a single leg but can't convert. Bruntil go behind attempt also thwarted. But a go behind from Miracle is successful to make it 4-0. Kayla adds a double in short time to run her lead up to six before the break.
Miracle stays on her offense in the second. Bruntil stops her first shot but after a minute Miracle breaks through again to make it 8-0. Bruntil manages to get on the board with a nice ankle pick but that's as close as it gets. Miracle wins 8-2.
---
86 Kilograms: Mark Hall Defeats Myles Martin, 2-1
Mark Hall attempts one of his famous duck under but Martin defense. Lots of circling and hand fighting but no points. Hall goes on the clock first. Martin gets the first point, period ends with no other scores.
Martin gets a turn on the clock in the second. No scores so Hall ties it up and takes the lead on criteria. Now a double from Hall. Nice scramble but no points. Just over 30 seconds to go and Martin gets put on the clock again. Not sure why that was called but Martin can't score so with just a few ticks left, Hall gets another point and wins 2-1.
---
70 Kilograms: Alec Pantaleo Defeats Jordan Oliver, 4-1
Our first of two consecutive 70kg bouts. Oliver gets close to a step out but doesn't score. Pantaleo then fires off a double and he finishes cleanly. Pantaleo takes the 2-0 lead into the break, although there was some nice action before it closed out.
In the second period, Pantaleo gets put on the clock. No scores so Oliver gets a point. Pantaleo blasts another double but JO was ready for him. Still 2-1. Oliver ups his pace, launching many attacks, but they are eventually countered by a double for Pantaleo who makes it 4-1. And that's how it ends. Impressive work from Pantaleo who missed a lot of time, and the Olympic Team Trials, with a torn pectoral muscle recently.
---
70 Kilograms: James Green Defeats Zain Retherford, 4-0
Our second 70kg matchup, this time between multiple-time world-teamers, although only Green has scored senior level hardware at World Championships.
Green defends a shot from Zain early. The reattack from Green is smooth and he takes a 2-0 lead over Retherford. That's how the period ends.
In the second period Green gets his underhooks working and shoves Retherford out of bounds for a 3-0 lead. Two minutes remaining. Retherford picks up his pace. Green circles and defends. Another step out for a final point. Green 4-0 in a very impressive bout against a very well-credentialed opponent.
---
53 Kilograms: Sarah Hildebrandt Defeats Ronna Gross, 10-0
Hildebrandt hits a nasty feint, then goes right for the double, toppling Gross and setting up her lace in a perfect transition. Leg lace hurricane and Hildebrandt has Great feint, double, transition into a lace. 10-0!
Will Hildebrandt go back down to 50 or stay at 53 is now the question.
---
97 Kilograms: Kyle Snyder Defeats J'den Cox, 7-1
Snyder comes out too strong right off the bat and forces a step out. Cox tries to regain his footing but he can't get through Kyle's defenses and Snyder gets another step out.
This is a different match than the first one, and Snyder is starting to wear on Cox. Two takedowns later and one step out for Cox and Snyder wins the second match in rather dominant fashion. Never let J'den get close enough to put points on the board.
The more Kyle wrestles the better he gets!
J'den says he'll see Snyder again. At Final X or elsewhere is the question!
That'll do it for Rudis' first Super Match. Extremely fun event. Well stocked concession stands (that served many adult beverages) certainly helped keep the crowd lively.
Kudo to Rudis and many thanks for their hospitality. NCAAs start tomorrow (or now, or are over, depending on when you read this). Apologies for the many typos. See you at the next one!