Big Ten
Wait Was Tough, But Worth It For Kharchla
Wait Was Tough, But Worth It For Kharchla
An ACL tear gave Carson Kharchla time to renew his purpose and he's thriving this season.
Feb 18, 2022
by Travis Johnson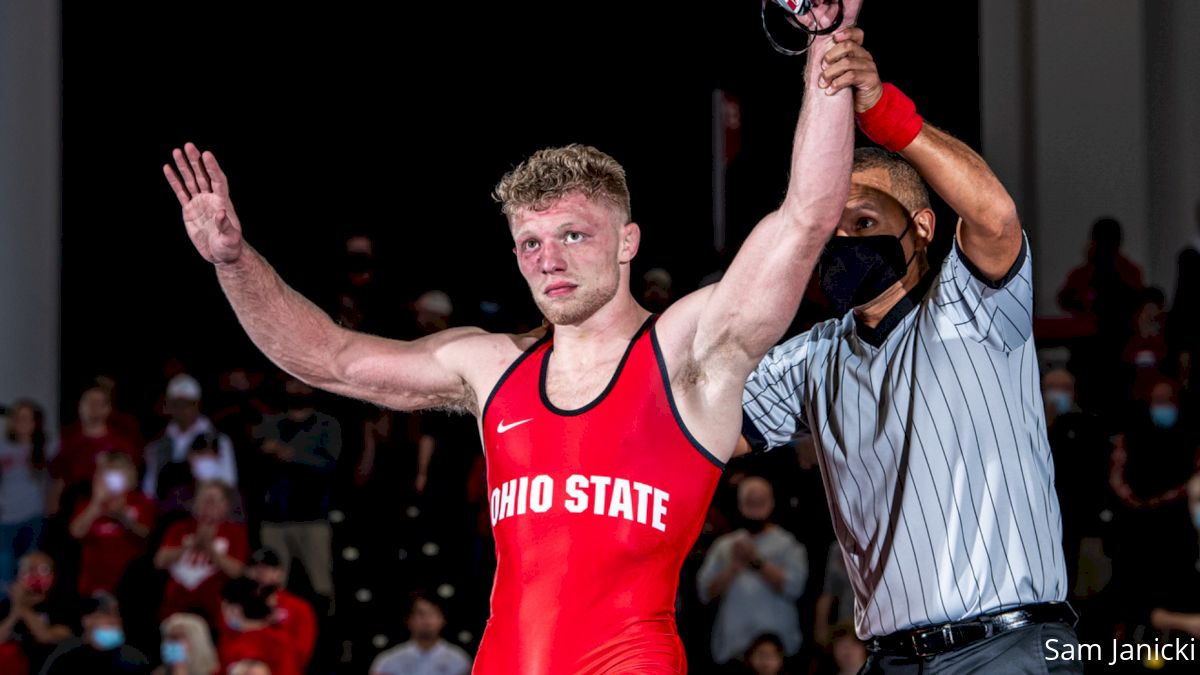 Unlock this article, live events, and more with a subscription!
Get Started
Already a subscriber? Log In
A few weeks ago as he ran out of the locker room to take the mat against his toughest opponent of the season, something was different in Carson Kharchla's head.
Admittedly easily distracted before almost any bout before this one, Kharchla's eyes weren't bouncing around the stands looking for friends or family. He wasn't feeling very laid back, yucking it up with teammates and he wasn't scoreboard watching either.
He was nervous. All he could think about was the man standing across from him — Iowa's Alex Marinelli — and a convalescing swirl of what-ifs.
"It zoned me in and it felt good but also bad at the same time," Kharchla said. "But I think the reason I got nervous and felt the pressure was because I kind of thought about everything else outside of just the wrestling match. The fans, what happens if I lose? What happens if he's stronger than I thought or does this differently or that differently?"
Just over seven minutes later, none of it mattered. Kharchla had the biggest win of his young career via a 3-2 decision over the three-time Big Ten champion and last season's NCAA #1 seed at 165 pounds.
In the moment, the Buckeye 165-pounder might not have realized how far he'd come in a short while with little mat time to work with.
After redshirting and going 16-0 unattached as a freshman, Kharchla appeared poised to seize a spot in the team's lineup to start last season. But before the team kicked off its slate with a road trip to Illinois, Kharchla suffered a torn ACL in a sparring match.
He was crushed. Didn't answer his phone "for a while" and could only wait for surgery and plow through rehab.
Kharchla's time on the mend eventually turned to a period of introspection. He quickly started to miss wrestling.
"Tearing my ACL and sitting out the whole season, that was kind of big. Kind of sucked," Kharchla said. "It just really made me want to come back and wrestle. I think too, just doing it for the people, my teammates, my friends, my family, my coaches. Everyone that's helped me get back to where I need to be to compete at this level."
Not Letting Them Down
So far, Kharchla has just one loss as a Buckeye. It came against Shane Griffith, who won a 5-4 decision at the Cliff Keen Las Vegas Invitational in early December.
Since then the Powell, Ohio native has racked up 12 straight wins. Among them are three technical falls, three majors and a fall and he leads the Buckeyes overall wins with 19. Since his battle with Marinelli, Kharchla has been preparing more and more for what will be his first postseason.
He's had to learn on the fly that at this level, getting behind isn't the end of the world, especially for someone who's accustomed to wrestling with a big lead.
"I think just getting more comfortable out there, and more comfortable being in some matches where maybe the first period doesn't go your way, maybe the second period doesn't go your way, third period doesn't go your way until the last 30 seconds," Kharchla said. "Just being more comfortable in those situations and just really getting my mind right and saying, 'You know, keep wrestling, don't give up, you're not out of it yet.'"
The Vet
Statistically, only one Buckeye has been better than Kharchla down the stretch and that's stalwart 149-pounder Sammy Sasso.
The sophomore is 20-1 and has scored the most dual points for Ohio State. He's also 7-1 against Top 25 opponents. His lone loss came on Dec. 3 to two-time national champ Yianni Diakomihalis via a 6-2 score.
Ohio State coach Tom Ryan can trace Sasso's success this season back to last year when the 149-pounder was runner-up at NCAAs.
"You've got to be dead serious about what you want in your life," Ryan said. "It can't be wishy-washy. It can't be a kind-of thing. It's got to be this thing that's so serious in your soul and Sammy has that. He's dead serious about winning the nationals. He's dead serious about helping his team win nationals."
New Motto
The Buckeyes will enter the postseason with a new saying, and it's a doozy.
"I want my team to be men who are as tough as the lips on a woodpecker," Ryan said.
Its origin lies with one of Ryan's more unlikely colleagues — Lt. Col. Michael Kelvington, who is a professor of military science and the top officer in Ohio State's Army Reserve Officers' Training Corps. Ryan and Kelvington ride bikes together for morning workouts and the Afghanistan vet has shared a bunch of different, colorful anecdotes. Like the one about the "doughboys".
Before American servicemen were known as "G.I.s" in World War II, they were affectionately called "doughboys". It was an ironic moniker for the tough-as-nails fighting men who journeyed across the Atlantic to wage war.
Ryan joked that he'd called wrestlers that for different reasons in the past. No more, though.
"I have a definition of doughboy also," Ryan said. "And it's not the definition of the animals that fought for us and they were journeymen and tough. (Kelvington) said, 'These men were as tough as lips on a woodpecker' and that's what I want my team to be."
In a few weeks, they'll get to test their beaks.