Big 12
Time-Crunched Mastrogiovanni Battles Back From Injury, Late Deficit
Time-Crunched Mastrogiovanni Battles Back From Injury, Late Deficit
Oklahoma State 125-pounder Trevor Mastrogiovanni had to deal with an ankle injury, zoo animals and a late deficit against Jesse Ybarra in the past week.
Feb 16, 2022
by Roger Moore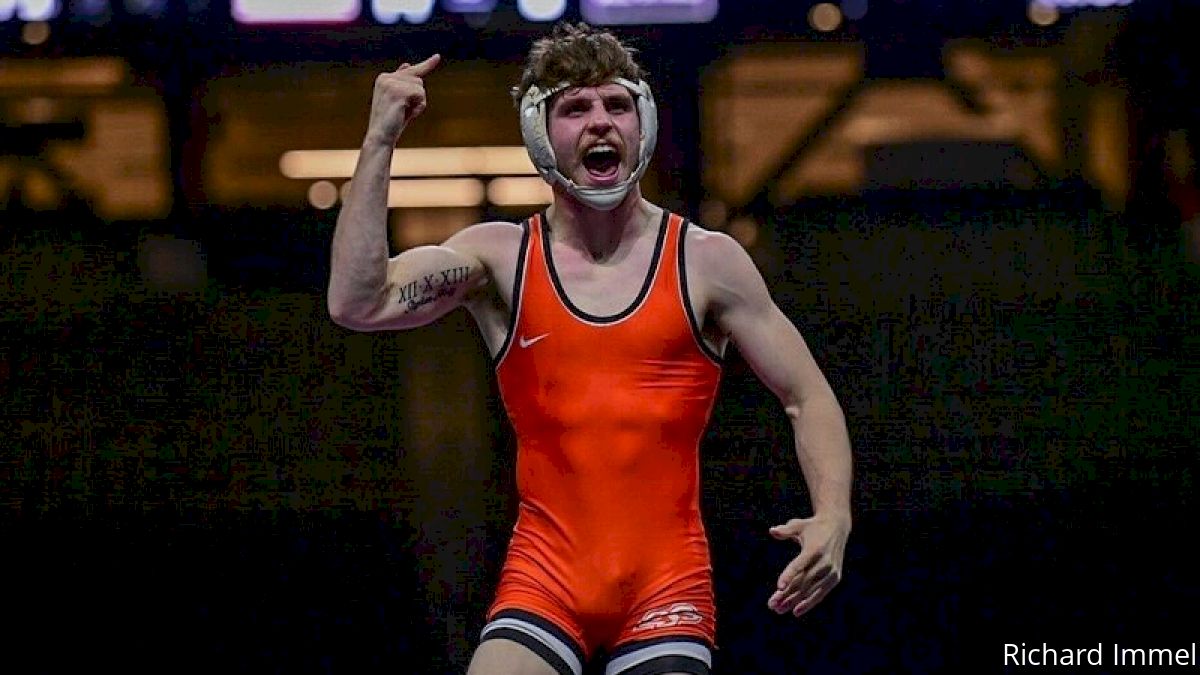 Unlock this article, live events, and more with a subscription!
Get Started
Already a subscriber? Log In
Forgive Trevor Mastrogiovanni for getting off to a slow start in one of the biggest matches – at least as far as environment – of his wrestling life.
The Oklahoma State sophomore 125-pounder was not quite 100-percent after a Feb. 2 injury, had not been on the mat for almost a week, and there's this off-the-mat project that includes a rather large collection of animals.
First, the wrestling.
About 15 minutes before weigh-ins for last Saturday's Bout at the Ballpark in Arlington, Texas, Oklahoma State head coach John Smith asked Mastrogiovanni: "You ready to wrestle?"
It was an easy answer for the Blair Academy product, who squared off with Iowa freshman Jesse Ybarra. After an early third-period takedown for Ybarra in front of 12,000-plus, it was 4-1 for the Hawkeye. But Mastrogiovanni (13-1) found a second-wind late and scored a pair of takedowns to steal a 6-5 victory.
"Third period, my adrenaline kicked in, heard the crowd," said Mastrogiovanni, one of just three Cowboys to pick up a victory in Iowa's 23-9 win. "A switch kind of clicked on and, to be honest, I couldn't tell you I was looking for something specific, it was just me knowing I had to wrestle harder. I didn't know how much time was left, I just thought about all those third periods, all those matches I've wrestled where it's come down to the third period.
"You train for those moments and coach Smith always talking about winning ugly when you have to."
Second, the injury.
"I wasn't moving that well, not really because anything hurt, but more because I hadn't been on the mat all week," said Mastrogiovanni, who injured his ankle in a 3-2 win the previous week against South Dakota State and did not suit up against Missouri less than 48 hours later. "I wasn't going to miss (Bout at the Ballpark), and by the third period I wasn't thinking about anything other than winning that match."
Finally, the animals.
Lost Creek Safari sits about 20 minutes south of Stillwater. The exotic animal park went up for sale in 2021 and Mastrogiovanni is getting it up and running for a re-opening.
"I've always had the need to be doing something, always have to be going," he said. "I need something to get my mind off wrestling. Sometimes coaches talk about nationals, or the big matches you have a few weeks away. That's not for me. When it's practice time I dial in, but when I'm with the animals, also a lot of work, but wrestling is the farthest thing from my mind."
Wrestling at a Division I school. Taking a full semester of classes. Feeding and caring for everything from zebras to kangaroos to lemurs to big cats. Where do you get the energy?
"It's a lot work, more than you can image," Mastrogiovanni said. "An hour power-nap here and there. I get that from my dad; he grinds like no other person I've ever seen. I inherited it from him, I think, being able to go, go, go."
Trevor Mastrogiovanni is not just a top-10 ranked wrestler, he is also a zoo owner!#NCAAWrestling x 🎥 @CowboyWrestling pic.twitter.com/vXWqMQZrHN

— NCAA Wrestling (@NCAAWrestling) February 14, 2022
About the Bout
Oklahoma State's performance did not quite live up to the pyrotechnics last Saturday. Much of it had to do with a veteran-heavy Iowa Hawkeye squad that powered to tough decisions all night.
"We didn't do enough in a lot of matches," Smith said on Monday. "Too many matches where we didn't fire anything off, do enough on our feet to score takedowns. Without question, Iowa has a good team; all that experience is tough to beat. We've got guys who were in seventh or eighth grade when some of them were starting their college careers. And it showed at a few weights.
"I do like the reaction, what I saw following some of those losses. Guys are ready to get back to work."
It marked the Cowboys' fourth loss over the last five duals and gave the second-ranked Hawkeyes a sixth victory over Oklahoma State in the last eight meetings.
The Cowboys (11-4) felt five of the first six were winnable and got back-to-back decisions to start the evening. But four-time All-American Jaydin Eierman started a Hawkeye run that saw tough, one-takedown, one-flurry, a few-seconds-of-action/attack outcomes at 149, 157, and 165 pounds to take control of the dual. Max Murin's first-period takedown was the difference in a 5-2 win at 149 over Kaden Gfeller; Kaleb Young used a second-period duckunder in a 4-1 win over Wyatt Sheets at 157; and Alex Marinelli's early double-leg led to a 3-2 win over fellow All-American Travis Wittlake at 165.
Mastrogiovanni and Daton Fix, who edged fellow All-American Austin DeSanto, combined for four of the teams seven total takedowns. Fix, a 2021 freestyle World silver medalist, got in a quick warm-up against Ecuador's Guisseppe Rea in the U.S. freestyle team's dual against a collection of overmatched international all-stars.
"Just a small margin for error," Smith said. "You've got to find a way to score in those close matches. I don't like losing one-takedown matches … you have to do more and, again, we had trouble getting off bottom; don't have the right attitude of 'I'm getting away.'"
It's Official
There was already a very small chance that 2021 NCAA champion A.J. Ferrari was returning this season after being injured in a Jan. 24 automobile accident. Smith put all speculation to rest Monday night during his weekly coaches show, stating that: "There is no chance (A.J. Ferrari) will back this year. Let's put that to rest."
The Texan, with just one career collegiate loss, was injured last summer at the U.S. World Team Trials, but showed his ability to rehab quicker than most normal humans. He raced to an undefeated start in 2021-22, but the automobile accident will sideline the 197-pounder for the remainder of his sophomore season. Smith expects Ferrari back next season.
Quick Hits
● Oklahoma State hosts Bucknell and Round 2 of Bedlam with Oklahoma this weekend. The Cowboys are 5-0 all-time against the Bison and beat their Bedlam rivals, 31-3, in December. Since November 1999, Oklahoma State is 41-4-1 against the Sooners.
● Oklahoma State has been trying to honor J Robinson (1966-68) with the annual Gallagher Award, given to a former athlete, coach, or supporter of wrestling in the state of Oklahoma. However, when he was the Minnesota coach, getting Robinson to Stillwater in late February was never easy. In a twist of irony, Ned Blass (1952-55), the 2021 Gallagher Award recipient who was unable to attend the dual last February, had a student-athlete during a long tenure of high school coaching in California named J Robinson. Both will be in Stillwater this weekend.