Big Ten
Michigan State enjoying 7-1 start, but tough tests are ahead
Michigan State enjoying 7-1 start, but tough tests are ahead
Michigan State, under .500 the past two seasons, is 7-1 so far this season
Jan 21, 2022
by Mark Spezia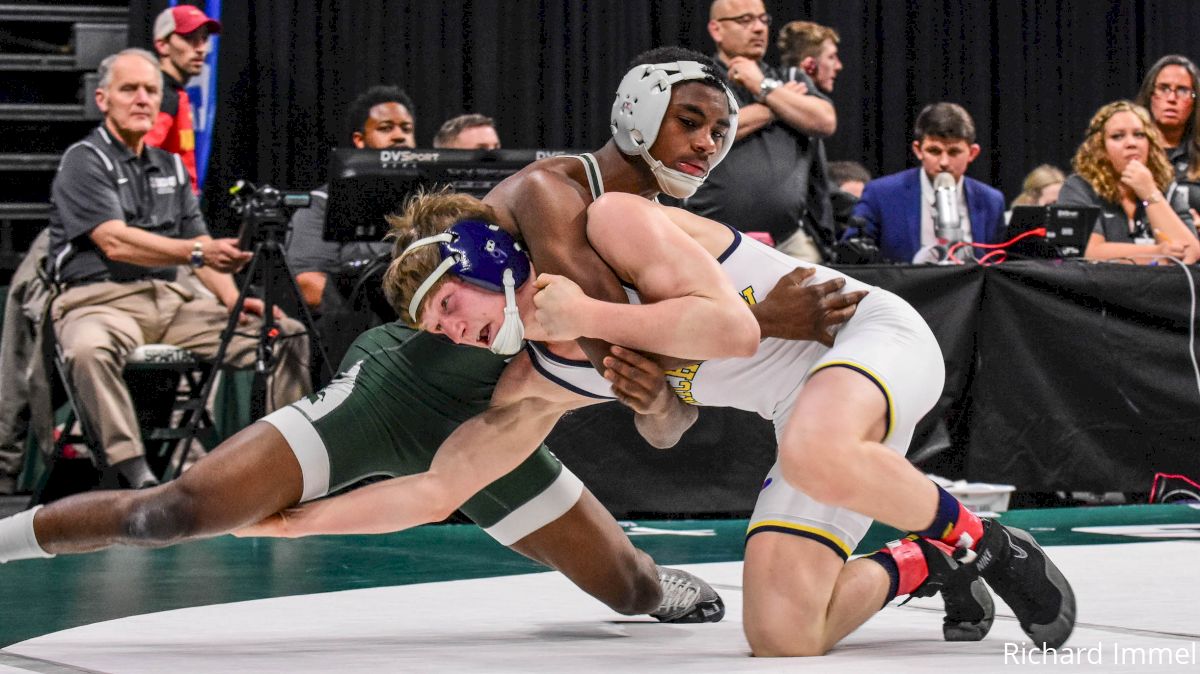 Unlock this article, live events, and more with a subscription!
Get Started
Already a subscriber? Log In
Rayvon Foley is a wrestler who loves pouring on the offense. Just call him Rayvon the Relentless.
Michigan State's All-American 133-pounder has reached double-digit scoring in 11 of his last 15 matches while also being stingy when it comes to allowing points.
In fact, only one of Foley's 21 opponents this season has managed to tally more than five points against him and the junior won that match handily, 22-9.
Foley's scoring barrage against Purdue's Matt Ramos proved crucial when the then-unranked Spartans traveled to West Lafayette, Indiana last Saturday to square off against the Boilermakers, who came into the match ranked No. 12 in the nation by the National Wrestling Coaches Association.
The 11th-ranked Foley recorded a takedown late in the opening period and the floodgates began to open. It was 5-0 after two periods before Foley's offensive frenzy in the final period during which he racked up a two-point nearfall followed by a four-point near pin.
Foley, a three-time NCAA qualifier, added more points when he finished with the riding time advantage and Ramos was hit for stalling, leaving him with a 13-0 victory and extending his winning streak to 18 matches.
Foley's win gave MSU a 4-3 lead in a match that went back and forth before ending in a 16-16 tie. Turns out, the Spartans needed every one of Foley's points as they edged Purdue, 50-49, on the total team points tiebreaker, beating the Boilermakers for the first time since 2010.
Foley's win streak ended at the hands of Indiana's Brock Hudkins, a two-time NCAA qualifier who is ranked No. 18, in a dual two days later, but others shined as MSU won another nail-biter, 17-15.
The Spartans were down 15-11 entering the final two weights before 18th-ranked, 197-pounder Cameron Caffey edged Nick Willham, 2-0, pulling MSU within a point.
Then, under-sized heavyweight Brad Wilton, who usually wrestlers at under 210 pounds in a division with a 285-pound limit, decisioned Jacob Bullock, 2-1.
As a result, the Spartans, now ranked No. 21 by the NWCA, are off to a 7-1 overall start and 2-1 in the Big Ten after going 10-15 the past two seasons and finishing above .500 just once since 2003.
While the most challenging stretch of the season lies ahead, MSU coach Roger Chandler is encouraged.
"The season has progressed in a positive way for the team and we always challenge our guys every day to be better than the last time they stepped out on the mat," he said. "Everyone is giving us their best effort when they step out to compete and I think that is evident by the results they have been getting."
Foley, a 2019 All-American when he took seventh in the 125-pound bracket at the NCAA Championships, is 19-2 this season with four technical falls and five major decisions. He was also an NCAA qualifier as a true freshman in 2018 and reached the round of 16 last season.
Foley appears well on his way to becoming the Spartans' first two-time All-American since three-timer Franklin Gomez (2008-10).
"The sky is the limit for Rayvon Foley," Chandler said. "This is a guy who trains, studies, and prepares extremely hard. His work ethic is showing the rewards of how he is competing this year and there is no doubt in my mind he will be competing for a spot on the podium in March."
Caffey, a senior who once had a Twitter account opened in honor of his signature Afro, is 19-4 with five major decisions, a pair of technical falls and a pin.
A three-time NCAA qualifier and first-team NWCA All-American in 2020, he decisioned 14th-ranked Thomas Penola in the Purdue match.
Layne Malczewski has also cracked the rankings. The two-time NCAA qualifier vaulted from honorable mention to No. 21 at 184 pounds after decisioning then 21st-ranked Max Lyon of Purdue.
The junior is 17-6 this season with five major decisions, four pins and a technical fall.
"Layne is learning how to manage matches and listen to his coaches," Chandler said of Malczewski, who was 9-5 last season. "He has matured immensely and I know he is going to continue to do big things."
Chase Saldate has arguably taken the biggest leap this season, going from 8-7 to 20-3. The sophomore is honorable mention in the latest 157-pound rankings and more than half of his wins have come from pins (six) and major decisions (six).
Saldate, who was coached by UFC legend Daniel Cormier at Gilroy (California) High School, reached the Southern Scuffle finals by upsetting two-time All-American Brock Mauller of Missouri, 3-1.
The sophomore has also knocked off 24th-ranked Jordan Slivka (Ohio).
"Chase Saldate is so talented and can score in a lot of positions," Chandler said. "He has a very high wrestling IQ and has adjusted very well to the grind of college wrestling. His record is better because he has learned how to manage matches at the college level and understands he has to dictate position and action."
Caleb Fish has also experienced tremendous growth.
After wrestling a few matches as a true freshman and going 6-1, he was thrust into a starting role at 165 pounds this season after two-time NCAA qualifier Jacob Tucker took a medical redshirt.
Fish, honorable mention in the latest rankings, has responded with a 17-6 record, including two pins, two technical falls and a major decision.
Easily his most significant win this season is a 9-5 of upset of All-American Zach Hartman (Bucknell).
"Caleb is a gem and never stops competing and wrestles entire matches," Chandler said. "His tenacity to never stop competing is really what makes him special."
Freshman Tristan Lujan has also been been impressing Chandler after stepping into the starting role at 125 pounds when Foley moved up a weight class.
Lujan is 8-6 with a pin and major decision.
"Tristan is just a freshman, but he's finally starting to get back to what we thought we would see from him," Chandler said. "He is the ultimate competitor and is just very gritty."
All of the Spartans will need those qualities and more as they embark on the most challenging weekend of the season. They host No. 14 Rutgers Friday before top-ranked Penn State comes to East Lansing Sunday.
No. 3 Michigan and No. 24 Northwestern loom next month.
Chandler is confident going through those wars will leave the Spartans well-prepared for the NCAA Championships.
"Our goals are to get to the NCAA Tournament and put multiple guys on the podium," he said. "The ultimate goal for each of these guys is winning an NCAA individual title."