Rankings Mayhem Coming - Week 11 Upsets
Rankings Mayhem Coming - Week 11 Upsets
Every upset in the eleventh week of the NCAA Division 1 college wrestling season.
Jan 17, 2022
by Jon Kozak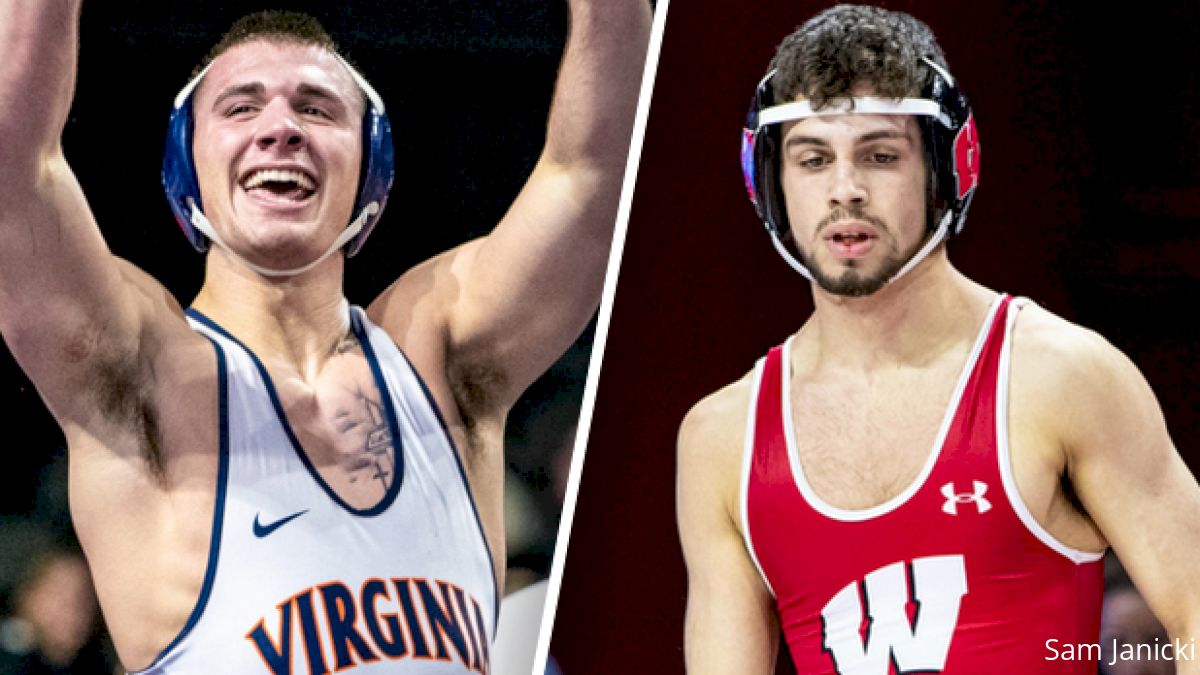 The past week of NCAA D1 wrestling saw a number of surprising upsets. Take a look at a breakdown of the most notable ones and a full list of upsets below.
125 MADNESS
Two big upsets over the weekend create a conundrum for the rankings. First, on Friday night, #11 Drake Ayala secured a come from behind victory over Northwestern's #7 Michael DeAugustino. DeAugustino got out to a 3-1 lead before Ayala got a takedown and transitioned immediately to a near-side cradle for 2 near-fall points. Ayala ultimately held on to win 6-5. Notably, DeAugustino defeated #8 Patrick McKee (who is 3-0 against Ayala this season) last week to vault up the rankings.
To muddy the waters even further, Patrick McKee was upset by #15 Eric Barnett (whose only loss is to DeAugustino this year). in their match on Sunday. Barnett used a reversal and tough ride in the second to build a 4-2 lead going into the third. Because of the tough ride, McKee chose neutral in the final period only to give up a takedown with just over a minute left in the match. Ultimately, Barnett accumulated almost two minutes of riding time and came away with an 8-5 victory.
To summarize the madness...Patrick McKee is 3-0 against Ayalao but has losses to Barnett and DeAugustino. Barnett lost to DeAugustino but beat McKee. And Ayala is winless against McKee but just defeated DeAgustino. How in the world do you sort out these four in the rankings?!
Ayala's takedown to back points over DeAugustino:
Highlight 🎥:
125| Drake Ayala with the cradle for near fall to go up 5-3.#Hawkeyes #FightForIowa pic.twitter.com/IUG8EFQc7k

— Iowa Hawkeye Wrestling (@Hawks_Wrestling) January 15, 2022
Garrett Model Propels Wisconsin Over Minnesota
Going into the match with All-American #5 Brayton Lee, Wisconsin's Garrett Model was 9-6 on the season with a career collegiate record of 47-54. None of that mattered as Model put together a controlling, 10-5 win over Lee. After a scoreless first period, Model went to work in the second and third with a reversal and 4 total takedowns - 1 in the second period and 3 in the third. With the Big 10 schedule, Model will continue to be tested with upcoming potential matches against #7 Peyton Robb (Jan. 21), #10 Kendall Coleman (Jan. 23), and #11 Kaleb Young (Feb. 5). Those matches will truly tell us if Model's win over Lee was a fluke or if Model is ready to challenge for All-American honors this season.
HUGE UPSET at 157‼️@gmodel15 takes down No. 4 ranked Brayton Lee.@BadgerWrestling // @NCAAWrestling pic.twitter.com/ODscY0H89Q

— Wisconsin On BTN (@WisconsinOnBTN) January 16, 2022
Pentz Pins Buchanan
A few days after getting a big win in overtime over #12 Yonger Bastida, All-American #4 Stephen Buchanan took the mat against HM Owen Pentz. No problem for Buchanan, right? Pentz had other plans and got out to a 3-1 lead in the second period before locking up a cradle and securing a pin over Buchanan. While Pentz has been solid, the win over Buchanan is the best of his collegiate career and puts him on the map for other 197-pounders to watch out for this season. Pentz will continue to be tested the rest of the year with upcoming matches against #12 Yonger Bastida (Jan. 23), HM Alan Clothier (Feb. 13), and #24 Tanner Sloan (Feb. 20).
Pentz's win over Stephen Buchanan: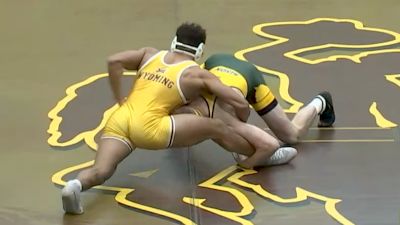 Unlock this video, live events, and more with a subscription!
Get Started
Already a subscriber? Log In
Aiello Makes A Statement Over Woodley
Jay Aiello is a three-time national qualifier but has yet to bring home All-American honors. This season Aiello is 7-0 on the year and took out returning All-American #7 Jake Woodley in a controlling, 6-1 decision at the Virginia Duals. In that match, Aiello secured two takedowns and accumulated almost four minutes of riding time. Aiello will be a challenge for everyone in the country at 197-pounds this year and has remaining ranked matches against #9 Nino Bonaccorsi (Jan. 21) and #17 Isaac Trumble (Feb. 4).
Aiello's win over Woodley: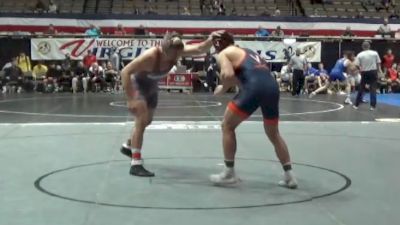 Unlock this video, live events, and more with a subscription!
Get Started
Already a subscriber? Log In
---
All Upsets
125
Patrick McCormick, Virginia D;2-1 #22 Joey Prata, Oklahoma
Jake Ferri, Kent State D;6-5 #23 Fabian Gutierrez, Chattanooga
#15 Eric Barnett, Wisconsin D;8-5 #8 Patrick McKee, Minnesota
#11 Drake Ayala, Iowa D;6-5 #7 Michael DeAugustino, Northwestern
HM Anthony Noto, Lock Haven D;8-3 #22 Joey Prata, Oklahoma
#20 Joe Manchio, Columbia D;4-3 #18 Jaret Lane, Lehigh
HM Dylan Shawver, Rutgers D;3-1 #24 Justin Cardani, Illinois
133
Kyle Burwick, Wisconsin D;6-4 #20 Jake Gliva, Minnesota
King Sandoval, Maryland F;1:25 #23 Brayden Palmer, Chattanooga
141
HM Matt Kazimir, Columbia M;11-1 #14 Connor McGonagle, Lehigh
HM Matt Kazimir, Columbia D;6-1 #24 Carter Young, Oklahoma State
149
Patrick Ryan, American D;9-4 #11 Joshua Heil, Campbell
HM Mike Van Brill, Rutgers D;4-3 #14 Beau Bartlett, Penn State
HM Jarod Verkleeren, Virginia D;3-2 #16 Dom Demas, Oklahoma
#13 Max Murin, Iowa D;4-3 #5 Yahya Thomas, Northwestern
157
Garrett Model, Wisconsin D;10-5 #5 Brayton Lee, Minnesota
165
Joshua Ogunsanya, Columbia D;7-2 #21 Brian Meyer, Lehigh
Isaac Judge, Iowa State F;1:35 #24 Cole Moody, Wyoming
174
Nick Fine, Columbia D;4-3 #24 Jake Logan, Lehigh
184
HM Layne Malczewski, Michigan State D;4-2 #21 Max Lyon, Purdue
HM Michael Battista, Virginia D;3-1 #22 Darrien Roberts, Oklahoma
197
HM Owen Pentz, North Dakota State F;4:49 #4 Stephen Buchanan, Wyoming
#23 Cameron Caffey, Michigan State D;8-1 #13 Thomas Penola, Purdue
#15 Jay Aiello, Virginia D;6-1 #7 Jake Woodley, Oklahoma
If you saw an upset we missed, email jonathan.kozak@flosports.tv so we can be sure to include it.