Big Ten
How Rutgers Stacks Up Entering Big Ten Season
How Rutgers Stacks Up Entering Big Ten Season
Rutgers is off to a 10-0 dual start, but the degree of difficulty ramps up for the Scarlet Knights with the start of the Big Ten dual season.
Jan 5, 2022
by Brendan Scannell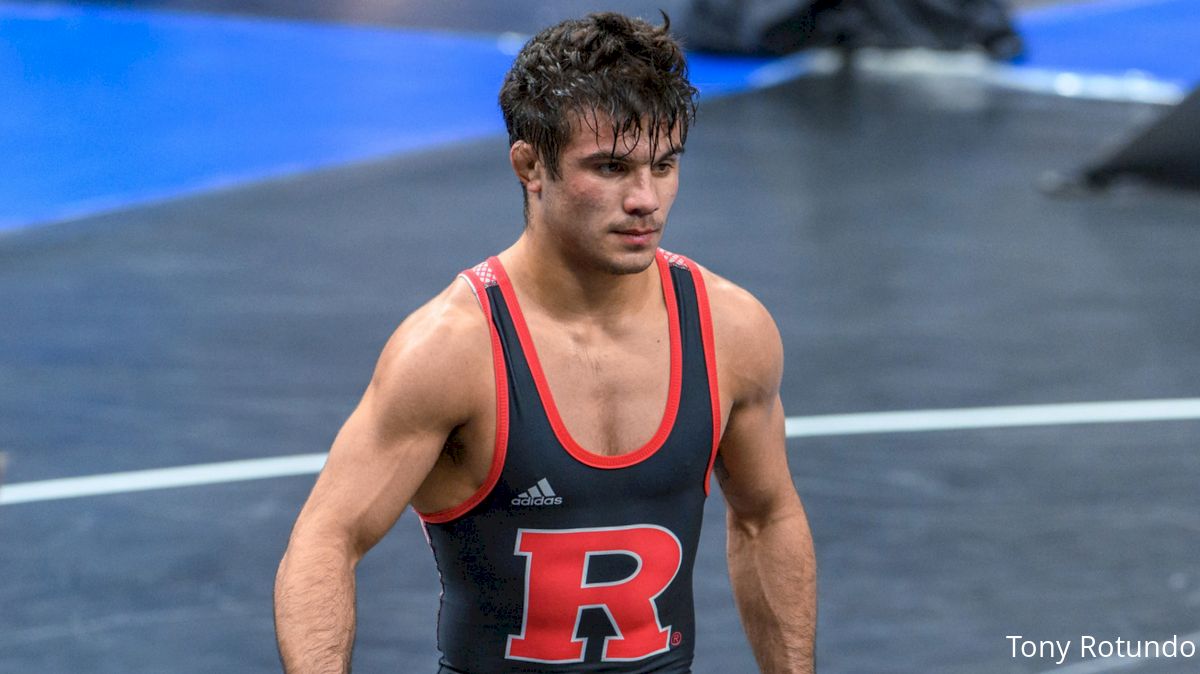 Unlock this article, live events, and more with a subscription!
Get Started
Already a subscriber? Log In
The holidays are behind us. The calendar has officially turned over from 2021 to 2022 and after a week of canceled Christmas and New Years' plans, rescheduled Holiday tournaments, and what feels like a perpetual level of uncertainty nationwide, Big Ten action is set to kick off in just a few days which means there's truly only one thing is for sure: the wrestling season is still in its early stages. And there's a lot of heat coming.
Rutgers, which currently leads the conference in wins, begins Big Ten competition Friday against Indiana. The Scarlet Knights opened the season with Top 10 potential, no doubt, and after a 10-0 start, Scott Goodale's squad is rolling. But the start of Big Ten competition should give us an idea of where this team stands against the best of the best.
Dual Record: 10-0
How Rutgers Stacks Up: T-1st
At 10-0, Rutgers certainly owns sole possession in the wins column, but the Knights are hardly the conference's only undefeated team. Every team in the Big Ten aside from Minnesota, Maryland and Purdue cling to undefeated records before entering Big Ten action in 2022.
Still, at 10-0, Rutgers is enjoying its best start in program history.
The biggest dual win for the Scarlet Knights in this young season came against North Carolina. Meanwhile, four of their wrestlers entered 2022 with unblemished records.
Ranked Wrestlers: 5
How Rutgers Stacks Up: T-11th
This is your least favorite stat if you're a Rutgers fan.
Below are the five Rutgers wrestlers ranked in Flo's top 24 to begin the New Year:
133 — #20 Sammy Alvarez
141 — #3 Sebastian Rivera
174 — #21 Jackson Turley
184 — #5 John Poznanski
197 — #11 Greg Bulsak
At 133 pounds, it's a bit of a stunner to see Sammy Alvarez at #20. He's has taken a few lumps early on, but has the talent to turn it around in the new year. There's certainly some work to be done at the 157- and 165-pound weight classes, where Rutgers features some underclassmen starters, but despite a combined record right around .500 these young Knights continue to improve as the season wears on.
Keep in mind, this stat is for all wrestlers ranked in the top 24. A total of 32 wrestlers qualify for the NCAA championships, so even if a lineup is loaded with ranked wrestlers, if any of them are occupying the bottom half of the rankings, they're not projected to score meaningful points for their team in March.
So, don't panic just yet, Rutgers fans. This team still has an arsenal capable of a Top 10 finish.
Which is why, up next, we have a stat that you might like a little more.
Returning All-Americans: 3
How Rutgers Stacks Up: T-4th
And just like that, the Knights are back in the mix.
With three returning All-Americans in the lineup, Rutgers comes in behind only Iowa, Penn State and Michigan and is tied with Minnesota, Northwestern, and Ohio State who also return three AAs.
Three-time All-American Sebastian Rivera leads the way for Rutgers, alongside freshman John Poznanski and 174-pounder Jackson Turley. Turley has battled some injuries early on, while Rivera and Poznanski are off to the starts we all anticipated.
The question is: can Rutgers add any more All-Americans to that list? The Scarlet Knights have guys in the lineup (…and perhaps waiting in the wings wearing redshirts) that could emerge as All-American contenders come March, if they aren't already. The most worthy candidate is Greg Bulsak, who is wrestling like a guy who is ready to get on the podium for the first time, and maybe more. He's off to an undefeated start that includes recent wins over Braxton Amos and returning NCAA finalist Nino Bonaccorsi.
Mike VanBrill, who is one of Rutgers' four undefeated wrestlers at the moment, finished third in the Big Ten last year and could also be eyeing a first-time All-American finish.
And as mentioned before, don't you give up on Sammy Alvarez.
Title Contenders: 2
How Rutgers Stacks Up: T-4th
This is certainly a subjective category.
So, in attempt to add just a little bit of objectivity, we're going to loosely qualify a "title contender" as a guy ranked inside the Top 5. Sure, in some weight classes the list of title contenders is shorter than that, and in others, it might be longer.
Still, Rutgers once again comes in just behind the country's top three teams in Iowa, Penn State and Michigan. With two guys holding onto Top 5 spots as of Flo's most recent rankings, and potentially another one on the way in Bulsak after knocking off a top 3 guy, Rutgers slots in tied for fourth in the conference in title contenders.
The list of Big Ten teams with two title contenders in their lineup is a crowded bunch that includes Ohio State, Wisconsin, Nebraska, Minnesota, Northwestern and Illinois. But five of the teams in the Big 10, don't have a single one.
The reason this stat is important is pretty obvious. NCAA champions — or finalists — score a whole bundle of points for your team at the NCAA Championships.
Two champs in 2019 – Anthony Ashnault and Nick Suriano – allowed Rutgers to snag a Top 10 finish for the first time in Goodale's reign as head coach.
In the past 20 years of NCAA wrestling, Rutgers is one of only 10 teams in the country to have two NCAA champions in a single season. (Five of the 10 are Big Ten programs. Can you name them?)
As it stands, Rutgers title contenders are Rivera and Poznanski, and to win it all, each will need to knock off some familiar Big Ten foes. Big Ten wrestlers ranked in the Top 5 at 141 pounds alongside Rivera include NCAA champ Nick Lee, Jaydin Eierman and Stevan Micic. Meanwhile, Poznanski will have to deal with defending NCAA champ Aaron Brooks and Olympic medalist Myles Amine, among others.
Big Ten Dual to Watch: January 16th at Penn State
Who doesn't love a good battle between Pennsylvania & New Jersey?
It's must-watch action anytime your team gets to wrestle Penn State.
Big Ten Home Dual to Watch: February 6th vs. Ohio State at Jersey Mike's Arena
Still not used to the new name for Rutgers arena? You're not alone. To many Rutgers fans it will probably always be "The RAC", just as Lakers fans will likely always call their home Staples Center (…sorry, Crypto.com). No matter what it's called, you can count on this place to be bumping for every Rutgers dual.
The Buckeyes have been one of the nation's best teams for nearly a decade now and this year might be Rutgers' best opportunity in years to knock them off. You can count on Goodale and his team to be at their best in this one. They love to show out for their Jersey crowd.
Rutgers Big 10 Schedule:
Jan 7: vs. Indiana
Jan 9: at Wisconsin
Jan 14: vs. Illinois
Jan 16: at Penn State
Jan 21: at Michigan State
Jan 23: at Michigan
Feb 6: vs. Ohio State
Feb 12: vs. Maryland
Mar 5-6: Big Ten Championships