Big Ten
Nittany Notes: Flu Bug Gives Penn State Chance To Test Depth, Lean On Lee
Nittany Notes: Flu Bug Gives Penn State Chance To Test Depth, Lean On Lee
National champion Nick Lee and Penn State's depth allowed the shorthanded Nittany Lions to pull out a pair of dual wins over the weekend.
Dec 8, 2021
by Travis Johnson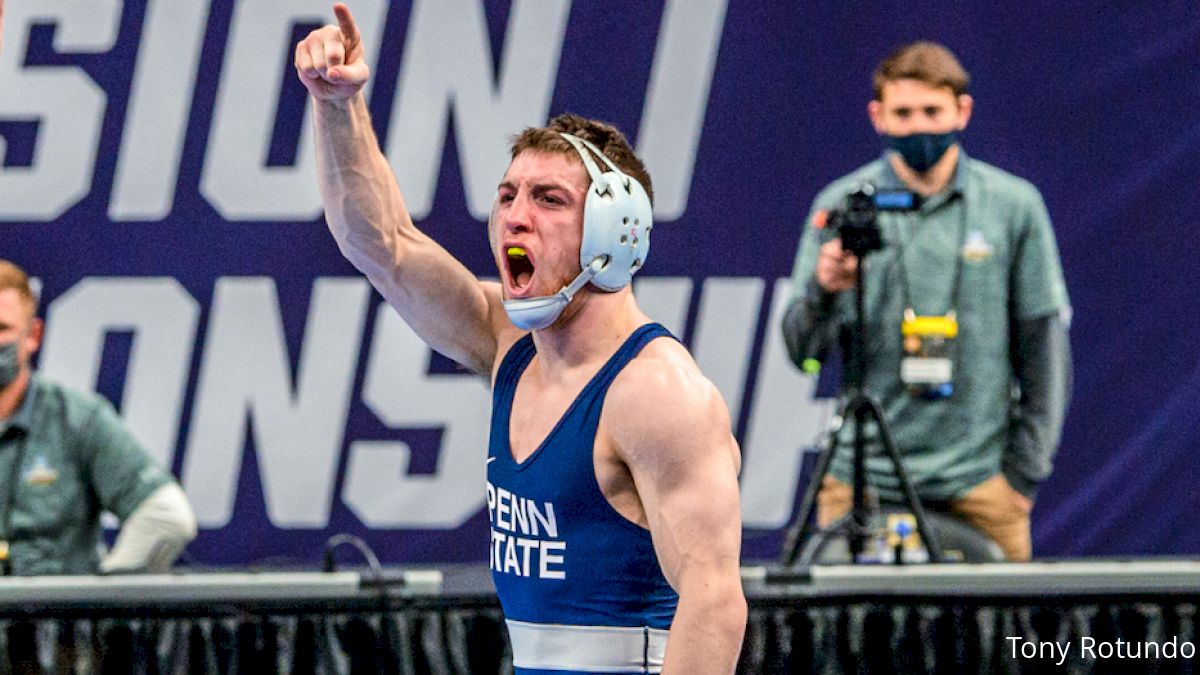 Unlock this article, live events, and more with a subscription!
Get Started
Already a subscriber? Log In
STATE COLLEGE, Pa. — When Penn State's coaches originally planned out the team's schedule, they figured a pair of 15-day lulls between duals in the first two months would allow some extra time for development and healing.
The first such pause wasn't nearly as beneficial as they'd hoped.
Following the Nittany Lions' win over Army on Nov. 18, a flu bug similar to the one that's ravaged college football programs across the country this fall found its way into the team's practice facility. Many Penn State wrestlers battled illness in the days leading up to weekend duals against Penn and Lehigh.
"We knew a week ago that this weekend would be a challenge," Cael Sanderson said.
Penn State was up to it, though, and Sanderson got a chance to test his team's depth at a handful of weights.
First, the Nittany Lions surged past Penn 20-16 at the Palestra in Philadelphia on Friday. They did so without the services of All-American's Roman Bravo-Young, Aaron Brooks and Greg Kerkvliet. When they returned home to Rec Hall for a dual against Lehigh on Sunday, Brooks and Kerkvliet remained out of the lineup. Despite trailing 10-7 at intermission, Penn State rebounded to win the dual 23-16.
"It's just a chance for everybody to step up," Sanderson said. "Whether you're new to the lineup or if you're somebody that maybe we need bonus points out of or whatever."
LEE'S CONSISTENCY
Veteran Nick Lee wasn't spared by the flu, but he didn't let it or a sore knee keep him out of the lineup when his teammates needed his hard-grinding abilities most.
The Nittany Lions' defacto leader turned in a pair of solid results and earned his 100th career win in the process.
"I didn't even know I had 100 matches, so I guess it's pretty cool," Lee said.
Neither win was up to his own standard, however.
Lee, who won the 141-pound national championship a year ago with an injured left knee, missed the team's Nov. 18 dual after tweaking it in his second match. He returned against Penn's Carmen Ferrante but struggled to break the Penn grappler's ride in the third period and had to settle for a 6-3 win.
The Penn State senior, wearing a sleeve on his left knee, had more juice early against Lehigh's Connor McGonagle. Lee burst out to a quick lead and extended it to 12-3 with riding time with less than 30 seconds to wrestle.
But McGonagle was able to drop into a double-leg attack with 20 seconds to go, locked in his legs and rode out the period to prevent a major. A frustrated Lee spiked his anklet to the mat afterward.
Lee admitted not feeling the best leading up to the weekend and hinted that had Brooks or Kerkvliet been closer, maybe he would've sat out again.
"It's just what you've gotta do, right?" Lee said. "In my mind, it's not really a choice. You just go. Hopefully, that's a good example for the other guys on my way out of the program, new guys can come in and have the same attitude."
The significance of Lee's wins weren't lost on Sanderson.
"That's just a gutsy leader type of move on his part," Sanderson said. "If he doesn't do that, there's a good chance we don't win those duals."
DEAN TO THE RESCUE
Transfer Max Dean has fit in nicely in Happy Valley since transferring from Cornell.
In fact, his M.O. thus far has been classic Penn State. Dominate with bonus points and leave a bigger team-score cushion for the next guy in the lineup.
Likewise, with Lee's efforts, Penn State might not be unbeaten had Dean not done his usual this weekend.
Dean, who's 5-0 with bonuses in each win, added a pair of bonus-point victories to help clinch both duals late.
Dean's pin of J.T. Davis in 2:58 in Sunday's 197-pound match also got teammate Michael Beard off the hook for what could've been a tough heavyweight bout.
Beard, an All-American at 197 last year, was set to wrestle both duals, but wasn't needed after Penn State had mathematically clinched. Lehigh's heavyweight, the vaunted Jordan Wood, weighed in at 281 pounds.
"We're glad we didn't have to do that," Sanderson said.
THE NEXT WAVE?
Brooks' absence meant a pair of opportunities for Donovan Ball, who didn't disappoint.
Ball beat Jesse Martinez 11-4 on Friday then edged A.J. Burkhard 5-3 on Sunday to improve to 4-1.
"When you have the national champion in your weight ahead of you at the school, you're probably not really sure if you're going to get an opportunity," Sanderson said. "And he got the opportunity and they were big matches and went out there and got that done."
Meanwhile, Creighton Edsell continues to draw attention at 165 pounds where he's 5-0 so far and Sanderson has been pleased with Terrell Barraclough's progress at 157 despite some early bumps.