84 Upsets In Week 5 Of NCAA Wrestling
84 Upsets In Week 5 Of NCAA Wrestling
Every upset from the fifth week of the NCAA Division 1 college wrestling season.
Dec 6, 2021
by Jon Kozak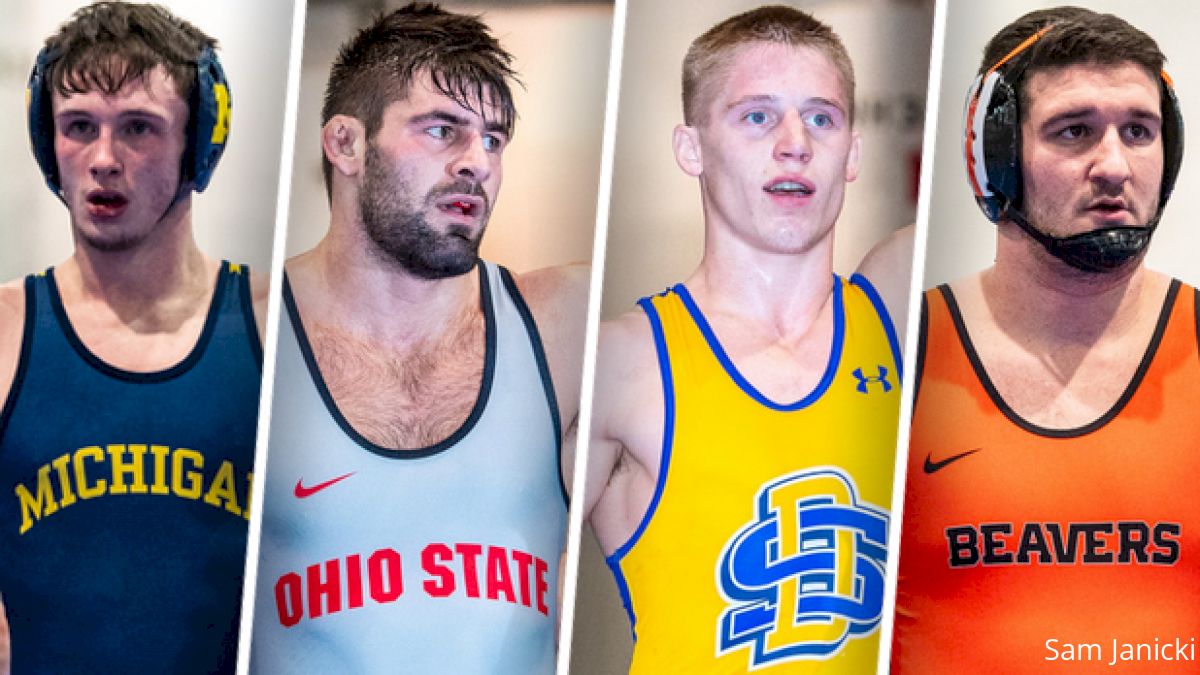 The last week of college wrestling saw the most upsets of the year - 84 ranked wrestlers fell to lower-ranked opponents and there were 17 top 10 upsets. Take a look below at some of the most notable results from the last week along with a list of every upset.
Yonger Bastida And The Headgear Spike Heard 'Round The World
The Iowa - Iowa State dual was wild from start to finish but had only one upset - # Yonger Bastida over #3 Jacob Warner. Bastdia used a CLEAN inside trip in the first period to take a 2-1 lead into the second. Then, after Warner secured an escape in the second, Bastida chose neutral in the third with the score locked at 2. With a little over a minute left in the match, Bastida shot a double from the outside and finished with a high single to go ahead 4-2. Though Warner would earn an escape, he was unable to penetrate the defense of Bastida, ending the match 4-3 in favor of Yonger.
Although the match was incredible, Bastida's celebration was equally impressive. After securing the victory Yonger Bastida sent his headgear flying after the hardest head-gear spike I've ever seen. He may have been deducted a team-point for celebrating but the spike, chest-pounding, and battle cry was worth every bit of the -1 team score.
A third-period takedown by @BastidaYonger brings the Hilton crowd to its feet!#RightNow 🌪️🚨 pic.twitter.com/bZyhzNmz0B

— Iowa State Wrestling (@CycloneWR) December 6, 2021
Dylan Ragusin Takes Out Chris Cannon
Michigan needs Dylan Ragusin on the podium in March if they hope to challenge Iowa and Penn State for a team title. After the CKLV, Ragusin looks ready to challenge anyone in the country at 133 pounds. In the finals, Ragusin took out returning All-American Chris Cannon in a wild, 9-5 match.
Ragusin's performance should solidify Nick Suriano at 125 for the Wolverine's this season. While Suriano's weight decision hasn't been made public yet, the most potential points for Michigan's lineup lie with Suriano at 125 and Ragusin at 133. Ragusin seems to have higher potential than Jack Medley for securing All-American honors and scoring bonus points at the NCAA Tournament.
Ragusin's win over Chris Cannon: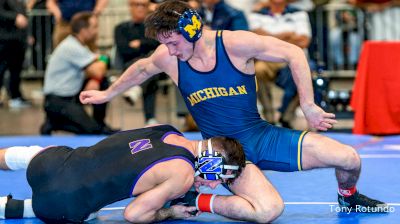 Unlock this video, live events, and more with a subscription!
Get Started
Already a subscriber? Log In
The Virginia Tech - Missouri Dual Was Fire
The Virginia Tech - Missouri dual was one of the best of the season and showcased three upsets. Noah Surtin started the dual off with a bang after pinning All-American #8 Sam Latona in the first period. Then, at 157 pounds, Connor Brady took out #11 Jarrett Jacques in a close, 3-2 decision. And finally, with the dual on the line, Nathan Traxler won in overtime over #11 Zach Elam to clinch the win and dual for the Hokies.
𝗧𝗵𝗮𝘁 𝗖𝗘𝗟𝗟𝗬 𝗳𝗲𝗲𝗹𝗶𝗻𝗴 🙌

We put on for the city ✊#Hokies #ALLINALLTHETIME🦃 pic.twitter.com/K7nFi4J7ud

— Virginia Tech Wrestling (@HokiesWrestling) December 5, 2021
Clay Carlson's Statement Win Over Alirez
Few were picking Clay Carlson to win the CKLV in a bracket that included #7 Andrew Alirez and All-American #8 Chad Red. Carlson, an All-American in his own right, proved he deserves some respect by taking out Alirez in the finals. In the third period with only 20 seconds left in the match, Carlson secured a takedown to go ahead 8-6. With the match in hand, Carlson didn't settle for a decision win and was able to put an exclamation mark on his CKLV title by pinning Andrew Alirez.
The story for Clay Carlson now is centered on how high he can climb against the nation's best 141-pound wrestlers. In a few weeks at Midlands, Carlson could run into the likes of #2 Jaydin Eierman and #3 Sebastian Rivera. While he'll be an underdog, Carlson has now put the best 141-pound wrestlers on notice that he's capable of challenging anyone at 141 pounds.
Carlson's win over Andrew Alirez: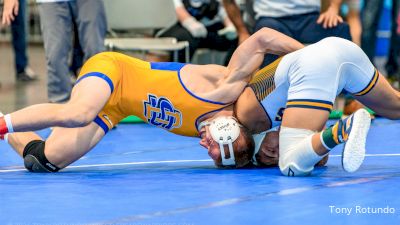 Unlock this video, live events, and more with a subscription!
Get Started
Already a subscriber? Log In
Kaleb Romero Locked In At 184
Kaleb Romero entered the CKLV unranked and as the 5 seed in a bracket that included #11 Taylor Venz, #13 Tate Samuelson, #16 Max Lyon, #18 Darrien Roberts, #20 Jonathan Loew, and #23 Travis Stefanik. Romero proved to be the best guy in Vegas and took out Roberts, Samuelson, and Venz to win the 184-pound crown.
This is Romero's first year wrestling 184 and looks to be replacing Rocky Jordan as the starter for the Buckeyes. How high can Romero climb at 184? We might not find out for another month as Romero's first test in the Big Ten will be against #2 Myles Amine on January 14th when Ohio State duals Michigan.
Kaleb Romero's finals win over Taylor Venz: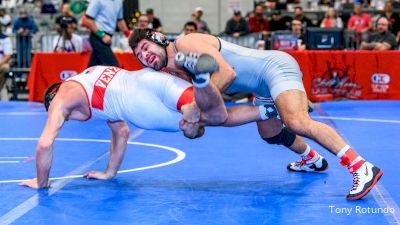 Unlock this video, live events, and more with a subscription!
Get Started
Already a subscriber? Log In
Gary Traub Is The Mayor Of Las Vegas
Gas Tank Gary had three upset wins on his way to winning the heavyweight title at the CKLV. Traub followed up a round of 16 win over #18 Josh Heindselman with a 3-1 overtime decision over #8 Brian Andrews. In that overtime period, Andrews had a single-leg up off the mat and the finish looked imminent. However, Traub used crafty defense to fend off the takedown and countered on the edge of the mat to seal this win. Then in the semis, Traub once again fended off a deep leg attack in overtime and countered with a go-behind to take out #13 Christian Lance.
Traub's win over Andrews: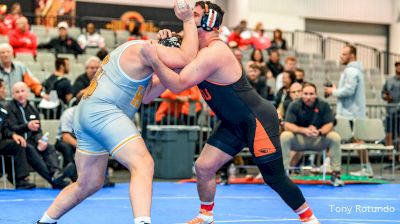 Unlock this video, live events, and more with a subscription!
Get Started
Already a subscriber? Log In
---
All Upsets
125
HM Brandon Kaylor, Oregon State D;5-3 #7 Malik Heinselman, Ohio State
#17 Noah Surtin, Missouri F;2:38 #8 Sam Latona, Virginia Tech
#13 Brody Teske, Northern Iowa D;7-4 #8 Sam Latona, Virginia Tech
Jack Medley, Michigan D;6-3 #16 Joe Manchio, Columbia
HM Jace Koelzer, Northern Colorado D;4-0 #23 Tanner Jordan, South Dakota State
Antonio Lorenzo, Cal Poly F;4:43 #23 Tanner Jordan, South Dakota State
Antonio Lorenzo, Cal Poly D;5-2 #24 Jacob Allen, Navy
Jake Ferri, Kent State D;11-8 #24 Jacob Allen, Navy
Jake Ferri, Kent State D;9-4 #24 Jace Koelzer, Northern Colorado
133
#19 Dylan Ragusin, Michigan D;9-5 #6 Chris Cannon, Northwestern
Gable Strickland, Lock Haven D;13-12 #15 Malyke Hines, Lehigh
Brendon Fenton, Kent State D;12-10 #16 Mosha Schwartz, Northern Colorado
Nicholas Masters, Princeton D;8-6 #16 Mosha Schwartz, Northern Colorado
Haiden Drury, Utah Valley D;6-4 #20 Devan Turner, Oregon State
Jake Gliva, Minnesota D;5-0 #22 Job Greenwood, Wyoming
Josh Koderhandt, Navy D;12-5 #22 Job Greenwood, Wyoming
Haiden Drury, Utah Valley M;11-3 #24 Anthony Sobotker, Binghamton
Jake Gliva, Minnesota D;4-3 #24 Anthony Sobotker, Binghamton
141
#10 Clay Carlson, South Dakota State F;6:55 #7 Andrew Alirez, Northern Colorado
Cael Happel, Northern Iowa D;9-7 #9 Allan Hart, Missouri
#15 Parker Filius, Purdue D;9-4 #11 Grant Willits, Oregon State
Cole Mattin, Michigan F;3:21 #15 Parker Filius, Purdue
Joseph Zargo, Wisconsin D;6-4 #19 Saul Ervin, SIU Edwardsville
#21 Matt Kazimir, Columbia DQ #20 Sam Hillegas, Virginia Tech
Lawrence Saenz, Cal Poly F;5:56 #24 Ty Smith, Utah Valley
Chase Zollmann, Wyoming D;6-4 #24 Ty Smith, Utah Valley
Cole Mattin, Michigan D;5-4 #24 Angelo Martinoni, CSU Bakersfield
149
#11 Ridge Lovett, Nebraska D;9-2 #6 Jaden Abas, Stanford
#16 Mitch Moore, Oklahoma D;11-7 #15 Legend Lamer, Cal Poly
Manzona Bryant, Lehigh D;6-5 #17 Beau Bartlett, Penn State
Connor Eck, Lock Haven D;6-5 #24 Peyton Omania, Michigan State
Brent Moore, Clarion F0:59 #24 Alec Hagan, Ohio
Kolby DePron, Bucknell D;16-12 #24 Peyton Omania, Michigan State
Bryan Miraglia, Rider D;9-5 #24 Corbyn Munson, Central Michigan
157
#16 Jacob Wright, Wyoming D;3-2 #9 Will Lewan, Michigan
#22 Connor Brady, Virginia Tech D;3-2 #11 Jarrett Jacques, Missouri
#17 Justin Thomas, Oklahoma D;9-3 #14 Hunter Willits, Oregon State
HM Dazjon Casto, The Citadel D;3-1 #17 Justin Thomas, Oklahoma
Wade Unger, Duke D;6-4 #20 Parker Kropman, Drexel
Kyle Mosher, Columbia F;1:55 #23 Bryce Hepner, Ohio State
165
Caleb Fish, Michigan State D;9-5 #10 Zach Hartman, Bucknell
#15 Julian Ramirez, Cornell D;9-6 #14 Cameron Amine, Michigan
HM Creighton Edsell, Penn State D;2-1 #16 Brian Meyer, Lehigh
Dean Hamiti, Wisconsin F;6:43 #18 Izzak Olejnik, Northern Illinois
Val Park, Navy D;5-1 #21 David Ferrante, Northwestern
Joshua Ogunsanya, Columbia T;20-3 #24 Tanner Cook, South Dakota State
Joe Grello, Oklahoma F;2:29 #24 Tanner Cook, South Dakota State
Triston Wills, Little Rock D;9-6 #9 Andrew McNally, Wisconsin
174
HM Adam Kemp, Cal Poly D;3-2 #10 Chris Foca, Cornell
#19 Cade DeVos, South Dakota State D;7-4 #11 Hayden Hastings, Wyoming
Pat Schoenfelder, Northern Iowa D;11-9 #12 Peyton Mocco, Missouri
#22 Troy Fisher, Northwestern D;8-4 #15 Gerrit Nijenhuis, Purdue
Kekana Fouret, Utah Valley F;2:19 #20 Jared Krattiger, Minnesota
HM Adam Kemp, Cal Poly D;4-2 #22 Troy Fisher, Northwestern
Sal Perrine, Ohio D;12-5 #24 John Worthing, Clarion
Albert Urias, CSU Bakersfield D;6-4 #24 Anthony Mantanona, Oklahoma
184
Kaleb Romero, Ohio State D;7-3 #11 Taylor Venz, Nebraska
Kaleb Romero, Ohio State D;6-3 #13 Tate Samuelson, Wyoming
#20 Jonathan Loew, Cornell D;6-4 #13 Tate Samuelson, Wyoming
#23 Travis Stefanik, Princeton D;10-6 #16 Max Lyon, Purdue
#20 Jonathan Loew, Cornell D;6-3 #16 Max Lyon, Purdue
Kaleb Romero, Ohio State D;3-2 #18 Darrien Roberts, Oklahoma
#20 Jonathan Loew, Cornell D;5-2 #18 Darrien Roberts, Oklahoma
Jacob Armstrong, Utah Valley D;8-5 #21 David Key, Navy
Yonger Bastida Pomares, Iowa State D;4-2 #3 Jacob Warner, Iowa
197
#13 Thomas Penola, Purdue D;6-5 #6 Jake Woodley, Oklahoma
#10 Eric Schultz, Nebraska D;6-2 #6 Jake Woodley, Oklahoma
#9 Stephen Buchanan, Wyoming D;2-1 #7 Patrick Brucki, Michigan
#13 Thomas Penola, Purdue D;7-5 #11 Lou Deprez, Binghamton
HM Gavin Hoffman, Ohio State D;4-3 #12 Tanner Sloan, South Dakota State
HM Alan Clothier, Northern Colorado D;3-2 #13 Thomas Penola, Purdue
#22 Jacob Koser, Navy D;1-0 #15 Michial Foy, Minnesota
HM Luke Stout, Princeton D;6-2 #19 Andrew Davison, Northwestern
Evan Bockman, Utah Valley D;7-3 #22 Jacob Koser, Navy
Evan Bockman, Utah Valley D;3-1 #24 Alan Clothier, Northern Colorado
Jacob Ferreira, NC State D;7-5 #24 Levi Hopkins, Campbell
285
#14 Yaraslau Slavikouski, Harvard D;3-2 #7 Tate Orndorff, Ohio State
#13 Christian Lance, Nebraska D;9-4 #7 Tate Orndorff, Ohio State
#21 Gary Traub, Oregon State D;3-1 #8 Brian Andrews, Wyoming
#16 Nathan Traxler, Virginia Tech D;3-1 #11 Zach Elam, Missouri
#21 Gary Traub, Oregon State D;3-1 #13 Christian Lance, Nebraska
Riley Smith, Navy D;3-2 #18 Josh Heindselman, Oklahoma
#21 Gary Traub, Oregon State D;3-1 #18 Josh Heindselman, Oklahoma
Robert Winters, Northern Colorado F;2:19 #20 Jack DelGarbino, Princeton