Big Ten
Michigan's Brucki, Ragusin ready to make some noise in Cliff Keen debuts
Michigan's Brucki, Ragusin ready to make some noise in Cliff Keen debuts
Michigan starters Patrick Brucki, an All-American transfer from Princeton, and Dylan Ragusin are competing in the Cliff Keen Invitational for the first time
Dec 3, 2021
by Mark Spezia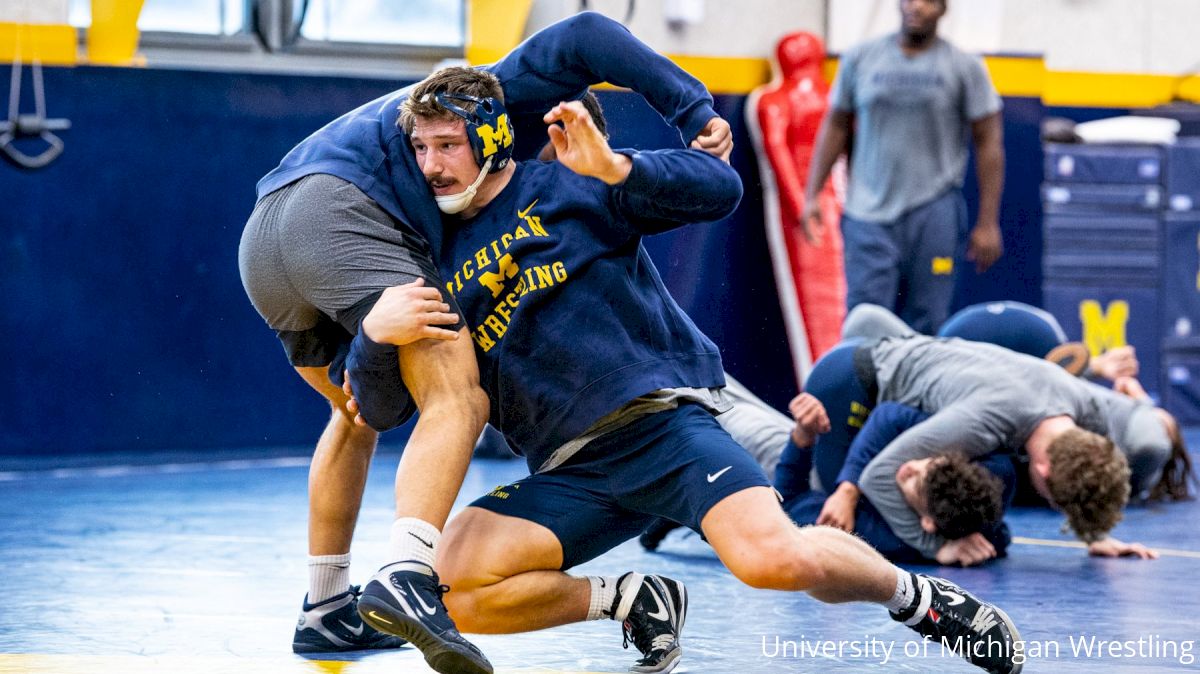 Unlock this article, live events, and more with a subscription!
Get Started
Already a subscriber? Log In
Michigan's Patrick Brucki and Dylan Ragusin are eager to tangle with some serious competition and make statements when they wrestle in the Cliff Keen Las Vegas Invitational for the first time this weekend.
They might also be extending a friendly competition among themselves.
After traveling to New York and helping the Wolverines squash Columbia and Buffalo in a pair of duals on Nov. 19 and 21, Ragusin revealed that he and Brucki were trying to outdo each other at the same time.
In a classic anything-you-can-do-I-can-do-better moment, Ragusin posted the results on Twitter.
"Pat Brucki and I had a competition to see who get more takedowns in New York this weekend," he wrote. "Had to teach the old man a lesson by winning 13-10..and 38-35 in total points."
That feistiness, along with an unwavering work ethic and natural wrestling talent, has carried the freshman in his second year with the Wolverines to some significant wins in his short college career.
Ragusin has also made noise outside of collegiate competition by making a pair of Junior World Greco-Roman teams, winning a Junior Nationals freestyle title and placing second at Senior Nationals.
Brucki, who is finishing his career in Ann Arbor following a two-time All-American stint at Princeton, has picked up where he left off after missing last season following reconstructive surgery on both knees.
Here is a closer look at how the pair might fare at Cliff Keen:
PATRICK BRUCKI
The senior is off to a 7-1 start with three major decisions, two pins and a technical fall. He is ranked seventh at 197 pounds.
After placing fourth at the 2019 NCAA Championships, Brucki underwent shoulder surgery prior to the next season, but still went 21-5 and qualified for the NCAA Championships for the third time before the pandemic abruptly ended the season. Brucki was still named an All-American by the National Wrestling Coaches Association.
Brucki, who transferred to Michigan in September of 2020, is the second-highest ranked wrestler in the Cliff Keen field behind Oklahoma State All-American Jack Woodley, who is one spot above Brucki.
Woodley is higher because he edged Brucki, 4-2, to win a wild overtime match in the Michigan State Open final. Brucki was up 2-1 heading into the final period before Woodley managed an escape with 45 seconds left in regulation to make it 2-2.
The match headed to overtime before Woodley found solid positioning underneath Brucki when both were on their feet and drove him to the edge of the mat for a takedown.
Brucki has not faced another ranked opponent this season, but should square off against several this weekend. He has beaten 12th-ranked Tanner Sloan (South Dakota State), a two-time NCAA qualifier in the past.
Other ranked wrestlers in the field are All-Americans Stephen Buchanan (No. 9, Wyoming) and Lou Deprez (No. 11, Binghamton), Nebraska's Eric Schultz (10th), Purdue's Tomas Penola (13th), Minnesota's Michial Foy (15th), Northwestern's Andrew Davison (19th), Cornell's Jacob Cardenas (21st) and Navy's Jacob Koser (22nd)
Brucki has some significant wins on his resume, including two over two-time All-American Jacob Warner (Iowa), who is currently ranked No. 3 at 197. Brucki has also knocked off two-time All-American Dakota Geeer (Oklahoma State), who is No. 6 at 184, and All-American Josh Hokit (Fresno State).
Other wins have come against 16th-ranked Jay Aiello (Virginia), a three-time NCAA qualifier, and four-time NCAA qualifier Nathan Traxler (Virginia Tech), who is ranked 16th at 285.
Brucki was also an EIWA Conference champion at Princeton and owns an 89-19 career record with 26 major decisions, 13 technical falls and 11 pins.
Prior to Princeton, he was an Illinois state champion and Fargo All-American.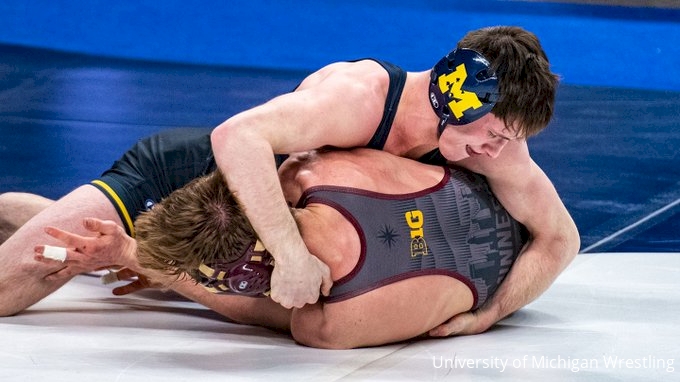 DYLAN RAGUSIN
Ragusin, who went 1-2 in his first NCAA Championships appearance last season, is ranked 19th at 133 pounds.
He is 7-2 this season with the losses coming to All-American Lucas Byrd (Illinois) and two-time NCAA qualifier Anthony Madrigal (Oklahoma) by a combined four points. Byrd is currently ranked seventh and Madrigal 13th.
Ragusin has two technical falls and major decisions among his wins which include beating two-time NCAA qualifier Derek Spann (Buffalo).
He has not faced any other ranked wrestler in the field in NCAA competition, but did drop a decision to Northwestern's Chris Cannon (No. 6) at this year's U23 Nationals. Cannon is the only ranked All-American in the field.
Other ranked wrestlers Ragusin could run into are Cal-State Bakersfield's Chance Rich (11th), Northern Colorado's Mosha Schwartz (16th), Oregon State's Devan Turner (20th) and Wyoming's Job Greenwood (22nd).
Ragusin's most noteworthy collegiate win thus far was a decison over Minnesota All-American Patrick McKee on the way to finishing seventh at last year's Big Ten Championships. McKee later finished third at the NCAA Championshp and is curretntly ranked 10th at 125.
Ragusin also knocked off two-time NCAA qualifier Michael DeAugstino (Northwestern), who is ranked 14th at 125.
At 2020 Senior Nationals, Ragusin pulled off a stunner when he edged NCAA champion and three-time All-American Darian Cruz (Lehigh) in the second round. He also beat All-American Sean Russell (Minnesota).
At 2020 Junior Nationals, Ragusin decisioned Northern Iowa NCAA qualifier Brody Teske, who is ranked 13th at 125. At this year's U23 Nationals, Ragusin knocked off North Carolina NCAA qualifier. Jamie Hernandez, currently ranked 17th at 133.
Before college, Ragusin was a six-time Fargo All-American and three-time champion as well as a two-time Illinois state champion.
Other ranked Michigan wrestlers in the tournament are Will Lewan (ninth, 157 pounds), Cameron Amine (14th, 165) and Kanen Storr (23rd, 149).