Big Ten
Cassioppi Back On Track After Stunning Loss
Cassioppi Back On Track After Stunning Loss
Tony Cassioppi needed less than four minutes to brush off a rare defeat and get back to his winning ways.
Dec 1, 2021
by Darren Miller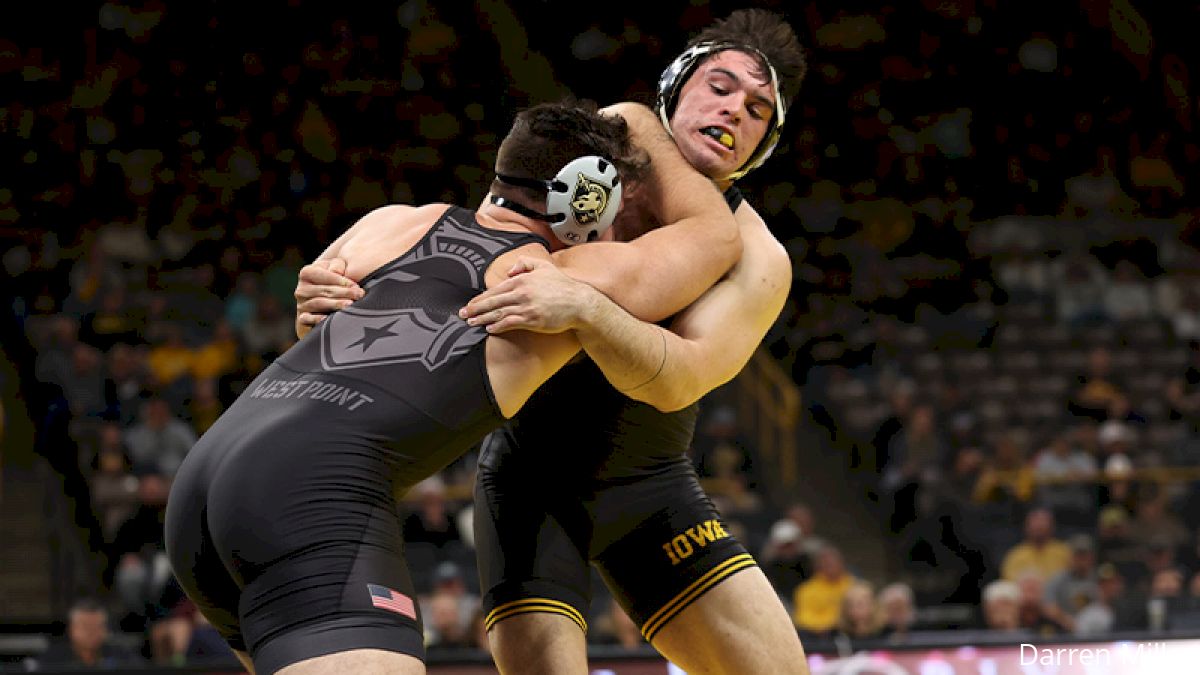 Unlock this article, live events, and more with a subscription!
Get Started
Already a subscriber? Log In
The answer to the 12-day-old trivia question is 3-minutes, 53-seconds.
That's how long it took University of Iowa junior heavyweight Tony Cassioppi to return to his winning ways after a well-publicized setback Nov. 19 against Princeton. When you lose as infrequently on a wrestling mat as the Iowa Hawkeyes, any individual loss is magnified. Especially an upset loss by an All-American.
The biggest stunner to date was when Cassioppi was pinned by Jack Del Garbino of Princeton. Iowa won eight of the 10 bouts that night, and most of the 14,905 in attendance expected a fall in the final match of the evening — just not by the guy in an orange singlet. Cassioppi took down Del Garbino and was working for a fall of his own when the Princeton sophomore rolled through at the edge of the mat and finished it in 2:07.
"It is not going to affect me, but it's obviously something I'm not happy about," Cassioppi said. "I'm moving on from it, my wrestling is getting better from it and I'm continually improving."
The Hawkeyes dominated Army, 36-7, on Sunday, and Cassioppi closed the dual by pinning Brandon Phillips in 3:53. Cassioppi collected four takedowns and earned a stall point before the fall. He improved to 34-7 in his career, 9-2 in Carver-Hawkeye Arena.
"You tell me how he responded, and I love it," Iowa head coach Tom Brands said after the top-ranked Hawkeyes rolled to the dual victory. "I wasn't concerned. The night (Nov. 19) was long and it sucked for everybody that is a Hawkeye fan, and especially for Tony, but he is not a guy to dwell on it and he had put it behind him very quickly. Before he left the arena, he had put it behind him. That's an important trait in life and in competition."
Cassioppi, ranked fifth in the nation at 285, was one of three Hawkeyes to win by fall over Army. The others were by Jaydin Eierman at 141 and Alex Marinelli at 165.
Marinelli Wins For 21st Time In Carver-Hawkeye Arena
Marinelli, a three-time Big Ten champion and ranked #1 in the nation at 165, is the third active Hawkeye to win at least 20 matches in Carver-Hawkeye Arena. He improved to 79-10 for his career — 21-1 at home — after his pin of Army's Christian Hart.
"Any time you can get a knockout in wrestling, that's six points for your team. It's exciting," Marinelli said after decking Hart with a cowcatcher. "I've been working on it for a little bit this past week…finally got it. It's a credit to my coaches, we have been working on it a lot."
Marinelli used three takedowns in the first period to build a 7-3 advantage. He added another takedown in the second period and led 12-4 at the time of the pin.
Michael Kemerer is 23-1 in Carver-Hawkeye Arena and Spencer Lee is 20-0.
Ybarra Notches Home Win
Lee's replacement during the first few duals of the season is redshirt freshman Jesse Ybarra. Ybarra (5-0) won by forfeit against Princeton and picked up his first contested home dual win with a 3-1 victory in sudden-victory over Army's Ryan Chauvin.
"I realized a little too late that I should have opened up a lot sooner," Ybarra said. "I see guys like Jaydin (Eierman) and Alex (Marinelli) just going anytime they see an opportunity. I lack experience of opening up when it comes to my offense."
In-State Rivalry Up Next
Iowa puts its 20-match dual winning streak on the line when it opens the month of December with an in-state dual at Iowa State on Dec. 5 beginning at 6 p.m. (CST).
Iowa has won 16 in a row against Iowa State.
"We're going to Ames, Iowa," Brands said. "We have to keep a good thing going. That's what's on my mind right now."