Pac-12
Sun Devils Are On The Hunt For More Hardware
Sun Devils Are On The Hunt For More Hardware
ASU took a big step last season when it brought home the school's first NCAA trophy in 26 years and the Sun Devils are seeking more hardware in 2022.
Nov 8, 2021
by Nick Zeller-Singh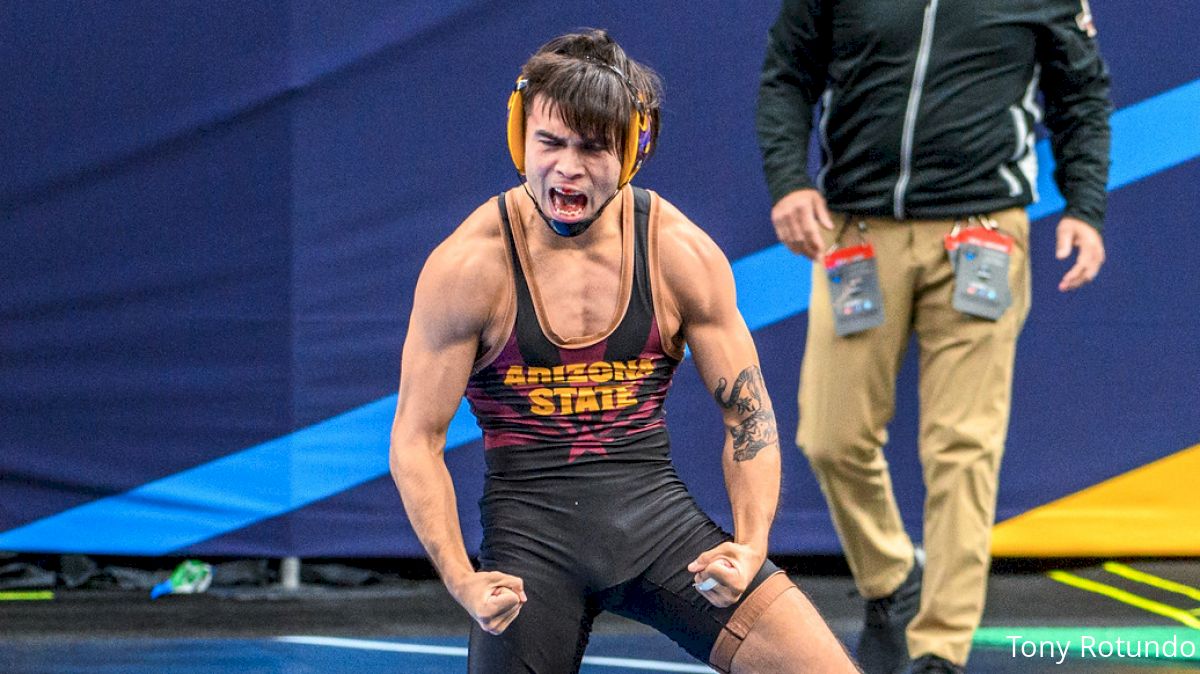 Unlock this article, live events, and more with a subscription!
Get Started
Already a subscriber? Log In
Arizona State took a step in March when the Sun Devils hauled home their first NCAA team trophy in 26 years — an important step.
"A big step in the right direction," ASU coach Zeke Jones said. "It gave us the opportunity to show that the program has advanced to a championship-level performance. Now we are seeking the gold trophy."
Putting their prints on the gold trophy is a tall task for the Sun Devils, who finished 55 points behind national champion Iowa last season. Claiming another top-four trophy will be no small challenge, either, even though Arizona State returns six wrestlers who accounted for 72.5 of the Sun Devils' 74 points at the national tournament, plus All-American transfer Kyle Parco, who scored nine more for Fresno State.
It took five All-Americans, including NCAA finalist Brandon Courtney, for ASU to finish fourth ahead of a four-team pack within 10 points of the Sun Devils. But the Sun Devils have a powerful and balanced lineup capable of winning another trophy, which hasn't been done at Arizona State in consecutive years since Bobby Douglas-coached teams followed up the 1988 national title with back-to-back runner-up finishes.
The Sun Devils have lineup anchors at the beginning, middle and end of their order. Courtney and All-American Michael McGee form one of the nation's top lightweight combos at 125 and 133.
Courtney went 15-1 last season. His lone loss came in the NCAA finals against three-time national champion Spencer Lee. McGee placed sixth at the NCAA Championships at 133 to cap a 13-4 campaign, and the Sun Devils see more potential upside in the Old Dominion transfer.
"For McGee, anything less than a national championship is less than what he is looking for," Jones said. "He is grateful and excited for the opportunity to compete."
The middle of the ASU order includes three more All-Americans — Parco, Jacori Teemer (157) and Anthony Valencia (165).
Parco compiled a 19-4 record for Fresno State and placed sixth at 149 pounds. Teemer got hot in St. Louis, where he reeled off five consecutive consolation victories, beating Andrew Cerniglia, Will Lewan, Jared Franek, Wyatt Sheets and Hayden Hidlay on his way to a fourth-place finish.
"Teemer got in great shape and built confidence," Jones said. "He realized he is as good as anyone winning a national title. Jacori just needed confidence and he gained that through the season, especially at the NCAA tournament."
Valencia enters his senior season seeking Pac-12 history. He's already a four-time conference champion with a chance to win a fifth. It won't be easy, though, with returning NCAA champ Shane Griffith of Stanford and two-time All-American Evan Wick of Cal Poly at the weight in the Pac-12.
"I think Anthony is winning the national championship," Jones said. "After beating (Griffith), the national champion two weeks before the (NCAA) tournament, he believes he can win."
The Sun Devils are confident in the heavy end of their order as well.
Kordell Norfleet earned the #3 seed at 197 pounds and took an 11-0 record into the NCAA quarterfinals before getting bounced from the tournament after losses to Nino Bonaccorsi and Rocky Elam, who wound up placing second and fifth in the bracket, respectively.
"Kordell did not get what he was looking for when he went to the NCAA tournament," Jones said. "I know he's hungry and been working his butt off all season. He has some unfinished business on his mind."
Greco-Roman World Team member Cohlton Schultz turned in a terrific freshman season for the Sun Devils. He went 17-2 and placed fourth at the NCAA Championships in a loaded heavyweight bracket, finishing behind Olympic gold medalist Gable Steveson (Minnesota), Junior World champion Mason Parris (Michigan) and U23 World champion Tony Cassioppi (Iowa).
"The heavyweight class has the number one guy in Greco and number one guy in freestyle," Jones said. "That is telling you the heavyweight class is world-class and Cohlton's goal is nothing less than winning that national championship."
Arizona State's hopes of climbing in the team standings this season could hinge on how much production the Sun Devils can get at 141, 174 and 184. ASU has some credentialed candidates at those weights, including four-time California state champion Jesse Vasquez at 141 and Valencia's younger brother, Cael, a true freshman at 174.
"We have to determine whether Cael can score or not," Jones said. "He will go to some tournaments on his own and unattached to see if he is developing. If he is not quite ready yet, then we won't use him but we won't know until he competes."