Big Ten
Four Big Questions For Rutgers To Answer This Season
Four Big Questions For Rutgers To Answer This Season
Rutgers coach Scott Goodale has a strong team from top to bottom this season. Will it wind up being his best bunch ever?
Nov 8, 2021
by Brendan Scannell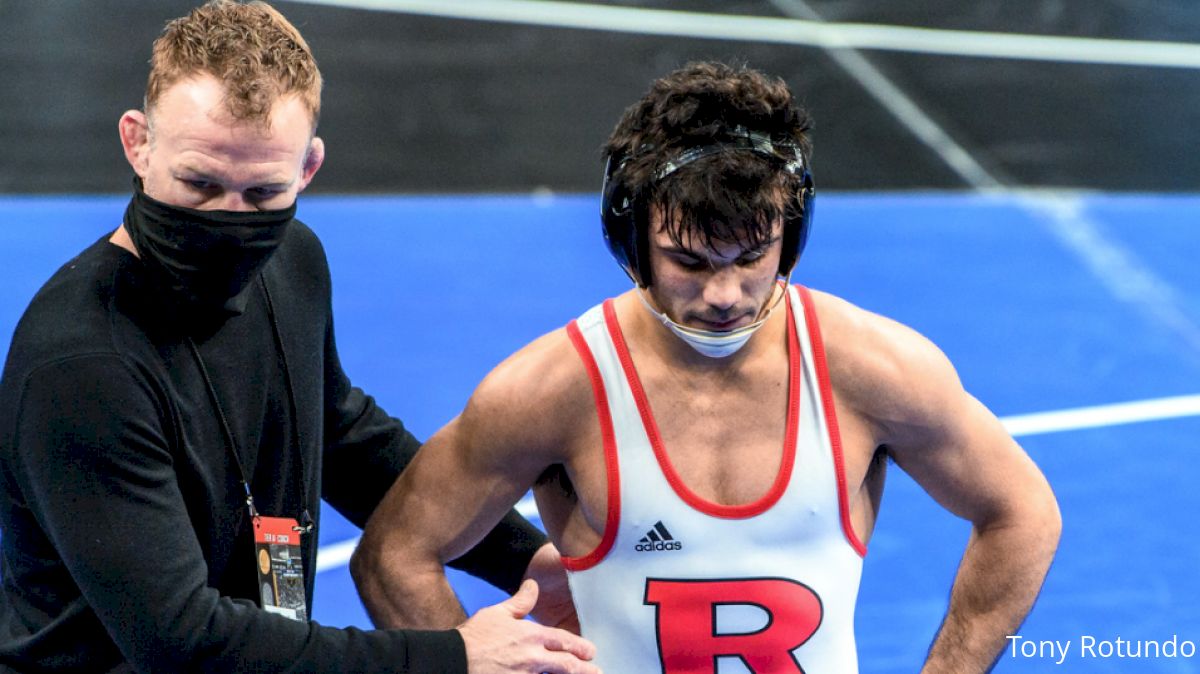 Unlock this article, live events, and more with a subscription!
Get Started
Already a subscriber? Log In
Rutgers opened the season Sunday with dominant dual wins against New Jersey City University, Cleveland State and Binghamton. Though it wasn't a perfect debut for the Scarlet Knights, who won 27 of their 30 individual bouts and scored bonus points in 18 of them, it gave Scott Goodale and company an opportunity to showcase a powerful and balanced lineup.
Here's a look at four questions that will be answered about the Scarlet Knights over the course of the next four and a half months:
Is This The Best Rutgers Team Scott Goodale Has Ever Coached?
Wait, wasn't it only 3 years ago that Rutgers crowned two national champions and notched a top 10 team finish at the NCAA tournament?
That may be true but with six ranked starters, two Top 5 guys, three returning All-Americans, a top-three finisher in the Big Ten, plus a promising freshman class this team is deeper.
OK, but what about Nick Suriano? How does Rutgers move on without him?
At this point, Rutgers has gotten accustomed to life without Suriano. He hasn't competed in a Rutgers singlet since March of 2019 when he was crowned the school's first national champion.
With Suriano gone, Rutgers didn't have to wait long to find a new guy to step in and lead.
Now, it's Sebastian Rivera who endeared himself to Rutgers fans since transferring from Northwestern after the 2020 season. The role of a leader is one Rivera takes seriously. And he's not afraid to be brutally honest with his teammates. Everyone looks to the three-time All-American to set the tone in the room and (finally) on the mat in front of the home crowd at The RAC – a place that certainly isn't lacking in passionate fans.
"A lot of these guys were young when I first showed up… I felt like (my teammates) needed to see how I did it." Rivera said of his leadership role on the team.
If anyone knows what it means to talk the talk and walk the walk, it's Rivera who owns a loaded resume, including wins over both the returning 125- and 133-pound NCAA champs. This year, he's pushing for a title of his own at 141 pounds and hopes his teammates follow his lead.
Rivera adds a necessary level of star power to what has to be the most balanced team Rutgers ever fielded in the Goodale era — especially when you consider the talent in the upperweights.
Goodale and his team are confident they can win a trophy at the NCAA Championships, and that's where the focus lies — the team.
"There's something at the end of this tunnel that we're looking at, that maybe we haven't looked at in a long, long time…There's a lot of belief about what we can do at the national tournament," Goodale said.
Is this the best team Goodale has ever coached? It sure looks like it could be. We'll find out soon.
Is John Poznanski A National Title Contender?
After an All-American finish last season, John Poznanski was one of the breakout stars of all true freshmen nationwide. Still only a freshman, thanks to a COVID eligibility-relief year, 184-pounders across the country had better be ready to deal with Poznanski for a while.
Last year, Poznanski showed the country he's more than just a tremendous athlete. He's got heavy hands and plenty of mat savvy — something that helped him win some big-time matches at the NCAA tournament, including the one over Deprez.
Despite his age, Poznanski knows a new leadership role on the team is something that tends to come with a top 4 finish. He's a guy whose attitude and work ethic everyone on the team admires.
If you're looking for another candidate to be Rutgers' next national champ here's one.
Which Version Of Sammy Alvarez Can We Expect This Season?
After a season-long struggle with the weight cut last year culminated in him missing weight at the Big Ten Championships, most of the wrestling community expected to see Sammy Alvarez up a weight this season. They thought wrong.
With Rivera holding things down at 141, Alvarez is back at 133.
He admitted the approach definitely changes this year.
"It's all about the approach." Alvarez said. "The overall lifestyle, preparation, weight cut and consistency in workouts."
It's the hope that this consistency in his preparation and a focus on having fun again will guide him and his team to a podium finish this year.
Alvarez can score takedowns on any of the best guys in the country. He knows it, and so do they.
With past wins over guys like Mickey Phillippi and Ridge Lovett, plus a couple tight matchups with the returning champ at the weight, Roman Bravo-Young, if he can gracefully manage his weight cut and find that groove he did two seasons ago, Rutgers could have another Top 5 guy in the mix.
Who is The Scarlet Knights Next Breakout Star?
Despite an 0-4 record in duals in a shortened season last year, Rutgers' performance in March left a lot to be excited about.
Aside from All-Americans Poznanski and Jackson Turley, journeyman Mike VanBrill went on a heater at the Big Ten tournament resulting in a third-place finish.
All three return. But will someone new emerge this year?
Here's a few options:
There's three-time NCAA qualifier, MAC champion and recent transfer Greg Bulsak, who got the start at 197 on opening weekend. Goodale spoke highly of Bulsak and his professional attitude since joining the team after spending his first four seasons at Clarion.
Keep in mind, there could be some 197-pound lineup competition inside the room when Billy Janzer returns.
Goodale is optimistic about 165-pound freshman Andy Clark. The 2020 New Jersey state champ out of Collingswood, New Jersey lost to #16 Gerrit Nijenhuis in his only start last season. Now fully healthy and more familiar with the weight, be on the lookout for Clark to make a jump this season.
Goodale also addressed his excitement about his newest freshmen class. Though he admitted that he'd love to redshirt them all if he could, don't be surprised if you see some of those guys break into the lineup sooner than later.
Dean Peterson was a guy Rutgers fans were excited to snag from Princeton only days before school began and he looks like he could be the future at 125 pounds. We didn't see him on opening weekend, though, as he's dealing with a minor setback but he should be available to compete by the end of November.
Meanwhile, Anthony White raised eyebrows across the state when news came that he beat VanBrill in a wrestle-off on October 30. Goodale stressed that wrestle-offs hardly determine the starter. He cited tournaments like The Midlands and Southern Scuffle as the best opportunities to figure out the answers to any question marks that might remain in the lineup.
Check out some key dates for this upcoming Rutgers season below:
Notable Home Dates:
Dec 10: Army
Jan 14: Illinois
Feb 3: Rider
Feb 6: Ohio State
Feb 18: Princeton
Other Dates:
Nov 27: Garden State Grapple
Dec 29: Midlands Championships
Jan 9: @ Wisconsin
Jan 16: @ Penn State
Jan 23: @ Michigan
Mar 5-6: Big Ten Championships
Mar 17-19: NCAA Championships