Big Ten
Preview: Return of Myles Amine, Stevan Micic loads up Michigan's lineup
Preview: Return of Myles Amine, Stevan Micic loads up Michigan's lineup
Michigan's lineup this season will feature nine NCAA qualifiers, including five All-Americans and two Olympians
Oct 11, 2021
by Mark Spezia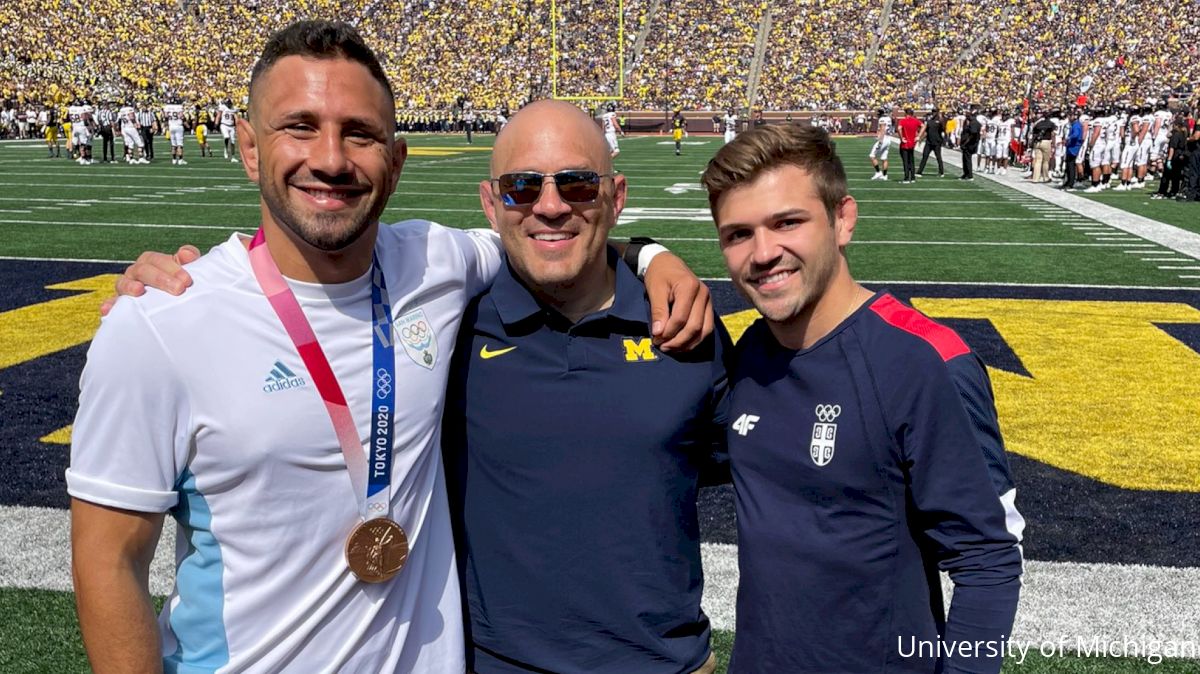 Unlock this article, live events, and more with a subscription!
Get Started
Already a subscriber? Log In
The allure of capping their storied collegiate careers at the NCAA Championships just 40 minutes from Michigan's campus was too strong for Myles Amine and Stevan Micic to resist.
Last month, the Tokyo Olympians, who have combined for seven All-American finishes, finally ended speculation about their futures and announced they are returning for a final season with the Wolverines.
Amine intends to take advantage of the extra year of eligibility granted to NCAA athletes because of the coronavirus pandemic and become Michigan's first five-time All-American when the 2022 NCAA Championships commence at the Detroit's Little Caesars Arena in March.
Micic can join Amine and six others as four-time All-Americans. Placing at least fourth will grant him membership in an even more exclusive club -- four-time, top-four finishers at the NCAA Championhips. Only Amine, Jarrett Hubbard (1971-74), Mark Churella (1976-79) and John Fisher (1985-89) have also accomplished that at Michigan.
The 100th season of Michigan wrestling begins Nov. 6 at the Michigan State Open. The Wolverines first dual is Nov. 14 against California State-Bakersfield.
Amine declared his intentions first on Sept. 9 with a 46-second highlight video on his Twitter and Instagram accounts. Lyrics to the Eminem song Without Me -- "Guess who's back" -- begin playing as the video concludes with the words "One More" and then "See You In Detroit" appearing on screen.
The video has been viewed more than 38,000 times.
"Leader. Warrior. Wolverine. Let's go!!," tweeted Wolverines coach Sean Bormet in response.
Added teammate Jack Medley: "Grateful to be guided under this guy's leadership!! Let's go."
Micic revealed his decision with a Sept. 23 Instagram post which has received more than 4,000 likes.
"One last dance, Team 100, and the big show is in Detroit," he wrote. "Everything is coming together. My coaches, my teammates, and my fans have always supported me, and now I have the chance to do something bigger than me to achieve a legacy that I can leave at Michigan forever. Being an NCAA champion is something I have one last shot of doing, and I'm not going to leave any stones unturned."
Having Amine and Micic in the lineup together for the first time since the 2018-19 season, the addition of transfer Patrick Brucki, an All-American at Princeton, and the return of six other NCAA qualifiers, including two All-Americans, give the Wolverines a formidable lineup.
Overall, their projected starters have earned 10 All-American berths and qualified for the NCAA Championships 23 times.
Michigan will need all of that depth to improve on last season's fourth-place Big Ten finish and fifth-place NCAA Championships showing. The Wolverines have not won a Big Ten title since 1973.
Iowa's lineup has combined for 23 All-American finishes and have qualified for the NCAA Championships 28 times, but the Wolverines' numbers stack up favorably against conference rivals Penn State (10 All-American berths, 14 NCAA Championships appearances), Nebraska (6, 23) and Minnesota (4, 12).
Here is a closer look at the lineup:
Jack Medley (125 pounds): The junior drops back to 133 pounds with the return of Micic in his third season as a starter.
Medley, a 2020 NCAA qualifier, hopes to rebound from last season when he finished just 7-6 (one pin, two technical falls), including 2-3 in the Big Ten Tournament after placing fourth the year before.
Medley's biggest wins have come against four-time NCAA qualifiers Elijah Oliver (Indiana) and Christian Moody (Oklahoma). Medley has a 39-27 career record with 10 major decisions, four technical falls and two pins.
Stevan Micic (133 pounds): The senior last competed in a Michigan singlet at the 2019 NCAA Championships where he finished third. Micic was also second in 2018 and fourth in 2017.
He took an Olympic redshirt in 2019-20 before missing all of last season while battling injuries. Micic began his college career at Northwestern by going 17-3 as a redshirt in 2014-15 before transferring to Michigan and taking an Olympic redshirt in 2015-16.
He's also placed in the top sixth at the Big Ten tourney three times, including winning a Big Ten title in 2018, knocking off two-time All-American Luke Pletcher (Ohio State).
Wrestling for Serbia, Micic lost his only Olympic match, but he is a two-time European Championships bronze medalist.
Micic's best college wins have come against NCAA champion Nick Suriano (Rutgers) and three-time All-American Sebastian Rivera (Rutgers, Northwestern).
He takes a 74-11 record into this season which includes 29 major decisions, 16 technical falls and seven pins. Micic is also 13th at 61 kilograms in the latest international freestyle rankings.
Drew Mattin (141 pounds): The junior is a three-time NCAA qualifier, including a pair of Round of 16 appearances.
Though he went 1-2 at the NCAA Championships, Mattin struggled overall last season before finishing 5-8. He was eighth in the Big Ten, his third top-10 finish.
Mattin's biggest win has been against three-time All-American Ethan Lizak (Minnesota). He has also beaten All-Americans Rayvon Foley (Michigan State) and Sean Russell (Edinboro, Minnesota).
Mattin owns a 46-31 career mark with eight pins, five major decisions and a technical fall.
Kanen Storr (149 pounds): The senior is a three-time NCAA qualifier, including a pair of Round of 16 appearances. He went 9-6 last season and recorded his third straight fifth-place finish in the Big Ten.
Storr, who spent the first two seasons of his college career at Iowa State, has beaten All-Americans Thomas Yahya (Northwestern) and Scott DelVecchio (Rutgers).
Storr boasts a 67-26 career record, including eight major decisions, three technical falls and three pins. He was No. 23 in last season's final national rankings.
"Last ride as a Wolverine!," Storr tweeted on Oct. 1. "This is a season you won't want to miss, as this might be the best team this program has ever had!"
Will Lewan (157 pounds): The sophomore is a two-time NCAA qualifier who reached the round of 16 last season and finished eighth at the Big Ten Championships after taking fifth in 2020.
He went 2-1 in his first two Big Ten matches before withdrawing from the tourney with an injury. Lewan finished the season 9-4.
Easily Lewan's biggest win thus far has been a 10-8 decision over former teammate Alec Pantaleo, a three-time All-American, at the 2019 Michigan State Open. He has also knocked off four-time NCAA qualifier Taleb Rahmani (Illinois).
Lewan's career mark stands at 30-11. He was No. 10 in last season's final rankings.
Cameron Amine (165 pounds): The freshman cousin of Myles Amine was an All-American last season, placing seventh at the NCAA Championships.
Amine also took third in the Big Ten and finished 14-4 with six pins, three major decisions and a technical fall. His losses were by a combined nine points to four All-Americans.
Amine's most noteworthy win came against three-time NCAA qualifier Kennedy Monday (North Carolina). He was No. 12 in the final rankings, second among freshmen.
Max Maylor (174 pounds): The good news? This is the only lineup hole Michigan has to fill. The bad news? It was left by four-time NCAA qualifier and two-time All-American Logan Massa, who also placed in the top four at the Big Ten Tournament four times.
Maylor, a sophomore, appears likely to get the nod.
The Wisconsin state champion went 2-2 in extra matches last season, including an eye-opening win over Rutgers' Jackson Turley, who became an All-American later in the season by placing eighth at the NCAA Championships.
Maylor has also beaten four-year Ohio starter Logan Stanley and three-year Central Michigan starter Jake Lowell.
Myles Amine (184 pounds): After rallying to beat 2019 World Championships silver medalist Deepak Punia (India) to capture Olympic bronze for San Marino, Amine put the accomplishment into perspective on Instagram.
"I owe much of who I am today to the sport of wrestling. It has taught me so much about myself and life," he posted on Aug 8. "All the buzzwords you hear: respect, discipline, humility, determination, etc…wrestling embodies just about all of them. My career has been full of ups and downs, triumphs and heartbreaks alike. It definitely has not been all sunshine and rainbows. That being said, I wouldn't go back and change any of it!"
Amine is not his family's first Olympian. Grandfather Nazem Amine wrestled for Lebanon at the 1956 and 1960 Games. Myles, whose middle name is Nazem, also paid homage to his grandfather, who died in 2017, in the same post.
"This moment was beyond special because the very man who introduced wrestling to my family, my late grandpa Nazem Amine, was an Olympic wrestler himself," he wrote. "I felt his presence with me in that bronze medal match!"
Following the Olympics, Amine traveled to San Marino with several family members where he was honored along with two other Olympic medalists from the country. San Marino had never had an Olympic medalist prior to this year.
Last month, Amine was honored for his achievement when Michigan state Sen. Lana Theis and Rep. Ann Bollin, both of Brighton, welcomed him to the State Capitol.
He was also recognized, along with the university's other Olympians, during a Michigan home football game and during halftime of a football game at his high school, Detroit Catholic Central.
In addition to a fifth All-American honor, Amine, who is dropping from 197 to 184, is seeking a second straight Big Ten title. That won't be easy, of course, with NCAA champion Aaron Brooks (Penn State) standing in the way. Brooks boasts a 29-1 career record.
No Michigan wrestler has won back-to-back Big Ten crowns since Kellen Russell in 2011-12.
Amine's collegiate record is 95-19, including 34 wins by major decision (19), technical fall (nine) or pin (six). He has gone 25-15 against All-Americans. Amine was No. 2 in last season's final rankings at 197 and No. 11 pound-for-pound.
He is currently No. 11 in the latest 86 kilogram international freestyle rankings as well.
Patrick Brucki (197 pounds): The senior made the NCAA Championships three times at Princeton (2018-20), placing fourth in 2019. He was also the 2019 Eastern Intercollegiate Wrestling Association champion.
Brucki announced he was transferring to Michigan in summer of 2020 and took a redshirt last season.
His biggest wins have been against two-time All-Americans Jacob Werner (Iowa) and Dakota Geer (Oklahoma State).
Brucki has an 81-16 career record, including 23 major decisions, 12 technical falls and nine pins.
Mason Parris (285 pounds): The best heavyweight in the nation not named Gable Steveson has lost just three times the past two seasons, all to Steveson. He was second to the Olympic gold medalist at the Big Ten tourney and NCAA Championships last season.
Parris was also second to Steveson in the final 285-pound rankings and was ranked No. 14 pound-for-pound.
During the offseason, Parris was second at the World Team Trials and third at the Olympic Trials. He is No. 16 in the current international, 125-kilogram rankings.
Parris has beaten three-time All-American Amarveer Dhesi (Oregon State) and two-time All-Americans Trent Hillger (Wisconsin) and Youssif Hemida (Maryland).
Parris brings a 72-12 record into this season with 68 percent of his victories coming via pin (30), major decision (15) or technical fall (four).