Michigan Contingent Riding Wave Of Momentum Into Who's #1
Michigan Contingent Riding Wave Of Momentum Into Who's #1
Michigan is sending five wrestlers to Who's #1, including four Fargo champs, but some face very stiff challenges.
Sep 14, 2021
by Mark Spezia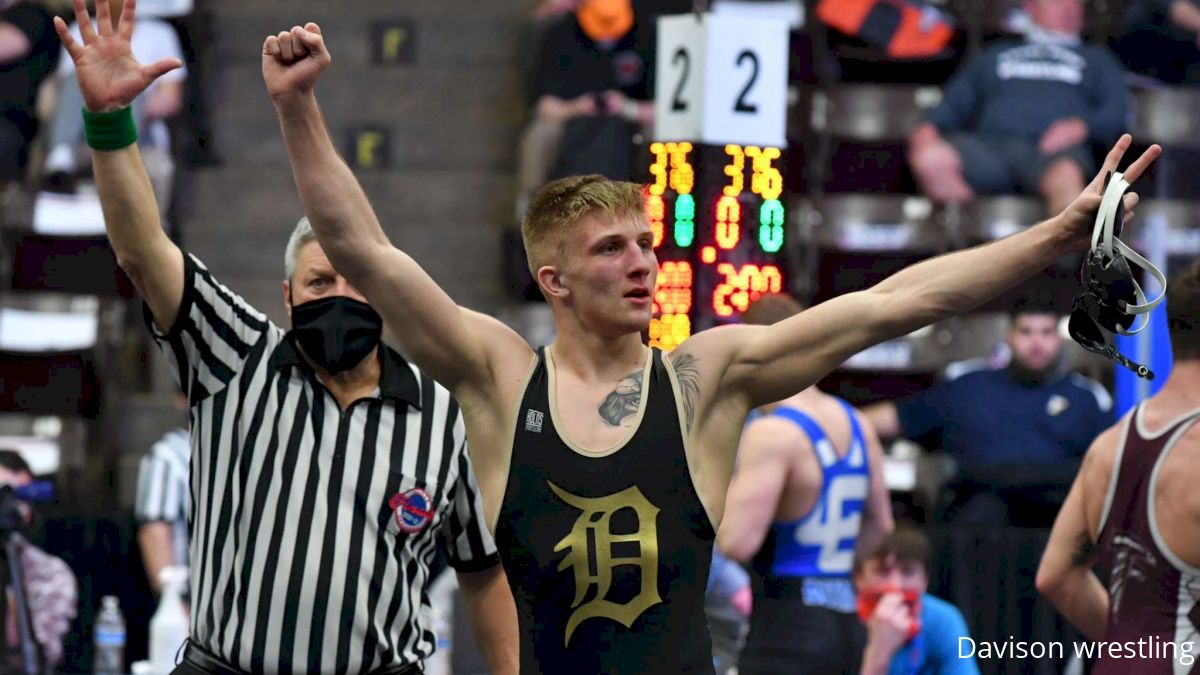 Unlock this article, live events, and more with a subscription!
Get Started
Already a subscriber? Log In
Michigan wrestlers have been making more noise than ever, it seems, on the national and international scenes this summer.
In July, grapplers from the Wolverine State captured six individual Fargo championships, a state record. Michigan was also third in the team freestyle standings, its best finish since 1975.
Last month, Detroit Catholic Central's Myles Amine became the state's second Olympic wrestling medalist, taking bronze for San Marino in the 86-kilogram freestyle class.
Shortly thereafter, Davison's Alex Facundo became only the second Michigan wrestler to earn the prestigious Dave Schultz High School Excellence Award in its 25-year history
It's hardly surprising, then, that the state's presence will permeate this week's Who's #1 competition in Dallas.
After sending only three wrestlers -- total -- to the event prior to 2021, Michigan has five competing this year, including four Fargo champions. Clearly, the Michigan contingent enters Who's #1 riding a wave of momentum.
Only California and Pennsylvania (six) have more wrestlers in the field.
Here is a closer look:
MANNY ROJAS
Ranked No. 6 pound-for-pound and No. 1 at 170 pounds, the Detroit Catholic Central senior decisioned Illinois' Brayden Thompson (No. 5 at 170) for his first Fargo title after twice finishing second.
Rojas, a two-time state champion, also knocked off state champions Brody Baumann (Indiana) and Sabino Portella (New Jersey). Baumann is ranked No. 14 in the nation at 170 while Portella Is No. 16 at 189.
Rojas will first take on two-time Pennsylvania state runner-up Rocco Welsh (No. 4, 170) in the four-man match. He also finished third at in last year's Super 32 finals while Rojas was a Super 32 champion.
On the other side are Illinois' Brayden Thompson and Georgia's Gabe Arnold. Thompson, a Fargo finalist this year, is No. 5 at 170 while Arnold is No. 19 pound-for-pound and No. 3 at 170 as well as the Fargo 16U champion this year. Rojas, an Iowa State recruit, took out Thompson in the Fargo finals in July.
Last spring, Rojas pinned now-Cornell freshman Peyton Craft, ranked No. 8 at 170 at the time, for fifth place in the 79-kilogram competition at UWW Junior and Senior Nationals.
Last high school season, he avenged an earlier loss to Remy Cotton (Traverse City Central), now No. 13 at 182, for his second straight state championship.
Rojas was 32-2 last season, including a win over Division 1, 215-pound state champion Jimmy Colley (Davison). Rojas has a 99-12 career high school mark and his only other loss last season was to Facundo.
BRAEDEN DAVIS
Davis, No. 1 at 113 pounds, has racked up some impressive wins during the past year, including beating No. 12 Codie Cuerbo (Ohio) and No.17 Caleb Thoennes (Minnesota) by a combined 27-12 margin on the way to a Fargo title.
In fact, Davis joined four-time state champion Ben Whitford (St. Johns) as the only Michigan wrestlers to win both junior and cadet titles in Fargo. Overall, the Dundee junior outscored six Fargo foes, 70-15.
No. 36 on the Class of 2023 Big Board, Davis takes on Leo Deluca, a New Jersey freshman who is ranked No. 2 at 113. Deluca dominated Fargo opponents as well, going 62-2 and winning the 16U title.
Davis also owns wins over No. 6 Alan Koehler (Minnesota), No. 8 Conor Collins (New Jersey) and No. 15 Drew Heethuis (Detroit Catholic Central) as well as Ohio's Beric Jordan, who is ranked third at 106.
During the summer, Davis' training included working with three-time NCAA Champion and 2016 Hodge Trophy winner Alex Dieringer (Oklahoma State) at Cliff Keen Wrestling Club in Ann Arbor. Davis also trained at Simmons Academy of Wrestling in Lansing which is run by Nick Simmons, a four-time Michigan State All-American and two-time Olympic alternate.
Davis won his second straight state title last season and finished 29-0, winning every match by pin or technical fall. He owns a 67-4 career mark.
JOSH BARR
Another No. 1 vs. No. 2 matchup features a pair of 160-pounders -- the second-ranked Barr, a junior, against top-ranked senior Levi Haines (Pennsylvania), who is also No. 13 pound-for-pound.
The Penn State recruit is a state champion with a 100-5 prep record and was this year's Cadet World Team Trials winner. Barr took third at the Trials.
That is part of the reason Barr, 10th on the Class of 2021 Big Board, will be an underdog, but only slightly. He edged fourth-ranked Iowa state champion Aiden Riggins to capture a freestyle championship in Fargo.
Barr also took out No. 5, two-time state champion Braeden Scoles (Wisconsin) and No. 15 Landon Johnson (Minnesota) during the tourney.
His performance prompted a tweet from former Davison High School teammate and Penn State signee Alex Facundo.
"The #1 P4P wrestler in the state of Michigan at the moment is @barr1josh," Facundo wrote on July 20. "No debate."
On July 31, Barr made it clear he was done celebrating his championship.
"Head down, back to work. WNO next," he posted on Instagram that day.
Last spring, Barr bested Scoles and Pennsylvania state champion Grant Mackay, ranked No. 15 at the time.
Barr won a second straight Division 1 state title last season and finished unbeaten for the second straight year with a 28-0 mark. He has gone 67-0 the past two seasons.
The busy Barr also announced his final five teams on Aug. 26 -- Penn State, Ohio State, Iowa, Virginia Tech and Michigan.
CASEY SWIDERSKI
Swiderski, No. 2 at 138 pounds and No. 72 on the Class of 2022 Big Board, gets the chance to test himself against the nation's top-ranked pound-for-pounder in Indiana's Jesse Mendez.
Also No. 1 at 138, Mendez is seeking a fourth straight Who's #1 win. The senior has been nearly unstoppable in 2021, making the Cadet and Junior World Teams as well as the U23 World Team Trials finals before injuries forced him to withdraw.
Along the way, Mendez has beaten NCAA All-Americans Pat McKee (Minnesota) and Chris Cannon (Northwestern).
Swiderski, a Dundee senior and Iowa State recruit, finished second in the 138-pound freestyle competition in Fargo. He racked up some impressive wins, including New Jersey state champion Ty Whalen, No. 4 at 138 and New York state champion and 11th-ranked Rocco Camillaci.
Swiderski knocked off two-time state titlists Q'veli Quintanilla (Washington) and James Dalrymple (Tennessee). Both won Greco titles in Fargo.
He captured a third state championship last season and finished the season 30-0. Swiderski has a 115-3 high school record and also owns a win over No. 10 Tom Crook (Florida).
CECILIA WILLIAMS
Williams, a Mason High School freshman, is jumping at the opportunity to became one of the youngest Who's #1 winners in the tournament's history, but has to knock off Nevada high school senior Jenavi Alejandro, ranked No. 14 at 112 pounds.
Williams is No. 17 and only three other incoming freshmen are ranked higher in any weight class. She decisioned No. 3 Zao Estrada of South Carolina to win the girls 16U crown in Fargo.
Williams also pinned No. 18 Emma Albanese (Nevada).
Alejandro was third in Fargo, but lost only to Utah's Sage Mortimer, then ranked No. 1 at 112 and one of the nation's best pound-for-pound.
Williams did not stop at a freestyle championship in Fargo, she also tested herself against the boys in Greco-Roman competition and finished 3-2. One of Williams' wins came against Arizona state qualifier Joseph Neubert, a junior.
Last fall, Williams placed second at Super 32.