2021 World Team Trials
Prep Phenoms On A Collision Course At World Team Trials
Prep Phenoms On A Collision Course At World Team Trials
Teenage stars Kennedy Blades and Kylie Welker are on a collision course at the upcoming World Team Trials. Will they get their rematch in Lincoln?
Sep 1, 2021
by Kyle Klingman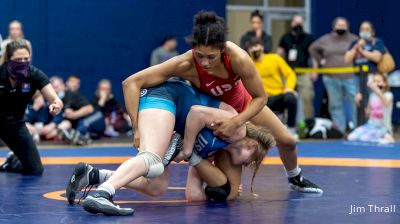 Unlock this video, live events, and more with a subscription!
Get Started
Already a subscriber? Log In
Kylie Welker noticed things were different in the days following the Olympic Trials in April. A casual visit to Farm & Fleet near her hometown of Waterford, Wisconsin, turned into a celebrity sighting of sorts.
"Hey, you're that girl who made the Olympic Trials finals and is 17-year-old," said a lady in an aisle.
"Yeah, I guess I am," replied Welker.
The same thing happened to Kennedy Blades. She reached the finals of the Olympic Trials, too — and her star is on the rise. The 17-year-old is being sought out for pictures and signatures from children and adults.
"The amount of autographs I've signed is incredible," Blades said. "When you're a little kid you practice your cursive handwriting and pretend you're going to give an autograph when you're famous. Honestly, I didn't know it would come this soon.
"I still practice it just for fun. It's so cool to have that opportunity given to me. Every time I smile and I say thank you and good luck. I want everyone to know they can be comfortable with me. I'm just super happy."
Welker and Blands have had plenty of reasons to smile. Imagine being the focal point of a nationally televised broadcast as teenagers — and then being the new faces of women's wrestling for thousands of girls across the country.
Not making the Olympic team seems inconsequential at this point. Blades fell to eventual gold medalist Tamyra Mensah-Stock in the 68-kilogram finals and Welker fell to eventual silver medalist Adeline Gray in the 76-kg finals.
Two 17-year-olds lost to wrestling legends.

KEEPING UP WITH EACH OTHER
Both have kept pace with each other since the Trials, as well. Both made two age-level World teams and both went unscored upon at the recent Junior World Championships. They will also compete together at the U23 World Championships in November.
It should surprise no one that they were roommates during Senior World team camps throughout the summer.
The upcoming Senior World Team Trials in Lincoln, Nebraska, on September 11-12 will be a proving ground for these young wrestling phenoms. Both are entered in the 72-kg weight class and both are seeking their first Senior-level World team.
Only one can represent the United States, though. The anticipation is that they will meet in the finals.
Blades will be 18 by the time the tournament begins while Welker will still be 17. That won't temper the enthusiasm for this potential showdown in Lincoln. This is a best-of-three series everyone wants to see.
And why wouldn't we want this match-up? The two went toe-to-toe at the Last Chance US Olympic Trials Qualifier at 68 kg. Blades led 12-6 after the first period in an offensive slugfest before the match ended in the second with a 16-6 technical superiority.
Both qualified for the Olympic Trials but Welker moved up to 76 kg. The decision paid off as both reached the finals and both have achieved a new level of fame inside and outside the sport.
They get to settle the score in September.



WHAT HAPPENS NEXT?
Should Welker or Blades make the team, they will have an opportunity to win three World Championships in one year — an unprecedented feat in wrestling.
"It feels like my time is finally here," Blades said. "I've been waiting for such a long time. I knew I was peaking. It was just the age that was stopping me from wrestling in the senior division. Now I'm taking every opportunity I can. I'm not taking anything for granted. It's a little hectic because I also have school that I have to worry about, especially since I'm taking AP and honors classes. Wyoming Seminary is very high in their academics and they expect a lot. It is a little difficult to balance but I'm getting a lot better at it. It's all going to pay off at the end."
Welker feels the same way. She takes online classes so she can focus on wrestling — even though she likes a classroom setting better. The prep phenom has never actually taken a class in person at her high school. She says there's no way she could keep her wrestling schedule and go to school at the same time.
"I love wrestling," Welker said. "I'll have friends and family describe me as that wrestler girl. I don't know if I want to be described as just that wrestler girl but I guess I'll take it. I like making an impact and giving back to the sport as much as I can."
Now, what will happen if the two face each other at the World Team Trials? Each can speak for herself about the rivalry and the possibility of a rematch.
Blades: "I'm really excited to be in the finals with Kylie. We're both the top athletes — especially at our age level. I'm just going to go out there and do my thing. I expect nothing less from myself as far as coming out on top."
Welker: "This is exciting. Having two upcoming female wrestlers will be good. This will be a long battle as long as we're in the same weight classes. We wrestled at Last Chance and she beat me there so I have another opportunity to wrestle her and hopefully I can come out on top this time."
Kennedy Blades and Kylie Welker are two more reasons that the upcoming World Team Trials is a can't miss wrestling event.
Watch the World Team Trials LIVE on FloWrestling, September 11-12.