Olympic Games Watch Party
Live From Tokyo: Day 4 Olympic Updates
Live From Tokyo: Day 4 Olympic Updates
Men's freestyle action begins Wednesday in Tokyo while Helen Maroulis begins her pursuit of a second Olympic gold.
Aug 4, 2021
by Andy Hamilton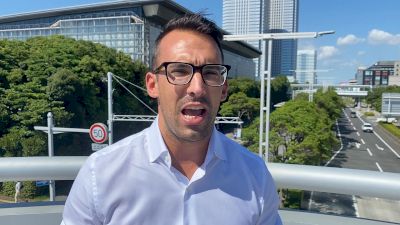 It was a late night here in Tokyo with all of the fanfare that followed Tamyra Mensah-Stock's victory in the 68-kilogram gold medal match. USA Wrestling's newest Olympic champion got ushered off the mat, past the television crews, back to the podium for the awards ceremony, back to the mix zone for more interviews, into the venue media center for a news conference and then back to doping control testing. It was after midnight here by the time Tamyra made it out of Makuhari Messe Hall. By then, even the cicadas had shut it down for the night.
While yesterday got off to a rough start for Team USA with Kayla Miracle, Alex Sancho and John Stefanowicz getting eliminated after first-round defeats, Mensah-Stock's monumental victory changed Tuesday's tenor, and there's hope for another bright day today with three-time World and Olympic champ Helen Maroulis, World champion David Taylor and World silver medalist Thomas Gilman taking the mat for the United States.
In addition to Maroulis, Taylor and Gilman, today's card also includes Michigan All-Americans Stevan Micic and Myles Amine.
Tune into NBC's coverage and follow along here, too, and we'll keep you updated on the top developments throughout the day.
Here's David Bray's breakdown of the Day 4 draws.
GOOD FREAKING MORNING FROM TOKYO!

Thomas Gilman - 10th Match Mat A
Helen Maroulis - 6th Match Mat B
David Taylor - 8th Match Mat C pic.twitter.com/llORB9tNUv

— Christian Pyles (@CPyles8) August 4, 2021
Takahashi Takes Out Micic
World champ Yuki Takahashi of Japan wore down Stevan Micic and scored two takedowns and a step-out point in the second period on his way to a 7-0 win at 57 kilograms. Micic fired off a series of attacks in the first period, but he didn't seem to have his typical pop and couldn't reel in the 2017 World champion's legs.
Vintage Helen
Helen Maroulis came into Tokyo with supreme confidence stemming from her training in the two months since she left the Poland Open after two defeats. The three-time World and Olympic champ looked like high-level Helen in the opening round, defeating 2018 World champ Ningning Rong of China 8-4 at 57 kilograms.
Maroulis was physical early, pulling on Rong's head for much of the first period and the aggression paid dividends later in the match. Maroulis went on the clock in the first period and gave up a point and Rong cashed in on a single to go up 3-0. But Helen rallied by putting Rong on her back before Rong scored a reversal just before the break to go up 4-2.
Maroulis exploded for two shortly after the break and nearly tacked on a turn on the edge. Helen shut down Rong the rest of the way and twice countered for points.
Amine Advances
Myles Amine, the first wrestler to represent San Marino at the Olympics, handled Columbia's Carlos Arturo Izquierdo Mendez 12-2 in the opening round at 86 kilograms.
Taylor Cruises
David Taylor looked razor-sharp in his first match of the tournament, picking apart four-time World bronze medalist Ali Shabanau of Belarus in an 11-0 tech. Taylor broke open the scoring a little more than a minute in when he hit Shabanau with a low-single that led to a step-out point. He fired off a beautiful high-crotch that created an easy finish just before the break and that buried Shabanau with an avalanche of scores after the break. Taylor sat the corner for a takedown off a Shabanau attack, added another takedown shortly after that and ended it with four off a double-leg.
MAGIC 🪄.....from 'The Magic Man' pic.twitter.com/HO7nOOqyfH

— United World Wrestling (@wrestling) August 4, 2021
Uguev Sinks Gilman With Late Score
Thomas Gilman did just about everything necessary to beat the two-time reigning 57-kilogram king, but Zavur Uguev came up with some late magic to survive 5-4, preventing the United States from a perfect first round.
Gilman and Uguev slapped each other around during the first period before Gilman went on the clock and couldn't score to put the Russian ahead 1-0. Gilman took the lead into the break, though, when he got to a seat belt position on the edge, lifted Uguev and took him out. Officials conferred and gave Gilman one for the step-out rather than more for continuation.
Uguev went ahead with two minutes to go when he changed levels, got to a leg and finished to up 3-1. Gilman chipped away, getting to Uguev with a sweep single and taking him to the edge for a step-out point with 1:23 left. The 2017 World silver medalist went ahead when he came up with a leg and finished on the edge.
The match tipped, though, in the closing seconds when Gilman had Uguev in a side-headlock position and Uguev took back for an exposure with five seconds left.
Micic Eliminated
Kazakhstan's Nurislam Sanayev's 4-4 criteria win over 2017 World champ Yuki Takahashi in the 57-kilogram quarterfinals eliminated Stevan Micic from the tournament. The outcome hinged on a late call on the edge of the match in which Takahashi challenged, seeking a singlet grab. Officials rewarded Takahashi with the penalty point after video review but waved off the step-out point.
Taylor Handles Amine
Myles Amine struck first, but it was all David Taylor after that. Taylor ran off 12 straight points after spotting Amine an early takedown and cruised into the 86-kilogram semis with a 12-2 tech.
Maroulis Blanks Kit
Ukraine's Tetyana Kit knocked Helen Maroulis out of the Poland Open two months ago with an 8-2 repechage win. But this is a different Helen today, evidenced by her 8-0 win in today's quarterfinal rematch. Helen picked Kit apart with reattacks, collecting four takedowns to secure a spot in the semifinals. Maroulis will face four-time World and Olympic champ Risako Kawai of Japan in tonight's semis.
Uguev Survives Again
For the second straight match, two-time World champ Zavur Uguev found some late-match magic. Uguev watched a 4-2 lead turn into a 6-4 deficit in the final minute against Uzbekistan's Gulomjon Abdullaev and his tank appeared to be empty as each stoppage on the edge produced a lengthy return to the center for the Russian. But Uguev dug deep and scored two in the closing seconds on an inside trip.
With it, Thomas Gilman remains in the tournament.
Ravi Rallies Into Finals
India's Ravi Kumar authored perhaps the most stunning men's freestyle comeback of the day when he dug himself out of a seven-point semifinal deficit and pinned Kazakhstan's Nurislam Sanayev to reach the 57-kilogram gold medal bout. Sanayev went ahead on a second-period takedown and locked Kumar's legs together around the knees and scored three turns to push his lead to 9-2. Kumar clawed back and cut it to 9-7 with a little more than a minute to go when he took Sanayev from feet to back and he put Sanayev away for the fall.
No Uguev Semifinal Drama
Last-second heroics were a Zavur Uguev calling card during the morning session here as the two-time World champ from Russia bailed himself out in each of his first two matches with last-second scores. Uguev fell behind again in the semfinals at 57 kilograms, spotting Iran's Reza Atrinagharchi an early takedown, but Uguev controlled things after that, scoring twice on beautiful go-behinds and cruised to an 8-3 win.
Uguev's victory pulls Thomas Gilman into the repechage.
Yazdani Back Into Finals
Three-time World and Olympic champ Hassan Yazdanicharati survived a semifinal test, countering a late shot by Artur Naifonov with a four-pointer to put away a 7-1 victory at 86 kilograms. Yazdanicharati moved Naifonov all over the mat with tremendous first-period pressure, but the Russian hung around and gave himself a shot late, getting in on a leg with less than 20 seconds left before the Iranian wrapped around Naifonov's chest, lifted and launched for four.
Taylor Rolls Into Gold Medal Bout
David Taylor will wrestle for gold Thursday night after registering his third tech of the day. Taylor rolled up 2019 World silver medalist Deepak Punia of India 10-0 in the 86-kilogram semis to finish the day with a 33-2 point advantage over his opponents. Punia went on the activity clock in the first period and, with the clock bleeding down, Taylor fired off a shot and scored easily to collect three points at once. He then turned Punia twice to blow the match open.
Taylor will get another shot at Iran's Hassan Yazdanicharati in the gold medal bout. The victory secures the first medal of the tournament for the USA men's freestyle squad and the third total for the Americans, matching the USA's total at the Rio Olympics.
"I'm excited," Taylor said of his gold medal showdown. "Yazdani, he's a great competitor. We've had battles. He's one of the biggest wrestling stars. For wrestling to grow, you need stars to wrestle each other. This is a good opportunity for the fans, it's a good opportunity for us to go out and wrestle and win a good medal. That's an amazing opportunity for both of us. We've got to go out and put on a show and wrestle hard."
Kawai Tops Maroulis In Battle Of Olympic Champs
In a defensive battle between returning Olympic champions, Japan's Risako Kawai edged Helen Maroulis 2-1 in the 57-kilogram semifinals. All of the scoring came via activity clock expirations. Maroulis went on the clock in the first period and again midway through the second before Kawai went on the clock with 54 seconds remaining. Neither wrestler came particularly close to scoring otherwise.
"I expected her to shoot a lot more and I think I maybe respected that a little bit," Maroulis said. "Then the times she did shoot, I was like, 'Oh, she's not invincible.' It didn't feel like it was hard for me to stop and watching film, it looks like, 'Man, she can blast double anyone,' so I wanted to be very respectful of that and I think I respected it too much. She didn't really shoot that much and it was hard for me to get to her legs, too. I guess it was a style match-up, it was tough on both of our ends."
Kawai has won four consecutive World and Olympic titles. She'll take aim at another gold tomorrow night against Iryna Kurachkina of Belarus.