UWW
USA Greco's Torching of the Pan Ams Field
USA Greco's Torching of the Pan Ams Field
The USA Greco squad racked up more than 200 offensive points across 25 individual wins at the Pan Am Championships.
Jun 1, 2021
by Timmy Hands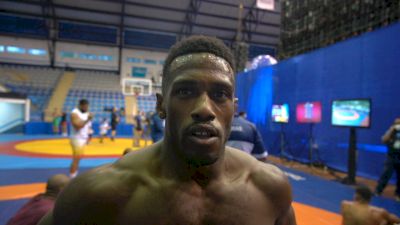 Unlock this video, live events, and more with a subscription!
Get Started
Already a subscriber? Log In
Unlock this article, live events, and more with a subscription!
Get Started
Already a subscriber? Log In
One of the reasons former U.S. National Team head coach Steve Fraser instituted "grind matches" (live wrestling bouts in excess of one hour, or more) was due to confidence-building. It wasn't that these unique matches were extremely long and served as a tool to increase uncommon toughness under mental and physical duress. That was a byproduct of the experience, to be sure, but there was something else involved: the value derived from beating on another man over and over and over again, even after both combatants have begun to hit the wall.
There were no grind matches for the U.S. this past week in Guatemala — but there were plenty of confidence-boosting beatings. The American delegation — which included two members of the 2020 Tokyo Olympic Team along with three recent National champs — racked up more than 200 offensive points across 25 individual wins, 15 of which were recorded as technical falls. Five champs. four silvers, and a whopping 205 team points also did a nice job of steering the "domination or bust" narrative that escorted the Stars and Stripes into Latin America immediately following the conclusion of Olympic camp in Georgia six days ago.
Detractors could, if they so choose, refer to Cuba's absence from this year's Pan Ams as at least part of the reason for America's sustained laser-show of a performance. But here's the thing: even if Cuba had shown up with all six of their own Olympians, Team USA still would have prevailed, for the islandic global powerhouse rarely sends athletes to the Pan Ams in the non-Olympic categories. With Cuba in the mix, would there have been a few more trying moments? Most assuredly. But the U.S. indeed would have managed to secure the team title on participation alone, nevermind that no one ever knows for sure what might have happened in head-to-head contests.
What is much more important in the aftermath of the USA's triumph in Guatemala City is compartmentalizing implications. This tournament meant something to each athlete on the roster, particularly given its timing.
The Olympians
Ildar Hafizov (60 kg, Army/WCAP) — silver
Finals Match — loss to Dicther Toro Castaneda (COL) 7-3
Important is the understanding that Castaneda is a really skilled competitor who is World/Olympic quality, but flies under the radar compared to Luis Orta Sanchez (CUB). Hafizov was expected to have a tough match against Castaneda (by whom he had been bested at the '19 Pan Am Games), and he did. The 7-3 decision loss for gold showcased why the Colombian is so dangerous. He is sound fundamentally — and opportunistic. Hafizov gave up points from his own advantageous position just when he had the chance to potentially take command. That's an area worth addressing, and Castaneda reminded Hafizov of that fact.
Summary: Hafizov's high-gut lock is a weapon with several variations, each of which can be brandished in different forms depending on the opposition. He may use it to turn laterally, or ball up the other guy and elevate for a lift. His first two bouts demonstrated this go-to's effectiveness, and it is a safe bet that an adjustment or two will be mined in order to tie up the loose ends which result in bottom-guy scrambles.
John Stefanowicz (87 kg, Marines) — gold
Finals Match — win via DQ vs. Ariel Alfonso Rodriguez (HON)
Frustration boiled over for Honduras, leading to the most bizarre ending to a match witnessed in several years. After Rodriguez was warned for hands to the face early in the second period, Stefanowicz wedged inside and got his legs moving. He then rammed Rodriguez down and off the line and landed on top; from his back, Rodriguez pawed Stefanowicz near the jawline, and the Olympian fell off of his perch in distress. It was an immediate disqualification, dropping the curtain prematurely on what promised to be a suspenseful, hard-fought match following a fun first three minutes and change of action.
Summary: Nothing to go crazy over. Stefanowicz — who had also dropped a 4-3 decision to Rodriguez in his first match of pool competition — has had a whirlwind of items with which to contend outside of actual wrestling, including the legal hangover stemming from the Trials. In Guatemala, he was in excellent physical condition, just maybe not operating at full capacity. And, he still, though it was a weird ending, won the tournament. Major distractions have now ceased, which will allow him to fully focus on the remaining training block.
Synopsis
The first tournament out following Team selection is important when it comes to gathering a baseline. That this event was the Pan Ams added a little extra something, despite its inaccurate rendering of the kind of feels and styles on display throughout most of the sport's landscape. Then again, that's what Poland will have to offer. The U.S. Team heads to Warsaw next week for the annual Wladyslaw Pytlasinski Memorial, UWW's second and final "Ranking Series" tournament of the season. There, Hafizov, Stefanowicz, Alex Sancho, and G'Angelo Hancock will all have the opportunity to greet opponents whose approaches are more aligned with what they can expect in Tokyo.
The Rest
GOLD MEDALISTS
Xavier Johnson (67 kg, Marines)
"X" put up nearly 30 offensive points and, save for maybe two minutes of his semifinal match against Nilton Soto Garcia of Peru, went virtually unchallenged in Guatemala City. Like a coiled spring that could pop at any moment, Johnson's explosive entries from the feet and lifts from par terre were far too dynamic for his trio of adversaries. Just to think: he is only still developing. This three-year cycle for Paris could be a very special one for the Marines' most electric competitor.
What It Meant: Johnson had gone over a year without matches prior to the Olympic Trials. Since then, he has added a U.S. National title, his first, and now a Pan Ams gold, also a first-time experience. The Marines are famous for their activity level, but for Johnson it is quite clear that keeping him busy is a solid idea.
Jamel Johnson (72 kg, Marines)
It is weird to use the word "regal" when discussing Jamel Johnson, but now that he is no longer the same sprite from his early-20's, it fits. He is better now than he was then, but there is also no doubt that he had been frustrated following the Trials; and though he didn't mind dropping the National final to teammate "X", that was a win he surely wanted. At the Pan Ams, Johnson was never without control of the proceedings, even in his finals match that required just two throws to come out on top. He is so well-rounded that walking the fine line between bombing thrower and patient pummeler is not such a chore for him. The Pan Ams were a reminder of that.
What It Meant: The non-Olympic weight, he could take it or leave it. There is a feeling of unfinished business in a sense for Johnson at 67, but he wears 72 equally well. As for more impending concerns, the hope is that Johnson will find himself overseas before the Trials, just because watching him against Europeans is always a treat.
Peyton Walsh (77 kg, Marines)
There is nothing wrong with "bite-down" type of wins, which is what Walsh required in order to edge Joilson de Brito Ramos (BRA) in the 77 finals. Walsh had run over both Marine teammate Marciano Ali (PUR) and Enrique Ortiz (ECU) on Friday with his ever-improving lift and steely conviction largely responsible for those drubbings. Such a severely talented wrestler, Walsh was enjoyable to watch when he was more raw. Now that he's got some polish to his game, the entertainment factor has only risen.
What It Meant: Second at the Trials, second at the Nationals. Two big finals, two runner-up finishes. That streak — which was impressive in its own right — is over. The Pan Am Championships provided Walsh with his first-ever Senior int'l tournament win, and you get the feeling more are on the way.
Ben Provisor (82 kg, NYAC)
He only required two matches to nail down his third Pan Am crown. That's fine. Even with only a pair of bouts logged on Friday, Provisor looked even better at 82 than he did at the Nationals. Just as importantly, he positively steamrolled both of his opponents.
What It Meant: It is performances like this one why Provisor will, for as long as he chooses to continue wrestling,remain a top contender. When he's on, few can stand up to his brutal, mashing brand of offense and hang in there long enough to survive. 77 was a gamble, perhaps. 82? No, 82 is right in Provisor's wheelhouse.
SILVER MEDALISTS
Randon Miranda (63 kg, NYAC/RIse)
In yet another inaugural Pan Ams appearance for the U.S. in 2021, Miranda was sharp, aggressive, and motivated. He crushed his three wins — literally. Miranda's driving offensive approach — which, is different for him considering his usual countering-heavy mindset - proved downright overwhelming. The two L's on his ledger came courtesy of Andres Montano Arroyo of Ecuador, who pitched a shutout against Miranda in pool competition before escaping with a 7-6 decision in the final, a match in which Miranda had built a sizable lead until the second period.
What It Meant: Miranda might not be long for 63, though it wouldn't be surprising if this Pan Ams outing makes him think twice about his weight for the World Team Trials in September. He has the size; he also has the angles, setups-to-setups, and general technical acuity to cause real problems at the "World weight". But whichever weight Miranda does go, the adjustments he is capable of making — as displayed against Montano in the final — should keep everyone up at night.
Braxton Amos (97 kg, Sunkist/Wisconsin RTC)
The most critical match for Amos arrived in the semifinals following his 2-1 pool record. Igor Alves De Queiroz (BRA) wasn't overreaching, getting loose, or overstepping. Instead, he was playing it tight and forcing Amos to make decisions on how to press the action in situations that are common at Senior, but far less frequent at age-group. It was only a ho-hum 3-0 win, that's it. Not the blitzing variety that ushered Amos past the first two rounds. A match like his semis was a good one for the youngster to get; plus a silver medal from the Pan Ams at this stage of his career is a nice feather in the cap.
What It Meant: Amos was tossed, turned, and tech'ed by veteran Kevin Mejia Castillo (HON) twice (Round 3 of the pool, and again in the finals). Before and in between were three wins, two of which involved Amos prevailing by pulverization. With the Junior Worlds coming up around the corner, he needed a taste of everything in Guatemala, and he got it. He won big, lost big, and gritted his teeth for a must-have decision. If that isn't a successful first Senior international tournament appearance, what is?
Donny Longendyke (130 kg, Minnesota Storm)
However Longendyke ended up on the roster doesn't make a difference. It was simply nice to see him have the opportunity to get out of the U.S. for a change. He also operated on short notice and poured his heart out in every single period of every single match. Longendyke's three wins were almost a master's class on how to attack the Pan Am breed of heavyweights. He kept busy in the ties and didn't lumber or wait. There was patience, but also zeal; and when par terre arrived, he did his work. The final round didn't go in his favor (though the officials could have been more on top of that) — but to be fair, Leo Heredia (DOM) is a bit underrated. All in all, a lot to like from the Storm's big man.
What It Meant: As mentioned, it was refreshing to see Longendyke outside of domestic competition. The question is how he springboards off of this performance leading up to September. It would be nice to see him hop overseas, but aside from Pytlasinski there's not much going on tournament-wise. But we want more. There's really no reason why Longendyke can't be fighting for a World Team spot this time around if he is properly engaged — and it just seems like more competitive opportunities would be worth exploring.