MAC
All-MAC Team: 165-285 pounds
All-MAC Team: 165-285 pounds
Missouri true freshman Keegan O'Toole headlines the best of the upper-weights this season in the MAC Conference.
Apr 23, 2021
by Mark Spezia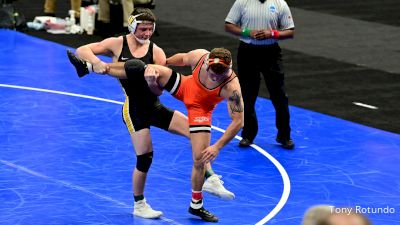 Unlock this video, live events, and more with a subscription!
Get Started
Already a subscriber? Log In
Unlock this article, live events, and more with a subscription!
Get Started
Already a subscriber? Log In
Great expectations surrounded Keegan O'Toole as he set foot on Missouri's campus late last summer.
Credentials like being named the Junior Hodge Trophy winner as the nation's top high school wrestler, making the Cliff Keen All-America Dream Team and four All-American finishes in Fargo will do that.
O'Toole, however, more than lived up to all the hype and exceeded expectations with a seemingly seamless transition to Division I college wrestling. Only 197-pound national champion A.J. Ferrari (Oklahoma State) put together a more successful true freshman season.
O'Toole wound up third in the NCAA Championships at 165 pounds. His only loss of the season was a 9-6 decision to eventual runner-up Jake Wentzel (Pittsburgh) in the quarterfinals.
O'Toole leads the upper weights portion of our 2021 All-Mid American Conference team.
Here is a closer look:
165 POUNDS: Keegan O'Toole (Missouri), freshman
Rundown: O'Toole's NCAA Championships showing was the best by a Missouri freshman since J'den Cox captured his first national title in 2014.
Fifth in the final national rankings, O'Toole went 19-1 this season with 13 wins coming via pin (six), technical fall (five) or major decision (two). He was 10-1 against NCAA qualifiers and 4-1 against All-Americans.
O'Toole, who was second on the Class of 2020 Big Board, reached the quarterfinals with a 5-2 decision over #12 Cam Amine (Michigan).
After the loss to #2 Wentzel, O'Toole dispatched #10 Luke Weber (North Dakota State) with a 5-1 decision before dominating four-time NCAA qualifier and eighth-ranked Anthony Valencia (Arizona State) with a 16-1 technical fall. It was Valencia's first loss by pin or technical fall since Jan. 28, 2017.
O'Toole reached the third-place match with a 17-4 handling of #9 Zach Hartman (Bucknell) during which he amassed 10 near-fall points in the third period.
O'Toole then edged #6 Travis Wittlake (Oklahoma State), 4-3, for third place. He will be seeing more of Wittlake beginning next season when the Tigers rejoin the Big 12 after nearly a decade of dominating the MAC.
"It was a great experience to be part of this tournament for the first time and become an All-American, but by no means I am satisfied because I came here to win a national championship," O'Toole said. "I'm already excited about next year. The focus will be on finishing the job and getting the national championship."
O'Toole also knocked off #16 Izzak Olejnik (Northern Illinois) to win the MAC title and was named the conference's Freshman of the Year.
The addition of O'Toole and fellow true freshman All-American Rocky Elam (197 pounds) instantly made an already-deep Missouri lineup even deeper.
Inserting O'Toole at 165 allowed coach Brian Smith to move last year's starter, two-time NCAA qualifier Peyton Mocco up to 174. Mocco reached the round of 16 this season and was #16 in the final rankings.
O'Toole tuned up for the season by winning the junior freestyle 70-kilogram championship at the UWW Junior and U23 Nationals in November. He was simply dominant, winning six decisions by a combined 58-0 margin.
Hailing from the same high school that produced Ben and Max Askren (Arrowhead in Hartland, Wisconsin), O'Toole was the 18th wrestler to win four individual Wisconsin state titles and only the third to do so in Division 1.
During offseasons, he was trained by the Askrens at their academy in Hartland. Ben Askren was in attendance as O'Toole assumed his place on the podium.
"Congrats! So proud of all the work this guy has put in!," he tweeted afterward.
Second Team: Izzak Olejnik (Northern Illinois), sophomore
Third Team: Alex Cramer (Central Michigan), sophomore
174 POUNDS: Andrew McNally (Kent State), senior
Rundown: The three-time NCAA qualifier went 2-2 at the NCAA Championships, reaching the round of 12 for the first time.
Ninth in the final rankings, McNally pinned Dakota Howard (Virginia Tech) and edged #12 Austin Murphy (Campbell), 6-4, to reach the quarterfinals where ran into eventual champion and top-ranked Carter Starocci (Penn State) and fell, 6-3.
McNally was eliminated with a 7-5 loss to #8 Jackson Turley (Rutgers).
After finishing second at the MAC Tournament the previous two seasons, McNally overcame #16 Peyton Mocco (Missouri), 8-7, in a wild MAC title match to finish atop the podium this time.
McNally also defeated #24 Jacob Oliver (Edinboro) and #25 Mason Kauffman (Northern Illinois) during the season.
He finished 12-3, including three major decisions and two pins. McNally, fifth in the MAC Tournament as a freshman, owns a 94-35 career record.
McNally will wrestle next season at Wisconsin.
Second Team: Peyton Mocco (Missouri)
Third Team: Jacob Oliver (Edinboro).
184 POUNDS: Brit Wilson (Northern Illinois), junior
Rundown: With a sixth-place showing at the NCAA Championships, Wilson became Northern Illinois' first All-American since Ben Heizer 2004.
Entering the tournament with the momentum of a second straight MAC title, the seventh-ranked Wilson knocked off MAC foe DeAndre Nassar (Cleveland State) and #22 Charles Small (Hofstra) before dropping a 3-1 decision to second-ranked and eventual runner-up Trent Hidlay (North Carolina State).
Wilson then pinned #10 Devin Kane (North Carolina) and decisioned #8 Lou DePrez (Binghamton), 7-1. He followed with a 6-2 loss to third-ranked and eventual third-placer Parker Keckeisen (Northern Iowa) and a 6-0 loss to #5 Dakota Geer (Oklahoma State) in the fifth-place match.
"Brit had an incredible tournament, and he went out on his own terms," Coach Ryan Ludwig said in a story published on the school's athletic website . "He continues to embody what we talk to the guys about every day. You couldn't ask for a better leader and more deserving guy than Brit."
Wilson pinned #13 Jeremiah Kent (Missouri) in the MAC final and became the first Huskie since 2008 to be named Most Outstanding Wrestler of the MAC Championships.
Wilson finished the season with a 17-4 record, including five pins, five major decisions and two technical falls. He has a 64-14 career mark and was second in the MAC in 2019.
Second Team: Jeremiah Kent (Missouri), sophomore
Third Team: DeAndre Nasssar (Cleveland State), sophomore
197 POUNDS: Rocky Elam (Missouri), freshman
Rundown: The true freshman's stamina and grit were on full display at the NCAA Championships where he battled back from a first-round loss to place fifth. In all, he wrestled eight matches in two days
Fifth in the final rankings, Elam began the tournament with a 4-1 loss to #6 Jake Woodley (Oklahoma) before winning his next five matches, including four against wrestlers ranked in the top 11.
Elam knocked off #24 Bryan McLaughlin (Drexel), 16-6, #10 Noah Adams (West Virginia), 4-3, #11 Eric Schultz (Nebraska), 12-3, #7 Kordell Norfleet (Arizona State), 9-1, and #8 Michael Beard (Penn State), 5-0.
Elam then gave four-time All-American, 2021 Olympian and eventual third-place finisher Myles Amine (Michigan) a battle before falling, 8-6, in overtime.
Finally, Elam put an exclamation point on his tournament run by avenging the loss to Woodley, 9-3, in the fifth-place match.
Elam took care of #23 Ben Smith (Cleveland State), 10-4, to capture a MAC championship. He also beat #9 Stephen Buchanan (Wyoming) during the season.
Finishing with a 17-2 record, Elam won nine matches by either major decision (six), pin (two) or technical fall (one). He went 8-2 against NCAA qualifiers.
Elam overcame NCAA qualifier and two-year starter Wyatt Koelling, who owns a 66-31 career record, for the starting role. Koelling was 24th in last season's final rankings.
Elam was fifth at Senior Nationals last fall, putting together an impressive string of wins.
He began with a 10-0 blanking of two-time NCAA Division 3 champion Ryan Epps (Augsburg College) before shocking two-time All-American and 2019 NCAA runner-up Max Dean (Cornell) by the same score.
Elam was far from done, knocking off three-time All-American and four-time NCAA qualifier David McFadden (Virginia Tech), two-time All-American Brent Pfarr (Minnesota) and one-time All-American CJ Brucki (Central Michigan).
Second Team: Greg Bulsak (Clarion), senior
Third Team: Ben Smith (Cleveland State), junior
285 POUNDS: Matt Stencel (Central Michigan), senior
Rundown: Stencel's struggles during the NCAA Championships do not negate the fact that he was again MAC's dominant heavyweight.
The senior, #12 in the final rankings, joined an elite club when he became just the ninth four-time champion in the MAC's 60-year history.
Stencel decisioned #9 Ethan Laird (Rider), 8-2, in the final and has not lost to a MAC foe since Feb. 11, 2018.
The four-time NCAA qualifier finished the season 11-2 with three pins and a major decision and went 6-2 against 2021 NCAA qualifiers.
Stencel entered the NCAA Championships seeded third and hoping to become a three-time All-American after finishing seventh as a sophomore and being named to the NWCA All-America first team last season.
However, things went south for Stencel from the beginning and he found himself trailing unranked 30th-seed Joe Doyle, 5-2. Fortunately, Stencel rallied and pinned Doyle with roughly 30 seconds left in the match.
Next, Stencel faced seventh-ranked Trent Hillger, whom he had beaten twice before, in a matchup of past All-Americans.
Starting the third period on top and leading 1-0, Stencel was five seconds from securing a minute of riding time and another point when Hillger scored a reversal near the edge of the match with under 35 seconds left. Stencel could not muster another point and fell, 2-1.
A 7-4 loss to #11 Austin Harris (Oklahoma State) eliminated him from the tournament.
"(Matt) wasn't himself this weekend," coach Tom Borrelli said in a story posted on CMU's athletic department website. "He had a rough weekend and sometimes that happens."
Stencel boasts a 100-29 career record and is third on CMU's career pins list with 53. He also beat #10 Brian Andrews (Wyoming) this season.
Second Team: Ethan Laird (Rider), senior
Third Team: Zach Elam (Missouri), sophomore