2021 NCAA Wrestling Championship Watch Party
Match Notes: 2021 NCAA Wrestling Championships, Session II
Match Notes: 2021 NCAA Wrestling Championships, Session II
Live updates of the first round of the 2021 NCAA DI Wrestling Championships from St. Louis.
Mar 18, 2021
by Andrew Spey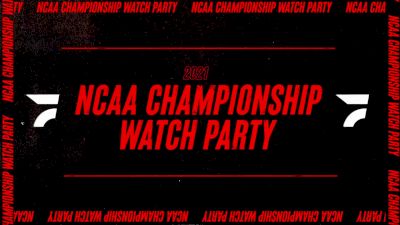 Unlock this article, live events, and more with a subscription!
Get Started
Already a subscriber? Log In
We're really doing it. It's finally here. We've all waited long enough. Get your screens ready or just follow along with all the words I type, it's time for the 2021 NCAA Wrestling Championships!
Watch the NCAA Championships Watch Party LIVE on FloWrestling
Thursday-Saturday, March 18-20
Do you have your brackets ready? I hope you mocked at least one friend who bragged about how long they spent on their measly singular basketball bracket. Fools.
You, filling out one single NCAA basketball bracket online: "Isn't this fun?"

Me, filling out 10 NCAA wrestling brackets, front and back side, by hand: "You are like a little baby to me."

— Andrew Spey (@SpeyWrestle) March 18, 2021
Session II time! It will, like Session I, be broken up into two halves, with the lighter weights wrestling through the round before the mats are cleared and the upperweights get their turn.
125 Pounds
Spencer Lee is in on a quick two, then gets to his arm bar series, as is his want. He's got 6 on Cardinale of WVU. Make that 10. Has a minute to work for a 1st period tech. Cardinale makes it out of the first. And it's Cardinale with the takedown in period 2, which started in neutral. Spencer escapes to make it 11-2. They trade takedowns, but Spencer still wins 15-5. Merely a major decision, but still dominant.
MSU's RayVon Foley has Big Ten rival Devin Schroder of Purdue. No scores in the first, Schroder reverses Foley for the first points. Foley escapes to make it 2-1. Third period we're going neutral, still 2-1. Several extended scrambles but no takedowns and Schroder holds on to win with the only takedown. Big win for the Boilermaker over the All-American.
#3 Brandan Courtney scores quickly against #19 Eric Barnett. Escape, takedown, escape and its 4-2. Courtney with the 11-7 victory in a high scoring affair.
Wild scramble in the Teske vs Deaugustino match. So much purple involved in this one. No scores in the first, Teske putting a monster ride on Mike D. Full period ride out. Now DeAugustino gets a chance on top. Teske escapes, Mike shoots in, Teske sprawls, fights and scores to make it 3-0. Still a minute to go. Scratch that, no takedown after the challenge. Teske still holds on to win and is in the quarterfinals.
No scores in Cronin vs Hildebrandt in the first. Hildy gets an escape in the second.
Camacho gets a takedown in the first. Ragusin an escape. Ragusin then escapes in the second to tie it up 2-2. Important bout for the Wolfpack's team trophy aspirations. Another TD for Camacho, plus an escape for Ragusin. Back and forth battle, it's 9-7 with a minute to go. Make that 9-8 Camacho with a minute to go. Very long review still in process. Ah, they were figuring out riding time, which is at 1:07 for Camacho. Match ends, Camacho wins by two with the RT point.
Robert Howard up against Taylor LaMont. Penn State will need their young 125er to keep winning to stay in the team race. First score in the bout is an escape for LaMont. Big ride for LaMont in the third, an inadvertent kick to Howard's face, and LaMont wins on riding time, 2-1.
Pat McKee with a minute of riding time exactly as we got to the third, now Latona will be on top. McKee out in 5 seconds so 1-1, RT at 55 seconds.
Round of 16 Results
125 Brody Teske (Northern Iowa) DEC Michael Deaugustino (Northwestern), 2-0
125 Sam Latona (Virginia Tech) DEC Patrick Mckee (Minnesota), 3-1
125 Drew Hildebrandt (Central Michigan) DEC Liam Cronin (Nebraska), 2-1
125 Spencer Lee (Iowa) MD Killian Cardinale (West Virginia), 15-5
125 Brandon Courtney (Arizona State) DEC Eric Barnett (Wisconsin), 9-7
125 Devin Schroder (Purdue) DEC Rayvon Foley (Michigan State), 2-1
125 Jakob Camacho (NC State) DEC Dylan Ragusin Elk Grove Village, IL (Michigan), 10-8
125 Taylor Lamont (Utah Valley) DEC Robert Howard (Penn State), 2-1
133 Pounds
Daton Fix takes the mat for the first 133lb bout of the session. He also gets the first pinfall of the 133 quarfinals, decking Lehigh's Hines in the second period.
McGee and Cannon in a back and forth 4-4 battle between the 9 and 8 seed. Cannon granbies, there's a flurry. McGee's on his back and Cannon gets the fall!
Trombley and Phillippi in a bitter contest between ACC rivals. Phillippi prevails handily, 6-1.
Austin DeSanto taking on Ryan Sullivan in the second Iowa vs WVU match in a row. DeSanto makes short work of Sullivan, pinning him in the first period. The third pin of the championship side at 133.
Mizzou's Schmitt making live miserably for Ohio's Guillen. He leads 5-0 and has a mountain of riding time.
In the consolation round, Little Rock gets their first win in an NCAA tournament bout, as Paul Bianchi beat Zach Redding.
Myers survives a match with SDSU's Zach Price. Hokies get their second quarterfinalist.
Byrd and Hayes are in a brawl, #7 vs #10, both in blue and orange singlets. Great color combo, all Mets fans agree. They're going to OT. And Byrde gets the quick TD to move on in dramatic fashion.
RBY looking for bonus over Burwick of Wisconsin. It's 8-3 but RBY has RT and we're in neutral. RBY has to settle for a 10-3 decision.
Round of 16 Results
133 Austin Desanto (Iowa) F Ryan Sullivan (West Virginia), 1:36
133 Daton Fix (Oklahoma State) F Malyke Hines (Lehigh), 3:40
133 Micky Phillippi (Pittsburgh) DEC Jarrett Trombley (NC State), 6-1
133 Korbin Myers (Virginia Tech) DEC Zach Price (South Dakota State), 6-4
133 Matthew Schmitt Morgantown, WV (Missouri) MD Mario Guillen (Ohio), 9-0
133 Chris Cannon (Northwestern) F Michael Mcgee (Arizona State), 3:00
133 Louie Hayes (Virginia) DEC Lucas Byrd (Illinois), 6-4 SV1
133 Roman Bravo-young (Penn State) MD Kyle Burwick (Wisconsin), 11-3
141 Pounds
Eierman will try to make it 3 for 3 Hawkeyes in quarters. He's got Matthews of Pitt. Eierman controlling but Matthews gets a late reversal to make it 3-3. Now 4-3 Eierman, plus RT is locked for Jaydin. Eierman prevails, 5-3.
Red gets taken down by Simon and needs injury time. Maybe a shoulder? He will try and finish the match. Simon gets choice, goes down and leads 3-0 still in the first. 8 vs 9 seed. Second period, Red choices down, escapes before RT his a minute. 3-1.Back and forth second, we got to the third, Simon leads 5-3 and will start the period underneath. No comeback for Red, it'll be Central Michigan's Dresden Simon on to the quarterfinals!
Dom Demas vs Real woods in what many would have predicted as a semifinals or even finals matchup in the beginning of the year. In a very tactical bout, the score is tied 1-1 with about a minute left in the third. In a flurry at the edge of the mat Woods gets the takedown. And two backs. 5-1 victory for Real Woods who is in the quarters!
Sherman out to an 8-1 leads in the first over Valdiviez. Tariq leads Brian Courtney 2-0 in the first.
Sebastian Rivera on the mat, his second match at NCAAs in a Rutgers singlet. But Duncan from Illinois is here to spoil the party. He gets the first takedown. Rivera battles back to take the lead 3-2 in the second. Some backpoints, reverse and escape makes it 8-4 Rivera in the third. 10-4 is the final for Seabass.
Nick Lee taking it to Carlson of SDSU. 6-2 in the first. 10-2, Lee riding. There will be bonus. It'll be a major by the score of 14-3.
Allan Hart in bright yellow Tiger Style singlets taking on Navy's Trybus. He leads 4-0 in the third. Hart will take it, 4-1.
Round of 16 Results
141 Zachary Sherman (North Carolina) MD Colin Valdiviez (Northwestern), 14-1
141 Nick Lee (Penn State) MD Clay Carlson (South Dakota State), 14-3
141 Sebastian Rivera (Rutgers) DEC Dylan Duncan (Illinois), 10-4
141 Jaydin Eierman (Iowa) DEC Cole Matthews (Pittsburgh), 5-3
141 Real Woods (Stanford) DEC Dom Demas (Oklahoma), 5-1 SV1
141 Dresden Simon (Central Michigan) DEC Chad Red (Nebraska), 6-3
141 Allan Hart (Missouri) DEC Cody Trybus (Navy), 4-1
141 Tariq Wilson (NC State) DEC Brian Courtney (Virginia), 7-3
149 Pounds
Yahya Thomas with a #25 seed-sized chip on his shoulder gets the first and second takedown over #9 seed Legend Lamer. Yahya takes a 7-3 advantage into the third, looking to advance to the quarters as the 25th seed. Now 9-4 Thomas.
#1 seed Sammy Sasso will try to give the Buckeyes a quarterfinalist against Kyle Parco of Fresno State. Parco gets two on the top seed but Sasso has 6 deep in the second. This is getting wild, 9-9 in the third. Now 10-9 Parco with a minute to go! Sasso in on a shot. Neutral danger. And there's two! 11-10, Sasso survives!
Speaking of wild matches, might we see some high flyers in this Andonian vs Storr match. 3-3 already, now starting the second. Andonian pushes the score to 8-3. It's a 10-7 win, Andonian fends off a furious comeback attempt by Storr.
Murin vs Lovett in a highly anticipated Big Ten Championship rematch. Murin leads 3-0 in the second. Knotted up at 3s, and Murin gets a huge takedown late in the match. Go-ahead points and he'll win 5-3. Hawkeyes go 4 for 4 in the quarters.
Josh Heil with a slim lead over Boo Lewallen looking to knock off the #4 seed from the 20 spot. It's in overtime, Heil leading in tiebreakers 6-5 while there's a lengthy review in place. Lewallen was reversed in the first TB period and ridden out. In the second TB period he escaped, then got the takedown as time expires. Of course, there will be a review. Challenges denied, Lewallen wins 7-6, and Cowboys fans all take a deep breath. The brother of two-time Oklahoma State national champ Dean Heil almost took out one of their favorites to All-American.
And it appears there is some controversy surrounding this bout. Hard to tell in real-time, while blogging 8 screens. More information in the tweet below.
Tim Shiels, NCAA Wrestling National Coordinator of Officials, with an explanation on the ending of the Lewallen and Heil match.#NCAAWrestling x 🎥 @espn pic.twitter.com/v0ygXtQBzR

— NCAA Wrestling (@ncaawrestling) March 18, 2021
Milner and Lara in a 5-5 battle in the first. UNI trying to get another quarterfinalist in Lara, who got here by upsetting Mike Van Brill. Milner and Lara continue to scrap, its' 8-6 Milner going into the third, RT not a factor.
Round of 16 Results
149 Jonathan Millner (Appalachian State) DEC Triston Lara (Northern Iowa), 9-8
149 Yahya Thomas (Northwestern) DEC Legend Lamer (California Poly), 10-4
149 Bryce Andonian (Virginia Tech) DEC Kanen Storr (Michigan), 10-7
149 Brock Mauller (Missouri) DEC Michael Blockhus Cresco, IA (Minnesota), 4-2
149 Sammy Sasso (Ohio State) DEC Kyle Parco (Fresno State), 11-10
149 Boo Lewallen (Oklahoma State) DEC Joshua Heil (Campbell), 7-6 TB1
149 Austin O'connor (North Carolina) DEC Griffin Parriott (Purdue), 8-3
149 Max Murin (Iowa) DEC Ridge Lovett (Nebraska), 5-3
157 Pounds
Ryan Deakin with a 3-0 lead over van der Merwe in the third in a low scoring bout. Deakin wins and David Carr will follow him on mat 4 versus Will Lewan. Carr is a junior world champ taking Lewan, who was a cadet world champ. Deakin was a junior silver medalist. So pretty good freestyle chops on mat 4. Carr up 5-1 in the first.
Kendall Coleman of Purdue wrestling Jared Franek of NDSU in a dynamite matchup between 8 and 9 seeds. Coleman gets the first takedown. It's 2-2 in the second. Kendall was leading 3-2, then there's a flurry and Coleman needs injury time. He gives up a takedown and unfortunately may have gotten his bell rung. Not ideal. Coleman will injury default. Dang, hate to see it. Franek moves on to the quarters, but not by the manner in which he would've liked.
And now for the biggest match of the session from a team race perspective, Young vs Berge. And Berge draws first blood with an early takedown. Young escapes to chop the lead in half. An escape by Young in the second knots the score but now Berge gets a chance underneath. Berge is out with a minute to go, leading 3-2. RT not a factor. Young on a single but Berge kicks aways and a big win for the Nittany Lions! Berge wins 3-2 and the Hawkeyes lose for the first time in the tournament.
Austin O'Connor taking care of business vs Griffin Parriott. The Tar Heel leads 5-2 in the second.
Rider's Dellavecchia looking to punch a ticket to the quarterfinals. He has a slim 1-0 lead in the second and is in the top position, RT not a factor. Dellavecchia gets 2 nearfall but is then reversed. An escape makes it 4-2 with just a few seconds remaining.
Brayton Lee and Jacori Teemer in a mouthwatering matchup. These two had some incredible matches in high school. Brayton leads 2-1 by securing the first takedown. Lee gets the second takedown as well. It's 4-3 in the third. Teemer shooting like mad but Brayton keeps him at bay. Lee will advance to the quarters.
Finally, Hayden Hidaly gets on the mat as this half session is nearly over, at least for the championship bouts. Hidlay whips Cade DeVos over for 2 and 4 and leads 8-1 in the first. And its your garden variety 20-3 tech fall for the NCAA finalist, Hayden Hidlay.
And I was about to say we were done with championship bouts but #23 Jacob Wright of Wyoming vs #26 Johnny Lovett is going on in OT, and both of those guys are wrestling for a spot in the quarters. Interestingly, #7 Jacques and #10 Thomas are also still wrestling, the only other match still going, and they were upset by Lovett and Wright, respectively. Wright gets an escape in tiebreakers but Lovett is going to need injury time. Might be going to concussion protocol, unfortunately. Thankfully, Lovett can continue and they wrestle the final few seconds. Wright rides out to win and will be in the quarterfinals from the #23 seed.
Round of 16 Results
157 Brady Berge (Penn State) DEC Kaleb Young (Iowa), 3-2
157 Ryan Deakin (Northwestern) DEC Requir Van der merwe (Stanford), 4-2
157 David Carr (Iowa State) MD Will Lewan (Michigan), 10-2
157 Hayden Hidlay (NC State) TF Cade Devos (South Dakota State), 20-3 5:59
157 Jesse Dellavecchia (Rider) DEC Hunter Willits (Oregon State), 4-2
157 Jared Franek (North Dakota State) DEF Kendall Coleman (Purdue)
157 Brayton Lee (Minnesota) DEC Jacori Teemer (Arizona State), 4-3
157 Jacob Wright (Wyoming) DEC Johnny Lovett (Central Michigan), 2-1 TB1
---
165 Pounds
Alex Marinelli will be one of the first matches of the second half of session II. He'll have Thomas Bullard of NC State. Marinelli raced out to a 8-1 lead in the second. Marinelli pouring it on with a variety of single leg attacks and finishes. It's a major for Marinelli, 13-2.
In what should be a more competitive bout, Luke Weber of NDSU has Shane Griffith of Stanford. Weber comes out swinging. He goes feet to back to start and gets two and two. Four point, lead, now 4-1, early for the Bison. Griffith returns fire with a takedown to cut the deficit to 1. Griffith takes the lead in the 3rd with a late third period takedown. He'll take it 7-5 officially with the RT point.
Jake Wentzel with a severe mat return on Peyton Robb and the Husker needs injury time. Wentzel leads 2-1 in the first. Looks like a stinger as Robb shakes his arms out carefully.
Mekhi Lewis back on the mat against Tanner Skidgel but already we need injury time for Lewis. Perhaps it was just head gear actually. Either way, action resumes and double legs Skidgel for two. Mekhi's shoulder gave him trouble but he holds on to win 3-2.
Lots of Championship bouts taking place now. #5 Hartman vs #21 Hall, #7 Smith vs #10 Wittlake, #6 Ot'Toole vs #11 Amine. Wittlake down by a point with 30 seconds to go. Smith takes it 4-3. Hartman making life miserable for Hall, he will win 6-0. O'Toole leads by a point with 30 seconds to go. RT not a factor. Amine deep on a shot late but O'Toole scrambles, funks and gets two to ice it. He wins 5-2, quite impressively.
Round of 16 Results
165 Anthony Valencia (Arizona State) DEC Izzak Olejnik (Northern Illinois), 6-4 SV1
165 Zach Hartman (Bucknell) DEC Peyton Hall (West Virginia), 6-0
165 Mekhi Lewis (Virginia Tech) DEC Tanner Skidgel (Navy), 3-2
165 Alex Marinelli (Iowa) MD Thomas Bullard (NC State), 13-2
165 Jake Wentzel (Pittsburgh) DEC Peyton Robb (Nebraska), 8-1
165 Shane Griffith (Stanford) DEC Luke Weber (North Dakota State), 7-5
165 Keegan O'Toole Hartland, WI (Missouri) DEC Cameron Amine (Michigan), 5-2
165 Ethan Smith (Ohio State) DEC Travis Wittlake (Oklahoma State), 4-3
174 Pounds
Massa on the mat repping the 174-pounders, has Cal Poly's Bernie Truax. Kemerer also on the mat, he is putting it on Army's Pasiuk. Kemerer techs 17-1 as Massa and Truax go to the second period scoreless. 1-1 at the end of regulation, Massa vs Truax. In OT it's Bernie Truax getting it done. Big upset for the Mustangs!
Washington leads Bullard but Bullard riding tough in the second. Washington hit for stalling as the Wolfpacker has him on his stomach. Now its 4-0 deep in the third, Washington leads. Bullard mounts a heroic comeback though, wins 6-4 in regulation.
Anthony Valencia in a dog fight with Izzak Olejnik, 4-4 in the third. A clutch takedown by Valencia who wins it in Sudden Victory.
Demetrius Romero with an early lead over Dustin Plott. Takedown in the second extends Romero's lead to 5-1. Plott starts his comeback in the second, pulls within 1. In the third, Romero escapes to makes it 6-4 but his riding time is down to 59 seconds on the dot. Clutch TD for Romero, he leads by 4 now and has RT. Romero ices it and wins 11-5 with RT.
Kaleb Romero with a 2-1 lead, trying to set up a battle of Romeros in the quarters. Now its 4-1. Romero gets it done, and we get our Romero Bowl in the QF round.
Carter Starocci seeking bonus at 174. He's got Hastings of Wyoming. Joe Lee just lost on the backside so Penn State needs every point. Starocci leads 4-1. Starocci starting to pull away, but he can't get the major. He wins 8-2.
#11 Murphy of Campbell knotted up with #6 McNally of Kent State, 2-2. It stays close, goes to OT even, and McNally gets it down. Another tough break for Camel Nation. Golden Flashes have a quarterfinalist.
Round of 16 Results
174 Kaleb Romero (Ohio State) DEC Peyton Mocco (Missouri), 5-1
174 Michael Kemerer (Iowa) TF Benjamin Pasiuk (Army), 17-1 5:06
174 Mikey Labriola (Nebraska) DEC Trenton Munoz (Arizona State), 5-3
174 Andrew Mcnally (Kent State) DEC Austin Murphy (Campbell), 6-4 SV1
174 Daniel Bullard (NC State) DEC Donnell Washington Hazel Crest, IL (Indiana), 6-4
174 Bernie Truax (California Poly) DEC Logan Massa (Michigan), 3-1 SV1
174 Demetrius Romero (Utah Valley) DEC Dustin Plott (Oklahoma State), 11-5
174 Carter Starocci (Penn State) DEC Hayden Hastings (Wyoming), 8-2
184 Pounds
#5 Hunter Bolen has #12 Nelson Brands. This match would be huge for the Hawkeyes but Brands a decisive underdog. Scoreless first. Bolen escapes in the 2nd to break the goose eggs. Two takedowns for the Hokie, 5-1 into the third. Bolen finishes the job, wins convincingly 6-2.
Brooks and Owen Webster has started. Nittany Lions will look to Brooks for bonus. Brooks gets the TD in the first and a ride out. Escape in the 2nd, 3-0 Brooks. Webster keeps it to a decision but it was all Brooks, 5-0.
Keckeisen wrestling for 184lb U. He's up 6-1 on Navy's David Key. Now 8-2. Panther Train rolling 14-5 in the second.
Mizzou's Kent and Nebraska's Venz in a 2-2 slugfest. 8/9 bout. Venz breaks it open in the third and wins 10-4.
Brit Wilson trying to snuff out Charles Small Cinderella run just as it's getting started. He leads 2-0 in the first. Small battles tough but Wilson wins 5-2. Lou DePrez up 2-0 on Hopkins of Campbell and gets the rideout with his hellacious top game. DePrez has riding locked up very early and coasts through the 3rd. Picks up a stall call but still wins comfortably, 4-1.
Trent Hidlay gets the first takedown on Northern Colorado's Alan Clothier. Hoagie Hidlay had Clothier on his back for about a minute but good fight from Clothier. Trent pouring it on tho, 11-1. It's eventually a tech fall for Tent, 20-5, and he raises the roof accordingly.
Rutgers' freshman Poznanski leads OK State veteran Geer 2-1 in the first. Geer answers with a takedown to go ahead 3-2. Poz responds with a takedown in short time. Rides out to go up 5-3 entering the second. It's 6-3 in the third and Poz is putting on a tough ride. RT clock creeps over a minute. And it's a 7-3 victory for the Rutgers true freshman.
Round of 16 Results
184 Brit Wilson (Northern Illinois) DEC Charles Small (Hofstra), 5-2
184 Aaron Brooks (Penn State) DEC Owen Webster (Minnesota), 5-0
184 Lou Deprez (Binghamton) DEC Caleb Hopkins (Campbell), 4-1
184 Hunter Bolen (Virginia Tech) DEC Nelson Brands (Iowa), 6-2
184 John Poznanski (Rutgers) DEC Dakota Geer (Oklahoma State), 7-3
184 Taylor Venz (Nebraska) DEC Jeremiah Kent (Missouri), 10-4
184 Parker Keckeisen (Northern Iowa) MD David Key (Navy), 16-5
184 Trent Hidlay (NC State) TF Alan Clothier (Northern Colorado), 20-5 7:00
197 Pounds
#1 Amine leads Jakobsen 2-1 in the first. And not much else happens in the match but Amine does what he needs to win and advance.
More 197-pounders are coming out. Buchanan vs Adams for round 4 of 2021. And Buchanan pins him! Noah Adams has found his kryptonite and then some. Incredible, Wyoming has another quarterfinalist. Pour one out for our friend Kyle Bratke this is a tough loss for all West Virginians.
#3 Norfleet leading Penola of Purdue. Penola is game but Norfleet is affording him no options. He wins handily.
Warner and Davison 1-0 in the second off an escape. Warner gets a TD to lead 3-0. That's how the match ends, Warner advances again to the quarters.
AJ Ferrari taking on Tanner Sloan, #4 vs #13. Two takedowns to none, no escapes and its 4-0 Ferrari. Its all AJ as he takes it over his Big 12 rival 5-0.
Woodley trying to keep his run from the #26 seed going but he's got a tough opponent in #10 Cam Caffey. Sparty is up over Sooner 2-1 in the second. Caffey leading by a point in the third, in a scramble, Woodley comes up with it to lead 4-3. RT not a factor but he needs to a ride out. He gets it! #26 seed on to the quarters.
#15 Beard of PSU gets the #31 seed Owen Pentz who pinned the #2 Eric Schultz in a sensational first round bout. Beard leads 4-2 in the first. We pause as Pentz gets a Gable wrap on his head.
Round of 16 Results
197 Stephen Buchanan (Wyoming) F Noah Adams (West Virginia), 1:59
197 Kordell Norfleet (Arizona State) DEC Thomas Penola (Purdue), 8-4
197 Jake Woodley (Oklahoma) DEC Cameron Caffey (Michigan State), 4-3
197 Myles Amine (Michigan) DEC Jake Jakobsen (Lehigh), 4-2
197 Aj Ferrari (Oklahoma State) DEC Tanner Sloan (South Dakota State), 5-0
197 Michael Beard (Penn State) MD Owen Pentz (North Dakota State), 17-8
197 Nino Bonaccorsi (Pittsburgh) MD Jay Aiello (Virginia), 13-3
197 Jacob Warner (Iowa) DEC Lucas Davison (Northwestern), 3-0
285 Pounds
Kerkvliet and Wood are the first two heavies on the mat. This is a rematch of the 2019 UWW U23 finals that Kervliet won, 2 matches to none. Kerk chases down a single leg and holds a 2-0 advantage. Wood escapes quickly. Now Kerkvliet is opening things up, gets escape, TD and 4 nearfall. It's 9-1. Major decision for Kerkvliet.
Gable Steveson (and Hodge Trophy front runner?) has a takedown and 2 nearfall quickly on Hendrickson. Steveson doing Steveson things, leads by 10. Steveson gets the tech fall in rather pedestrian manner, 17-2. He broke a sweat, though just barely.
Big Tony Cass taking on Tate Orndorff. Gets a takedown and is looking for a fall. Orndorff avoids going over for nearfall but is not having much success escaping. Cass Man pouring it on, 8-0 in the second.
Stencel leads Hillger 1-0. As does Gremmel over Elam. Typical strategic low-scoring heavyweight bouts. Hillger battling back, leads 2-1, Stencel on bottom. Hillger with some key mat returns, and he gets the victory! A return to form for Thor?
It would appear that Cohlton Schultz stalled out Brian Andrews, so he advances via disqualification and picks up a couple bonus team points. Stalling penalty points were the only points scored in the bout.
Parris beating Isley 4-1 and Laird beating Wilson 5-1. Rider's #7 Laird will wrestle Michigan #2 Parris if both scores hold. Parris opening up, its 11-1, now 15-1. MAC champ Laird wins 7-2 over ACC Champ Deonte. Laird also beat EIWA champ Wood earlier this season. He absorbs their greatness via osmosis.
Catka of VT and Gunning of UNC the only wrestlers left for the day. It goes into overtime (naturally) and Catka gets the TD to win the Doug Vollaro Last Man Standing Award of the day.
Round of 16 Results
285 Greg Kerkvliet (Penn State) MD Jordan Wood (Lehigh), 12-2
285 Ethan Laird (Rider) DEC Deonte Wilson (NC State), 7-2
285 Gannon Gremmel (Iowa State) DEC Zach Elam (Missouri), 3-1
285 Cohlton Schultz (Arizona State) DQ Brian Andrews (Wyoming)
285 Gable Steveson (Minnesota) TF Wyatt Hendrickson (Air Force), 17-2 6:41
285 Trent Hillger (Wisconsin) DEC Matt Stencel (Central Michigan), 2-1
285 Tony Cassioppi (Iowa) MD Tate Orndorff (Ohio State), 11-0
285 Mason Parris (Michigan) TF Carter Isley (Northern Iowa), 17-1 5:27
Wow, great to be back, amirite? Incredible to see so many student-athletes' hard work and dedication come to fruition. That's all for today, session III starts tomorrow morning. Wrestlebacks and quarters in the morning. Then tomorrow evening it's semis and the bloodround in the greatest night of sports ever. Can't wait for the celebrated dog bone formation. It's simply the best. Apologies for the typos, see you in the morning!