MAC
Mid-American Conference Championship Preview: Part 1
Mid-American Conference Championship Preview: Part 1
Part one of a MAC Wrestling Championship preview, which begins with a look at the lower weights.
Feb 25, 2021
by Mark Spezia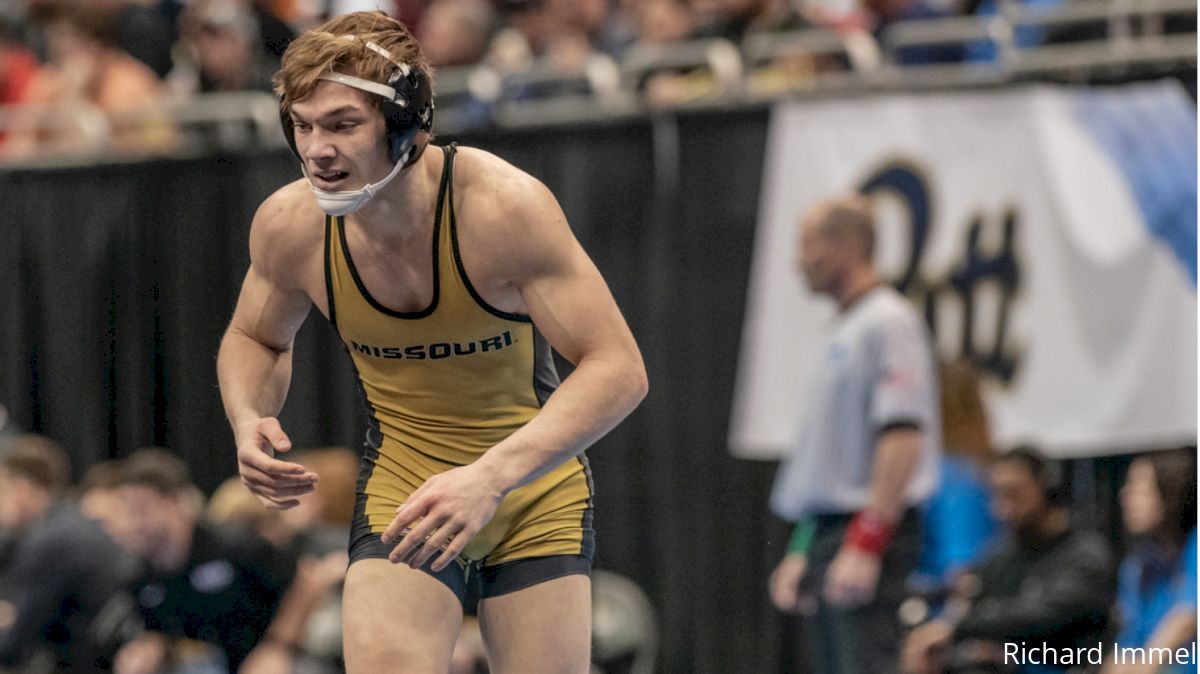 Unlock this article, live events, and more with a subscription!
Get Started
Already a subscriber? Log In
Will Brock Mauller finish his career with an unblemished record against Mid-American Conference competition?
The Missouri junior is already nearly 3/4 of the way there.
Mauller, who has not lost to anyone since Dec. 29, 2019, is heavily favored to capture a third consecutive championship at the MAC Tournament which will be hosted by Rider University Friday and Saturday at CURE Insurance Arena in Trenton, New Jersey.
Doing so will bring the 149-pounder's career MAC mark to 27-0 heading into this final season.
A Mauller three-peat would also help the Tigers in their quest for a ninth straight team title.
Here is a closer look at the five lower weights in part one of a MAC Tournament preview.
125 POUNDS
Ranked wrestlers: #5 Drew Hildebrandt (Central Michigan), #17 Luke Werner (Lock Haven), #22 Connor Brown (Missouri)
Outlook: The unbeaten Hildebrandt (7-0) is one of eight past champions in the tournament. He decisioned Old Dominion's Killian Cardinale in the last season's final, but, of course, will not be facing him this time. Cardinale transferred to West Virginia after Old Dominion dropped its program.
HIldebrandt has scored bonus points in five of seven matches this season with two technical falls, two major decisions and a pin. He owns a 19-match winning streak dating back to last season.
The senior's road to repeating as MAC Champion became easier when Brown was forced to withdraw due to an injury suffered in a recent practice. Hildebrandt barley beat Brown last month. He trailed much of the match before forcing sudden death with a takedown in the final 10 seconds of regulation. Hildebrandt retained momentum in the extra session, quickly taking Brown down again for a 7-5 win.
He has not faced Werner this season because the MAC Tournament will actually be Lock Haven's season-opener, but pinned him last season.
Hildebrandt, a two-time NCAA qualifier, has continued his steady rise from 18-18 (third in MAC) as a freshman to 21-10 (second in MAC) as a sophomore and finally to 31-3 last season. His career mark stands at 73-31, including 55-13 the past three seasons.
Werner was third last season and placed second in the Eastern Wrestling League tournament as a sophomore and fourth as a freshman.
133 POUNDS
Ranked wrestlers: #12 Matthew Schmitt (Missouri)
Outlook: Schmitt, in his first MAC season after transferring from West Virginia, is a heavy favorite.
Last year's winner, Tim Rooney of Kent State, has graduated and runner-up Allan Hart moved up to 141 this season.
Schmitt, fourth in the Big 12 in 2018 and 2019, is 6-1 with two major decisions and unbeaten since dropping a 7-5 decision to 14th-ranked Zach Price (South Dakota State) to open the season.
Since then, he has bested No. 19 Zach Redding (Iowa State), No. 20 Kyle Biscoglia (Northern Iowa) and No. 21 Job Greenwood (Wyoming).
Schmitt, whose career mark is 48-25, is also a two-time NCAA qualifier, reaching the round of 16 in 2018.
Unbeaten, but unranked, Brendon Fenton (7-0) could prove Schmitt's toughest competition this weekend. The Kent State sophomore was 0-2 at the 2018 ACC Championships while competing for Pittsburgh. Fenton was 9-3 last season in limited action while backing up Rooney.
---
141 POUNDS
Ranked wrestlers: #4 Allan Hart (Missouri), #10 Dresden Simon (Central Michigan), #21 Saul Ervin (SIUE), #22 Derek Spann (Buffalo).
Outlook: Simon will have to avenge a 4-2 loss to the unbeaten Hart last month in order to win a second straight MAC title. The junior, who also placed third in 2019, never led in that match.
Simon is 5-1 this season after pinning Spann in his most recent match, including two technical falls, a pin and a major decision. Simon, an NCAA qualifier last season, owns a 60-41 career mark, including 34-9 the past two seasons.
Hart (9-0) has also knocked off Ervin, 4-2, and beat Spann last year. He has bested No. 5 Ian Parker (Iowa State) and No. 17 Clay Carson (South Dakota State) this season. Hart has two technical falls, a pin and a major decision among his wins.
The junior, who moved up to replace All-American Grant Leeth in the lineup, has a 42-15 career record. Hart was also a 2020 NCAA qualifier.
Spann (4-2) is a senior putting the finishing touches on a solid career. He was fourth in the MAC last season and second in 2019. Spann, a two-time NCAA qualifier, has beaten Hart twice in the past and owns a 50-28 career mark.
Ervin, a sophomore, is 7-3, including two major decisions, after going 10-18 a year ago. He decisioned Spann earlier this season.
---
149 POUNDS
Ranked wrestlers: #3 Brock Mauller (Missouri)
Outlook: Mauller, a 2019 All-American, proved he is more than ready to stand atop the MAC podium again after knocking off fourth-ranked Bo Lewallen (Oklahoma State) for the second time earlier this month, 7-5, in the third overtime.
The match finally ended when Mauller put Lewallen in a cradle and eventually received a two-point near fall. The win kept alive Mauller's hopes of finishing this season unbeaten overall. He is 13-0, including two major decisions, and has won 29 straight matches dating back to last season.
The two-time NCAA qualifier's career mark stands at 74-6, including 41-1 the past two seasons.
Junior Anthony Cheloni (Northern Illinois) is probably the MAC's second best at 149. He is 6-2 this season.
---
157 POUNDS
Ranked wrestlers: #4 Jesse Dellavecchia (Rider), #8 Jarrett Jacques (MIssouri), #17 Justin Ruffin (SIUE).
Outlook: Dellavecchia, a senior, is making the most of being granted another year of eligibility.
The defending MAC champion is 4-0 with a pair of pins.
He missed Rider's final two regular-season matches with an undisclosed injury, but Rider's public address announcer tweeted Wednesday morning that Dellavecchia should be good to go Friday.
"Jesse is looking good in the wrestling room following his injury," Mike Ricchione wrote. "He's also helping his teammates stick to the training plan tested and tried by the coaching staff."
Dellavecchia has not faced any ranked wrestlers this season, but blanked Jacques (4-0) in last year's final. He was also second in the EWL two years ago.
Dellavecchia has won 17 straight matches dating back to last season and owns a 75-18 career record.
However, he is far from a lock to repeat as this weight class features two past champions.
Jacques, a junior, won a MAC title in 2019 as a freshman and is two-time NCAA qualifier. He's been able to test himself quite often in this abbreviated season.
Jacques is 8-1 overall with a technical fall, has gone 4-1 against currently-ranked grapplers, including a 4-3 decision over Ruffin. He has also knocked off North Dakota State's Jared Franek (No. 12), Oregon's Hunter Willits (No. 13) and Wyoming's Jacob Wright (No. 19).
Jacques has only lost to unbeaten David Carr (Iowa State), who is ranked third.
Ruffin (7-2) has placed fourth in the past two MAC tournaments and is a two-time NCAA qualifier.