NCAA Week 8 Roundup
NCAA Week 8 Roundup
The final week of the NCAA season had limited duals but plenty of action. Here are the biggest stories before conferences kick off next week.
Feb 22, 2021
by David Bray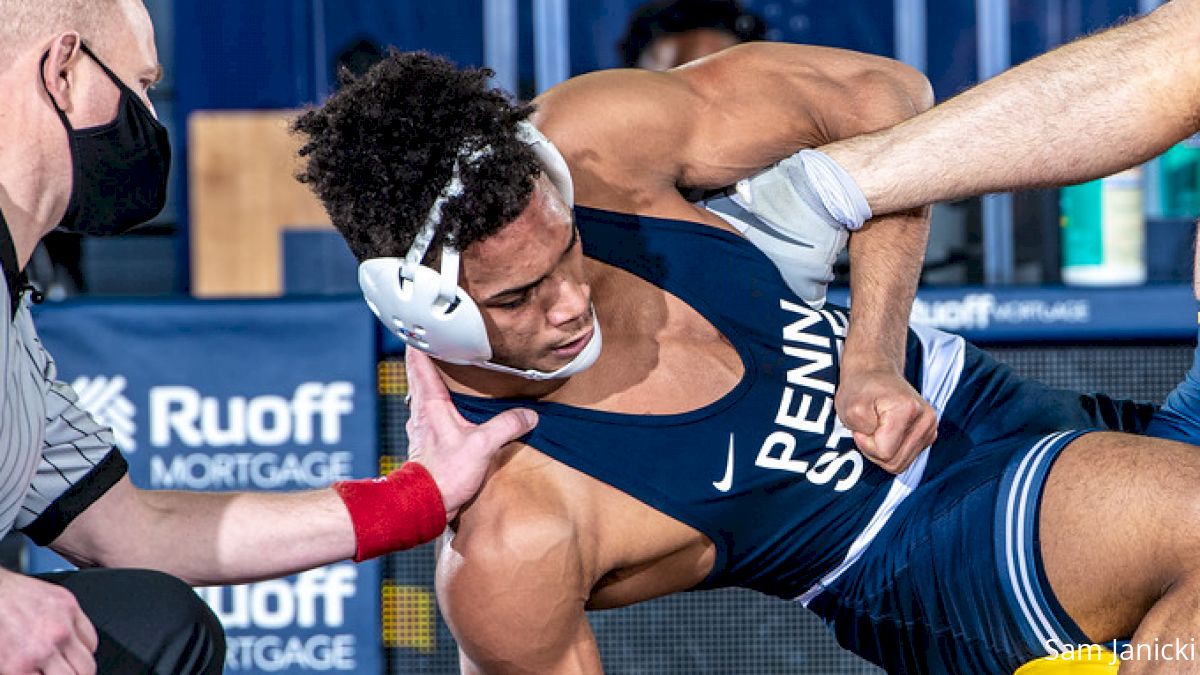 Unlock this article, live events, and more with a subscription!
Get Started
Already a subscriber? Log In
Week 8 of NCAA wrestling didn't have very many matches, but it still brought some important developments before conference weekend #1 kicks off on Friday. Here are the biggest stories of the week.
Carter Starocci Continues to Climb for Penn State
If you missed Penn State's dual with Ohio State, we have you covered with full match notes, but the biggest bout of the night came at 174 lbs where #5 Carter Starocci had a massive test for a second week in a row, this time against #3 Kaleb Romero.
Just like last weekend's match with Massa, Starocci found himself in overtime again against Romero. After the freshman's sudden victory takedown was reviewed and ruled out of bounds, he earned an escape in rideouts and then spent his 30 seconds riding and returning Romero for the win. Starocci's maturity and grittiness continues to grow as this short season progresses.
The win was part of a dominant dual performance for the Nittany Lions that saw them win seven bouts for a 28-12 team victory.
Starting to put the ⭐️ in Starocci...

The defending B1G Wrestler of the Week @carterstarocci follows up last week's performance with ANOTHER huge upset, this time of No. 3 Kaleb Romero. @pennstateWREST@ncaawrestling // @trackwrestling

📍 @AutoOwnersIns pic.twitter.com/u9zxMsitpz

— Penn State On BTN (@PennStateOnBTN) February 20, 2021
Myles Amine Bolsters his Case for #1
Until last week, it was unclear whether Myles Amine would compete at 184 lbs or 197 lbs. Now he's two weekends deep in his 197 lbs season and he's looking more and more like the top man in the land.
Amine took on a very game Cam Caffey in Michigan's rivalry dual against Michigan State. Caffey scored a late takedown, but otherwise it was all Amine in an 11-6 decision in which Amine won the takedown battle four to one.
Amine helped push the Wolverines past the Spartans in a 28-9 dual meet where Michigan took seven individual matches. The Wolverines are still waiting to see if Stevan Micic will wear the maize and blue this year. Only conference weekend will tell.
Allow me to reintroduce myself, my name is @Myles_Amine. 🤝

In just his second weekend back after taking a redshirt year, @umichwrestling's Myles Amine showed how to surgically #WinWithPurpose with his defeat of Cameron Caffey.

📍 @TIAA pic.twitter.com/Dr7ePzHIrk

— Michigan On BTN (@MichiganOnBTN) February 19, 2021
Fix Continues Dominant Streak in Bedlam Dual
In his second weekend of competition, Daton Fix continued his 100% early match termination streak with a fall in a Bedlam dual against Oklahoma's #25 Anthony Madrigal. Fix now has four falls and a tech in five matches, and he's seen three ranked opponents.
Fix's efforts helped the Cowboys to a 24-16 victory over the Sooners for their second Bedlam win of the season. Oklahoma was not without its own victories, however, as Anthony Mantanona appeared to be rounding back into form with an upset over #14 Dustin Plott.
.@_Greatest_Ever1 is THAT dude!!!

He sends a sold out Gallagher-Iba Arena into a frenzy with a second-period fall!!#DynastyDefined I #GoPokes pic.twitter.com/EgCExImOrw

— OSU Cowboy Wrestling (@CowboyWrestling) February 21, 2021
Freakin Deakin is Back
Top ranked Ryan Deakin didn't wrestle a competitive match this year until Valentine's day, and while he teched Wisconsin's Garrett Model, he won a narrow 7-4 decision over Badger Devin Bahr. That created some serious intrigue for his match this week against #6 Brayton Lee.
Deakin was back to his typical dominant self and routed a very tough Lee 12-0. In this shortened, bizarre season, it's hard to know what to expect from some of the nation's top wrestlers whose mat time has been limited. When it comes to Deakin, he appears to be as good as ever.
#8 Nebraska Takes 7 Matches Against #11 Illinois
On paper, the Nebraska vs Illinois dual was projected to be one of the tightest contests of the weekend, but the Huskers opened up and took out a tough Illinois squad in dominant fashion. Nebraska won ranked matchups at 125 (#7 Cronin over #17 Cardani), 141 (#6 Red over #12 Duncan), 184 (#17 Venz over #11 Braunagel, and 197 (#2 Schultz over #25 Wroblewski). The Illini took the other two ranked matchups at 165 (#7 Braunagel over #18 Robb) and 285 (#9 Luffman over #12 Lance).
One of the biggest wins for Nebraska was Taylor Venz's 12-1 major over Zac Braunagel. Venz has struggled to find his stride this year but might be making the right adjustments just in time for the Big Ten Championships.
.@Tvenzz just...picked him up. 👀 😤 @HuskerWrestling // @ncaawrestling pic.twitter.com/uDqI3AGE4e

— Nebraska On BTN (@NebraskaOnBTN) February 21, 2021