2021 South Dakota State Wrestling Tri-Meet
NCAA Week 2 Roundup
NCAA Week 2 Roundup
Week two of NCAA Wrestling saw more teams jumpstart this strange season. Here are some of the biggest stories.
Jan 11, 2021
by David Bray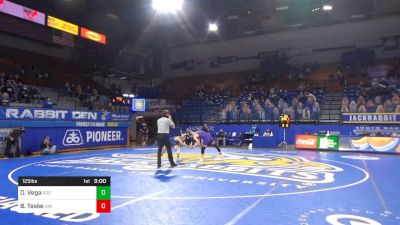 Unlock this video, live events, and more with a subscription!
Get Started
Already a subscriber? Log In
Unlock this article, live events, and more with a subscription!
Get Started
Already a subscriber? Log In
Week 2 of NCAA wrestling is in the books. Check out some of the biggest stories from around the country. If you're looking for complete results from all the duals, we have them in our box scores.
Seabass is Back, Ragusin for Real in Michigan vs Rutgers
Ever since Sebastian Rivera hyped the Rutgers crowd at the Big Ten championships, New Jersey wrestling fans have been dreaming of the day he would represent the Scarlet Knights in the RAC. That day was Friday, and Rivera didn't disappoint. He kicked off his Rutgers career with a major decision over Drew Mattin.
Welcome home, Seabass.

The long-awaited return of @Cbass_Rivera ended with an 8-0 major decision. @RUWrestling | @trackwrestling pic.twitter.com/XeQi9mDS8K

— Rutgers On BTN (@RutgersOnBTN) January 9, 2021
Michigan took the dual 26-10 and was helped along the way by a fall from Dylan Ragusin at 125. After Ragusin's incredible run to the Senior Nationals finals and UWW Junior Nationals title this fall, he seemed poised to have a breakout season if he could make 125. He did that and more this weekend and could be a big piece for Coach Bormet this season.
Both teams had notable stars missing from the lineup. Nick Suriano was out for Rutgers, and his status with the team remains to be seen. Sammy Alvarez was out as well. The Wolverines were missing Stevan Micic, Myles Amine, and Jelani Embree.
Hardy Leads Nebraska Past Minnesota
Friday's dual between Minnesota and Nebraska had its share of drama. For one, we learned a little about their lineup battles when we saw Chad Red and Brock Hardy in the lineup at 141 and 149 respectively instead of teammates Ridge Lovett and Kevon Davenport. Both Red and Hardy Got wins, Hardy's coming against #18 Michael Blockhus, a recent transfer from UNI to MInnesota.
Nebraska took a total of 6 bouts in the 22-18 victory. Perhaps Minnesota's brightest moment came at 165 where Andrew Sparks took out #10 Peyton Robb.
LaMont over Robison in Tight Dual
Taylor LaMont is back down at 125 for Utah Valley after competing last year at 133. He had a real challenge on Utah Valley's opening day on Friday as he saw #17 Theorius Robison of Northern Colorado. The match was tight until the third period when LaMont opened things up with his attacks. Robison responded late, but ultimately it was a 10-6 decision for the Wolverine senior.
The dual itself was as exciting as that match. Each team had 5 wins, but Northern Colorado's four bonus points beat Utah Valley's one, so they took home the 19-16 victory.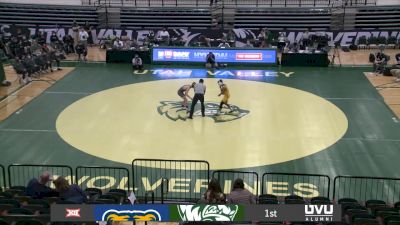 Unlock this video, live events, and more with a subscription!
Get Started
Already a subscriber? Log In
ASU & Oklahoma Trade Upsets in Sun Devil Victory
A dual between Arizona State and Oklahoma State saw two significant upsets along the way to ASU's 20-12 victory. At 157, #16 Justin Thomas took out #10 Jacori Teemer to give the Sooners a boost in the dual.
Trey Munoz responded for ASU with perhaps the weekend's biggest upset when he knocked off #6 Anthony Mantanona by a score of 8-3. Sun Devil fans have been excited for Munoz to get in the lineup, and he came through for them in a big way.
O'Toole Up to 165 as Mizzou Sorts Out Lineup
In week 1, it was clear that Coach Smith had the right kind of lineup problems for Missouri as he had too many studs for starting roster spots. That created questions about what he would do at a few key weights. We appear to have some clarity about the 157 battle now as Jarrett Jacques started there against Central Michigan and Wyoming and Keegan O'Toole took the 165 spot bumping Peyton Mocco up to 174. O'Toole had a tech fall over Alex Cramer and a 12-6 decision over Cole Moody, so 165 seems to fit him just fine.
Coach Smith also had Rocky Elam in the lineup for the first time at 197 where he went 2-0. At 141, Allan Hart got wins in both starts. He split time with Josh Edmond last week.
Coach Smith's lineup calculations led to two dual victories and put him at 300 career dual meet wins in his career. Here's a highlight from that action from the Mizzou wrestling Twitter account:
📹 HIGHLIGHTS l #Mizzou tallies 6️⃣ more individual ranked wins in dominating effort over Wyoming❗#TigerStyle 🐯💪 pic.twitter.com/cvxlCfVIXk

— Mizzou Wrestling (@MizzouWrestling) January 9, 2021
Ferrari, Plott, Mastro Shine for Oklahoma State
Oklahoma State is taking full advantage of the free year of eligibility by rolling out a strong group of true freshmen including massive recruits Trevor Mastrogiovanni at 125, Dustin Plott at 174, and AJ Ferrari at 197.
All three were 2-0 in their duals on Sunday against Oregon State and Chattanooga. Mastro had two decisions including one over #18 Fabian Gutierrez, Plott had two techs, and Ferrari had two majors. As a whole, the Cowboys went 16-4 in those duals for a 32-9 win over Chattanooga and a 29-8 win over Oregon State.
Teske Entertains in UNI Debut
Heading into this weekend, one of the biggest questions around Northern Iowa was how they would perform with a lineup of almost entirely new faces. They performed quite well with a 28-13 victory over SDSU and a 27-11 victory over NDSU.
One starter of particular interest was Penn State transfer Brody Teske who returned to his home state of Iowa to compete for the Panthers. He was in two wildly entertaining matches where he gave up significant points but also showed his dangerous big move potential. His 24 point thriller with Danny Vega is at the top of the page, and his Assassin fall is right here: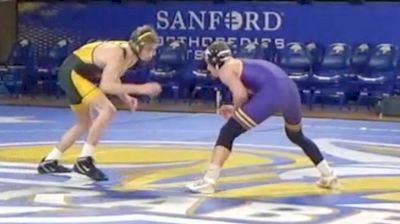 Unlock this video, live events, and more with a subscription!
Get Started
Already a subscriber? Log In
Metz in OT Thriller in Again
For the second straight week, Brandon Metz was in an overtime match with the dual meet score still in question. This time, NDSU had a five point lead over SDSU heading into the final match, so Metz didn't need to win to secure the team victory, but it was a high pressure situation nonetheless.
Once again, Metz brought the magic we've come to expect, this time with a takedown during the second set of tiebreakers to secure his seventh career victory over Blake Wolters and to lock in the team win for NDSU 21-13.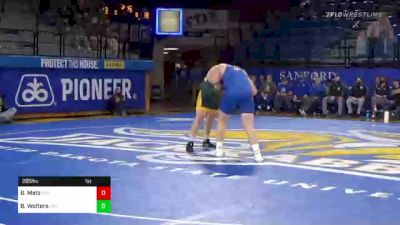 Unlock this video, live events, and more with a subscription!
Get Started
Already a subscriber? Log In