2021 South Dakota State Wrestling Tri-Meet
6 Reasons To Watch SDSU, UNI, & NDSU On Sunday
6 Reasons To Watch SDSU, UNI, & NDSU On Sunday
SDSU hosts NDSU and UNI on Sunday in a tri that has 9 ranked wrestlers and plenty of reasons to tune in.
Jan 7, 2021
by David Bray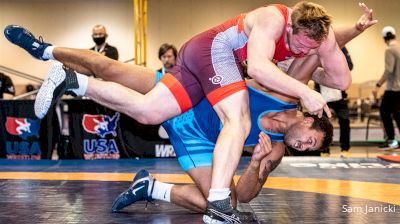 Unlock this video, live events, and more with a subscription!
Get Started
Already a subscriber? Log In
Unlock this article, live events, and more with a subscription!
Get Started
Already a subscriber? Log In
South Dakota State hosts Northern Iowa and North Dakota State in a battle of three Big 12 affiliate programs that will help set the seeds for the conference tournament in March. If you aren't already excited about this match, check out six these reasons you won't want to miss this one.
Watch SDSU, UNI, & NDSU LIVE on FloWrestling
Sunday, January 10, 2020 | 11:00 AM EST
1) New Look Panthers Might Have Coach Schwab Break-Dancing.
This will be the first time we'll see Doug Schwab's UNI Panthers in action since the Big 12 Championships in March, and the projected lineup is almost entirely different from the one we saw last year.
Despite a changing of the guard that sees UNI lose a number of credentialed starters, Coach Schwab and company are excited to get this new group on the mat. According to Cody Goodwin of the Des Moines Register, he just might bust a move.
Northern Iowa coach Doug Schwab: "I'm so dang excited to coach these guys again. I might break-dance and stand on my head in the corner. I can't wait." #PantherTrain

— Cody Goodwin (@codygoodwin) January 6, 2021
Coach Schwab's projected lineup for this weekend at UNI Wrestling Media Day only included one starter from last year, heavyweight and #10 ranked Carter Isley. There still may be a chance we see #11 Jack Skudlarczyk in action at 133 a he was also active at media day. Regardless, Panther fans have a new set of faces to get familiar with, and we'll learn a lot about this young group on Sunday.
Coach Schwab's full Media Day address
2) Tanner Sloan Is On A Roll
After Tanner Sloan's impressive run to the Midlands finals as a true freshman, many people had high expectations for him during his redshirt freshman season. We didn't get to find out how that would have ended at the NCAA Championships, but he did make it to the Big 12 finals at the end of last year where he fell to current #1 Noah Adams.
In November, Sloan had a rematch with Adams in the U23 Nationals finals and this time won 10-9. He currently sits at #10 in the national rankings, but Jackrabbit fans are confident he can do better than that. He started his season last weekend with a fall and a tech. This guy is must-watch.
3) Maniac Metz Goes for Broke
NDSU heavyweight Brandon Metz isn't afraid to go big. Sometimes it pays off for him; other times it doesn't. That's the magic of Brandon Metz. You don't know exactly what you're going to see, but you know it will be a wild ride.
If you haven't seen Metz's overtime match with Brian Barnes from opening weekend, do yourself a favor and check it out. It's the perfect example of what makes Metz so exciting and unpredictable.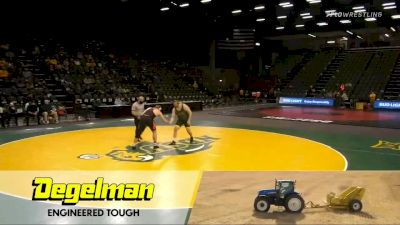 Unlock this video, live events, and more with a subscription!
Get Started
Already a subscriber? Log In
4) Brody Teske Back In The Homeland
In the middle of last season, Brody Teske entered the transfer portal and decided to leave Penn State. In January, he announced that he would be returning to his home state to wrestle for UNI.
The four-time Iowa state champ and Fort Dodge product will wear the purple and gold for the first time this weekend, and Northern Iowa fans will finally get a chance to see one of the prospects they've been most excited about. Teske will be tested by Danny Vega who was in the top 25 last week, so we'll have a nice indication of where he stands.
5) 3 Potential Ranked Matchups
While these lineups feature a number of up-and-comers who could be in the rankings by the end of this season, three weight classes could currently see clashes of ranked foes. Skudlarczyk wasn't listed in the lineup for UNI, so we may not get the match at 133. Here are the ranked matchups:
133 - #11 Jack Skudlarczyk, UNI vs #13 Zach Price, SDSU
157 - #15 Jared Franek, NDSU vs #18 Cade DeVos, SDSU
285 - #10 Carter Isley, UNI vs #15 Brandon Metz, NDSU
6) 9 Ranked Wrestlers
Check out a list of every ranked wrestler in action in Brookings:
133 - #11 Jack Skudlarczyk, UNI
133 - #13 Zach Price, SDSU
141 - #22 Clay Carlson, SDSU
157 - #15 Jared Franek, NDSU
157 - #18 Cade DeVos, SDSU
165 - #18 Tanner Cook, SDSU
197 - #10 Tanner Sloan, SDSU
285 - #10 Carter Isley, UNI
285 - #15 Brandon Metz, NDSU