Unlock this article, live events, and more with a subscription!
Get Started
Already a subscriber? Log In
Gable Steveson took two-time world medalist, Nick Gwiazdowski to the brink in their two matches at Final X. So, what does the young phenom need to do to get over the hump this weekend at the RTC Cup? We turned a discerning eye on the things that Gable did well in his set against Gwiz and the things that will need to improve if he hopes to turn the tables against the Wolfpack legend this Friday night.
What Makes Gable So Good?
Technically sound? Hyper-Athletic? Deceivingly powerful? Yes. Yes. And yes. While all of those things contribute to Gable's on-mat potency one of the most impressive things in my eyes is his level change. Gable has the unique ability to change levels so fast and so drastically that he can be hand fighting up around a collar tie one second and be grabbing your ankle the very next second. As if that weren't scary enough he does all that without dropping down to a knee which makes his effort almost impossible to reattack.
This pic is probably the best depiction of the action I'm talking about.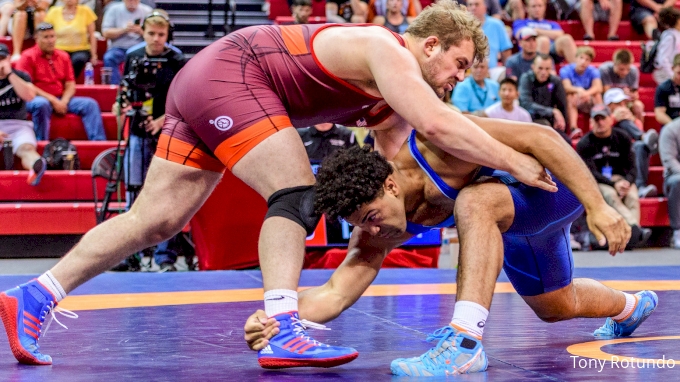 Picking the leg up on an attack like this takes not only a ton of athletic ability it also takes perfect timing. In order to get a feel like this, you need to get reps in. Gable was stabbing at that ankle at Final X. Take a look at this clip. Gwiz was able to kick out without having to wrestle much.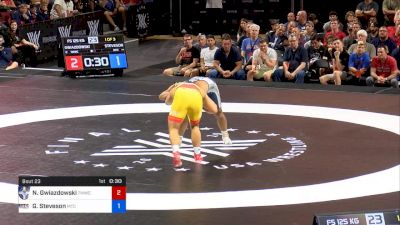 Create a free account to unlock this video!
Get Started
Already a subscriber? Log In
The next time Gable stabbed at that leg he got a little bit closer, but Gwiz was able to drop his hips on him and get his leg back.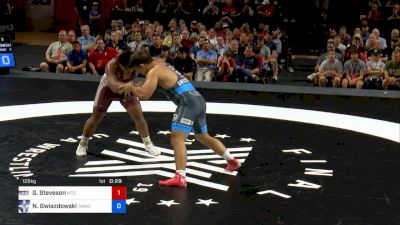 Unlock this video, live events, and more with a subscription!
Get Started
Already a subscriber? Log In
The more looks that Gable gets at this attack the more likely he is to finish those shots.
Situational Awareness
The obstacles that Gable is confronted with in the form of Nick Gwiazdowski are not physical. They're not really technical either. The biggest hurdle will come in the way of situational awareness.
In Gable's first match against Gwiz last year he was up by 2 with about a minute left to go in the match. Gwiazdowski got in on a leg close to the edge and instead of staying on his feet and extending the scramble long enough to find the out of bounds and give up one point he tried to sit the corner and go chest wrap. Gwiz quickly scored and took the lead by criteria. Watch full match 1 here
In match two at Final X with similar time remaining Gwiz gets to a leg and Gable exposes his back to take the lead outright 3-2. If Gable stops his own motion at that point and gets real heavy with his hips there's a good chance he provokes a stalemate call and heads back to the center with the lead. Instead, he continues to wrestle for a takedown that would yield 0 points and winds up getting reversed. Watch all of match 2 here.
These are mental mistakes that cost Gable a spot on the world team in 2019, I'm sure that Coach Eggum and company have addressed them.
Another Gear
Could you imagine being so much better than everyone at an NCAA level that you don't need to sprint at the end of a match? Not once. That's precisely the type of season that Gable Steveson was putting together last year right up until the post-season was cut short after Big Tens. Even in seemingly close matches like his Big Ten final match against Mason Parris the only takedown that he gave up was when he up by three with 12 seconds left and he turned down while defending a leg attack.
That was not the case against Gwiz last year at Final X. In both matches Gable was holding a lead in the second period. In both matches, Gwiz scored late to lead by criteria. In both matches, Gable had more than enough time to find a way to score.
I can't take anything away from Nick Gwiazdowski, he did an incredible job of bricking it up and not allowing Gable to get to a leg in the waning seconds of both matches, but if you are a Gable fan you have to think that he needs to find another gear in minute 6.