2020 Senior Nationals
2020 US Nationals Greco-Roman Preview
2020 US Nationals Greco-Roman Preview
Your weight-by-weight Greco-Roman preview for 2020 Senior Nationals.
Oct 8, 2020
by Timmy Hands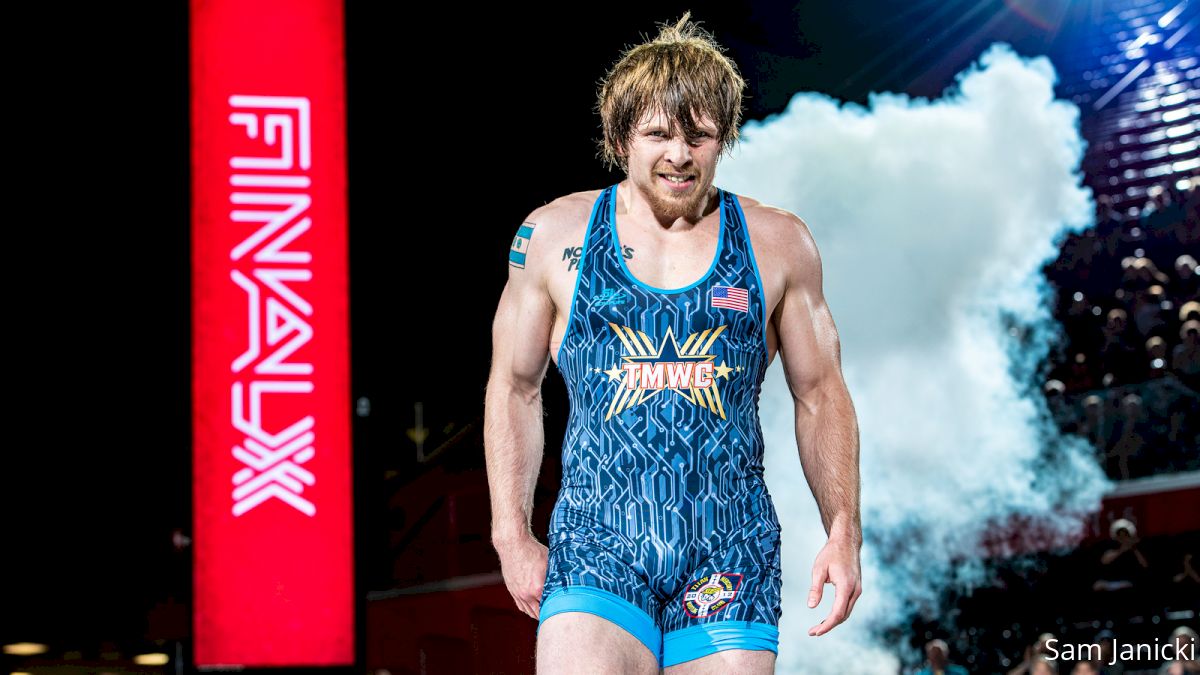 Unlock this article, live events, and more with a subscription!
Get Started
Already a subscriber? Log In
As recently as ten days ago, the relationship between the United States Greco-Roman program (particularly the Seniors) and this unique National tournament could have been described as tempestuous -- at best.
The main catalyst for this less-than-warm embrace of the US Nationals can be traced back to the exclusion of the Army/WCAP and Marine wrestlers. All four military programs are unable to compete, but the lens is different for the two premier service branches. 15 of the 30 current US National Team members come from either the Army or the All-Marine Team. The same is true for six of the ten '19 World Team representatives. Thus, the scheduling of the country's biggest annual Senior tournament during a time period in which Greco's two most productive programs are unable to attend has had no choice but to put a bit of a damper on the proceedings.
Restrictions elsewhere have held up training for many of America's accomplished Seniors. Restrictions everywhere have done that to athletes everywhere. But when we're talking about Greco-Roman -- a discipline in the US that demands a continual focus on concepts such as "feel" and getting enough "looks" -- the absence of training opportunities in advance of an event -- any event -- is typically a dealbreaker when it comes to registering. Throw in that we are shaking hands with "Tokyo Olympic Year 2.0", and it is easy to understand why there would be reluctance among wrestlers to go hop in a tournament without having had the customary time to prepare.
Which is why no one was surprised when registrations for this tournament barely moved the needle. At first.
For weeks, the number hovered around 12, then eventually climbed to 30, then 40. Everyone's worst fears were confirmed, or so it seemed. Forget freestyle, forget women's freestyle -- 'If Greco's case for relevance was going to be presented on the backs of just a few dozen competitors, why bother?' Such was the line of thinking.
Slowly, thankfully, the optics started to change. A rush of young, promising wrestlers signed up. Next, a few recognizable Seniors decided they were good to go. And then, a full-on surge. Within the past ten days, registrations for Greco climbed by orders of magnitude, to whereas of Wednesday, 106 athletes are expected to be present at weigh-ins. It is not uncommon for a wave of last-minute entries leading up to a US Open. It is uncommon for that number to more than triple less than five days prior to the event.
You turn around and look, and what we've got here is a tournament worthy of closer examination, one where a generous allotment of high-profile full-time Seniors and would-be future stars are about to make Coralville the most unlikely proving ground witnessed this quadrennium. What we've got here is a tournament worthy of being referred to as a "Nationals".
Weight-by-Weight Walkthrough
60 kg
'16 Junior World bronze/current US National Teamer Taylor LaMont (Sunkist, 5PM #8) is one of a select few Seniors who have been able to train without disruption since the COVID outbreak this past winter. '18 U23 World Team rep Travis Rice (NYAC/IRTC, 5PM #9) has operated under similarly fortuitous circumstances through most of the summer, as have the Koontz brothers, Brady (TMWC, 5PM #12) -- himself a Junior performer in '18 and at U23 last year -- and Dylan, who is perceived as under the radar by comparison but is equally-skilled and equally-dangerous.
A big development at 60 kg is the return of multi-time age-group World competitor Randon Miranda (NYAC, 5PM #10), who is coming off of a 16-month layoff. Miranda and LaMont went back-and-forth in '19, really pushing each other through an entertaining handful of matches. First, LaMont grabbed a contentious decision for third at the Senior Trials; a week later, Miranda took the best-of-three final at U23. At those same U23 Trials, Liam Cronin (Nebraska WTC) prevailed over a crowded 55-kg bracket, though Brady Koontz wound up usurping Cronin in a special wrestle-off later that summer.
Nevada's Britain Longmire is considered a potentially serious candidate (despite also registering for freestyle). So is '16 Cadet World representative Mosha Schwartz (CO), who not so long ago was touted as a can't-miss type of prospect. '19 Cadet World Team member Conor Knopick (MWC) and stablemate Camden Russell (MWC), along with Elijah Varona and Iowa's age-group ace Alex Thomsen (Nebraska WTC), are not expected to challenge the likes of LaMont, Rice, or Miranda, but should still find ways to make their presences felt just the same.
5PM Ranked Athletes
Taylor LaMont (#8)
Travis Rice (#9)
Randon Miranda (#10)
Brady Koontz (#12)
Seeds
#1 - LaMont
#2 - Rice
#3 - Miranda
#4 - B. Koontz
#5 - Cronin
#6 - Knopick
#7 - D. Koontz
#8 - Schwartz
#9 - Russell
#10 - Thomsen
#11 - Nicky Raimo
67 kg
No other weight category benefitted from the registration surge quite like 67, which at one point looked dead in the water. Now? The bracket could very well take over the entire narrative.
The first order of business entails combing through six main athletes -- '18 U23 World Teamer Nolan Baker (NYAC, 5PM #7); Calvin Germinaro (Minnesota Storm, 5PM #8), '19 U23 World Team member Lenny Merkin (NYAC); '18 Junior Trials champ Benji Peak (Sunkist/NTS); '18 US Open runner-up Jessy Williams (NYAC/Spartan; 5PM #11); and Morgan Flaharty (NYAC).
Baker and Germinaro -- for the purposes of this tournament, but perhaps overall -- are widely viewed as the hottest commodities in this bracket. Baker has defeated four of the five names mentioned above, and has not lost to any of them. Then again, Germinaro put forth one of the most impressive National performances of anyone last December when he made the final, so there's that, too. Plus, Germinaro was giving Baker a nice battle in New York 11 months ago, that is until Baker pounced on the first opportunity that made sense and ended the affair.
With that said, the margin which exists between this top-6 is narrow. Williams has been on a bit of a slide lately, but most feel that one solid showing can undo those issues. Merkin saw better results at 72 kg, an undeniable fact. Is that a weight-cut thing? Is the problem solved? Flaharty could use an inspired run and that might just happen; and Peak -- full of moxy and with a substantial amount of overseas experience logged -- is a seasoned, confident young gun who has tested, if not beaten, some top Seniors before, making this a suitable opportunity to keep his career on the right track.
But there is a problem. For all of them. Actually, two problems -- Ridge Lovett (Nebraska WTC) and Duncan Nelson (NMU/NTS). Lovett, who appeared in the '17 Cadet Worlds and then pasted the field at Fargo the next year, is a wrestler the US program wants to have and hopes they can get. All of the "total wrestling" tools in addition to a competitive demeanor coaches wish they could bottle and sell. Nelson doesn't have the ledger some of the others claim. He was trending upwards the past two seasons but a knee injury upset the trajectory. From the Illinois system, Nelson sports a better-than-average lift and is a beast in the trenches. Should he rediscover his groove, a high placing in Iowa isn't out of the question.
5PM Ranked Athletes
Nolan Baker #8
Calvin Germinaro #9
Jessy Williams #11
Seeds
#1 - Baker
#2 - Germinaro
#3 - Merkin
#4 - Peak
#5 - Williams
#6 - Logan Savvy
#7 - Jasiah Williams
#8 - Lovett
77 kg
As soon as Patrick Smith's (Minnesota Storm, 5PM #1) name appeared on the registration list, the credibility associated with this event instantly increased. That is not a slight on anyone else, including fellow '19 World Team member Joe Rau (87 kg, TMWC/IRTC, world #7, 5PM #1), who actually registered much earlier. It is more that Rau is expected to raise his hand for any and all wrestling events on which he can get his hands, whereas Smith is perhaps just a touch more choosey.
The refrain will be that Smith, whose work ethic remains the standard in the US, simply wants some matches. And, he's going to get them. Two-time Open champ Kendrick Sanders (NYAC/NTS, 5PM #12) is on-board,so...look out. Coming off of his runner-up outing at Final X: Rutgers, Sanders struggled in the December '19 Nationals. Erase that from the memory bank. A lot of time has passed since then, and Sanders is one of several top Seniors still needing to qualify for the Trials. While that cannot happen in Iowa, there is no way Sanders is bothering with this tournament just for the fun of it. He's coming to prove a point.
After Smith and Sanders, the landscape begins to take on a nice balance. '19 Junior World athlete Tyler Eischens (California RTC), Alec "The Gunslinger" Ortiz (Minnesota Storm), and Smith all train together. Eischens has not entered a Greco event dating back to his Junior appearances, and Ortiz is rounding back into form following major knee surgery 18 months ago. For Ortiz, Coralville is a little important, just as it is for Sanders. Even if the victories don't pile up, fan-favorite Ortiz still needs to fly back home on a high note.
The youthful talent in play is what will really define 77's viability. Two-time U23 Trials runner-up Fritz Schierl (TMWC/Ohio RTC) is formidable and well-rounded; Tommy Brackett (TN) is a maturing, underhooks-before-anything-else competitor on the feet; Riley Briggs (NMU/NTS) is a "lifer" who is competent in each and every phase; and Burke Paddock (NYAC) is developing into a tenacious scorer whose skill-set lends itself very well to Senior.
But of course, there is an X-factor, and that is Peyton Robb (Nebraska WTC). Like Lovett, Robb is a wrestler the US program is in love with but apparently cannot have -- yet. Few age-groupers have the ferocity and all-around toolkit Robb demonstrated when he traveled overseas in '17, and he is just the kind of athlete most assume will be able to mesh folk with Greco and actually make it work for this new generation. Time will tell if that's true, and there are many rooting for a relevant sample size to that effect once Friday comes to an end.
5PM Ranked Athletes
Patrick Smith #1
Kendrick Sanders #12
Seeds
#1 - Smith
#2 - Paddock
#3 - Sanders
#4 - Ortiz
#5 - Schierl
#6 - Brackett
#7 - Eischens
#8 - Robb
87 kg
As already alluded to, Rau -- one of four US athletes to have qualified their weight class for Tokyo back in March -- can't resist an opportunity to get on the mat again, though at least had that hybrid bout win over Pat Downey to hold him over for a little while. Initially, as was the case with several weight categories, it felt like Rau was going to be the only dog in the hunt. Not only is the opposite now true, there is one athlete of particular significance with whom Rau will have to deal.
Many folks believe Alan Vera (NYAC, 5PM #4) is either a) the best 87-kg athlete in the country, or at worst b) the favorite to come out of the Olympic Trials Challenge Tournament and meet Rau in the best-of-three final. Such thinking ignores the threats three-time World Team member Patrick Martinez (NYAC, 5PM #2) and Jon Anderson (Army/WCAP, 5PM #3) pose, but the perception is valid if only because Vera is really that good. He, to some extent, deserves the hype. Originally from Cuba and a fearsomely-efficient scorer from par terre, Vera is the most complete technician in the weight class, and that is without dispute.
However, Vera is not yet cleared to compete in the Last Chance Qualifier next March. The only reason why he is permitted to enter this event is because there are no procedural implications attached.
Most expect a Rau/Vera final, which would be a rematch of the '19 Schultz semis where Vera tech'ed Rau in the first period. It is hard to picture that happening again; plus, Rau certainly slayed some important demons in Ottawa and is in the best stretch of his career. If they are to meet again on Friday night, anticipate a classic.
What will Marcus Finau (NYAC) have to say about all this? A World Team Trials runner-up in '13, Finau came back to Greco last fall, and though he didn't exactly light it up, had a very encouraging performance in Texas. He is also leaner and meaner down a weight from his first run on the circuit, and definitely projected as a major player here.
'19 Junior World Team member Zach Braunagel (IRTC) had held himself back from Senior competition previously. Like some of the others in the lighter weights, he is probably using Iowa as preparation for the tournaments in November. Nevertheless, he is a throwback, classically-infused kind of athlete who can do some damage. George Sikes (NMU/NTS) has appeared in a U23 Worlds, rung up some solid experience, and is very familiar with what this level is all about. Will that be enough for a podium spot? Could be. Guys like Dane Harter (LA) and former Williams Baptist student Conor Linehan (MO) are in the shadows for now, but that isn't a bad thing. Both have competed against workable opposition before, so this tournament should offer a chance to shore up technique ahead of what most hope will bloom into a full season's worth of activity.
5PM Ranked Athletes
Joe Rau #1
Alan Vera #4
Seeds
#1 - Vera
#2 - Rau
#3 - Finau
#4 - Sikes
#5 - Braunagel
97 kg
'18 Junior World Team member Chad Porter (Sunkist, 5PM #9) is your top-seeded athlete in a weight category that does not include a single current US National Team member, a distinction held by only one other weight category this week, 67 kilos. Porter is an excellent wrestler and can call upon some relevant experience dating back years. But in terms of Senior concerns, Nick Boykin (Sunkist, 5PM #6) might have the edge thanks to a few overseas tours throughout his still-young career. Is that an absolute advantage for Boykin? Not necessarily. That he has hung in there against higher-profile types could be something a little more worthwhile of discussion.
Yet again, this version of the Nationals is bringing to bear chances for age-group studs to spread their wings, which is what you find with Braxton Amos (Badger RTC) and Tyler Hannah (Combat WC). Amos took second at the '19 Junior Pan-Ams, and when you take a glimpse at the full picture, it's easy to see that this is a wrestler who is made of the sort of stuff that tends to turn into something special later on down the road. Hannah, a Cadet World Team member and Fargo champ, is one of those Combat kids who competes with authentic Greco sensibilities.
Going by the seeds, more is expected of Pitt collegian Nino Bonaccorsi, who was an NCAA DIvision I tournament qualifier in '19 after forging a successful career in high school. West Point's Jeremiah Imonode is the 4th seed, and has expressed interest in pursuing Greco on a serious basis in the past. This is why 97 is such a mix. Bonnaccorsi is not "Mr. Greco", but he is such a stout competitor that, especially in the absence of full-timers, probably deserves a decent seed, and the same is true of Imomode, who expresses correct instincts but lacks some of the nuance usually witnessed at this level.
5PM Ranked Athletes
Nick Boykin #6
Chad Porter #9
Seeds
#1 - Porter
#2 - Boykin
#3 - Amos
#4 - Imonode
#5 - Bonnaccorsi
#6 - Kordell Norfleet
#7 - Hannah
130 kg
We don't enjoy denying reality around these parts, and the reality is that Cohlton Schultz (Sunkist, 5PM #2) stands as the biggest favorite any of the six available weight classes had to offer. The reasoning is sound: aside from the trio of age-group medals, including a Cadet World title in '17, he has also defeated, by now, more than a handful of potent Seniors, is the reigning national champ, and was the runner-up to '18 World silver Adam Coon (NYAC/Cliff Keen, world #6, 5PM #1) at Final X: Lincoln. In addition, he can beat opponents in any number of ways. Schultz can go conventional and batter people into positions he likes, negotiate solid turns from top, or counter-attack his way to devastating falls. Rough stuff.
Second-seeded West Cathcart (IRTC, 5PM #7) was overrun by Schultz last year, and not that the result should be ignored, but Cathcart is also not the same wrestler he was then. Formerly an NMU'er (Northern Michigan) who was just starting to seriously develop when he went on hiatus in '16, Cathcart returned to competition and right away gained a semblance of consistency he never had when he was down at 98 kilos. He had been training regularly, as well, which bodes well for his chances on Friday.
Donny Longendyke (Minnesota Storm, 5PM #8) is the most experienced Senior in the bracket, and another one who was thought to be stepping away, but he went ahead and qualified for the Olympic Trials last year. Towering, strong, and at times uncompromising, Longendyke is an underrated heavy, but he's not the only one. Luke Luffman (IRTC) -- who was horrifically jobbed out of a win at the '18 Cadet Worlds -- is a wildcard here. It has been a while since Luffman competed in this discipline. It's where he belongs and he has the right coach to put it all together.
'17 Dave Schultz gold Malcolm Allen (LOG) is back, it seems, and he is solid enough to potentially make some of this pretty interesting if he can advance. The man people are most curious about at the moment is Tanner Farmer (UA), who played Division I football for Nebraska before transitioning to college wrestling last season for Concordia University. The word on Farmer after one Senior camp is that he is bullishly powerful and freakishly athletic. Naturally, this has everyone's antenna up, so it will be interesting to watch how he stacks up against any of these monsters in a meaningful competitive environment.
5PM Ranked Athletes
Cohlton Schultz #1
West Cathcart #7
Donny Longendyke #9
Seeds
#1 - Schultz
#2 - Cathcart
#3 - Luffman
#4 - Longendyke
#5 - Farmer