MAC
The Biggest Loss For Each MAC School & How They'll Fill The Void, Part II
The Biggest Loss For Each MAC School & How They'll Fill The Void, Part II
A deep dive into MAC wrestling, we look at each school's biggest loss from last season and how they're going to find a replacement — part two.
Sep 23, 2020
by Mark Spezia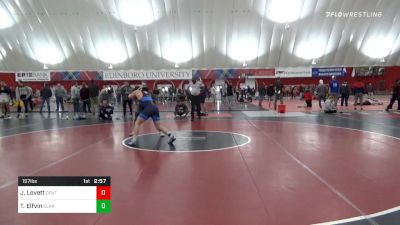 Unlock this video, live events, and more with a subscription!
Get Started
Already a subscriber? Log In
Unlock this article, live events, and more with a subscription!
Get Started
Already a subscriber? Log In
Every year, college wrestling coaches grapple with how to fill the voids left by departed starters.
They usually find that some are easier to fill than others.
Here is part two of a look how each MAC squad might replace its most talented departed wrestler:
CENTRAL MICHIGAN
Biggest loss: Logan Parks (157)
Most likely replacement: Johnny Lovett
Outlook: Chippewas coach Tom Borrelli, entering his 30th season, must replace only one starter, but Parks leaves a significant void in the lineup.
The two-time NCAA qualifier and four-year starter finished with a 77-63 career record, including 65-42 the past three seasons. He was No. 16 in last season's final Division I rankings.
Lovett, a redshirt freshman, went 20-9 In open competition, including a win over Indiana's Joey Sanchez, a two-time Ohio state champion. He also decisioned Sanchez's teammate, Nick South, a two-time Indiana state champion.
Lovett, a two-time Florida state champion while wrestling for Miami Southridge, went 58-0 as a senior. He was No. 90 on the Class of 2019 Big Board and ranked 12th on Wrestling USA magazine's list of the nation's best 152-pound, class of 2019 seniors.
Lovett finished fourth at the 2018 Super 32. He beat Pennsylvania state champion and West Virginia recruit Caleb Dowling during the tournament.
SOUTHERN ILLINOIS-EDWARDSVILLE
Biggest loss: Tyshawn Williams (149)
Most likely replacement: Cardeionte Wilson
Outlook: Williams, a four-year starter and two-time NCAA qualifier, finished with a 59-49 career record. He was No. 22 in the final Division I rankings and placed fourth at the MAC Tournament.
Wilson begins his first year at SIUE after a stellar two seasons at Ellsworth Community College during which he was a two-time NJCAA All-American and national champion.
Wilson pinned Northeastern Oklahoma A&M's Kendon Lee, a two-time Louisiana state champion, to claim his national title. Wilson faced some DI competition last season and defeated Northern Iowa's Gable Fox, also an Iowa state champion.
GEORGE MASON
Biggest loss: Colston DiBlasi (149)
Most likely replacement: Nicholas Montalbano
Outlook: DiBlasi was a four-year starter – two at Iowa State and two at George Mason – and finished with a 120-59 career record, including 64 pins. He went 61-24 with the Patriots and was a two-time NCAA qualifier.
DiBlasi placed fifth at the MAC Tournament and was No. 24 in the final DI rankings. He was named George Mason's Outstanding Wrestler of the Year as well.
Montalbano, a redshirt freshman who transferred from American University in April, was 4-5 while wrestling unattached last season. He compiled a 106-53 record at Seneca Valley (Pennsylvania) High School with 46 pins, five major decisions, and three technical falls.
OHIO
Biggest loss: Shakur Laney (141)
Most likely replacement: Mario Guillen
Outlook: Laney started at 125 pounds during his first three seasons with the Bobcats. During that time, he was a two-time NCAA qualifier and MAC champion as a sophomore, the same year he reached the NCAA Tournament round of 16.
Laney moved up to 141 last season and again qualified for the NCAA Championships. He was No. 25 in the final DI rankings and finished with an 86-42 career record.
As successful as Laney was, the Bobcats might not lose much at this weight with Guillen, a redshirt senior and 2019 NCAA qualifier, likely returning to a starting role. He spent most of last season second on the depth chart at 133 pounds and finished 6-4, including a win over three-time NCAA qualifier Noah Gonser (Campbell).
Guillen started at 141 as a freshman before starting at 133 the next season, finishing fourth at the MAC Tournament both years.
He knocked off several noteworthy foes during that time, including three-time NCAA qualifier and one-time All-American Sa'Derian Perry (Old Dominion), two-time NCAA qualifiers Codi Russell (Appalachian State), Tim Rooney (Kent State) and Anthony Tutolo (Michigan State) and one-time qualifiers Anthony Madrigal (Oklahoma), Kizhan Clarke (American) and Kyle Adkins (Buffalo).
Guillen, who takes a 33-15 collegiate record into next season, won a DI, 126-pound state championship as a Perrysburg (Ohio) High School senior in 2016.
He decisioned future Iowa State standout Alex Mackall in the title match. MacKall is a two-time NCAA qualifier, who was a Big 12 runner-up and second-team NWCA All-American last season. He was 10th in the final 125-pound national rankings.
BLOOMSBURG
Biggest loss: Trevor Allard (184)
Most likely replacement: Bruno Stolfi
Outlook: Allard, a four-year starter, was an NCAA qualifier last season. He placed fifth in the MAC Tournament and posted a 24-4 record. Allard finished with a 96-45 career mark.
Stolfi, a class of 2019 recruit, took his redshirt last season, but did not see any action. Noteworthy junior and senior seasons at Souderton (Pennsylvania) High School put him on the radar of some DI schools, especially Bloomsburg and Rider.
Stolfi qualified for the state tournament both years and posted a 60-19 record with 29 pins. His overall high school record was 89-54 with 42 pins and five major decisions.
Bruno is the third Stolfi sibling to wrestle for a DI team. Joe Stolfi was a four-time NCAA qualifier at Bucknell and finished with a 120-41 career record, including six NCAA Tournament wins. Phil Stolfi wrestled for George Mason.
EDINBORO
Biggest loss: Dylan Reynolds (197)
Most likely replacement: Zach Ancewicz
Outlook: Reynolds was a four-year starter who finished with a 76-57 career record, including 52-26 the past two seasons. He was sixth in last season's MAC Tournament.
The good news is Edinboro replaces a starter with a past starter in redshirt junior Zach Ancewicz, who started at 184 pounds as a freshman and sophomore before taking his redshirt last season.
Ancewicz was 30-32 overall while starting, but improved from 12-16 as a freshman to 18-16 his sophomore year. He beat NCAA qualifiers Michale Fagg-Daves (Rider), Tyler Bagoly (Clarion) and Nick Corba (Cleveland State) during that time.
Ancewicz went 16-4 in open competition last season. Among those he beat is Princeton's Matt Cover, who racked up 171 wins and 110 pins in high school and placed third in the Ohio state tournament twice.
Ancewicz was 72-10 during his final two seasons at John Glenn High School in Greenlawn, New York. He was second in the state as a senior and third as a junior. Ancewicz finished with a 189-31 high school record.
NORTHERN ILLINOIS
Biggest loss: McCoy Kent (149)
Most likely replacement: Anthony Cheloni
Outlook: Kent, a two-year starter, was seventh in the MAC Tournament. He finished with a 65-35 career record.
Kent was also presented the team's True Grit Award following last season. It is given to a Huskie wrestler who "displays great mental and physical toughness through the season and embodies the process and the battle".
Cheloni, a redshirt junior, should succeed McCoy. He redshirted last season and went 4-7. As a sophomore, Cheloni was 10-8, including a wins over two-time NCAA qualifier Austin Eicher (Michigan State) and four-time Arkansas state champion Marcus Robinson (Cleveland State).
Cheloni joined the Huskies after spending his freshman year at Division 2 University of Wisconsin-Parkside and finishing 32-7. He was fourth in the final D2, 141-pound national rankings.
Cheloni, who prepped at Marmion Academy in Aurora, Illinois, placed in the top four three times at the 3A state tournament. His high school was 166-28.
---
Mark Spezia is a freelance writer based in Lapeer, Michigan. He has written for ESPNW, Flohockey, Flint, Michigan-based My City Magazine, the Detroit Free Press, Hour Detroit Magazine and Troy, Michigan-based Oakland Press. He previously worked for the Flint Journal, Lapeer (Michigan) County Press and Daily Mining Gazette in Houghton, Michigan.